The Best Portable Solar Battery Pack for 2023
Portable solar power battery packs are an indispensable power backup accessory. They will conveniently keep your devices juiced whenever you are on the move, as…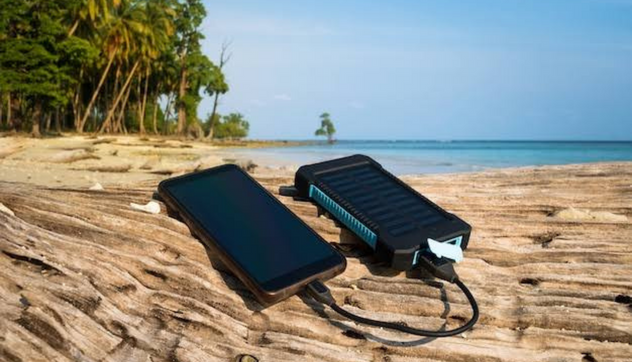 Portable solar power battery packs are an indispensable power backup accessory. They will conveniently keep your devices juiced whenever you are on the move, as well as save the day in the event of a power outage. 
Thanks to their portability and demonstrated viability as a source of electricity outside, portable solar chargers are quite convenient. They can often accommodate multiple devices and are great for family camping trips, backpackers, mountain bikers, and others.
To make the purchase decision easier for you, we've reviewed a few portable solar power battery packs that pack a ton of cool features.
How We Picked
Weather Resistant

It is important to go for a solar charger that is dustproof, water-resistant, corrosion-resistant, and can withstand high temperatures. Although not all solar battery packs come with this feature, we have selected top brands that do.

Power and Wattage

One of the most important things you should consider when selecting a solar charger is its power and wattage. The more watts it comes with, the more sunlight the solar panel can absorb and the more power it can ultimately generate.

Portability

When purchasing a solar battery pack, portability is a crucial factor. The more compact the pack, the better. However, don't sacrifice your power requirements to be portable. Several portable models provide enough power for a variety of devices.

Cost-Effectiveness

Portable solar battery packs are typically inexpensive. However, the price may increase depending on the additional features.
Who This Is For
Anyone out there could use a portable solar battery pack in emergenciesations when the electricity goes out. They are also useful for people who spend a lot of time away from traditional power sources or people who hope to travel somewhere with an unreliable power grid.
What is a solar battery pack?
Solar battery packs are more like solar charger power banks with an in-built battery. This means they can be charged up using the power of the sun, or by using an electric outlet using a USB adapter or other power source. Then whenever you need to recharge your device (or devices), simply connect the USB to the solar battery pack. You may also use the wireless connection to do this if your battery pack has that option. They are a great alternative to the good old solar chargers because they can stay alive during emergencies when you are away from a plug.
Are solar battery packs worth it?
Absolutely! Using a solar charger with only solar panels that require sunlight for charging can be a very slow option, plus the solar aspect can be quite limited. Solar battery packs are more reliable and are very handy because they provide an extra bit of power that can make the difference between your device dying and staying alive when you're away from a source of power.
How do solar battery packs work?
Solar battery packs work by absorbing energy from sunlight through solar panels( solar panels are multiple solar cells), converting it into electricity, and using the electrical power to charge their batteries. Unlike solar chargers with no inbuilt batteries, the energy produced in solar battery packs is stored in the batteries for later use. Although solar panels are most effective in direct sunlight, they will still work when sunlight is reflected or partially blocked by clouds. Solar battery packs can also be charged by connecting them to an electric outlet using a USB adapter plug. They are portable, so you have the option of carrying them anywhere and anytime you plan to travel somewhere with an unreliable power source.
Why You Should Trust Us
Many solar battery packs out there have inbuilt batteries that run out with minimal usage, have low voltage, and some of them even come with faulty inbuilt batteries.
As such, we have looked for sturdy solar battery packs of good quality that come with massive battery capacities and offer great features, including the convenience of wireless charging.
How We Picked
Apart from having direct and real-world experience with solar battery packs, we read lots of reviews from verified buyers on Amazon, BestBuy, and Walmart to ensure an unbiased selection. Our hands-on experience, in addition to an expansive selection of user product reviews and ratings, was used to determine our picks for you. Across all of your choices, you'll find solar battery packs that are convenient to use with multiple outlets, including USB, USB-C, and AC wall-style outlet types of up to 20V output, and even wireless charging pads to keep all your devices going during your camping trip. 
You will also find solar battery packs that are portable in size and are built in such a way as to save space when camping and hiking and weigh less than three pounds. We selected only solar battery packs that are durable, compact, and weather-resistant. We have also included some that come with a flexible and foldable design and an impressive charging rate. The least capacity that any of our picks can offer is 10,000 mAh which is sufficient to provide up to six hours of power when fully charged. Charging time varies from 20 to 35 hours if the solar battery pack device is exposed to unobstructed sunlight. You will also find that our picks are priced between $20 and $50 and offer affordability if you're looking for something within your budget. Don't be fooled into thinking the higher-priced models offer the best quality, because the reverse might just be the case.
Care and maintenance
The most efficient type of maintenance required for your solar battery pack is cleaning. Dirt and debris can and will collect on your panels and USB ports, especially during storms, so be sure to clean your solar battery pack occasionally with a non-abrasive cleaner. Before using, check for weather resistance, and if not waterproof, do not touch or turn on if heavily wet. 
Solar charging is only a backup option due to the limitations of the solar panel size it comes with and the uncertainty of light intensity, so the efficiency of solar charging cannot be guaranteed. Therefore, always make sure your battery is fully charged through a Micro USB/TYPE-C cable before traveling. In case of an emergency, our mobile power bank can be charged with solar energy, which can keep your mobile phone always on. This process can take between 20 and 35 hours. The working temperature of most solar chargers is between -10°C and +70°C. Your solar battery pack may get damaged if it gets above 70°C. Therefore, we recommend that you do not leave it in a closed high-temperature environment for a very long time