The Best Portable Power Stations of 2023
You can now power your life from anywhere and anytime with a portable power station.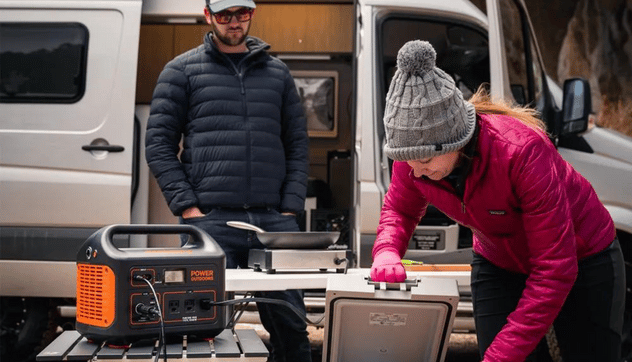 Whether you're camping, off-roading, or road-tripping, a portable power station will make your life easier. The little powerhouses will enable you to charge your smartphone, and computer, or even run small appliances. Several types of portable power stations are available at various price points.
Historically, if you wanted electricity off the grid, gas-powered generators were your only choice. This was especially true if you were camping and didn't have access to an RV or another source of power for your campground. However, a bigger gas-powered generator is most times unnecessary. A portable power station is ideal for staying powered while on the go and thanks to modern technology, they pack quite a punch. Here are some of our favorite picks.
Our Top Picks
Best Pick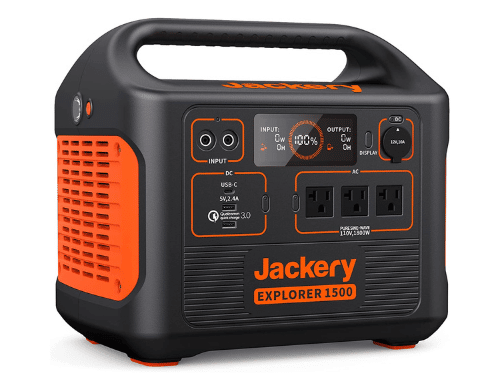 Robust and efficient, this is one dependable powerhouse.
This compact powerhouse can run up to seven devices at once with ease.
The Jackery Explorer 1500 has a large power capacity, 1800W AC outputs, and it charges quickly. Phones, appliances, and other devices can be plugged into the Jackery Explorer 1500. Because the portable generator has a variety of plugs, you can live comfortably outside or get some relief from a power outage.
Runner up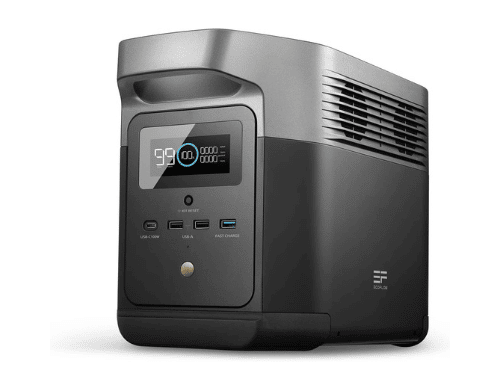 With its rugged design, this portable power is the ideal outdoor companion.
The DELTA mini's 882Wh capacity makes it perfect for outdoor activities, professional work, and power disruptions.
DELTA mini's output of 1400W handles 90% of electronics. X-Boost that number to 1800W, and suddenly your toaster oven, table saw, and hairdryer become battery-powered. You can power up to 12 devices with a generous array of wall-style, USB, and DC outlets.
Most Cost-Effective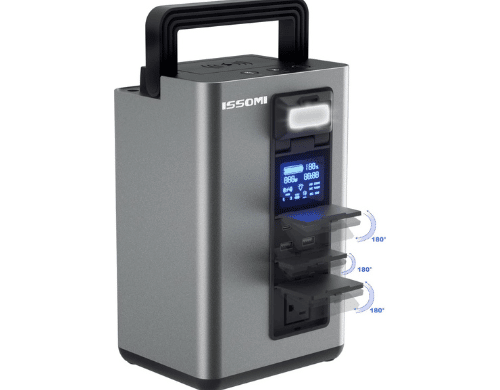 The ISSOMI power station offers safer and more reliable charging.
ISSOMI Portable Power Station is a versatile and compact power station that can charge your USB devices on the go. It uses an advanced AC-DC dual converter unit to provide 12V to any non-powered device and can charge tablets, mobile phones, and other electronic devices in just a few hours.
This portable power unit is completely dust-proof and doesn't produce dust while in operation. The portable power station is designed for use in various settings and contains several unique technologies and certifications. The power station is pretty dependable and it can easily handle your charging demands, whether indoors or out.
Everything We Recommend
Best Pick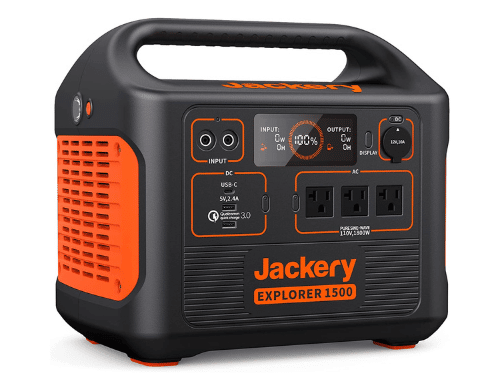 Robust and efficient, this is one dependable powerhouse.
$1,699.00
Runner Up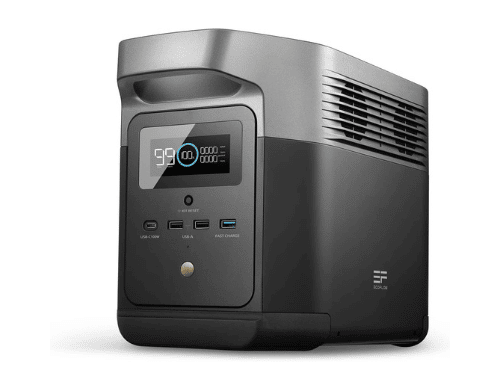 With its rugged design, this portable power is the ideal outdoor companion.
$749.00
Most Cost-Effective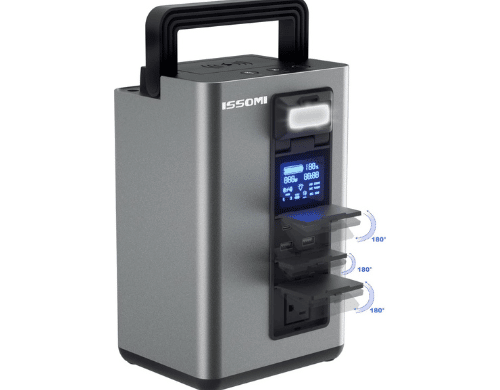 The ISSOMI power station offers safer and more reliable charging.
$399.99
Who This Is For
In case of emergencies or long periods away from household AC outlets, a portable power station is ideal for charging typical personal electronics and running small appliances.
Essentially, these devices are large batteries housed in protective boxes with ports and AC outlets. They are generally larger, heavier, and more powerful than normal power banks and portable laptop chargers. This allows them to be used for activities such as camping with lots of electronic gear, working in a remote corner of the house, screening movies in your backyard, or staging scenic photo shoots.
While not as powerful as gas-powered portable generators, they offer some major advantages in an emergency. When a blackout occurs, portable power stations can be used safely inside a house because they are silent and have no emissions. Moreover, since there is no motor, you don't need to keep gas handy or perform minor maintenance such as oil changes.
What is a Portable Power Station?
Portable Power Stations are large rechargeable batteries that can be topped off by plugging them into a standard 110-volt outlet. Their size is comparable to a countertop microwave oven. You can use a portable power station indoors when duty requires it safely since it produces no pollutants. They have enough electricity to run a few modest appliances. They also safely store energy and distribute electricity, frequently resulting in quick charging times.
What Do You Use a Portable Power Station For?
They are similar to power banks but feature a bigger capacity, more power output, and AC (wall) plugs so they can charge everything from phones to household appliances. Larger types can be used as backup power during blackouts, while lighter versions can be brought camping.
They can keep all of your equipment charged, including cellphones, computers, CPAP machines, and appliances like micro refrigerators, electric grills, and coffee makers. They also have AC outlets, DC carports, and USB charging connections.
Why You Should Trust Us
We have tested and reviewed a wide range of portable power units and power banks and have first-hand experience with some of the products on this list. We analyzed battery size and type, power output, port choices, size and design, and several other variables to pick the top portable power stations in several categories, so you can depend on our in-depth first-hand knowledge and research.
How We Picked
Power Capacity
The portable power station's power capacity describes how much energy it can hold. This capacity is expressed in watt-hours and represents the maximum wattage you could operate for one hour or the number of hours you could run a 1-watt gadget.
For instance, if you hooked a 60-watt TV to a 600-watt portable power source, watching TV for 10 hours would fully deplete the battery. You shouldn't expect a portable power source to run as long as the math predicts it would result in an ideal environment because of inefficiency, heat, and other considerations.
Strength of Charge
The three main ways to charge a portable power station are by using a wall outlet, a solar panel, and a cigarette lighter or 12-volt accessory socket in a car. The fastest and most common method of charging is through a wall outlet. For instance, a portable power station that charges quickly at your home when connected to the grid may take eight hours to charge in your automobile.
If you want to charge as quickly as possible, look for a power outlet that allows you to plug in two 110-volt chargers simultaneously. Although it is a nice alternative, charging in a car via the cigarette lighter plug is rather sluggish.
You can charge your device with a solar panel at varying speeds based on the solar panel's wattage, the current weather, and your latitude. The most powerful solar chargers are quicker than charging into your car but slower than connecting to a 110-volt outlet in your home.
Durability
We evaluated the exterior construction of each portable power station and any added features like wheels or grips. To raise anything this heavy, handles are essential. Since you may need to move them around a lot and use them outside
Weight
Most portable power stations are too massive and heavy to carry on foot over long distances by the typical individual. However, a weight restriction of around 50 pounds is reasonable for one or two strong persons to carry. Anything more substantial could be challenging to load into and out of a car or to move about a house in a power outage.
Portability
Although all portable power stations are theoretically portable, some are undoubtedly more easily portable than others. These days' batteries are lighter and more efficient. The power station should be portable, lightweight, and easy to mount on the vehicle.
Size
Enormous battery capacity portable power systems will always be physically large, leaving little room for innovation. Although some manufacturers can make their portable power units slightly smaller than others or design them to be lighter or simpler to store, you should always choose battery capacity and output above size. No matter how compact, light, or portable a power station is, it won't help you if it can't keep you going or run your gadgets.
Port Number
Make sure you pay attention to the outlet ports on your portable power station. What is the number of AC wall outlets on it? Do some of your equipment require a USB-C port? Or maybe a DC outlet? The best ranges feature several outlets that let you simultaneously charge various gadgets.
Port Types
Numerous ports are available on portable power stations, such as 110-volt outlets, USB-A and USB-C ports, 12-volt accessory ports, and 12-volt barrel connections. Others simply include USB ports, 110-volt outlets, or other combinations, while some provide several of these options.
Choose a portable power station that has at least that many outlets if you anticipate using two or three 110-volt devices simultaneously. Make sure your portable charger includes at least one USB-C Power Delivery (PD) connector if you have gadgets like laptops and smartphones that can be fast charged through USB-C.
Input Current
It is also important to determine how long it would take to top off the portable battery pack based on its input current. Most battery packs accept between 0.8A and 1.5A, with larger power packs usually accepting higher currents. This minor distinction may be the determining factor if you are torn between two battery packs that appear identical and are priced similarly.
Price vs. Quality
Your budget for a portable power station for camping should be one of the first things you consider. Although there are less expensive, low-power options on the market, you should search for robust goods that can keep all of your gadgets charged during your vacation, even if it means foregoing the most affordable ones.
Care and Maintenance
Portable solar power stations have advanced significantly with the aid of ongoing technology advancements. The best portable power stations from top companies often have an 800-cycle life and 80% capacity in addition to running multiple heavy-duty appliances at once, like refrigerators, TVs, etc. 
Additionally, they are lightweight and portable. Therefore, you must take care of a portable power station to get the most use out of it. Here are some excellent tips that you may use. Your portable power station should be stored in a cool, dry area when not in use. Keep it out of any space that could get heated or exposed to damp or rainy conditions. When you use your power station while on a journey, keeping it in your car or RV is fine, but if you continue, it can shorten its lifespan.
You might be inclined to keep your portable power station fully charged when not in use. However, if you want to guarantee the battery's durability and that it provides you with a long time of fantastic service be sure to keep them with a 30% to 50% charge. 
This is because batteries are vulnerable to leaking while being stored, which is the last thing you want to happen to your portable power station. However, you must remember to charge it frequently and avoid overcharging it, which might harm the battery over time.