The Best Paring Knife of 2023
Using a high-quality paring knife can make chopping up common fruits and vegetables more enjoyable.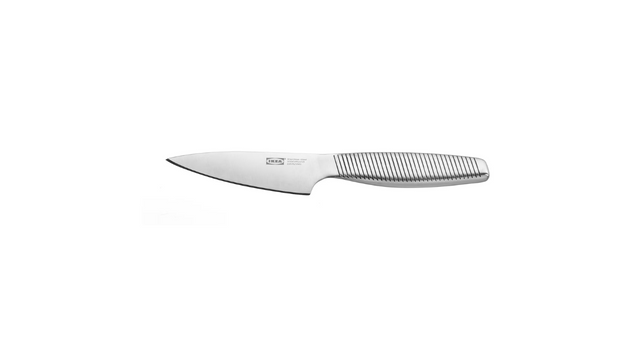 Paring knives are one of the most versatile knives you can have. They are a must for every kitchen, as they have agile blades that provide precision cutting. Paring knives are especially used to peel and cut fruits and vegetables. They come in a variety of shapes and sizes and are worth investing in. Whether you are looking for a lightweight ceramic blade or a handcrafted, high-quality carbon and steel composite, this list will help you pick the best paring knife as per your needs and requirements.
How We Picked
Size, Shape, and Weight

These three factors are of paramount importance. A good paring knife should be of the perfect size, shape, and weight to be multifunctional. All the picks on our list have the best shapes and sizes and can be used for every type of cutting and peeling.


Material

The material from which the knife is made is an indispensable factor. It determines the resilience and life of the product. A good grip enhances safety, which is quite important.


The Sharpness of the Blade

Ensuring that the knife blade remains sharp even after continued usage is a significant factor to consider. A sharp blade ensures that your paring knife will last a long time. All the picks in this list rank high on the sharpness factor.


Cost-Effectiveness

Price is one of the most important factors when buying the best paring knife. There should be a good balance between the price and the benefits you receive from your paring knife.

Who This Is For
Great kitchen tools are a must for every kitchen enthusiast. A paring knife is a great cutting tool for those who want the best cooking experience. If you love to spend time in the kitchen and enjoy preparing different dishes or need to find your inner gourmet chef who wants well-served portions, you must get a paring knife. Anyone can use a paring knife, and you do not have to be an expert to use this wonderful tool. It will help you in pretty much every cooking endeavor.
What is a paring knife?
A paring knife is a small knife that has a thin, short blade with a firm handle. This knife is designed especially for peeling fruits and vegetables. However, it has many other uses, like cutting and slicing meat, coring and decorating big fruits, and even cheese.
Do I need a paring knife?
If you need a small, sharp knife for precision tasks such as peeling fruits and vegetables, trimming and shaping produce, and slicing small foods, then it's a great choice. Paring knives are frequently used to cut small fruits and vegetables into ornamental shapes as well as to mince herbs and garlic. Due to their versatility, accuracy, and ease of use, paring knives are essential kitchen tools that can be used for a variety of tasks.
What are the differences between a paring knife and a steak knife?
The major differences lie in their size, shape, and use. A paring knife is used for the sharp and fine-cutting of vegetables, fruits, and meat. It's usually used when the dish is presented on the plate, and it plays an important role in the presentation part. A paring knife is mainly used for peeling and slicing purposes. On the other hand, a steak knife is more commonly used for slicing and hacking into larger blocks of meat. It's hardly useful for precision cutting and peeling. It works on a broad level, unlike a paring knife.
Why You Should Trust Us
This list of the best paring knives on the market considers a number of important factors. The research included a close examination of customer reviews as well. The list provides an unbiased and prudent selection of the best paring knives, assisting you in selecting the best one for your needs.
How We Picked
We took various factors into consideration when picking the knives on the list, especially their size. A smaller handle allows for finer cutting and the creation of interesting designs. The shape of the blade is important too.
The weight is also important; having a well-balanced knife allows you to have better control over the knife, making it easier to carve over the fruits. An ergonomic and comfortable handle provides a better grip, increasing safety.
We considered the ones made of stainless steel. These knives are the most durable and long-lasting, and they are also easy to clean. Apart from these, several minor but significant elements were paid attention to when preparing this list for your convenience.
Forged stainless steel paring knives are handcrafted by skilled artisans who use various processes, such as heat treatment, to increase the knife's strength or flexibility. These are premium knives that cost more than mass-produced knives.
Care and maintenance
The performance of your knife can be diminished if it's not cared for properly. Please follow these guidelines to maximize the performance of your knives.
After each use, carefully wash cutlery by hand with warm water and mild- to medium-strength soap; rinse, and thoroughly dry it with a soft towel.
Don't soak or submerge the knives for long periods. Chlorine and bleach products discolor and pit high-carbon steel. If chlorine or bleach products come in contact with the blade, thoroughly rinse them off immediately.
Galvanic action — the transfer of electrons from one metal to another—may cause pitting on the blades. To prevent this, avoid long periods of soaking in aluminum pans or a stainless steel sink, and remove cutlery from condiments (such as mayonnaise) stored in aluminum or stainless steel pans.
Always store cutlery in a block or sheath to preserve the cutting edges and prevent personal injury.