The Best Paper Shredder for 2023
Get rid of your trash papers in a simple and reliable way.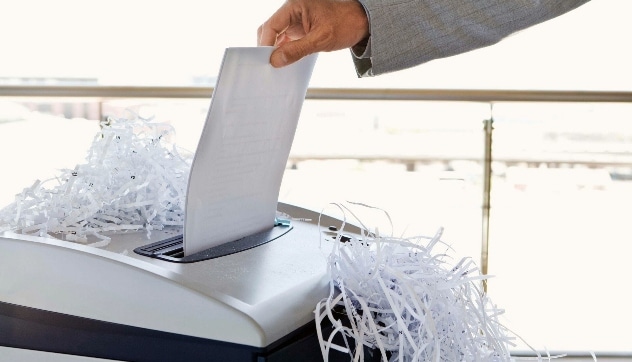 There is a lot of paperwork and documentation involved in the day-to-day administration of an office or home. Some of these documents are important and need to be kept safe and secure, while others may be less useful and can be disposed of.
The documents to be discarded may contain vital or sensitive information which could be dangerous if it gets into the wrong hands.
To prevent these documents from being accessed by prying eyes, thus a need for them to be shredded properly.
Paper shredders have proven to be very reliable when it comes to getting rid of waste papers, trashed sensitive documents, and even credit cards. Here is a list of some reliable paper shredders you can consider if you want to purchase one.
How We Picked
Speed

Speed is very important in a paper shredder. You want a machine that can do shredding quickly, especially if you have loads to go through. That is why the options we have highlighted are paper shredders that do shredding swiftly.

Ease of Use

Making use of a paper shredder should be easy and not complicated. We chose paper shredders that are easy to use. By pressing just a few buttons, it shreds paper put into it.

Noise

It's more befitting when paper shredders do shredding without noise, and that is why we were on the lookout for paper shredders that shred paper in a quiet and seamless manner.

Security

A paper shredder's security level is indicated by its DIN P-Levels which determines how it shreds papers. The paper shredders listed in this article have good DIN P-Levels to ensure that papers are shredded in a manner that is difficult for them to be reassembled.
Our Top Picks
Best Pick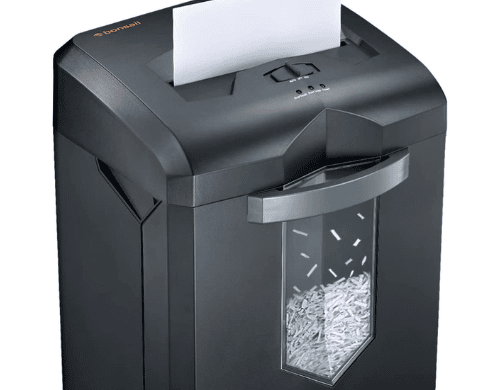 Boasts an 18-sheet paper shredding capacity.
Continuous running time up to 60 minutes.
The Bonsaii paper shredder has an 18-sheet cutting capacity, a running time of 60 minutes, and an Anti-Jam feature, with 6 Gallon Pullout Basket & 4 Casters.

Runner Up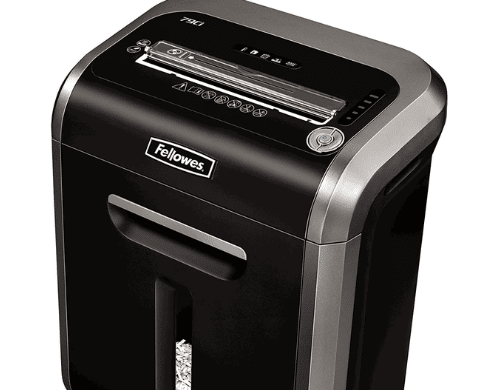 100% jam-proof with P-4 medium security.
Runs for up to 20 minutes before a cool down period is needed.
This shredder has a 16-sheet cutting capacity, 100% jam proof, P-4 medium security that cuts paper in a cross-cut manner, and an ultra-quiet shredder performance.


Most Cost-Effective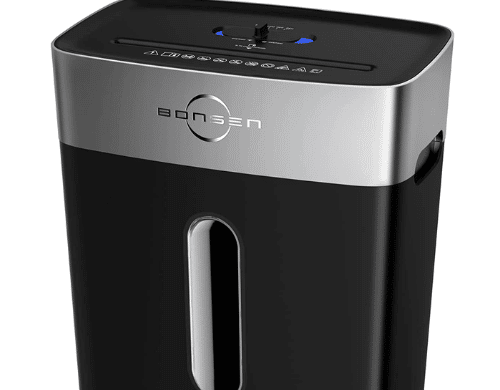 Possesses an eight-sheet cross-cut capability.
Boasts a four gallon wastebasket.


The Bonsen home office shredder is most suitable for home office, has an eight-sheet cross-cut capacity, four gallons wastebasket, and can also shred credit cards.


Everything We Recommend
Best Pick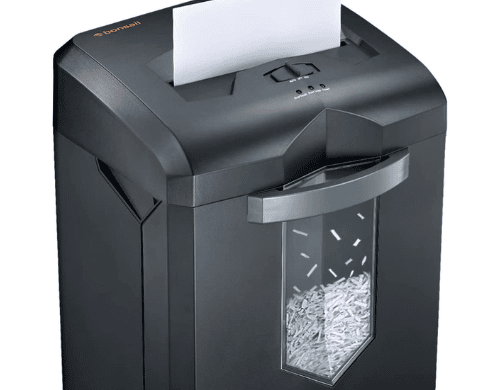 Boasts an 18-sheet paper shredding capacity.
$139.39
Runner Up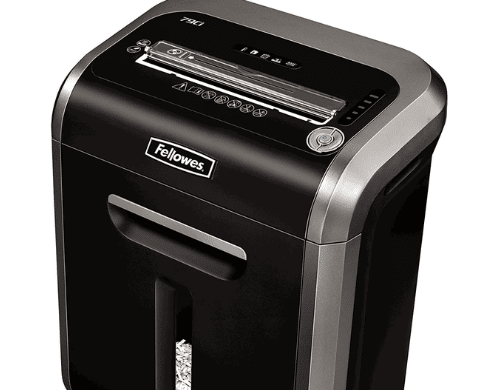 100% jam-proof with P-4 medium security.
$242.98
Most Cost-Effective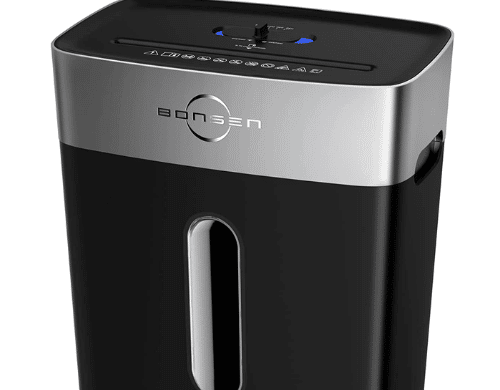 Possesses an eight-sheet cross-cut capability.
$49.99
Who This Is For
A paper shredder is useful across the board and can be used in homes, offices, hospitals, or anywhere that paperwork is used in its day-to-day operations. A paper shredder can be used by individuals, organizations, governmental agencies, and so on.
Are paper shredders worth it? And are they safe to use?
The peace of mind that comes with not having to worry about sensitive documents getting into the wrong hands is priceless. Paper shredders provide the perfect avenue to dispose of paper works that are no longer needed.
Different paper shredders have varieties of safety features to protect both the user and the machine itself. Some paper shredders have sensors that prompt them to automatically go off when it senses hands, fingers, paws, ears, etc. close to them.
Paper shredders also come with jamming control technology to prevent paper jams during usage and a cooling system to help cool the machine to prevent damage from overheating.
Does shredding paper make it more easily recyclable?
Apparently, since the goal of paper shredding is to destroy the document, this makes it harder to recycle. Shredding destroys the fibers of the paper and weakens its texture making it harder to recycle.
The shredding process makes paper get mixed with other items like staples, paper clips, or credit cards and this makes it harder to process at paper mills making it difficult to recycle
Why You Should Trust Us
There are numerous options to consider when it comes to buying the right paper shredder. To make it easier for you to decide your choice, we have brought you a list of the best paper shredders. These paper shredders possess good speed, safety features, and ease of use and are also very affordable.
How We Picked
A good number of factors were considered in selecting this list of products, features that make the use of paper shredders pleasurable were looked out for and some of them are highlighted below.
Security
A paper shredder's security level is indicated by its DIN P-Levels which determines how it shreds papers; which can be strip-cut (least secure), cross-cut (more secure), and micro-cut (most secure).
Paper shredders' DIN P-Levels range from one to seven, the higher the number, the higher its level of security. DIN P-1 is the lowest security level, while DIN P-7 is the highest security level.
Speed
No one wants to spend quality time destroying paperwork that is no longer needed. That's why a paper shredder should have a speed that shreds paper in a quick time.
Shredders listed in this article are capable of shredding multiple sheets of paper within a few minutes and can run for up to 60 minutes.
Noise
Noise is never pleasurable to the ear, that's why the paper shredders listed are such that shred papers quietly. With a low noise level as low as 62 decibels users are set to get a quiet and smooth shredding experience.
Ease of use
A paper shredder should be easy to use in simple steps. The shredders listed are equipped with buttons and switches that are used to control their operations. The manual reverse function is also present to make it easy to clear paper jams.
Overheating and overloading protection systems are also inherent to prevent the machine from being damaged and prolong its life span. Four casters are also present to make it easy to move the machine.
Paper size
The paper shredders listed can shred the conventional A-four paper size of documents. It can also shred items with bigger or smaller paper sizes like envelopes, paper bags, complimentary cards, credit cards, and so on in as much as they are placed into the machine in the right manner.
Load size
The load size capacity of a paper shredder actually determines how it functions. Paper shredders have different load size capacities and provided they are loaded appropriately, shredding will also be done appropriately.
Some paper shredders take as much as 100 to 200 sheets and some take as low as five to eight sheets. To prevent paper jam and overheating, users are to ensure that they load paper shredders with the recommended load size for effective performance.
Cut type
Paper shredders have three cut types; strip-cut, cross-cut, and micro-cut which are determined by their DIN P-Levels. Strip-cut is when a paper shredder cuts paper into vertical strips. This cut type is not very secure as there is the possibility of it being reassembled if attempted.
Paper shredders with strip-cut are not ideal for documents with personal and sensitive information.
Cross-cut paper shredders cut papers in both vertical and horizontal shapes. The cross-cut cut type is more secure when compared to the strip-cut. It is difficult to reassemble the shredding residue from a cross-cut shredder.
Due to the level of security it offers, it can be recommended for use in business and offices to shred sensitive documents. The micro-cut paper shredder offers the highest level of security. It is practically impossible to reassemble the shredding residue from a micro-cut paper shredder.
Care and Maintenance
Every machine needs care and maintenance and the paper shredding machine is not exempted. To care for and maintain a paper shredder is quite simple, the first being that the paper shredder should be cleaned and emptied after each use.
The user must intermittently oil the machine to ensure optimum shredding performance. The paper shredder should not be overloaded beyond its stipulated capacity, users must know the capacity of the shredding machine being used and adhere to it.
To prolong the lifespan of the paper shredder, it is advised that users allow the machine to complete its cool-off time.
Reversing the blades
Shredders sometimes come with auto-reverse features and some manual reverse. To reverse the blade of a paper shredder, all a user needs to do is to switch the machine to reverse mode, this reverse mode instructs the blades to withdraw from the earlier given forward instruction.
How to safely clear the blades
There is a possibility of papers getting jammed in a paper shredder during the shredding process and thus there is a need to safely clear the blades.
To do this, the first thing to do is to disconnect the shredder for its power source, remove the top shredding segment to create access to the blades, and proceed to clear the blades by removing the jammed particles with a screwdriver or a pair of tweezers as the situation requires, and lastly lubricate the blades after you are done with shredder oil.