The Best Packable Travel Towels for 2023
Traveling and camping are enjoyable activities, and packing your towel should not be a chore.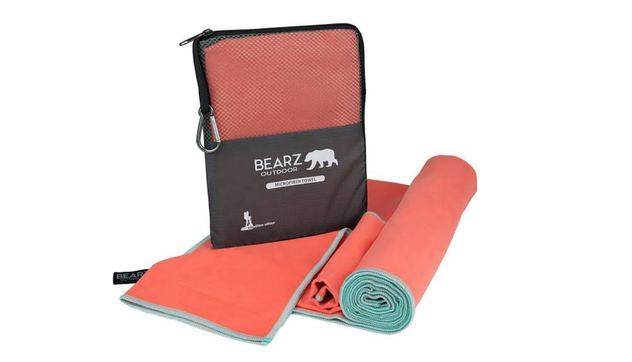 Traveling and camping are fun activities that everybody should enjoy. You can travel to another city on work orders or just chill and take in the environment. Camping, on the other hand, is basically for fun and enjoyment, alone or with your loved ones. You can't travel for days without some essential items to keep you active. People take cash, clothes, and bags to travel or enjoy themselves more. Another essential item for your well-being at camps and trips is your towel.
You need a towel to wipe away water droplets from your body and make it clean. Regular towels aren't suitable for camping and adventure, and they don't fit easily into carry-on luggage and backpacks. Camp towels are soft, fast-drying, highly absorbent, and light, unlike regular towels, which take up to four hours to dry. Camp towels are designed to ensure you enjoy smooth, stress-free trips.
Who This Is For
These packable camp towels are for outdoor activity lovers who want light, quick-drying, compact, and durable towels.
Packable travel towels vs. normal towels: what's the difference?
The major difference between a packable travel towel and a normal towel is the construction. Regular household towels are too heavy, big, easily stained, difficult to wash and don't dry quickly. We aren't undermining normal towels, but with their construction, they are not appropriate for outdoor activities such as camping and traveling. A packable travel towel is light, compact, portable, and dries quickly.
Do you need different kinds depending on the activity you'll be doing?
No, you don't need different kinds of packable travel towels for different activities. Companies may put labels on and categorize their travel towels, but they are almost the same. You can use a packable travel towel to clean your body after a shower and use the same model to clean your face after an exercise. You can drop it on the floor and sit on it. Though we would recommend that you buy more than one piece so that they have different functions,
Is an antimicrobial coating preferred?
Yes, the antimicrobial coating is an important feature that an excellent packable travel towel should possess. Packable travel towels with an antimicrobial coating are usually odor-free, as the coating eliminates all forms of microorganisms that may cause odor or affect your skin. You may not have the time to wash it every time after use, but with the antimicrobial coating, they won't reek.
Why You Should Trust Us
Outdoor activities such as camping and travel should be fun and easy to plan. That's why we decided to make your plans easier by reviewing an important item: the towels available as packable travel towels. There are numerous low-quality travel scams online, and we don't want any of our readers to fall for them. We conducted a thorough analysis and in-depth research to find the best packable travel towels for you. We aren't affiliated with any company listed here, so you don't need to worry about a biased judgment.
How We Picked
To give you the best packable travel towels, we conducted research and reviewed professional opinions. Professional opinions from a seasoned camping guide, a renowned product designer, and a product manager helped us get a handful. Then, we used customers' reviews to eliminate the inferior ones, and we ended up with these four packable travel towels.
We decided to check if they did well in some tests. We checked the sizes of these travel towels and discovered that they are highly compact, which makes them portable and packable.
These packable travel towels are made with high-quality materials that guarantee top-notch comfort. They have sleek designs, and they are available in bright and lovely colors. As is essential for all excellent packable travel towels, these selected towels dry the body quickly and get dry easily. They have an excellent antimicrobial coating, which eliminates all forms of odor-causing and harmful microorganisms. These selected packable travel towels are durable and come with strong pouches for easy storage. We can assure you that you will enjoy using these towels.
How We Picked
Size + packability

One of the reasons camp towels are better than regular towels is packability. The size of most camp towels is the same as that of standard towels, which also makes them convenient to use. They are easily packed and usually come with cases or pouches.

Material

The material used to make a camp towel determines its comfort, water retention ability, and durability. We selected camp towels that are made of top-grade and eco-friendly materials. They are durable and highly breathable. These materials make the towels plush against the skin and make them light.

Quick drying

You are going camping or hiking, which means you don't have enough time for your towel to dry as it does with regular towels. We discovered that these camp towels wick away water easily and leave the skin feeling dry. They have excellent water retention when in use and a quick drying time when hung up.

Price

An expensive camp towel doesn't guarantee an excellent packable camp towel. We searched for packable camp towels that will deliver the superb services that you need on your trip. They are affordable, easily accessible, durable, and easy to maintain. They even come with pouches to keep them safe and elegant.
Care and maintenance
Packable travel towels are easy to wash and maintain. They usually come with their own specific washing instructions, and we would recommend that you follow those instructions. It is common knowledge that most travel towels are machine washable on a gentle cycle and you should tumble dry them on low. It is also recommended that you use a small amount of mild detergent.
When you are on vacation, you should always air dry your towel after use so that it doesn't stink. You can rinse or wash if you have the right resources after some days of usage on your trip. To avoid contamination, you should fold it and keep it either in your bag or its pouch.