The Best Outdoor Security Camera of 2023
The best outdoor security camera enhances the security of your property and helps you stay safe.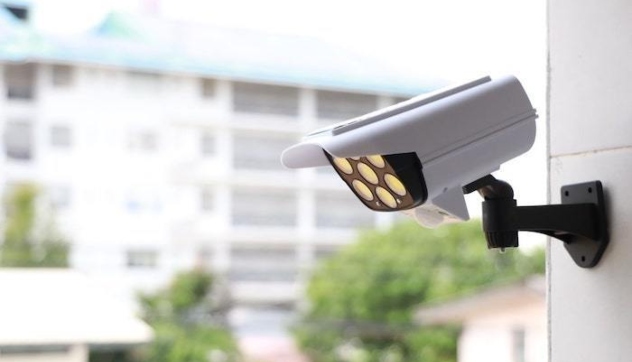 In these times of increased burglaries and security breaches, we need to stay safe and guarded. Security issues have become common these days, making people rely on technology to keep themselves and their properties safe and protected. An outdoor security camera is one of the most effective ways to ensure the security of your house or office.
Selecting a good security camera can be taxing given the options available and their multiple mind-boggling features. Our well-prepared list of the best security cameras will make it simpler for you to pick the one that best suits your requirements.
How We Picked
Video Quality

Video quality is an important factor because the quality of camera recordings depends on it. We have picked only high-quality security cameras that provide the best video quality.


Recording Power

The efficient recording power of a camera ensures better and longer recordings. A clear recording is essential for security. This list has the cameras that offer the best recording features.



Notifications and Alerts

Timely notifications and alerts are indispensable when choosing a good security camera. When any suspicious activity or unknown people are captured on the security camera, the user can alert the authorities without delay.


Cost-Effectiveness

The cost of security cameras is another essential feature to consider. The best security cameras offer value without requiring you to break the bank.

Our Top Picks
Best Pick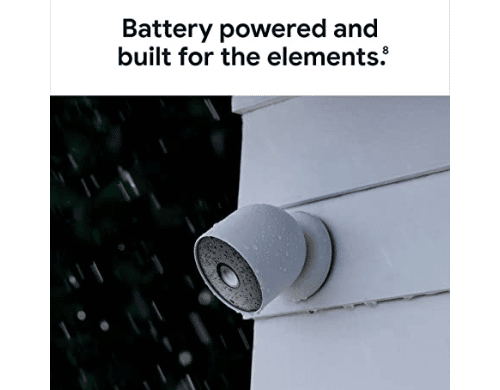 Solid home security device offered by a leading household name.
This weather-proof, stylish, HD recording device is Google's first battery-powered security camera, and should not be their last! This device offers 1080 HD resolution, intelligent alerts, wireless installation, face recognition, and free person, animal, and vehicle detection capabilities. It is easy to install, and its clean design will aesthetically fit into any given location of your home.
Since Google owns Nest, its outdoor security camera is perfect for those who already have Google Assistant installed in their homes. This high-definition camera is simple to set up, can recognize faces, and requires a Google account to function. Powered by a battery, which needs to be recharged every month, it can record continuously in 1080p video resolution. It can operate in the dark and comes with a sensitive motion detector that can pick up even the smallest of movements.

Runner Up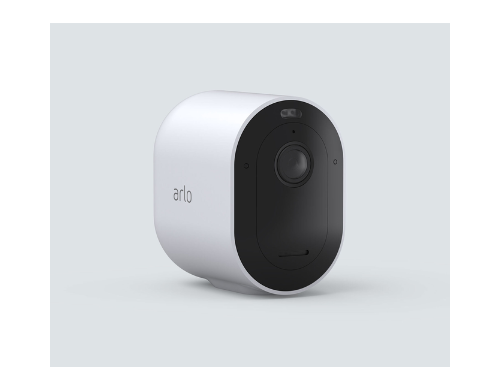 It is intended to capture medium to large-sized spaces.
The 2K HDR assists to ensure the homeowner can view the indoor parts of the house well, especially in long hallways, large living rooms, and the kitchen. It has a wide viewing angle, which aids in its mission of monitoring large areas. This camera can do great work in homes that tend to be hard to manage due to their size.
The Arlo Pro 4 Outdoor Security Camera is a premium camera that justifies its price. It offers several amazing features that make it well deserving of all the praise. It comes with a 2K resolution, a 160-degree field of view, full-color night vision, and Google and Alexa compatibility. For a small monthly fee of $3, you can buy cloud storage space to save notifications, but it also contains a slot for a microSD card if you prefer to keep your recordings on the device itself.

Most Cost-Effective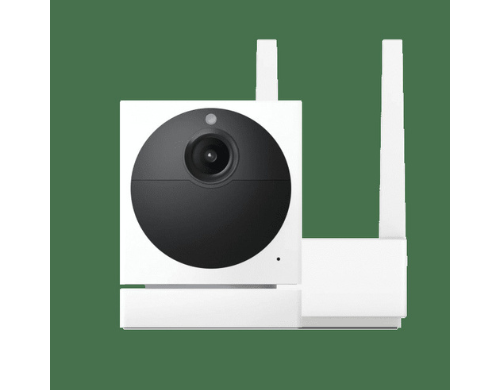 This is a remarkable outdoor camera that offers maximum value for your money.
An affordable security camera with the latest features.
The Wyze Outdoor Cam V2 is a remarkable outdoor security camera that provides good value for money. It has an impressive field of view of 130 degrees, a high-definition resolution of 1080p, PIR motion detection, and night vision that is both colorful and impressive. It offers an AES-128 encryption service in addition to an affordable monthly subscription to keep your recordings private and safe.

Everything We Recommend
Best Pick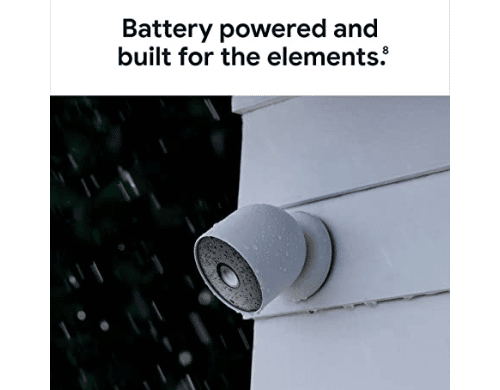 Solid home security device offered by a leading household name.
$154.90
Runner Up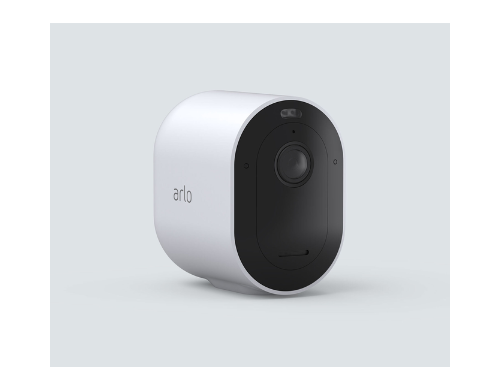 It is intended to capture medium to large-sized spaces.
Most Cost-Effective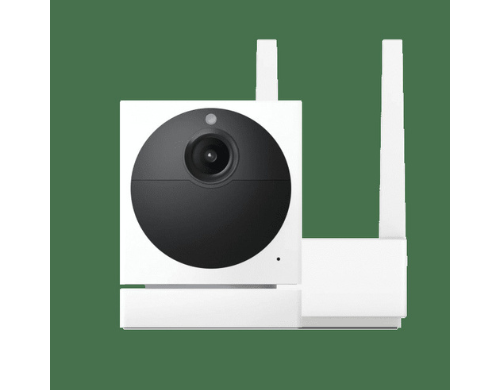 This is a remarkable outdoor camera that offers maximum value for your money.
$63.03
Who This Is For
A security camera is ideal for all those who want to keep their property safe and protected. The cameras listed here are suitable for everyone, and some of them can be set up without any technical assistance.
Do I need an outdoor security camera?
Installing an outdoor security camera is a good decision that you won't regret. Everyone should install an outside security camera on his/her property to establish security and protection. It also helps to keep an eye on the areas surrounding your property. Investing in a security camera is a great way to stay free of concerns regarding a breach of security.
What power source should a security camera have?
Batteries are the best way to power all security cameras. With a battery, the camera remains on until the battery lasts and is not dependent on the power supply. The battery installation and change must be simple.
Why You Should Trust Us
This buyer's guide has been prepared carefully. A lot of significant factors, such as brand reputation, customer reviews, reliability, technical specifications, and the like, were taken into consideration. This list is comprehensive and will provide you with much-needed assistance in choosing the best outdoor security camera.
How We Picked
Video Quality
All cameras included in this list have a minimum video resolution of 1080p. If the objects appear blurry, the security camera is a waste of money and effort. It is better to go for a high-resolution camera.
Night Vision
Every single camera on our list comes equipped with full-color night vision. All the listed cameras can detect in full color and clarity, even in low lighting.
Field of View
The cameras on the list have a field of view ranging from 130 degrees to 270 degrees.
Storage
You may save all of your videos and recordings onto the camera's built-in storage space by using a microSD card, which is included with the product.
Camouflage
The prints on the cameras included in our list are either white, black, or camouflaged.
Notifications and Alerts
All of the security cameras listed here come equipped with advanced security systems that sound an alarm and notify the user whenever motion is detected. Some are equipped with alarm systems that, when activated, send a signal to the owner.
Price vs. Quality
The pricing and quality of each camera covered in this list have been thoroughly researched. Every single listing is not only cost-efficient but also of high quality.
Subscription
The cameras featured in this article offer a monthly subscription service wherein users can gain access to cloud storage space and other storage facilities.
Power
Most outdoor cameras are battery-powered because these are simple to set up and handle over time.
Back-Up
If security cameras are connected and installed properly, they will work even if the power goes out. Since all of the cameras on this list are powered by batteries, they will work until the batteries are replaced.
Motion Sensor
Every security camera in this list comes equipped with a motion detection feature. The PIR motion detector included with the Wyze Outdoor Cam v2 limits the number of false alarms that are triggered when leaves or cars are detected.
Audio Recording
Even though some of the cameras do not come with speakers, they support two-way audio and have simultaneous audio and video recording facilities.
Weather Resistance
Our picks of cameras can operate well in temperatures ranging from -20 degrees Celsius to 45 degrees Celsius. They can withstand extreme weather to a good extent.
Water Resistance
All of the cameras discussed here are water-resistant and can function normally when exposed to rain or water.
Care and Maintenance
Outdoor security cameras often come with instruction manuals. They are DIY and can be installed easily, or you can opt for professional help.
The location of an outdoor security camera should be carefully chosen. It must provide a clear view of the porch as well as the surrounding areas.
Make sure to check your cameras at regular intervals to prevent tampering or damage. Most good security cameras are water-and weather-resistant.
Ensure payments are scheduled when it comes to subscriptions. Your payments should be on time so that you can take advantage of all of the storage and other available services.
Some cameras on our list provide built-in storage and also permit the use of external storage. To get the most out of your cameras, give them a good cleaning regularly.
Access to the recordings can be gained either through the microSD card or from an external storage device.