The Best Nursing Bras of 2023
The best nursing bras to help make breastfeeding easier for you and your baby.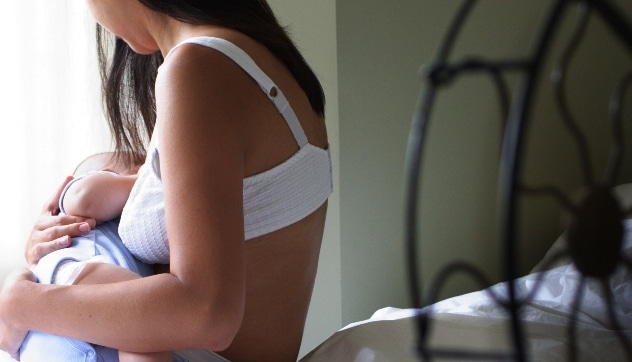 One of the many changes that come with pregnancy and childbirth is breast growth in preparation for breastfeeding. Picking the wrong bra can leave your body feeling uncomfortable, almost as if you were wearing a second layer of skin.
The challenge here is to find the right nursing bra. One that comes with superb comfort and support while giving your breasts just enough room to nurse comfortably.
Nursing bras do more than accommodate the changes in a woman's breasts. The cups of nursing bras pull open for quick access to your breasts, making it easier and more comfortable to feed a baby or pump breast milk.
With our buying guide, finding the best nursing bras doesn't have to be an extreme sport. Our selections come in different sizes, but we used the medium size for reference.
How We Picked
Adjustability - Hooks and Fastening

A good nursing bra should be adjustable given that your breast size will keep changing. To do so, the bra needs to have a pair of three to four hooks and adjustable straps.

Comfort and Ease of Use

Comfort is the number one factor to consider when buying a bra. A good nursing bra should allow easy and comfortable access to your breasts. We made sure all our picks checked this box.


Design

The design of your nursing bra goes a long way to defining its comfort. You can opt for a clip-down, a pumping bra, or a pumping and nursing bra. Generally, you need a bra with flapped cups, wireless support, and one-handed access.

Cost-Effectiveness

The prices of bras vary, and your choice will depend on your budget. However, our picks are top-rated bras that will not take much from your pockets.


Our Top Picks
Best Pick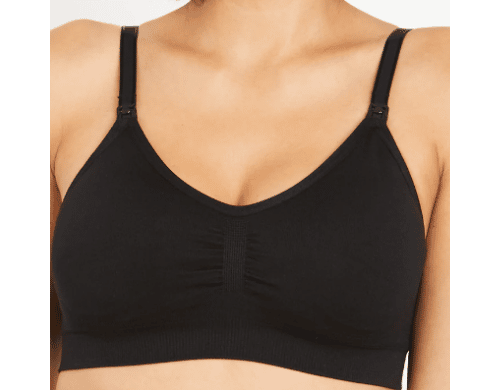 Good clip-down bra complete with a decent price tag.
The best overall nursing bra when it comes to design, accessibility, and comfort.

This bra checks all the right boxes for the perfect nursing bra. It is made of stretchy yet sturdy materials all over to effectively accommodate your growing breasts.

It also provides good positioning of your breasts while you breastfeed. After the Bravado nursing bra, this bra is the softest and stretchiest of our picks.
Runner Up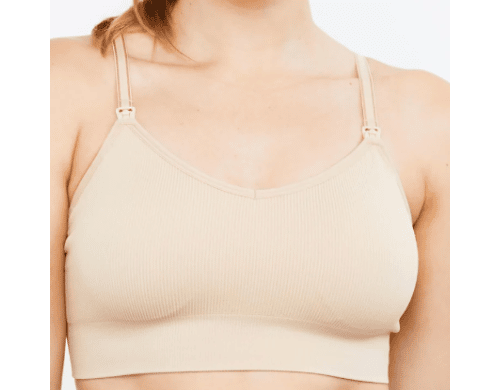 The ideal choice with a lovely design.
Offers maximum support.

Made by the same company as our top pick, the Seamless Rib Knit Maternity bra is perfect if you like sporty bras. It provides additional 360 support for your breasts in a seamless design that features a pull-over style.

It has a clip-on design that allows easy access to your breasts during feeding time, and it is also made of quality materials.

Most Cost-Effective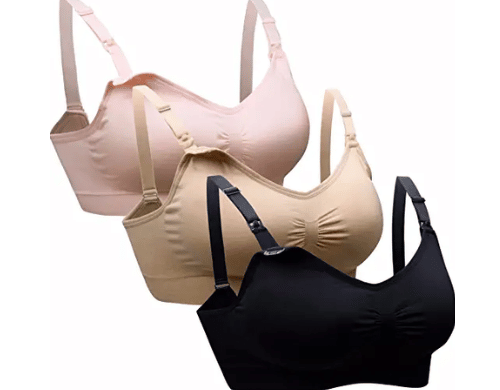 Basics at a low price.
May not be as sophisticated as the rest of our picks but it gets the job done.

This simply-designed bra comes in a 3-pack that gives you different or similar color options for a great price. It's like getting three great bras for the price of one.

It provides all the essential functions of nursing bras, including clip-down and adjustable strap features.
Everything We Recommend
Best Pick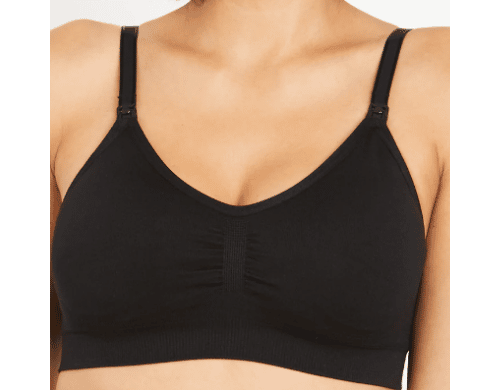 Good clip-down bra complete with a decent price tag.
$17.99
Runner Up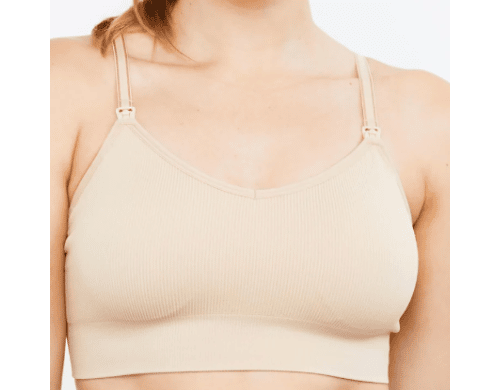 The ideal choice with a lovely design.
Most Cost-Effective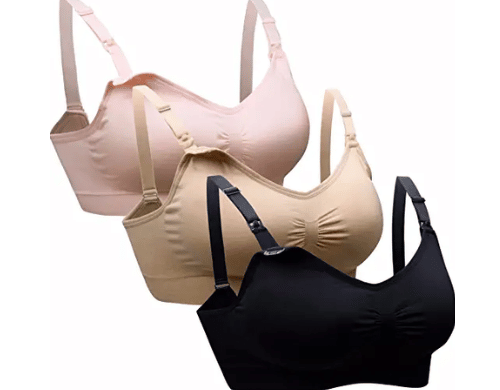 Basics at a low price.
Who This Is For
Nursing bras are perfect for you if you are a breastfeeding mom or soon-to-be. They have designs that give quick access to the breasts without removing the bra. This makes the breastfeeding process more accessible and comfortable for you.
Nursing bras are also structured to soak up any leakage you might be experiencing. The bra materials are soft and ideally include removable foam, so they will absorb any leakage and still be easy to wash.
Nursing bras are also suitable for pregnant women. Pregnant women go through several hormonal changes throughout their pregnancy period. These changes could bring about fluctuations in the size of a woman's breasts.
Nursing bras are designed to support your breasts better when they get heavier during pregnancy.
What is a nursing bra?
A nursing bra is a unique brassiere with the particular purpose of seeing mothers through a period of breastfeeding.
Nursing bras come with flapped cups that allow quick access to the breasts without removing the bra. Its design also provides extra support when the breasts get fuller, firmer, and heavier.
What size nursing bra should you get?
Figuring out the size of a nursing bra to get can be a big challenge, particularly for first-time moms. When getting a nursing bra, you're looking for something that's not too loose or too tight. If it's too loose, your breasts will be uncomfortable and unsupported since they're now bigger.
On the other hand, if it's too tight, you run the risk of getting a breast infection called mastitis.
Here are some points to help you get a nursing bra that fits:
If the rib band rides up in the back, it's too big.
If you can't fit two fingers comfortably underneath the rib band, it's too tight.
If you can fit more than two fingers underneath the rib band, it's too loose.
If the bra cup has extra room ( puckering), it's too big.
If the top edge of the bra cup cuts into your breasts, it's too small.
The cup should cover all sides of your breasts.
If the shoulder straps are slipping off and can't further tighten, it's too big.
If the shoulder straps are cutting in and can't loosen further, it's too small.
Why You Should Trust Us
We reviewed several online markets for nursing bras to understand what breastfeeding moms are looking for.
Afterward, we carefully went over an extensive list of top-performing nursing bras. We compared them based on cost-effectiveness, comfort, design, and adjustability before deciding on our best picks.
How We Picked
In our evaluation, we considered how much support our picks gave. Breasts get fuller, firmer, and heavier during pregnancy and breastfeeding, and our picks offer the best support for such changes.
We also learned that a good nursing bra should be easy to clasp and unclasp one-handedly to provide quick access, so we applied that knowledge while reviewing.
We chose bras with soft, breathable fabrics that offer enough comfort for the breasts. Our picks have adjustable straps because they offer more longevity and accommodate different body sizes.
Our preferences include bras with flapped cups and an overall beautiful design; there is no need for a nursing bra to look any less good than a regular one.
Lastly, we considered the price and selected bras that offer excellent quality and function for an affordable price.
Care and Maintenance
Nursing bras generally have quality fabrics, trims, and elastics, tailored to last long.
However, no matter how many nursing bras you have, it wouldn't make a difference if you didn't take care of them properly.
Also, you need to remember that proper care and maintenance of your nursing bras aren't necessary for your comfort alone but for the good health of your beautiful baby as well.
Here's how to take care of your nursing bras so that you get the most out of them.
Washing your bras
Firstly, because bras are body hugging and thus pick up dirt and odor easily, you should wash your nursing bra after two uses at most. However, if you sweat in your bra or it gets stained with milk, you should wash it after the first wear.
Secondly, you should try as much as possible to avoid machine washing if you want your bra to maintain its quality.
Hand washing should be your go-to. Here's how to hand-wash your nursing bra.
First, presoak your bra. This is optional, but it is good because it expands your bra's fibers, giving way for dirt and grime to come out. If you choose to presoak your bra, do it for a minimum of ten minutes.
In a bucket with about four to five liters of cold water, dissolve a small amount of detergent. The detergent should be biodegradable and should not have bleach. Bleach destroys bras.
Shake the water until it foams. Then, douse your bra in and out of the water for four to five minutes. Avoid rough washing because it will ruin the bra. When you squeeze, do so gently as well. Your nursing bra is delicate, and any ungentle twisting will spoil it.
After washing, rinse the bra in clean and cool water until the water becomes clear.
At this point, you can add a softener if you want. Add a small amount of the softener to the cool water, then leave your bra in the mixture for five minutes before rinsing.
The next step is to dry your nursing bra. Don't dry it in the sun. Direct sunlight will ruin your bra just as severely as hot or warm water.
If you choose to use a washing machine, always remember these rules.
Wash in cold water.
Use a gentle detergent.
Put your nursing bra in a lingerie bag.
Put your washer on the most delicate cycle.
Storing your bra
To store your nursing bra, follow these steps:
Make use of a lingerie drawer.
Store the nursing bras that have foams on their sides.
For more than one bra, place the cups inside each other.
You can fold your soft-cupped bras in half and lay them flat.
Choosing the right size
A crucial part of proper care and maintenance of your nursing bras is ensuring you wear the correct size.
Generally, a proper-sized nursing bra should be tight enough to hold and support your breasts and large enough to provide comfort and allow for other changes your breasts may undergo during breastfeeding.