The Best Mirrorless Camera for 2023
Mirrorless cameras are all the rage these days, and for good reason. Here are our top picks.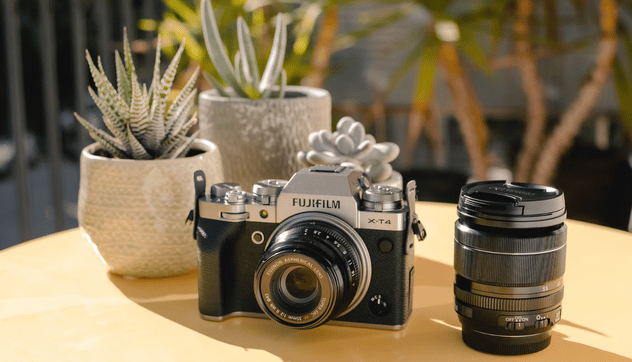 Mirrorless cameras are ideal for photographers who want a small, lightweight camera that can be taken anywhere. The availability of high-end mirrorless camera types is altering the photography landscape. A more portable mirrorless camera can be helpful for photographers of all skill levels. Whether you rely on the simplicity of a point-and-shoot camera or prefer to set up a tripod, a mirrorless camera has several advantages. Most major camera manufacturers, including Sony, Nikon, Canon, Panasonic, Fujifilm, Leica, and Olympus, have debuted their mirrorless camera product lines.
By comparison, DSLR cameras pale in comparison to mirrorless cameras' cutting-edge technology. Some well-known camera brands, including Nikon and Canon, intend to switch from DSLRs to mirrorless cameras. A mirrorless camera is the ideal travel companion. They are light and compact. Instead of purchasing a traditional DSLR camera, choose one of these if portability is essential to you
How We Picked
Image Resolution and Quality

The image quality is comparable to DSLR cameras. And, today's mirrorless cameras offer interchangeable lenses so you can take the best possible shots. As such, you don't have to worry about image resolution or quality because several pro-grade lenses are available.

Battery life

Mirrorless camera batteries are less durable than DSLRs since they have more electronic components to power. Be sure to have a few extra batteries on hand if you decide to switch to mirrorless. Entry-level mirrorless cameras typically have a battery life of about 300 shots, give or take.

Ease of Use

We all want appliances that are easy to use. These cameras offer manual settings and raw photo recording for greater image exposure and editing user flexibility.

Price

Mirrorless cameras have a variety of features. However, they are often costly. It will be crucial to decide whether you require the numerous components that go into the pricing of your desired camera before looking at its price.
Our Top Picks
Best Pick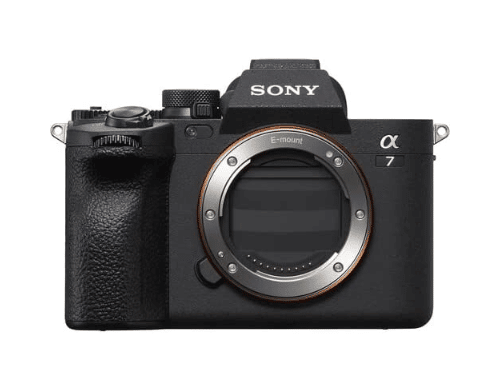 Sony a7 IV is well-built and has an updated menu system.
Sony's a7 IV Mirrorless Camera is the ultimate all-in-one imaging system for professional photography, video, and audio. Offering an intuitive interface for easy operation and control, the camera features an intelligent back-illuminated CMOS design that helps preserve original image quality and minimize noise throughout the ISO range.
The Sony a7 IV is the priciest and most powerful model in the series. Sony has made another grand slam. Sony a7 IV is a full-frame mirrorless camera that focuses on improvements, such as a new 33MP full-frame sensor and an improved autofocus system with support for Sony's Real-Time Tracking and 10-bit video for more fantastic creative color grading flexibility. If the price doesn't deter you, then a7 IV is an obvious choice if you're seeking a very professional camera that can manage stills and video at a level just under excellent.
Runner Up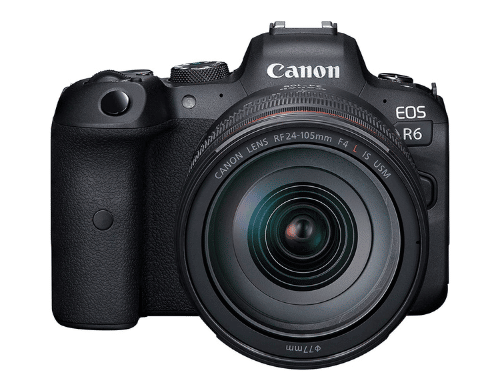 Canon EOS R6 is comfortable to use with incredible image quality.
The Canon EOS R6 Full-Frame Mirrorless Camera combines a beautiful UST body with high-speed autofocus, versatile AF lenses, and a generous feature set in an impressively compact and durable package.
The Canon EOS R6 is the ideal all-purpose mirrorless to start producing professional-looking films. The EOS R6 targets every day and action photography needs and has a much lower resolution. Its camera has impressive performance at rates of up to 12 fps and can record the minute details of a subject's motions. It works well for shots of moving subjects like wildlife, athletes, or moving automobiles. A silent 20 frames per second with an electronic shutter works best for shooting moving subjects. The camera is imposing, either matching or surpassing its competitors.
Most Cost-Effective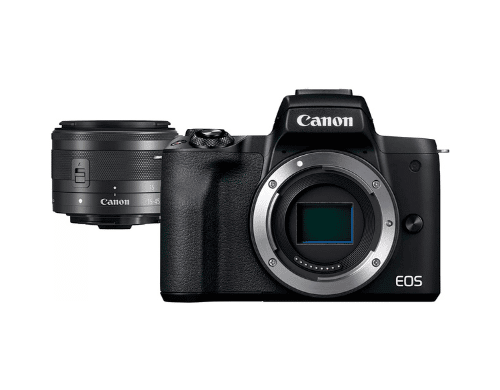 Canon EOS M50 Mark II is super portable along with a good autofocus system.
This camera comes with an EF-M 15-45mm STM (Super Sonic Motor) lens that offers smooth, silent autofocusing for a quiet, crisp image and reduced chromatic aberration.
With a 24MP APS-C sensor, the EOS M50 Mark II is portable and straightforward to use as a mirrorless camera. Compared to its predecessor, it offers only minor improvements, yet it is priced affordably, has good ergonomics, and has good image quality. Improvements include improved autofocus, vertical video shooting, and the capacity to live stream directly from the camera to YouTube.
Everything We Recommend
Best Pick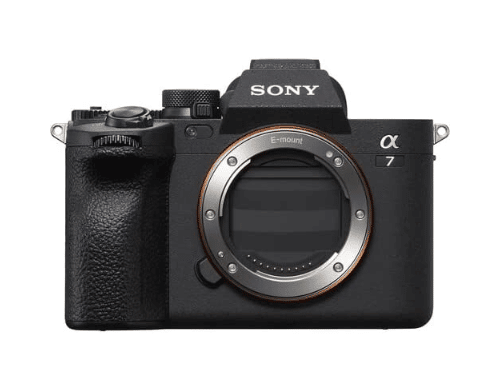 Sony a7 IV is well-built and has an updated menu system.
$2,498.00
Runner Up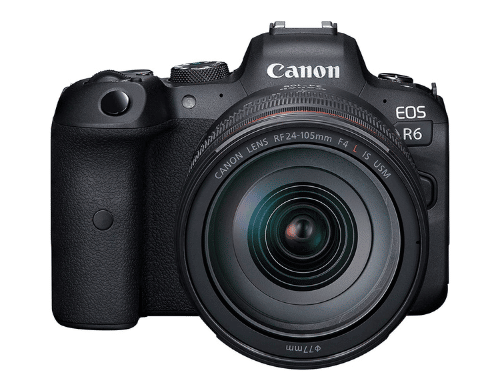 Canon EOS R6 is comfortable to use with incredible image quality.
Most Cost-Effective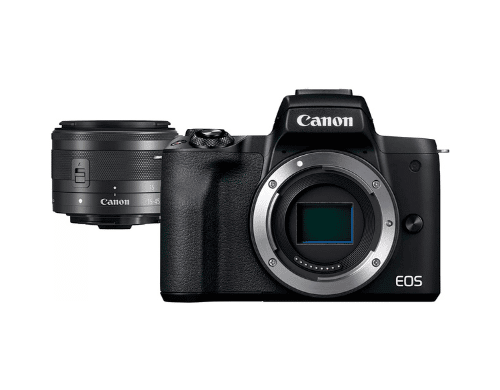 Canon EOS M50 Mark II is super portable along with a good autofocus system.
Who This Is For
For newcomers, mirrorless cameras are fantastic. Primarily because they typically include LCD touch screens with controls similar to those on smartphones, making it easier for you to get used to your new camera. Additionally, because the LCD screen and electronic viewfinder show you what each change in exposure will do to your image, shooting in manual mode is straightforward. Even with a histogram and light meter, there is much more uncertainty when using DSLRs. However, a more compact mirrorless camera with an electronic viewfinder (EVF), leaf shutter, full AF area coverage, or in-body image stabilization can benefit photographers of all skill levels. These features can all make photography more straightforward and more enjoyable.
DSLR vs Mirrorless Cameras – What's Better?
Although the structure and design of DSLRs and mirrorless cameras are different, the sensors, image quality, technology, and many of their functions are not. The decision between a mirrorless camera and a DSLR will most likely boil down to which one you prefer to use. Although some camera enthusiasts once despised mirrorless cameras, they have since developed to the point where they can compete with and often outperform DSLRs in many areas. Nevertheless, because mirrorless cameras are portable, quick, and quiet, many professional photographers favor them for shooting landscapes or wildlife.
Is It Worth Splurging On?
Over the past few years, the production and popularity of mirrorless cameras have grown quickly. Because mirrorless cameras are more compact, lighter, and portable than DSLR cameras, more and more people are moving to them. Additionally, mirrorless cameras are more likely to include a touchscreen than a DSLR of a comparable price, making them more similar to using a smartphone camera. Hence Mirrorless cameras are absolutely a good investment if you're searching for something with a small size, easy controls, and other advantages.
Why You Should Trust Us
The newest models from each major camera manufacturer currently have something to scream about and differentiate themselves from the competition in some way. There are some fantastic options for everyone, thanks to the development of mirrorless technology. There are many different sizes and shapes of the best mirrorless cameras. Due to this, we have covered the most outstanding solutions for you after numerous testing hours.
How We Picked
Since purchasing a mirrorless camera these days isn't inexpensive, we thoroughly tested each camera on our list. These days, in addition to standardized tests, real-world tests are the most illuminating approach to comprehending a camera's performance and character. The camera's design, handle, and controls are first examined to determine the type of photographer it is intended for and who could enjoy using it the most.
As some mirrorless cameras have numerous manual knobs to access shooting controls while others rely more on menus, they are simpler to operate. Although the decision is frequently based on personal preferences, manual dials and buttons do facilitate shooting.
We test the camera throughout the day with the screen's default settings to test the battery life in a realistic environment. Mirrorless cameras have a lower battery life, which might be annoying for those who plan to use their cameras for extended periods of time. This is a result of the EVF's high energy consumption. If you are concerned, simply bring a spare battery.
Weight and size matter depending on where you'll be utilizing the camera the most. Due to the lack of a reflex mirror and the mechanisms needed to shift it into and out of the light path, mirrorless cameras, regardless of form, are nearly always smaller and lighter than similar DSLRs. If you travel frequently, a small, light camera will be ideal.
We searched for models with a more comfortable grip because experienced photographers are likely to shoot continuously for hours or perhaps all day. There are still many mirrorless cameras that take excellent pictures while maintaining a size small enough that you won't hesitate to bring your camera with you, even though some recent models have started to add huge grips that almost make them the size of some DSLRs.
A mirrorless camera utilizes the image sensor to control focus and exposure in place of a mirror, which routes light through the lenses and up to the viewfinder. This can be a huge assistance to beginners and a fantastic learning opportunity. Another crucial choice for video and low-light photography is in-body stabilization, which keeps the camera steady even if you move. You should also take the electronic viewfinder (EVF) specifications into account. Judging photographs is made simpler by high resolutions and update rates, especially in bright situations.
Although a touchscreen interface is not required for your mirrorless camera, it does provide both amateur and professional photographers with a wide range of options. While some versions include a touch screen that offers fewer options than others, Some cameras can fully control your shot without ever hitting a button, allowing you to change the settings, focus, and exposure with the flick of your finger.
Then, after considering everything we've observed about the camera, we add its price to gain a feel of the value it provides before making our final judgment.
Care and Maintenance
It is crucial to emphasize that mirrorless camera sensors are more exposed because they are more susceptible to dust and dirt. Regularly taking care of your priceless camera doesn't require much work or time. If you do, you'll receive a camera that you can use to your heart's content for many years. The image sensor cleaning feature in most cameras can remove most dust particles. Go to your local camera store and purchase a specialized cleaning kit that includes liquid solutions, microfiber cloths, and brushes created just for cleaning your camera lens.
You might clean the sensor while cleaning your LCD panel and lens. Purchase some cleaning supplies and specialized flat swabs to remove the dust and grime from the sensor. Additionally, brush out dust and debris from delicate areas with a blower. Don't forget to purchase a camera bag to protect your camera from rain, scratches, and dust, as many are waterproof on the outside.
Take the batteries out of your camera if you plan to leave it on the shelf for a while. The batteries in your camera could get corroded if you keep it in a damp environment. And most importantly, don't forget to turn off your camera before changing lenses, adding or removing memory cards, or connecting or disconnecting cords.