The Best Microwave for 2023
Thanks to these efficient and handy little microwaves, toasty warm meals are just a few buttons away without having to break the bank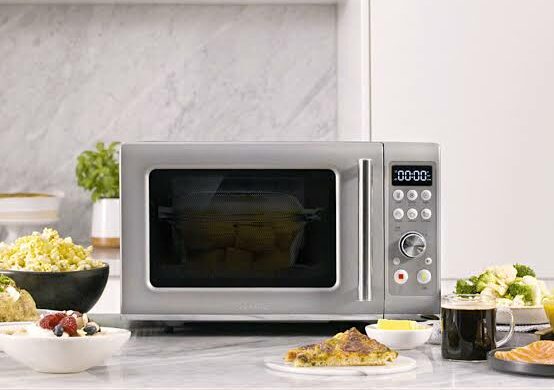 Microwaves help you complete tasks quickly, whether you require quick microwave meals and snacks, a chocolate cupcake right now, or you're learning how to create handmade soap.
If you're considering buying a microwave for your house but are unsure of how to choose wisely, don't worry. Here are a few of our best recommendations so you can make a decision; some even have functions that go above and beyond the primary dual-purpose goal.
How We Picked
Size and Capacity

Considering the surface area of your countertops, you should go for models that should lay comfortably on them. The size of microwaves is measured in cubic feet.

Pre-Programmed Settings

This feature allows you to alter the rate of heat emission to reach the required heating for a particular kind of food. It is operated by a turn and push dial.

Power and Wattage

A high wattage in a microwave is important to avoid long wait times and undercooked or frozen spots in the food. It is recommended that your microwave's wattage be 1,000 watts but not less than 700 watts.

Cost-Effectiveness

Some cheap models do the job well too. Just because a microwave doesn't come with a hefty price tag doesn't mean it won't live up to your expectations.
Our Top Picks
Our Top Pick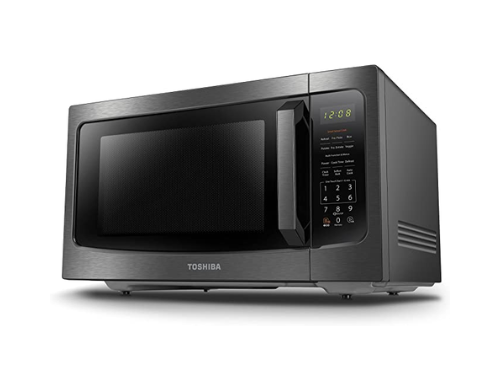 The turntable of this microwave has a position memory function that, for convenience, resets it to its initial position after use.
This Toshiba 1.6 cu. ft. microwave oven blends in with many different kitchen designs thanks to its classic style and black stainless-steel finish. It has six automatic menus, auto defrost, and a 1-pound defrost for quick defrosting, as well as a smart sensor function. It also has 10 power levels that can be adjusted while cooking.
This microwave strikes a sweet balance between cost and functionality.
Our Runner-Up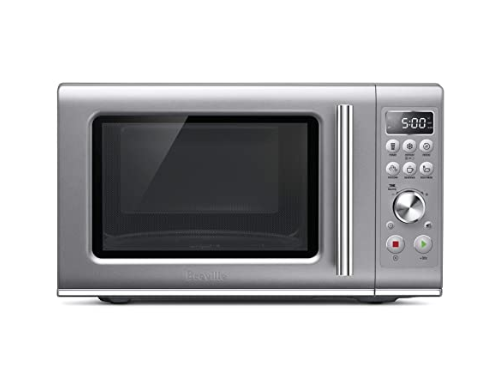 The Breville BMO650SIL has practical shortcut buttons that make it simple to use.
The control panel buttons have a nice feel to them and are large, easy to read, and easy to press when cooking. They are membrane keys, which means that they are easy to clean with no gaps to collect food from dirty fingers. All the space you need to cook, defrost, and reheat delectable meals is provided by this countertop microwave, which has a small footprint and a 25L capacity.
This compact microwave can fit a large dinner plate and is perfect for small kitchens.
Most Cost-Effective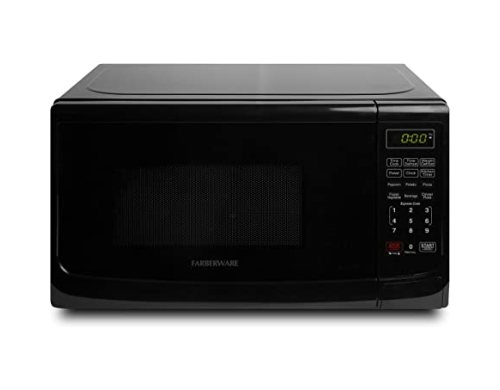 Like our other top picks, this one has a child safety lock feature to completely lock out children.
The Farberware classic includes six automatic cooking options for commonly prepared foods such as popcorn, potatoes, pizza, frozen vegetables, dinner plates, and beverages. It has a sizable digital display that includes a clock, a countdown timer, and the amount of cooking time left. The memory function enables you to customize and save your preferred cooking settings for improved one-touch convenience.
This model is lightweight, durable, and great value for money.
Everything We Recommend
Our Top Pick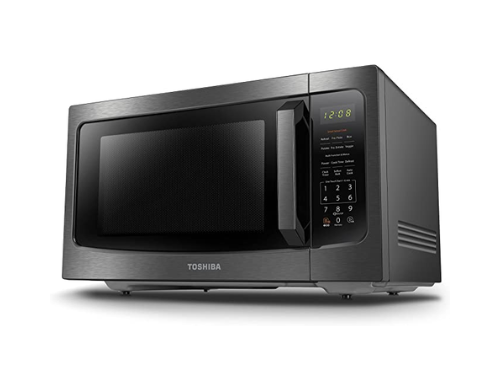 The turntable of this microwave has a position memory function that, for convenience, resets it to its initial position after use.
$169.99
Our Runner-Up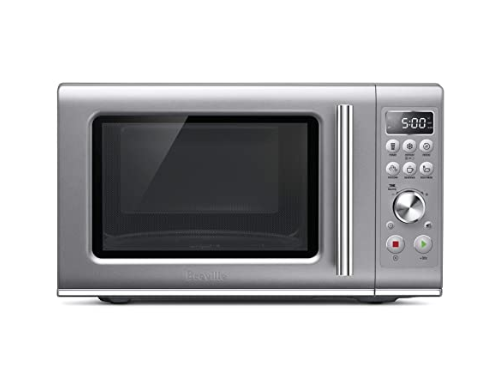 The Breville BMO650SIL has practical shortcut buttons that make it simple to use.
$244.29
Most Cost-Effective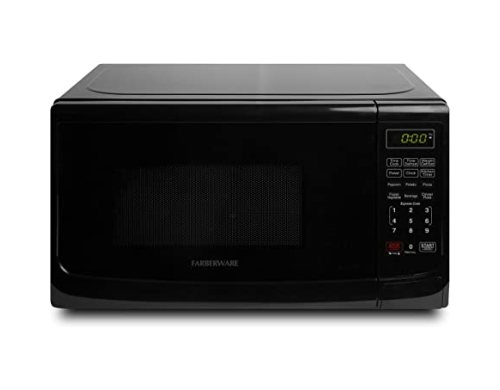 Like our other top picks, this one has a child safety lock feature to completely lock out children.
$84.99
Who This Is For
This article is very important and useful for families or individuals who intend to purchase a microwave or would likely replace an already existing model with another for better results.
Different types of microwaves
There are three main types of microwaves available on the market; grill, convection, and solo microwaves.
Grill microwave ovens come with additional grilling accessories. They work well when grilling soft veggies and meat. Simple cooking tasks like popping popcorn, preparing rice or pasta, or brewing milk, coffee, or tea can be accomplished with grill microwave ovens. Along with defrosting food, they can also reheat drinks and food.
For basic cooking, solo microwave ovens are entry-level versions in the microwave oven category. These are perfect for simple cooking and reheating. A solo microwave is a simpler type of microwave. It cannot grill or bake, but it is ideal for uniform reheating and cooking defrosting. A solo microwave oven will serve everyone's basic microwave needs, but it lacks any unique features. Furthermore, only plastic or glass can be used in a microwave. Additionally, a solo microwave can only handle glass or plastic that is microwave-safe.
A fan and a heating element combine to create airflow patterns inside convection microwave ovens. These are excellent for baking and grilling. A convection microwave provides extra characteristics in addition to being able to carry out all the tasks that a solo microwave can. Convection microwaves can crisp, grill, bake, roast, and do all of those things with food. The convection setting is best if you use your microwave for more than merely warming food. These models are, however, typically more expensive than the other choices.
Energy usage of microwaves
Microwaves use, on average, 1.4027 kWh of electricity every hour, with the range being from 0.8416 kWh to 2.9458 kWh. Microwaves with a power output of 1000 watts typically use 0.0234 kWh of electricity (max) each minute. Knowing a microwave's input wattage is crucial since it allows you to gauge how much of an impact it is having on your electricity costs and carbon footprint. Wondering if microwaves save energy, YES! They do. In addition to conserving energy, microwave ovens typically cook food more quickly and produce less heat in your kitchen, which could help you avoid the high costs of air conditioning in the summer.
Why You Should Trust Us
To better inform our audience about products and reviews like this one, we gathered helpful comments and grievances from frequent microwave users, both at home and in restaurants.
To confirm the quality of this piece, we also looked to Amazon and the websites of each model for additional explanations and, of course, more user and customer feedback.
Many individuals buy microwaves carelessly or ignorantly, which is why there are so many regrets. Given that microwaves are intended to be simple kitchen appliances, we have carefully chosen the top brands for you to pick from.
How We Picked
We test countertop microwaves by seeing how effectively they defrost a pound of frozen ground beef, pop popcorn, reheat mac and cheese casserole, and cook a dinner plate of meatloaf with sides, melt cheese, bake potatoes, and reheat both. In addition, we look at how simple it is to operate the control panel, move the turntable, open and close the door, and clean the microwave.
Size
The cubic foot capacity of a microwave oven is stated, but that amount does not accurately represent the amount of usable space. Turntable measurements are especially crucial because they are almost universal in microwaves. The size of the dish that the oven can accommodate will depend on its diameter. If you have a favorite microwaveable baking dish, be sure it will fit on the turntable by measuring it from handle end to handle end or taking it to the store. There are a few models that let you choose whether to turn the turntable off.
Make careful measurements of the microwave you're thinking about buying, particularly its height, to ensure that it will fit under a countertop.
Capacity
The microwave's capacity is expressed in liters. It serves as a gauge for how much food you can prepare at once. As previously said, the capacity of your microwave depends on your family's needs. In essence, it says that a solo-type microwave can accommodate a small family with 15-20 liters of space needed, whereas a grill or convection type can accommodate the same small family with 21–30 liters needed. For a large household, 25 to 30 liters of Solo brand are needed. It would be 32 liters and above for other sorts.
Preprogrammed settings
For tasks like heating bacon, melting butter, and popping popcorn, microwaves have pre-programmed power levels and timing. Although the popcorn button will be present on the majority of microwaves, the other options will differ from model to model. No matter what kind of food is being cooked, these programs always cook at the same time. You may occasionally be given the choice of quantity or packaging size.
Power/Wattage
Wattage indicates the microwave's power. A 700- to 900-watt microwave may be adequate for cooking popcorn, defrosting modest amounts of veggies, and reheating individual servings of food. You would need at least 1,000 watts of power for a more diversified application. The majority of packaged frozen meal heating instructions assume a microwave with a power output of 1,100 watts. Anything lower would simply require more time to heat up.
Generally speaking, a larger oven will cook more quickly and at a higher wattage. However, other elements, like the cavity's size and form, can also impact the cooking time. 800-1200 watts should be adequate.
Display
Displays on contemporary microwaves provide information about cooking times, programs, and code problems. Although the display is not the most crucial component of the appliance, we have taken it into account for reliable operation. Displays save you the stress of having to continuously open the door of your microwave to check on your cooking progress. When you push the keypad buttons, if the display doesn't appear at all, there can be a problem with the control board.
Buttons
This feature allows you to perform a variety of functions on the microwave. And as such, they should be designed to have easy access to achieve better cooking results. Most models have their buttons installed below the display screen for easy comprehension.
Clear options
With this option, you may easily erase or cancel the program you've entered in the microwave by simply turning off the appliance. The microwave's Control Locked feature can also be unlocked by pressing the Off/Clear button and keeping it down for roughly 3 seconds. If you mistakenly push this button while using the microwave, all you have to do to get it to work again is press the desired setting.
Price vs. Quality
The number of features increases along with a model's price.
Compared to other models, countertop microwaves are often less expensive. Midsized devices often cost a few hundred dollars, while small variants cost even less. start at about $50. Other countertop types come in kits that are less expensive and give you the look of a built-in. As a result, the quality of your microwave is closely correlated with its price.
Style/Design
There are various types of microwaves, and each one may be identified by the location and method of installation. Microwaves come in a variety of styles, including countertop, over-the-range (OTR), built-in that is recessed into a wall or cabinet, and drawer-style microwaves that are inserted into cabinets below counters.
Ventilation
Recirculating and external microwave vent systems are the two varieties. Air is simply drawn up into the device by recirculating vents, passed through a filter, and then pushed back into your kitchen. Although ductless and simpler to install, this type of ventilation system doesn't function as effectively as external ventilation.
The ductwork that connects to external vents draws air from your kitchen and sends it outside. If your house lacks ductwork, installing these systems can be rather expensive, but they are better at eliminating heat and odors from your kitchen.
Safety/Child lock features
Your microwave comes with special child safety software that enables you to "lock" the control panel in order to stop kids or anyone who doesn't know how to use it from accidentally operating the appliance. The oven's control panel can be locked at any time. To avoid unintentional use or kid access, many microwave control panels can be locked. Depending on the model, there are a variety of ways to lock the control panel.
Durability
Generally speaking, microwaves are made to last up to 10 years. But even if yours has been around for more than ten years and seems to be in good shape, it might be time to change because technology advances and most appliances become much more energy-efficient. With typical use, a microwave oven lasts roughly seven years on average; however, heavy use and poor maintenance will shorten its lifespan even further.
Care and Maintenance
Cleaning the plate
Most plates can be put through the dishwasher, even if they have some very tough charred residue on them or around them. However, first, check the handbook to make sure it is dishwasher-safe.
Wiping the inside of a microwave
To clean your microwave, put 1/2 to 1 cup of water in a microwave-safe bowl. Add the juice of any citrus fruit, such as lemons, and 1 tablespoon of white distilled vinegar per cup of water. To stop the water from boiling over, you can also add a wooden toothpick or cocktail stick. After that, the bowl can go in the microwave. You must operate the microwave for three minutes at its greatest power or until steam is produced. Before opening the door, let it stand for five minutes. Opened, the bowl may be carefully removed, and the walls, door, and base can all be cleaned with a moist microfiber cloth.
Safety concerns regarding radiation
Utilize cookware designed specifically for use in a microwave oven. If the door of a microwave oven does not close tightly, is bent, warped, or has any other damage, do not use it. Most importantly, if a microwave oven is still operating with the door open, do not use it.
Heat and Electric safety advice
When water is heated in a clean cup in a microwave oven past the boiling point, the water may quickly explode out of the cup with the slightest disturbance or movement. Additionally, the wire plug on your microwave should be completely covered, not exposed, or else you risk receiving an electric shock.
Fire dangers
Although microwaves are one of the safest kitchen appliances to use, they could cause a disaster if not properly utilized. The act of overheating food is the leading cause of microwave fires. When food is overheated in the microwave, it burns and produces smoke. If combined with the radiation produced by the microwave, it will lead to fire outbreaks. Also, there is a fire risk while heating wheat bags; never heat them for longer than the manufacturer's recommendations and never for longer than 3 minutes. Adding oils to wheat bags also enhances the fire risk.
Preventing microwave fires
Never attempt to heat your food in a plastic bowl. Regular cleaning will lower the risk of a fire in the microwave. Both the interior and exterior of the oven cavity should be cleaned. When cleaning, always disconnect the oven. Unless explicitly certified for use in a microwave, any recycled paper should never be used in one. Paper towels, for example, contain tiny metal specks that can ignite sparks or even flames when used.
Do not put metal, including tin foil, in the microwave
Aluminum foil and metal pans should not be used, as microwaves will reflect off of them, resulting in uneven cooking of the food and possibly oven damage. Furthermore, some plastic containers shouldn't be used since hot food can melt them. Utilizing glass, ceramic, and plastic containers marked for microwave use is advised by the FDA.
Future Reading /Similar Topics