The Best Memory Foam Pillow for 2023
Enjoy quality sleep with the best technology for rest and regeneration for your body and health with these memory foam pillows!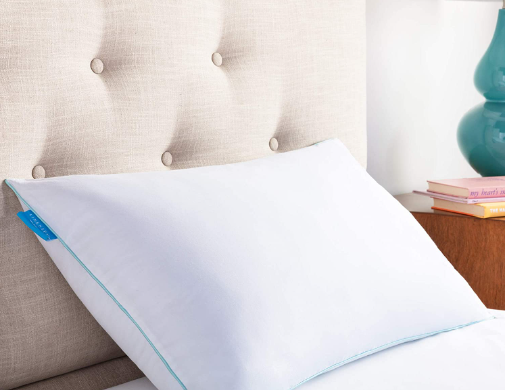 These days, sleep quality has become more relevant than ever. Sleeping well is necessary for us to do our best, be productive, and enjoy a full life, but it is also necessary for good health. The quality of sleep depends on many factors and believe it or not, your pillow is one of the most important of them. Today, you will learn about the best and most modern pillows for a good night's sleep: memory foam pillows.
From NASA to your bed, memory foam was a material developed to adapt to astronauts' bodies and relieve the pressure they suffered during take-off. This mixture of polyurethane and chemicals is used in pillows to align your neck, head, and spine and adapt to the shape of your body, thus relieving pressure points, reducing discomfort, and guaranteeing a restful sleep.
How We Picked
Firmness

It is defined by the density of the viscoelastic foam and its combination with other materials. Firmness will define your sleeping freedom and comfort.

Size and Shape

This is important for the quality of your sleep and the health of your neck and spine.
Conventional pillows are recommended if you do not have a medical condition or lesion and pillows that are ergonomically shaped or adapted to your neck are recommended if you have a neck injury or lesion.
The size will depend on your sleeping position:
Low pillow (4 in): for stomach sleepers and small children.
Medium pillow (5 in): for back sleepers.
Medium-high pillow (6 in): for side sleepers. Align the head and neck with the axis of your spine.

Material

The mixture of viscoelastic foam with other products such as bamboo, Aloe Vera, gel, and fibers gives it unique properties such as:
Breathability.
Hardness.
Absorption of odors.
Hygiene.
That is why we choose pillows with quality materials that provide extra benefits to users.

Cost-Effectiveness

Viscoelastic pillows can be expensive, so it is important to evaluate the quality of the materials, their characteristics, and the benefits they offer before choosing a particular brand and model. An expensive pillow may not always be the best.
Our Top Picks
Our Top Pick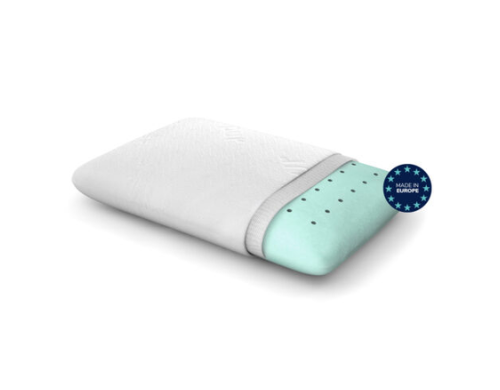 The ZenPur memory foam pillow is the most recommended pillow for cervical support and back sleepers, as its design ensures proper rest and breathability.
The ZenPur pillow is designed for maximum comfort and cervical support. It features high-density foam and a breathable bamboo cover.
Firm memory foam pillow, the most recommended for cervical support.
Our Runner-Up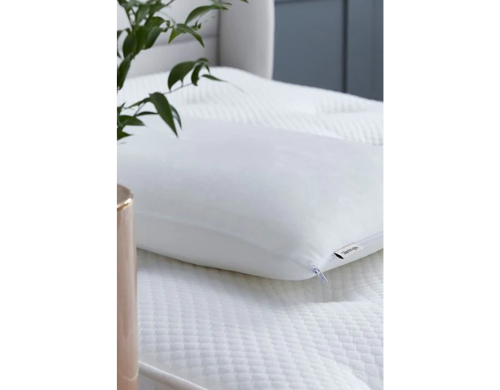 The SilentNight memory foam pillow stands out for being one of the most hygienic and comfortable pillows, its design ensures a pleasant rest free of any discomfort.
This pillow is perfect for those who want a comfortable pillow with a removable cover in a traditional shape with good firmness.
Extremely comfortable pillow, ideal for those who want a traditionally shaped pillow with futuristic technology.
Most Cost-Effective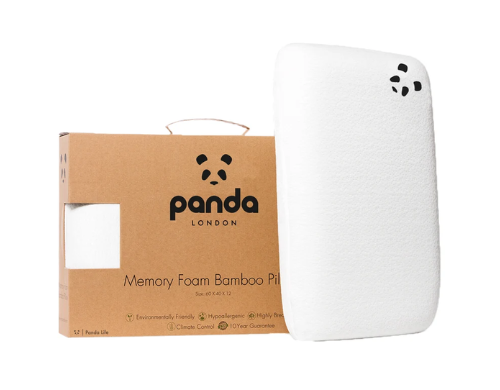 The Panda viscoelastic foam pillow stands out for its manufacture and ecological materials, in turn, has a design and shape that makes it perfect for any user.
The best price-quality ratio, machine washable, breathable and hypoallergenic pillow. On top of that, it's made in the UK, ideal for anyone who wants to support the industry.
Ecological, the best quality-price ratio, and made in the UK, do you need another reason to buy it?
Everything We Recommend
Our Top Pick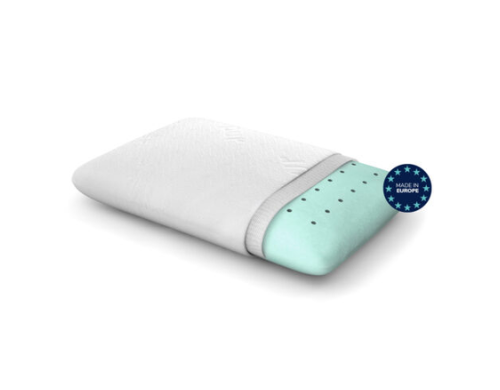 The ZenPur memory foam pillow is the most recommended pillow for cervical support and back sleepers, as its design ensures proper rest and breathability.
Our Runner-Up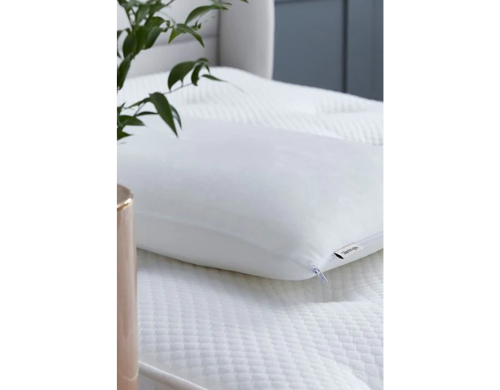 The SilentNight memory foam pillow stands out for being one of the most hygienic and comfortable pillows, its design ensures a pleasant rest free of any discomfort.
Most Cost-Effective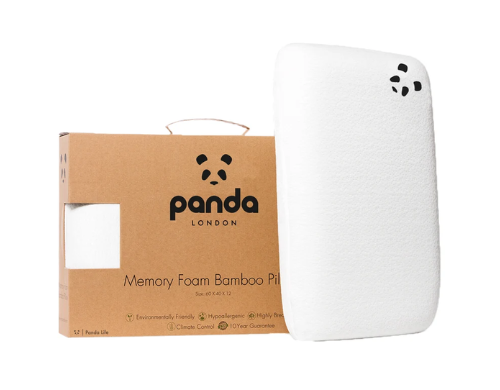 The Panda viscoelastic foam pillow stands out for its manufacture and ecological materials, in turn, has a design and shape that makes it perfect for any user.
Who This Is For
Memory foam pillows are for everyone. The wide variety of firmness levels, shapes, sizes, and materials available means that they can be chosen by different users with a wide range of needs. In addition, memory foam pillows adapt to the user, and although they may seem uncomfortable for the first few nights, over time they become an indispensable element for sound sleep.
Some people do not recommend them for children, but in reality, this is not true. Children can use soft viscoelastic pillows, which will help them to fall asleep more easily and thus promote their physical and mental development.
Are memory foam pillows worth it?
Of course, they do. Memory foam pillows relieve pressure, adapt to your neck and head, and return to their original shape when you move or stand up. They are recommended by doctors for people with neck and back problems.
Memory foam pillows have the following benefits:
Adaptable: they adapt to your head and neck whether you sleep on your side or your back. They also help to align your neck and head with the rest of your body.
Improve your sleep quality: their ergonomic design provides the best support for your head and neck, which will reduce pain and discomfort caused by poor positioning of the cervical vertebrae. This will help you fall asleep faster and prevent you from waking up in discomfort.
Temperature regulating: Some high-density models have thermoregulation substances and a special design to dissipate heat while you sleep.
Long life: these pillows can last for many years without losing their shape and properties if they are properly maintained. The viscoelastic core cannot be washed, but the protective cover can. Some pillows are so durable that their manufacturers offer two to ten years of warranty.
Gel Pillows vs Memory Foam Pillows
After the development of memory foam pillows, technology continued to advance and gel pillows were eventually developed. At that time, gel pillows offered some benefits over viscoelastic pillows; however, these days it's common to find pillows that combine gel and memory foam to create higher quality pillows that are more comfortable, softer, cooler, and breathable.
Among the pros of memory foam pillows is that they adapt slowly to the body contours and return to their original shape quickly which makes them extremely durable. They also have competitive prices and designs adapted to all tastes, as different materials can be included in their composition to provide them with different characteristics.
On the downside, they lose their shape and release foul-smelling fumes when they are made from poor-quality memory foam, and they are made with a mixture of chemicals, so if you are looking for a pillow made from natural materials, memory foam pillows are not the best option for you.
About gel pillows, we should point out that they are very adaptable and responsive and have heat-diffusing properties. However, they are made with a mixture of chemicals, so they are less environmentally friendly. At the same time, the gel is a very soft and moldable material, so this type of pillow provides less support to the head and neck.
Because their pros and cons complement each other, pillows made with a mixture of gel and memory foam are often the most competitive and beneficial pillows on the market, being the cooler, more responsive, durable, and offer the highest level of support and adaptability to their users.
Do you need different pillows for different sleeping positions?
Yes, you just need to choose pillows with different degrees of firmness depending on your sleeping position:
Firm pillows: great for sleeping on your back.
Medium-firm pillows: ideal for sleeping on your back or side.
Soft pillows: perfect for sleeping on your stomach.
Memory foam pillows are ideal for sleeping on your side or your back due to their medium hardness and medium softness.
Will a memory foam pillow help with my back pain/neck pain/scoliosis/PCOS
It's common for people who suffer from back pain, neck pain, scoliosis, or polycystic ovary syndrome (PCOS) to follow a treatment prescribed by their doctors to alleviate their symptoms or contribute to their recovery. However, it is necessary to make some changes in daily habits to notice a greater improvement.
People with severe scoliosis or severe pain may benefit from the use of memory foam pillows specifically shaped for the neck or to align the spine. These pillows can be more comfortable and effective than orthopedic pillows.
Those who suffer from less severe pain or problems may notice a big difference with the use of regular memory foam pillows, as they will help improve your sleeping posture and provide better support for your head and neck.
Back pain can usually be relieved by choosing the right pillow to sleep on, and this will improve the quality of your sleep. You can also place them under your legs or lower back to relieve discomfort.
Why You Should Trust Us
We make sure to choose the best memory foam pillows for you. We not only take into consideration user reviews, but also different aspects that will help us pick the best model for you. Aspects such as firmness, material, size, shape, and price-quality ratio are fundamental when choosing a good pillow. On occasions, a good pillow can be very cheap, and a poor-quality pillow can be expensive. That's why the best decision will come from the features offered and a careful study of the opinions of previous purchasers.
This research work can be tedious, and that is why we have done it for you. We offer you a complete list of viscoelastic foam pillows adapted to all kinds of needs and budgets.
How We Picked
As mentioned above, we have carried out a careful selection process in which we compared dozens of models of viscoelastic pillows, considering a whole series of factors that will determine their use, the best position for you to sleep on them, and of course, their service life and maintenance:
Firmness
This aspect is determined by the density of the viscoelastic foam used to make the pillow. You must take this characteristic into account because the position in which you can sleep, and your comfort, depend on it.
There are different levels of firmness:
Firm pillows.
Medium-firm pillows.
Soft pillows.
Support
Generally, memory foam pillows provide excellent support. However, if you need extra support, you can buy pillows with ergonomic shapes and a firmness level ranging from medium to firm.
Materials
Memory foam pillows are not only made of this material; some of them combine this polymer with gel, fibers, bamboo, and others to provide them with different properties. For example, the gel makes memory foam pillows dissipate heat better and the synthetic fibers make them softer and more comfortable to sleep on.
Size
The ideal size of a pillow is determined by the type of bed it will be used on and your sleeping position. If it is for a single bed, a pillow between 28-in and 35-in in length is more than enough. If you sleep in a double bed but want to use two pillows, you can go for a pillow between 28 in and 30 in. You can also purchase 40-in, 53-in, and even 60-in pillows.
Secondly, consider your measurements and sleeping posture. This means that not everyone needs a pillow of the same height. Although the material of this kind of pillow molds to our neck and head, we shouldn't force our posture at any time. That is why we mustn't exceed or fall short of the pillow's height.
If you sleep on your side, the perfect height of your pillow is the distance from the base of your neck to the end of your shoulder. You can use a ruler to calculate this.
If you sleep on your back, the height of your pillow should keep your head upright and provide adequate support. You can use the height of your favorite pillows as a guide.
If you sleep on your stomach, a low or thin pillow is the best option.
Shape
Although the most common pillows are those with a traditional or rectangular shape, if you have specific needs, we recommend other shapes that may be useful for you:
Orthopedic or contoured: it has a groove or "valley" and two ridges, one higher than the other, which run horizontally from one side to the other. It adapts to the way you sleep, as it has two heights and a special shape that molds to the contours of your head and neck. It is recommended for people who sleep on their backs.
Shredded Foam (Flakes): these are elongated pillows filled with thousands of viscoelastic foam flakes. Their height is average, and they are perfect for people who sleep in different positions throughout the night, as they are very adaptable. They absorb little heat and are highly breathable, making them the best choice for summer.
Wedge: has the shape of an inclined triangle with a gradual slope and is used to support different parts of the body. Its size and angle will determine its use, and whether it is for adults or babies. They are recommended for medical reasons, such as respiratory problems, acid reflux, or sinusitis. They are also recommended for pregnant women to reduce stress on the lower back.
Price vs Quality
This is a basic aspect. A quality pillow is not always expensive. With the development of new materials and technologies, as well as the increase in the supply of memory foam pillows, it is possible to find high-quality models at an affordable price.
A good price-quality ratio for a pillow should be between $60 and $30. Higher-priced pillows offer other special features, but you should consult with other buyers to make sure you are making a good investment.
Pillow Filling
The filling of viscoelastic foam pillows is usually a large block of this material. Some have holes, patterns, and special materials to facilitate breathability. Other pillows have memory foam flakes rather than a block. These are soft and more adaptable while retaining the benefits of the foam.
Comfort
This is a very personal aspect. If this is the first time you use this type of pillow, it will probably feel very hard or uncomfortable, don't worry, with use, it will mold to your shape, and it will be the most comfortable pillow you have ever tried.
If you prefer a softer surface, it is recommended that you choose pillows filled with viscoelastic foam flakes. These provide the same benefits as foam, but with added comfort and softness.
Care and Maintenance
How long do memory foam pillows last?
Viscoelastic pillows have a service life of between 2 and 4 years. Although some can last much longer, particularly those that use viscoelastic foam of a more innovative design.
How to wash a memory foam pillow (without losing its effectiveness)
Memory foam pillows are not washable because they lose their effectiveness, shape, and properties. However, some pillows indicate that you can wash their viscoelastic core with dry cleaning.
If the core of your pillow is heavily soiled, you can try washing it with neutral soap and lukewarm water. Dampen a cloth in the water and rub it in the soap until you get a light lather. You can then wipe it over the pillow core and then rinse it gently. You should dry it very well to avoid the proliferation of fungus from moisture.
If you have spilled something on the pillow, you can follow these steps:
Do not allow the liquid to reach the core of the pillow. Remove the covers and wipe the core clean using a dry cloth or kitchen towel.
Rub the stain with a damp cloth and neutral soap.
Dry the pillow with a blow-dryer set at a low temperature.
Putting a pillowcase to make cleaning and washing easier
It is recommended to put an extra cover on the memory foam pillow to keep the core clean and safe. This will prevent you from having to wash it during its lifetime, as this could damage it. Extra covers and inner covers can be washed without any problems, following the instructions provided by their manufacturers.
How long it takes memory foam to soften
The viscoelastic foam may seem a little firm at first, but with use, it will gradually adapt to the user and acquire the softness indicated by the manufacturer. The time needed to complete this process may differ depending on the user and the length of pillow time.
Why memory foam turns yellow and why you shouldn't panic
With daily use, most pillows take on a yellow color. This is normal and is a consequence of transferring oil from our oils from our skin and has nothing to do with your hygiene techniques, but with the amount of time you spend on it, between 6 and 8 hours. In viscoelastic pillows, the yellow color they may acquire is due to the oxidation process of the foam, since most of them have internal protective covers that absorb the grease that may remain on them.
Oxidation is a natural process that doesn't release toxic or harmful chemicals and will not alter its functionality. You cannot prevent memory foam from turning yellow. Still, you can slow down the process by following these tips:
Avoid contact with the sun: the sun's rays make memory foam oxidize and can cause it to become damp due to condensation and lead to the growth of fungus or mold. In addition, you shouldn't expose the pillow to the sun's rays to clean its surface or kill dust mites and bacteria, as they cannot grow on this material.
Use inner covers: As with other pillows, the use of inner covers can prevent the absorption of sweat or liquids accidentally spilled on the pillow.