The Best Massage Gun for 2023
Stretch your muscles and tense joints with little effort.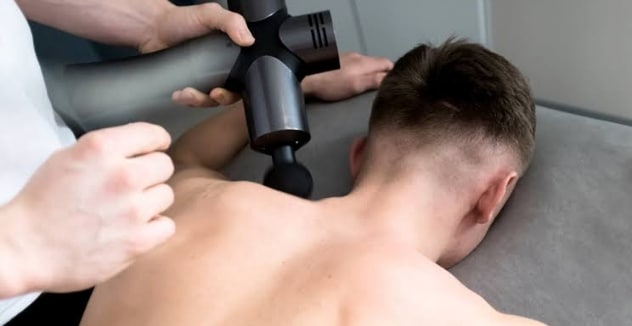 A massage gun is the ultimate self-massaging tool for anyone who wants to get rid of stress and enjoy an invigorating self-treatment routine at home. Massage guns are becoming increasingly popular because they are not just a preserve for professional athletes and sportspersons — anyone can use one to treat muscle tension and pain.
Massage guns come in a variety of shapes and sizes, and with different capabilities. Whether you want a gun of professional quality or a basic home model, we'll help you choose one that fits your needs. We have put together a list of great massage guns across all price points.
How We Picked
Power/Strength/RPM

The power of a massage gun needs to be considered before purchasing one. How many revolutions can the massage gun deliver in one minute? Massage guns operate via vibration and that's why you need to consider the revolutions per minute.


Noise

Massage guns generate a sound when in use. Some have considerably low noise while some generate uncomfortably noisy noise that can irritate you. The revolution and vibration are mostly the cause of the noise but we have selected the perfect massage guns that won't wreak havoc on your ears.

Battery Life

Just like every other gadget, we buy it so that we can use it for a longer period at our convenience. That's why we considered how long a massage gun last and how many hours will it use to charge.

Cost-Effectiveness

We evaluated the cost-effectiveness of every message gun that made our list because that's the end goal of your purchase. We checked other features of these massage guns and made sure you are getting value for your money.
Our Top Picks
Best Pick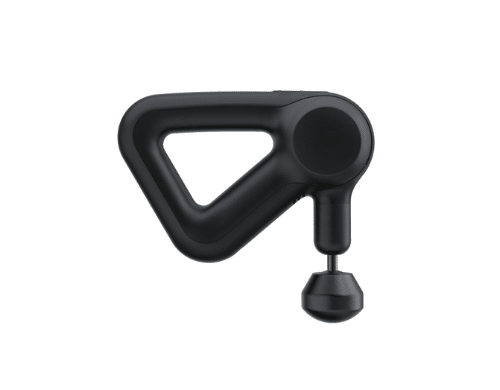 Super-effective and quiet
Theragun Prime has been thoughtfully designed for maximum ergonomic comfort and unparalleled durability and treatment.
Theragun Prime does its job perfectly. It eases stress and discomfort. It is highly powerful and recommended for deep tissue relief.
Runner Up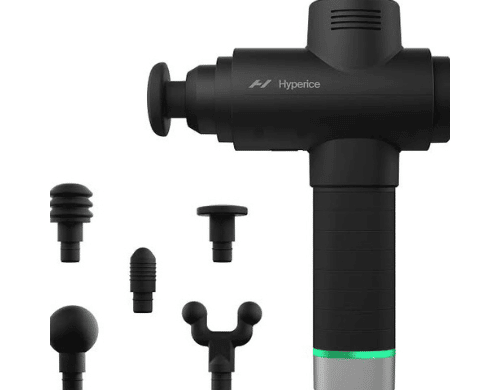 Decent battery life
Now with more power, and variable speeds, the Hypervolt 2 Pro helps you recover faster so you can get back to doing more of what you love.
Hyperice Hypervolt 2 Pro is highly efficient and embedded with some awesome features. It's mostly praised for its long-lasting battery life.
Most Cost-Effective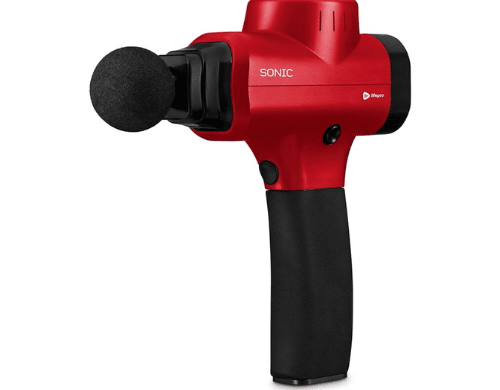 Affordable and relatively silent
Includes 8 interchangeable massage attachments and 15 vibration speeds.
LifePro Sonic is affordable and highly efficient. Despite its low price when compared to others on this list, it's quiet and lasts for more than three hours.

Everything We Recommend
Best Pick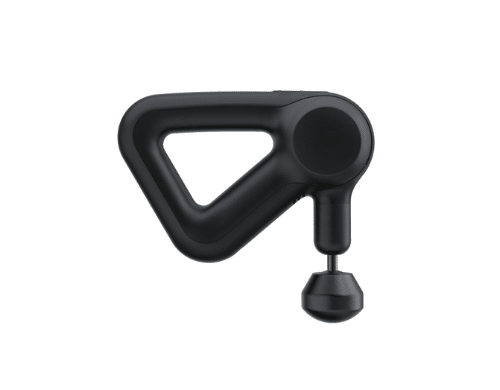 Super-effective and quiet
$289.95 ($289.95 / Count)
Runner Up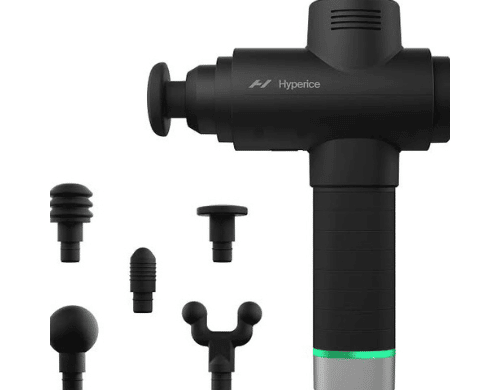 Decent battery life
$329.00 ($329.00 / Count)
Most Cost-Effective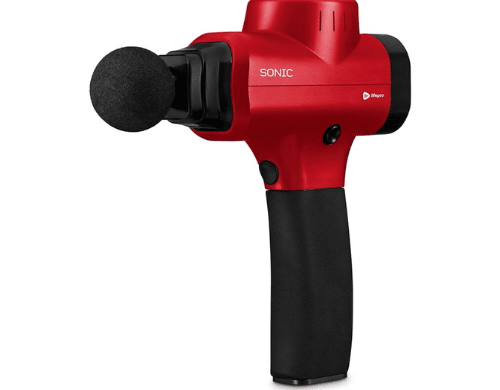 Affordable and relatively silent
$129.99
Who This Is For
These products are for people that want to release stress and cure muscle soreness. Massage guns are also used by athletes or sportspersons looking for a way to aid muscle recovery after intense workouts.
What Are Massage Guns?
A massage gun is a portable device that uses vibrations to treat muscle soreness and enhance mobility, as well as aid in muscle recovery. It actually looks like a power drill. Massage guns operate based on a technique similar to tapotement. Massage guns make you feel good by sending vibrations into your body and thus stimulating the nerve endings in your body. Treatment with these guns is sometimes known as vibration therapy or percussive massage treatment.
Health Benefits Of Massage Guns
Massage guns became popular in recent years most especially during lockdown. People are getting massage guns to improve their well-being. Below are the health benefits of using a massage gun:
Massage guns help in the release of stress from the body. The vibration triggers the release of dopamine and serotonin which are responsible for happiness and general body relaxation.
Percussive Therapy improves blood circulation by clearing the blood channels with its vibration.
It is highly effective and recommended by therapists for injury rehabilitation therapy.
Massage guns have been proven to fasten the release of lactic acid and other toxins from targeted muscles to surrounding tissues. Lactic acid and other toxins accumulation can cause muscle soreness.
 It enhances your sleep. When you use a massage gun, the vibration induces the release of melatonin, an organic compound in the body that is responsible for keeping you asleep.
It enhances the brain's function. As massage guns enhance blood circulation, your brain may get the required oxygen that keeps it alert.
It stimulates the sympathetic nervous system and thus releases tension from your body system.
Massage Guns vs Foam Rollers
This has been one of the most controversial topics in the fitness industry and forums. We will settle this legendary argument right here. Foam rollers have been in use for a very long time before massage guns. A foam roller is a cylindrical tube of compressed foam used for reducing muscle soreness and increasing flexibility.
Is foam roller better than massage guns? No. Massage guns are easy to use than foam rollers. Users have praised massage guns for their pinpoint focus on the desired area over the large surface area usually covered by foam rollers. Foam rollers are also efficient but not as massage guns. Massage guns eliminate muscle knots more easily and effectively than foam rollers.
Massage Guns vs TENS
TENS is used to relieve acute and chronic pains in the body. It's mostly used because of its immediate pain relief. Unlike massage guns that use vibration, TENS uses electrical stimulation to block pain. TENS and massage guns are different as they are used for different conditions. Many people don't use TENS because they find it uncomfortable.
Why You Should Trust Us
There are various massage guns online with the "best" tag just to rake in some money. That's why we take our time to look out for the perfect massage guns that are safe and efficient for you to eliminate stress and muscle soreness.
How We Picked
It's not easy to hand pick the perfect massage guns for you and your pocket with different types of massage guns available on the market. To give you a cost-effective and efficient product, we reviewed professional opinions and previous user experience with many massage guns. Professional opinions from gym instructors and massage therapists set us on the right path to gathering these listed options. User experiences and reviews were about convenience, ease of usage, battery life, noise, and effectiveness.
As we scoured through these reviews, we looked for massage guns with exceptional power and RPM (Revolutions per Minute). As we ensured that the power or strength of the massage guns are efficient, we also considered that they are safe to use on your body. As we chase for convenient massage guns, we made sure that they aren't noisy. A noisy massage gun isn't good for you!
Across all of your choices, you will discover that battery life is a crucial factor in our evaluation process as keeping you stress-free and making sure your money is spent wisely is our top priority, and, as always, we looked out for the best deals or bargains to find you the most cost-effective massage guns that do their tasks perfectly.
Power/Strength
The power or strength of a massage gun is about the amount of pressure a massage gun delivers onto a targeted area.
RPM
Revolutions per Minute also known as RPM is the measurement of the speed of the head. A good massage gun is said to have an RPM between 1,740 and 3,000 RPM.
Noise
Massage guns are machines and they make noise. In the list that we compiled for you, we consider the noises and pick massage guns that don't make uncomfortable sounds.
Battery Life
When it comes to machines such as massage guns, the sustainability of the battery matters. We considered the depletion time and charging time of each massage gun and picked the perfect choices for you.
Style
Massage guns may look similar but they aren't. They have different tips or heads with varying surface textures. The texture may be soft or hard and this determines the intensity of its force.
Additional Attachments
Most massage guns do come with additional attachments. These attachments are usually various heads such as the fork, bullet, cushioned, ball, and flat round.
Weight
Yes, the weight of the massage guns you are getting matters. We bet you don't want a situation where you want to massage a certain area and you end up hurting your hand. For safety and ease of usage, we reviewed the weight of chosen massage guns and made sure they are comfortably portable.
Care and Maintenance
Do not overcharge your massage gun. Overcharging your massage gun deteriorates the battery life.
Avoid high temperatures or liquids near the massage gun. They may affect the performance of your gun.
Picking a carry case for storing your massage gun. If your massage gun doesn't have a carrying case, get one for it ASAP. It eases the transportation of your massage gun and also protects it.
How often should you use a massage gun?
You can use your message gun several times a day. According to fitness experts, 2-3 times are recommended in a day.
How to clean the massage gun
You can clean your massage gun with antibacterial wipes or a wet towel. If you are scared of using a wet towel, you can clean the moisture immediately with a dry towel.