The Best Massage Chair for 2023
Ease off your tension and stress with a relaxing massage from one of the most delightful chairs available on the market.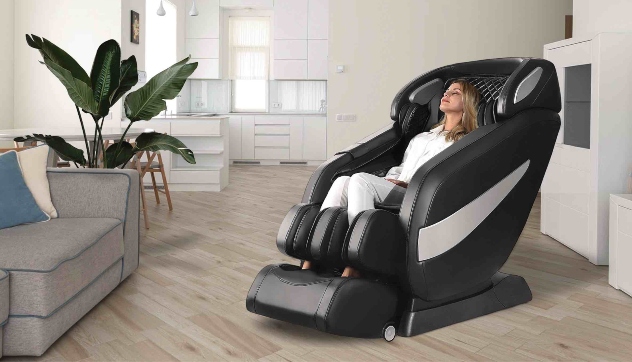 Massages are among the best forms of therapy for the body and mind. We think you'll agree too, because who doesn't like lounging at home and getting their muscles relaxed after a tough day outside?
It's exactly for this reason that massage chairs are considered heaven-sent. Nothing beats experiencing the comfort and luxury of deep tissue bodywork in the privacy of your home.
Getting a massage chair is a dream, we know. But it's also important to remember that not all massage chairs are the same! Researching all your options is the only way to find the ideal fit for you, because the brand that delights someone else may not provide you with the experience you crave.
This is why we've put together this enlightening and helpful guide, to help you make the most informed choice — if not the best — when buying a massage chair.
How We Picked
Massage Functions

Depending on the brand or model, different massage chairs offer different ranges of functions. It is thus ideal to consider the functions that are most important to you when choosing a massage chair.



Intensity/Speed

Massage chairs provide varying levels of speed/intensity based on your needs. As a result, this feature is important to consider when deciding to ensure that your final choice meets your requirements for a good massage.



Max User Weight

The ideal massage chair needs to have a maximum user weight that correlates effectively with your weight. As such, weight limits should be among the important factors influencing your choice.



Cost-Effectiveness

Buying a good massage chair doesn't have to leave you bankrupt. There are many options with varying prices, but it is always important to consider whether the value offered is worth the price.


Our Top Picks
Best Pick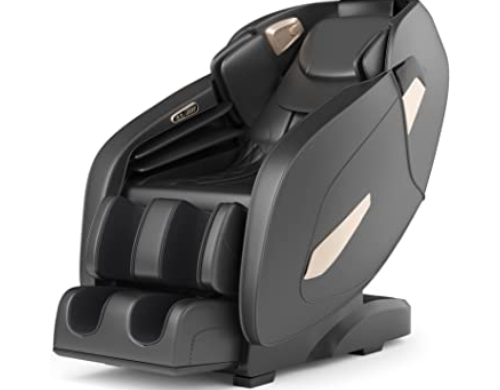 Elite features for intense, full-body massage.
Great choice with elite features for a relaxing, full body massage experience.
The Costway Full Body Massage Chair is designed for utmost convenience, combining an amazing zero-gravity design with full body massage airbags to give you a relaxing massage experience.

Runner Up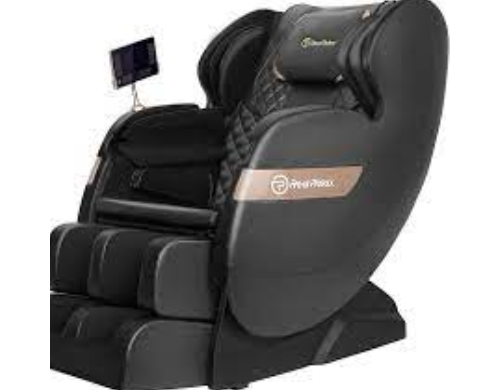 This is a great, affordable choice for a soothing, pain-relieving massage
Sophisticated design, great value, and intense relaxation


Zero-gravity reclining, a lower-back heating option and a footrest extension are notable features of the Real Relax S Track Massage chair, all contributing to an intense, satisfying massage.

Most Cost-Effective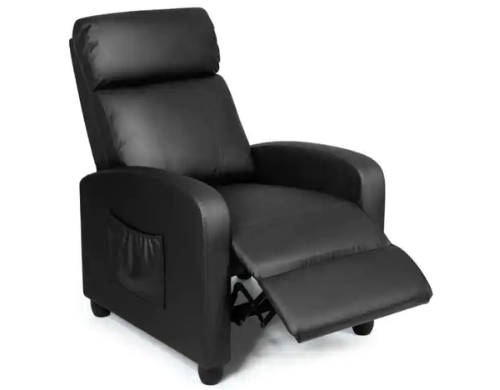 Enjoy satisfying massages with a great design for a very affordable price
Maximum value and comfort.
The Costway Wingback Recliner Massage Chair is an ergonomically designed club-style recliner, great as an affordable option, and without the conventional appearance of massage chairs.
Everything We Recommend
Best Pick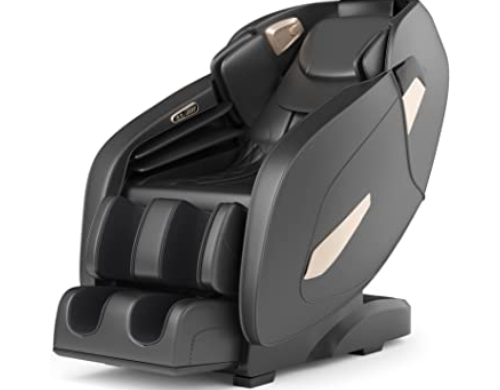 Elite features for intense, full-body massage.
Runner Up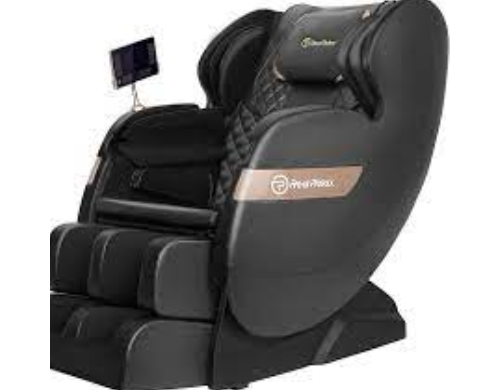 This is a great, affordable choice for a soothing, pain-relieving massage
$999.99 ($999.99 / Count)
Most Cost-Effective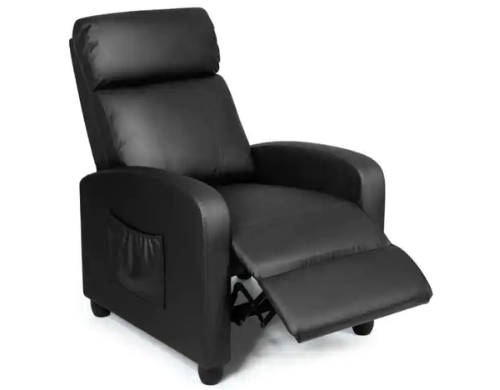 Enjoy satisfying massages with a great design for a very affordable price
Who This Is For
If you're someone that gets in contact with the outside world often, especially for work and related purposes, you may be able to relate to how stressful a typical day can be. It's always a great idea to ease your stress, and improve your mood and well-being.
Some people do this by going to massage parlors or spas, but not everyone has the luxury of time. This is where a massage chair comes in handy, helping you to achieve the same relaxing experience in the comfort and privacy of your home.
Do massage chairs work?
Many people often wonder if massage chairs offer any physical benefits; a million-dollar question, in our opinion. It is thus important to consider that numerous research has been conducted to determine the true effectiveness of massage chairs.
According to one study, both heart rate and blood pressure considerably decreased five minutes after treatment compared to the pre-treatment data. However, the same study states that there is conflicting data regarding whether the subjects' "zero gravity" positions or the chair caused the effects.
It was also impossible to tell if these were actual, bodily changes or merely side effects of the individual appearing "relaxed."
A different study was conducted on employees to examine the purely psychological advantages of massage chairs. The study showed no compelling evidence to support the advantages of massage chairs using a combination of mental training and massage.
It is however noteworthy that the control group, who only utilized the massage chair and nothing else, did experience a decrease in "Somatic Trait Anxiety," according to the study.
Another study that examined the stress levels of nurses that use massage chairs mid-shift indicated that the introduction of the chairs decreased overall stress and anxiety.
It's tough to say whether this was due to the chair's actual massage or just the accompanying break.
The psychological advantages of massage chairs appear to be rather obvious and simple to comprehend. Massage chairs can be helpful if users are just looking for a great soothing experience and to unwind; the mechanics are less crucial in this case.
Health benefits of using a massage chair
From pain reduction to better circulation to faster healing, massage therapy has a long history of offering a variety of health advantages. However, when massage chairs were initially created, it was believed that their main purpose was to promote relaxation. While they undoubtedly accomplish that goal, they have much more potential.
People describe — and in many cases, studies corroborate — the following health benefits of massage chairs. It is however important to note that these benefits vary, depending on the individual's physical condition, how frequently the chair is used, and other factors:
Pain reduction: Using a massage chair regularly can effectively reduce pain throughout the body. The lower back is one area where massage is particularly useful. Lower back pain typically lessens with massage as muscles that have grown too tight for a variety of causes start to relax. Massage may have more benefits for many people than treatments like acupuncture or medicine in treating lower back discomfort. Of course, you must adhere to your doctor's recommendations, but massage chair sessions could be a beneficial addition to your treatment regimen.
Reduced heart rate and blood pressure: Muscle stiffness in many parts of the body, especially the neck and shoulders, is a common manifestation of the stress brought on by typical busy lifestyles. Your blood pressure and heart rate may then increase as a result of this tension amplifying the sympathetic nervous system's (SNS) reaction. The risk of several illnesses, including stroke, heart disease, and organ damage, such as kidney impairment, is increased by high blood pressure, often known as hypertension.
A highly beneficial and healthy diversion from daily stress is massage. The parasympathetic nervous system (PNS), created to lessen the effects of the sympathetic nervous system (SNS), is activated in the process. In other words, the best massage chairs assist in restoring equilibrium to your body and support lower blood pressure and heart rate.
Enhanced immune system performance: Your immune system function may be reduced while your body is under stress, leaving you more susceptible to illness. Massage enables a more effective functioning of your immune system by assisting with relaxation. Therefore, while massage by itself cannot prevent sickness, it can help to foster the environments that will enable your body to better fend against threats.
Decreased cortisol levels: A hormone called cortisol is well known for enhancing the body's "fight or flight" reaction to danger. While it is beneficial and necessary in some circumstances, persistently high amounts of cortisol can harm the body in a variety of ways. Cortisol levels can be lowered and the body's "stress reaction" can be reduced with massage.
Fewer headaches: Muscle stress can contribute to headaches generally and migraines in particular. The greatest massage chairs may lessen headache frequency and intensity by lowering or removing that muscle tension.
Are massage chairs safe when pregnant?
There is no evidence to support the assertions that a massage chair can cause miscarriage or early delivery, according to Dr. Romy Ghosh, an OB-GYN of Austin Regional Clinic. When used as intended, massage chairs are typically safe for expectant mothers.
Below, we have discussed each potential problem that massage chairs could pose to pregnancy and why they are in fact, not the risks they seem to be:
Vibration: The vibration you experience from using a massage chair is typically too gentle to hurt you. Because you are sitting, there is no risk to your tummy even if you're using the highest setting.
Heat: It's a good idea to be cautious about overheating during pregnancy. When you're pregnant, it's risky to elevate your body's temperature too high. Hot pools, saunas, and hot yoga are typically not advised because of this. However, even the heat emanating from a massage chair is generally going to be rather modest, not likely near enough to pose any risk to a pregnant woman.
Acupressure: Additionally, the pressure in massage chairs is not strong enough to induce labor. In reality, constant pressure—not the kind you'd get from a massage chair—is what acupressure labor points require.
Overall, a pregnant individual faces little risk when using a massage chair, provided that it is being used properly. It should be okay to use a massage chair during pregnancy in a low setting. However, if you're not sure, please see your doctor or a birthing specialist (such as a midwife).
Use gentle heat and modest massage pressure, especially in the area of your lower back. For instance, in remote locations, pregnant women are permitted to use heating pads. However, ensure to stop using the chair and drink some water if you start to feel dizzy or overheated.
You might also wish to refrain from using the massage chair when pregnant for the following reasons:
Morning sickness: Moving about so much, such as while using a massage chair, could make you queasy if you suffer from severe morning sickness.
Sciatica: You might believe that using a massage chair is a smart option if you have sciatica. However, by stimulating already overworked or sensitive nerves and muscles, it may cause greater pain.
Backache: Lower back discomfort follows the same rule. Back pain during pregnancy can be challenging, and you risk aggravating the condition more.
Generally, the smart and safe thing to do is consult your healthcare provider or birth specialist to help you understand the safety of using a massage chair, especially considering your specific condition.
Why You Should Trust Us
With so many options available, anyone would find themselves overwhelmed with picking the right massage chair. Not to worry, we have made this choice so much easier for you to make.
In this review, we conducted extensive research to arrive at our top picks. We consulted online reviews of users, official reports from bodies of authority in the health and massage industry, as well as a vast number of other credible research resources.
How We Picked
As with any other kind of product, massage chairs abound in the market, with varying brands and models promising varying degrees of satisfaction. We understand that when presented with a plethora of choices, choosing the best one can be a bit hard.
This is why we considered the following important criteria to present you with the best massage chair choices:
Massage Functions
Ideally, a good massage chair should have a good range of functions, but this tends to depend much on your budget. Simple vibrating and rolling massages are typically all that low-end massage chairs have to offer. High-end massage chairs, however, typically have a higher number of features to help you relax.
In this review, we have suggested options that provide you with a wide range of important functions including zero gravity and inversion therapy, kneading, rolling, vibration, heat and sound therapy, to mention a few.
Best believe that our picks are guaranteed to provide you with a wholesome massage experience.
Massage Shape
The shape or track system is an important factor to consider when selecting a massage chair. This refers to the movement of the massage nodes or rollers up and down your back during the massage procedure. Choosing a massage chair that works using a track system that you think will work best for your needs is important.
There are three alternatives to consider:
S-Track: With this track system, the massage rollers work by forming the letter S on your back.
L-Track: The L-Track system provides more coverage because you can also work on your hamstrings and glutes during the massage procedure.
SL-Track: This is a combination of both track systems, essentially offering you the best of both worlds!
Intensity of massage
One of the most crucial features of any massage chair is the intensity of the massage. The amount of intensity a chair has depends on how many motors are inside of it; more motors equal a higher intensity of the massage. The best massage chairs have more intensity options and will ensure that you get the most use out of them. This is why we made sure to prioritize this criterion when suggesting our top picks.
Speed
A greater number of speed settings can be beneficial in giving you complete control over your massage's intensity. Certain brands only have a one-speed setting, so it's worth investigating this feature further before making your choice.
Adjustability
Some models of massage chairs can be adjusted to fit a variety of heights, and others have adjustable roller widths. This is an important consideration to keep in mind when making your choice, to ensure that you get the best use out of your massage chair.
Max user weight
The maximum weight limit of a massage chair is essentially relevant to your size as its user. Most chairs have a capacity of 250-300lbs, but there are some products designed exclusively for larger people that have higher limits. All in all, the options we have suggested in this review have their maximum user weights in a reasonable range and can be conveniently used for a relaxing experience.
Price vs Quality
The cost of any massage chair will undoubtedly depend on how many and how effective the massage chair's features are. We have provided options in this review with a range of prices that offer great value for their worth.
One important thing to remember when considering cost is that massage chairs are significantly less expensive than regular visits to a massage therapist, not to mention more convenient. Regular massage chair use, when done correctly, can also result in long-term health benefits that are not exactly measurable in monetary terms.
Style/Design
We understand that massage chairs need to be aesthetically appealing especially because they will typically need to be incorporated into living settings. This is why we suggested massage chairs that come in great designs and styles.
Ease of use
Nothing detracts from the pleasure of a relaxing massage experience like unclear or tedious instructions on how to use the massage chair. Getting even tenser and more frustrated while using a massage chair is not the goal! This is why the massage chairs we've recommended have controls that are simple to use and straightforward, guaranteeing the most stress-free experience.
Controls
The way you use a massage chair is critical to your overall satisfaction with it, especially if you're the kind of person that hardly bothers with technology. In-built controls are convenient because you don't have to look for a remote. A separate controller, on the other hand, can be useful so you don't have to adjust your relaxed position to access the controls.
However, we will leave this choice entirely up to you by suggesting options that allow for separate as well as in-built controls. This way, you can choose the kind of massage chair that serves you best!
Connectivity
Bluetooth connectivity and USB ports for charging your device may appear to be extra, maybe even unnecessary luxury features. However, such connectivity features can significantly enhance the relaxation experience by allowing you to become completely immersed in your massage therapy. It may also mean you use it more frequently, so while the initial investment is higher, the overall cost per number of uses may be much lower. This is why we made sure to consider connectivity while suggesting our top picks so that you're presented with options that give you a satisfying experience.
Durability
A massage chair typically comprises several moving parts, wiring, and computer components, so it is not surprising if something goes wrong at some point during its use. Given the amount of money you may have to spend on your preferred massage chair, you will undoubtedly want a long-lasting chair.
You will most likely use your chair frequently, so it is best to choose a sturdy, reliable, and durable model, just like the top picks we've suggested in this review. Even if you have to pay a little more for a sturdy chair, consider it a quality investment, one you'll undoubtedly benefit from.
Size
The size of a massage chair is important for two important reasons; it has to be reasonably sized to accommodate its user, and also to fit into the space in which it will be set up for use. For this reason, we considered massage chairs that will typically accommodate a wide range of heights and sizes, and also take up a reasonable amount of space in your home without overcrowding your space.
Safety features
As with most other gadgets, it is important to consider safety features when choosing a massage chair. Auto-shutdown features, for example, can be beneficial for safety when using your new gadget, especially since people are known to fall asleep in the relaxing comfort of a massage chair. We prioritized features like this to come up with the safest massage chair options for you.
Care and Maintenance
How to clean without damaging a massage chair
As with pieces of furniture in the home, massage chairs benefit greatly from regular as well as periodic cleaning. One of the best ways to keep your massage chair upholstery looking beautiful (and free of stinky spills or messes) at all times, is by making sure to perform regular surface cleanings.
Get this done by following these steps:
Begin by wiping your chair down with a microfiber or any soft cloth. This will clear away any surface dust and debris.
Afterward, in a bowl of warm water, combine a few drops of mild dish soap. Using a clean rag, gently wipe down all exposed parts of the massage chair's upholstery, making sure to pay special attention to any prominently dirty areas. This will get rid of any stubborn particles of dust and dirt.
Finally, apply a leather conditioner to the leather. Contrary to popular belief, do not use any oils (such as olive oil) that may be stocked in your pantry. These can eventually damage the upholstery on the chair.
To do some periodic cleaning on your massage chair, follow these steps:
To begin, clean the chair using a soft cloth as described above. Afterward, vacuum out any dirt particles from cracks and crevices. Then, wash it using a mixture of warm water and gentle dish soap.
Make a point of getting into every single corner this time. Work the damp cloth into the chair's seams, under any removable cushions, and between any airbags.
Wrap up your cleaning session using a leather conditioner, just as you would with the regular cleaning procedure.
How to dry
Drying your massage chair after cleaning doesn't require a lot of serious effort. Just ensure to wipe the chair dry after cleaning. You could use a soft cloth to do this, but make sure you do not use heat to dry the massage chair.
As stated earlier, also avoid putting your massage chair in direct sunlight to keep from causing damage to the upholstery.
How often to clean
The frequency of cleaning that you should carry out on your massage chair varies, depending on whether you opt for regular or periodic cleaning sessions. Ideally, we recommend cleaning the surface of your massage chair regularly every one to two weeks.
For periodic cleaning, on the other hand, you're better off doing it every couple of months; this will of course depend on how often you use the massage chair.
How to store your massage chair
It is critical to consider the environment in which your massage chair is located as well as the elements to which it is subjected. For instance, if you keep your chair in a room with direct sunlight, the upholstery may fade and crack faster than it should.
Before storing the chair, make sure to thoroughly clean it, including the massage head and any other removable parts.
Before storing the chair, verify that it is completely dry. Also, in addition to avoiding sunlight, refrain from storing the chair in a humid or damp environment; instead, keep it dry and cool.
Also make sure that only the right people have access to your massage chair, wherever you choose to keep it. Small children and pets, of course, could wreak havoc on your chair, so you might be better off keeping it in a more private room that is off-limits to them.
Knowing the max weight and not going over
While you may be able to use a massage chair even if you weigh more than its maximum weight limit, the manufacturers typically warn that the external surfaces of the chair may wear out faster and the internal mechanics may be made more prone to damage due to this.
If you're looking for a large weight-tested chair, consider massage chairs that can hold more weight (some can hold up to 300 lbs).
Dealing with massage chair issues
Except you've had formal training in massage chair repair, attempting to repair your massage chair's components yourself might just be a big mistake.
Advisably, at the first sign of trouble, you need to contact a specialist (ideally someone affiliated with the massage chair's manufacturer) to fix the issue appropriately.
There are several issues to be on the lookout for. Make sure to turn off your massage chair if any of the following occur:
Odd noises
Doesn't perform commands
Difficulty turning off and on again
Difficulty in performing specific functions
Difficulty in switching/adjusting between intensity/speed modes