The Best Leather Car Cleaner for 2023
Restore the luster of your car leather with the finest cleaners!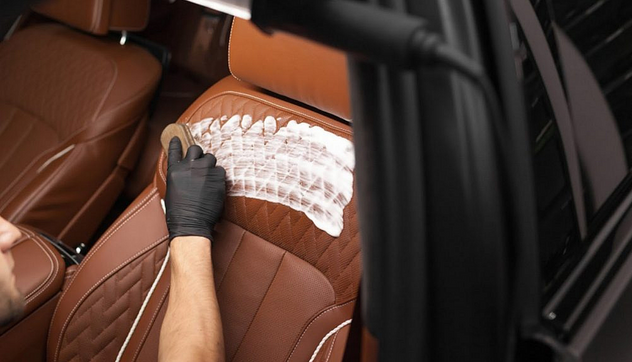 Cars with leather interiors are often seen as snazzy and luxurious. Apart from looking snazzy, a big advantage to leather is how easy it is to clean. The interior of your car needs just as much maintenance as the exterior. Conversely, neglected leather may make even the fanciest cars appear shabby. The simplest way to protect the interior of your car is to use a leather cleaner and conditioner. Besides helping to avoid cracking, discoloration, and other wear, it will aid in removing a buildup of body oils, stains, and other grime.
Although leather may be easy to clean, consumers may find it confusing due to the abundance of cleaning brands on the market. We, therefore, assembled the most trusted brands out of the many available options to determine which ones perform the best.
How We Picked
Effectiveness

A good leather cleaner should remove stains and dirt without stripping the leather of its moisture and shine through evaporation. Its properties should also prevent cracking and discoloration of any kind.


Ease of use

Employing a lot of energy isn't necessary if the cleaning solution has effective properties. A little quantity of the cleaning solution and a cloth should be all you need to restore the shine of your car leather.


Ingredients - non-toxic

Car seats typically come in contact with the skin, so whatever cleaners used on them shouldn't contain harsh chemicals which could trigger skin conditions or potentially be inhaled.


Price

No one wants to spend an outrageous amount on cleaning products so our testers ensured to include products that are reasonably priced without compromising effectiveness.

Who This Is For
The products promoted here are great for anyone who owns items made of leather. People with leather car interiors will particularly appeal to these products that help maintain the leather's natural oil, beauty and softness.
Are these as effective as getting professional car detailing?
You have options when it comes to washing your car. Why would some car owners choose to pay more than ten times what it costs at an automatic wash for professional car detailing when self-cleaning is available? And why would auto detailing take hours when you can do it yourself in the driveway in only 20 minutes? What does a detailer do differently to make the time and money worthwhile?
A professional detailer uses specialized equipment, methods, and materials to ensure that every trace of filth and stain is cleaned. They deal with food stains, food residue, and dust without causing any harm to delicate interior surfaces. Even if none of these circumstances exist and your car is in great condition, applying wrong chemical cleaners might cause serious damage. Dashboards can easily be damaged or faded. Headliners can be deformed or damaged, and stains may be ingrained forever. An expert can remove the messes without damaging your car because they have the knowledge, tools, and experience necessary.
While expert detailing is preferable, if stains and other debris are not caught early enough, they can penetrate into leather, making subsequent cleaning challenging. When filth and grime are ignored, they can lead to deep stains and cracking, which call for labor-intensive cleaning or even repairs. By regularly cleaning and conditioning your leather with solutions designed for leather care, you may prevent this. Your investment in your car will be maintained with regular, meticulous washing (either by a professional or by you), as well as professional car detailing. It will prolong longevity, aid in preventing corrosion and keep your interiors looking brand new.
Won't these cleaners damage the leather?
Yes, leather is a generally durable material that can withstand considerable stress, but the top layer is quite delicate. It's crucial to understand that leather used in automobiles nowadays bears little resemblance to animal skin. In actuality, leather is made up of multiple layers of various materials, and the animal skin itself is only a thin layer of the overall product. Similar to painting, there are three layers on top of it: a color layer, a primer layer, and the so-called "top coat." And when it comes to cleaning leather, the top layer is crucial because it is the one that can be seriously harmed by ineffective cleaning methods. As with paint, not all leather is created equal, therefore you can still find leather that is actually animal skin, especially in antique cars.
So, how should leather be cleaned in order to preserve its suppleness? Here are a few tips:
Use leather-specific cleansers that are as close to pH neutral as you can: Products' pH values are and always will be a by-product of their constituent substances. Remember that items with a very high or low pH value don't always have to be harmful for paint or leather, and similarly, products with a neutral pH aren't always safe. However, products with a high pH value generally contain substances that can interact chemically with the top coat of leather, causing damage that is both permanent and irreversible. Because of this, if the cleaner you choose has a more neutral pH, you will usually be safer.
Utilize the proper fabric types along with the cleaning agent: Despite being soft and sensitive, microfibre may sometimes be rather harsh and abrasive. As long as you use it correctly and gently, it doesn't really harm the clear layer of your car's paint, but it can harm the top coat of leather. For this reason, cotton towels rather than microfibre ones are often preferred when cleaning leather. Sponge use is also kinder to leather than brush use. Again, not all brushes are created equal, and not all of them are harmful, and leather damage is almost often the result of using a brush too harshly. However, compared to a brush, a soft, non-abrasive foam applicator will typically be more kind to leather.
Why You Should Trust Us
This test was carried out in a setting that offered identical testing protocols for every product. We evaluated the efficacy of each leather cleaner on a soiled leather seat. After collecting the results, we concluded that our test was accurate and trustworthy and gave us the best data to suggest our top picks to our audience.
How We Picked
Effectiveness
A high-quality leather car cleaner has a specially designed formula to clean, condition, and moisturize leather. Some leather cleansers have additional UV ray protection ingredients. This prevents the sun's negative effects on leather, such as cracking, melting, fading, and so on.
Versatility
Any good leather cleaner needs to be easy and versatile. Its benefits increase with the number of uses it gets. Although cleaning is the main function of leather cleaners, some can also condition the leather. Our runner-up option is ideal if you're searching for a multi-purpose product that can be used for cleaning, conditioning, and protecting.
Ingredients
High-quality leather cleansers are created with non-toxic, chemical-free ingredients. They include chemicals and natural oils that aid in removing filth, soften leather, and leave no trace or strong odor. Avoid purchasing any cleaners that have chemical cleaning agents in them. In this shopping guide, we've solely reviewed 100% natural leather cleaners.
Ease of use
With leather cleaners, you want to choose one that is easily applied using a powerful spray or cloth. The next and last step should be to use a conditioner to maintain suppleness. Products that require extra steps other than these become inconvenient and non-practical. Instead of this, it's advisable to opt for professional cleaning at a car-wash.
Quantity
You should be aware of how much you require to meet your needs. You will need more if you intend to routinely clean your leather car seats and lesser quantity for occasional incidental stains. Additionally, the more the better if you intend to utilize it for other leather goods in your home.
Packaging
Every product has a unique packaging design. Some leather car cleaners (like our budget pick) have a specific brush or cleaning pad, eliminating the need for a lint-free cloth during application. Other leather cleaners are available as single-use wipes. All of our picks come in spray bottles in liquid form.
Price
Good leather cleaners are often affordable and may be found for less than $20. The secret is to decide between a multi-step and an all-in-one conditioning strategy if you're trying to save money. If you're on a limited budget, all-in-one items, like our runner-up option, are the most flexible and can help you save time, effort, and money. A two-step routine kit that will perform for cheaper is included in our pick for those on a budget.
Care and maintenance
How to use
To ensure that any leather cleaner is safe for your seats, spot-test it in a discreet spot.
Do a thorough vacuum. This ensures that as you clean, dirt, sand, and loose filth won't scratch or rub into your seats. To reduce the danger of discoloration, work slowly and in small sections.
Use cotton towels. They are gentle and won't damage the surface of your leather. Spraying directly on seats is not recommended, especially if the leather has holes. Use the solution to dampen your microfiber cloth instead.
Keep the wet solution from drying on the chairs. Ensure that you massage it into the cloth until it is completely absorbed.
Ensure to condition occasionally and regularly. Once a month, clean your seats, and condition them two to three times per year.
Where to store
It is advised to store cleaning agents in a clean, cool, dry area as some of them can react dangerously when exposed to significant temperature changes or high levels of humidity. All containers should be properly sealed and kept at eye level or lower in well-ventilated environments.