The Best LCD LED TVs for 2023
You deserve the best entertainment possible, and these television sets are here to provide it.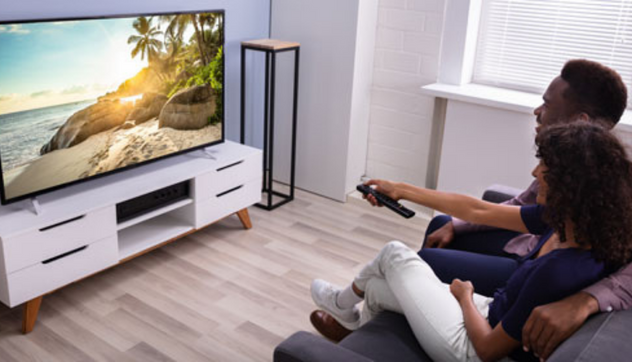 There's nothing quite like sitting back and relaxing with some popcorn and soda to watch a really good movie. This also presents the perfect opportunity to spend some quality time with loved ones.
The experience becomes a million times better with the right entertainment facilities, and it all starts with the perfect television set. Thanks to technical knowledge and advancements, we no longer have to hit our aging TV boxes for functionality or settle for regular sets that are only good for watching and nothing more.
With the invention of flat-screen TVs and plasmas came a new innovation — LCD LED technology. These concepts are responsible for crystal clear imagery, coloring, detailing, and graphics, alongside smart capabilities like in-built WiFi and Bluetooth. They are embedded in most new television sets, and we have found devices that offer the most premium entertainment that LCD and LED TVs have to offer.
How We Picked
Screen Quality

The most important reason to go for these upgraded TV sets is that they provide the clearest production quality you can find on the market, and their screens are one of the fundamental factors that make this a reality.

Ports and Connectors

As we mentioned earlier, modern televisions are good for more than just watching, and one of the features that makes this possible is the presence of multiple connectivity options. Through ports and connectors, we can easily connect our sets to multiple other devices.

Size/Weight

The larger the size, the wider the view. With that being said, however, a large screen does not have to equal an excessively heavy television, and that's why we have found TV sets with a proportional size-to-weight ratio.

Cost-Effectiveness

With great features comes great responsibility, and oftentimes a great price tag to match. Our selected products offer the best features and purchasing value on the market within their price ranges.
Who This Is For
The suggested products are for anyone looking to step up their entertainment game. These television sets are unlike the traditional TVs we're used to. They use advanced technology known as LED lighting to project pixel images that use LCD, leading to more defined, realistic, and detailed imagery. LCD and LED TVs give a cinematic feel regardless of what you're doing, whether streaming your favorites or gaming with your buds.
What is an LCD LED TV?
All TVs use technologies to display lights and colors that produce images on their screens. The technology used in creating different colors and brightness levels is known as a liquid crystal display (LCD). These crystals are built to either block or allow light to pass through them. By now, we're sure the next question on your mind is, "What then creates the light that passes through the LCDs?" In older televisions, cold-cathode fluorescent lamps (CCFLs) are used in emitting lights which consume more power, lead to more heat production and poorer display and contrast with a larger panel and ultimately a thicker body
LCD LED displays, on the other hand, use LED lighting technology to emit light, producing a brighter display and much better picture quality. There are two major categories of LCD LED TVs you will often come across: OLED and QLED. While both make use of LED lighting, the former uses pixel-sized organic compounds that can be individually turned on or off, making them more "emissive" in nature. QLED TVs make use of Quantum Dot material and are not emissive, which translates to brighter grayscale and color, enhancing HDR abilities. Out of both technologies, OLED offers better per-pixel accuracy than any other display type on the market and is also the more expensive option in most cases.
Benefits of using a LED TV
As we have been able to establish, purchasing an LCD LED TV is definitely a step up from any other television. Through their advanced technology, these devices are able to offer a more than satisfying user experience and overall matchless entertainment. These TVs consume less energy and power, are more portable, slim-fitting, and compact, provide a wider viewing angle and offer more consistent, vibrant, and brighter picture quality. Most LCD and LED TVs are smart as well giving you better access to multiple streams of entertainment.
Why You Should Trust Us
There are very few things in life that come as good as cutting-edge entertainment, be it through binge-watching Netflix, or having an online Call of Duty tournament. Whatever the case may be, the device used in producing such entertainment goes a long way to how fulfilled you feel thereafter. You deserve to have your entertainment, in your own way and personalize your experience as much as possible. With our selected picks, you are guaranteed surplus streams of entertainment in the best, most personal way possible as well as a cinematic-like production every single time.
How We Picked
There are a few major things your next upgrade TV can't do without. Here are the ones we prioritized when creating our list of the best LCD LED TVs on the market.
Screen Quality
It's no surprise that this made the top of our list. The whole point of going for these kinds of TVs is that they offer better picture quality and imagery overall. The major determining factor is the device's screen and the technology behind the screen. As we discussed earlier, these televisions make use of LED lighting, sometimes alongside Quantum Dot technology and pixel-sized organic compounds, to reflect crystals and create almost cinematic images. This entire concept goes on behind the screens of LCD LED TVs and comes out in different view ranges and resolutions depending on the size of the screen.
Refresh Rate
The refresh rate of a television determines how quickly it displays and changes images per second, measured in hertz. Typically, modern TVs have a natural refresh rate of 60Hz or 120Hz, meaning they either display 60 images per second or 120 images per second, with the latter obviously being the faster model. LCD LED TVs often make use of a 120Hz natural refresh rate and sometimes an added extra virtual refresh rate (VRR), which helps with higher resolutions like HDR capabilities as well as gaming production.
Audio Quality and Connectors
Our sought-after cinematic feeling will not be complete without a solid audio system to match and make sure you don't miss a beat. These systems are in-built into the television, and different manufacturers have different technologies they use to go about this. They also take it a step further by allowing us to pair with compatible external speakers through audio connectors and Bluetooth capabilities, giving us a wider variety of sound options.
Ports & Connectors
Any television, but especially LCD and LED televisions, has a plethora of connectivity ports. These advanced devices allow you to connect to other technologies like game consoles, laptops, and even smartphones through various ports often found beneath or beside their bezels. Some of the ports that you may often come across include, but are not limited to, HDMI, USB, Ethernet, audio jacks, and AV connectors. When it comes to HDMI ports, some are made to only support regular HDMI, which connects to laptops and some gaming consoles, while others are made to support HDMI 2.1, which is a key factor for next-gen gaming and displays the phenomenal graphic output intended by the game creators. This is particularly helpful in online gaming.
Size
Gone are the days when TVs came in large, box-like packaging. With the invention of flatscreen and plasma televisions, a whole new world of possibilities for television design emerged. A major proof of this lies in the creation of LCD LED TVs. Manufacturers of these devices are constantly stepping up their innovation game by developing lightweight TVs with slim bezels and minimalist, yet functional, stands. Screen sizes of these televisions can go from 42 inches, all the way up to 83 inches and more! The bezels of televisions are becoming thinner and more curved as the years go by, with most being less than an inch, allowing them to seamlessly fit into any part of our homes regardless of their screen size. They are also being constructed with more lightweight materials like carbon fiber, making them easier to move around and less chunky.
Internet Connection
These days, if your device or tech product isn't smart, it probably isn't worth the purchase. You want a product that is easy to use and takes most of the thinking hassle off your shoulders, and of course, these advanced televisions are capable of doing just that! Most LCD and LED TVs come with built-in WiFi capabilities that allow them to connect to your home's internet, unlocking a wealth of features. This means that your television should now be useful for more than just "watching TV." They also come with various operating systems that open you up to a world of apps, streaming services, and other software like health-related apps and even shopping apps. Therefore, if you're looking to purchase one of these bad boys, you should prioritize those that give you so much more for less — including your faves — and make it look easy.
Mount Type
Before purchasing your very own LCD LED TVs, you have to figure out where you would like to place your new product. Television manufacturers give us one less thing to worry about due to the mounts they include when constructing these devices. TV mounts are the supporting frames that allow your TVs to sit comfortably in any location — a TV stand or hanging on your wall. We know it's hard to wrap your head around the fact that such massive screens can be supported by such feeble-looking, lightweight stands, but this is very possible. As the sizes of TVs get more minimalistic, so do their stands. So whether you are dealing with a center stand, a two-legged stand, or even a wall mount, the system should be stable enough to support your device without causing much of a distraction.
Care and maintenance
As with most tech products and devices, LCD LED TVs, or any television for that matter, come with little to no aftercare maintenance. What's more important to note is how to set up this device and how to prevent possible future damage. Here are a few things to consider when installing and setting up your TV.
If your TV comes with an in-built stand and you would like to place it on a surface as opposed to wall-mounting, ensure that the surface area you are working with is wider than your TV's screen size and also able to support at least twice its weight.
It is advised you employ the help of movers so that it gets placed exactly where you would like without needing to move it any further.
In the case of a wall mount, if you aren't proficient in using mounting tools, seek the expertise of a professional.
Once you have your TV well-secured and right where you want it, proceed to connect the wires to a power outlet. Some manufacturers include systems that help with cable management and routing, ensuring that you have the least footprint possible.
In a case where that is not included, you can purchase cable management systems like boxes or clips to make sure your entertainment section is as decluttered as possible.
The next thing you would like to do is set up the operating system. Manufacturers include a how-to guide and manual on how you can go about this. There is also usually a straightforward step-by-step guide once you turn on a TV for the first time.
Connect your TV to your home's wireless system as you would with almost any other tech product. Head to its settings and search for connectivity options, then proceed to connect to your home's WiFi.
If you would like to connect your TV to an external audio speaker system, there are usually two ways you can go about this — wired or wirelessly. You can either, connect speakers through the audio connectors on your TV or connect to compatible speakers via Bluetooth if the television supports this.
Now that your TV is all set up with the basics, proceed to try things out and test different functionalities. You can go through available apps, customization settings, internet searches, and even put on your favorite show just to make sure everything is working as it should.
Remember, the more personal your settings, the more at ease you feel when operating your device.
After you have used your device for a few weeks or months, dust and dirt may start to build up in ports and ventilation systems. You don't want these important features getting clogged up, as that can limit and possibly even damage their functionality. Here's how you can clean your LCD and LED TVs.
Grab a microfiber cloth and a cleaning solution of warm water and non-abrasive dish soap.
Use a handheld vacuum to blow out vents and ports to release pent-up dust and mites.
Slightly dampen the cloth with the cleaning solution and proceed to wipe down the bezel, power cord, and stand of your TV. Do not pour water directly on your TV or touch the screen.
Get a separate microfiber cloth and some quality screen cleaner.
Spray the cleaner on the cloth and wipe your TV screen from one end to the other until you go over the entire screen.
Use a dry cloth to go over your entire system to get rid of leftover moisture.