The Best Kids' Scooter for 2023
Your child can now enjoy a daily adventure with these best kids' scooters.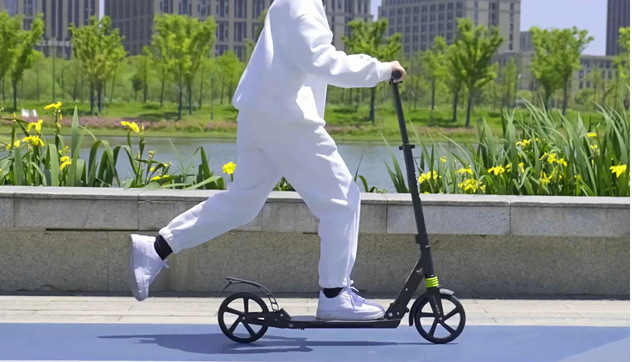 Although electric variants have rekindled the love for scooters among adults, they were originally designed for children. Kids' Scooters are great for exercise and early exploration, especially for those struggling to balance on a bicycle. Here at National Today, we've created a list of scooter options for children of all ages, whether they've just turned four or are in the fifth grade of elementary school.
How We Picked
Ride Quality

The ride quality makes the scooter experience worthwhile. If the ride quality is rough and bothersome, it takes the fun out of the scooter

Height Adjustable

Having a height-adjustable scooter saves money and prevents discomfort for your child while riding the scooter

Durability

The scooters must last longer than the child need them. Scooters are usually a stepping stone to riding larger and stronger bicycles

Price

Most average kid's scooters range between $30-$80, with higher-end scooters going over the $100 mark
Who This Is For
Scooters are great for parents or guardians who want their children to start navigating the neighborhood while strengthening their young muscles and having tons of fun. If you are an adult but also enjoy zipping around, then you should also consider getting your inner child a scooter.
Kids scooter vs balance bike
Most children have an innate desire to explore. In many cases, the best tools to use to make exploration possible come in the form of a scooter or balance bike. In the past, balance bikes with training wheels were the go-to option for parents, and the gradual process of removing the training wheels would eventually lead to normal bike riding. However, not all children are the same, and while some find it easy to balance on bikes, others just need to develop their confidence by starting with a device that is easy to pick up and exciting to ride.
Scooters, unlike balancing bikes, are forgiving if balance is lost because regaining balance from a standing position is less harmful than falling off a balance bike, even with protection. They also build up muscles and help young children develop a sense of the road and a sense of direction. Although many kids eventually end up riding bicycles, scooters are great entry-level riding devices, and prices between the two are similar, even though scooters might be slightly cheaper.
Is it worth splurging on?
Scooters are worth purchasing. There are scooters designed for children as young as two years old and up. One of the main reasons for purchasing a scooter is its size. If you are going on a trip and your children want to take their scooters with them, you can do so with little to no fuss. Most scooters are foldable and can be carried with a strap, making them convenient to have around on a trip.
Why You Should Trust Us
Kids' scooters involve the enjoyment and safety of your most prized possession, your children. With that in mind, we've selected options that are safe and reliable, and we've also pointed out all the potential flaws that you should look out for so that the decision you make for your child or children is well-informed and thorough.
How We Picked
Regarding all the components in our evaluation, every pick was selected based on the below characteristics. We've made sure that each scooter has strong and sturdy wheels, able to withstand bumps and small cracks on the road. Each of our options has a maximum weight starting at 110 pounds and above, and with sturdy designs, each of our options is guaranteed to last as your children continue to grow and develop.
The ride quality of our first option is robust, able to ride on paved and unpaved surfaces due to the inflated tires and their ability to absorb rough surfaces. The rest of our options have rubber wheels and are designed for paved or flat asphalt surfaces.
Each of our options has a warranty that reaches the length of a year and goes over, giving you peace of mind should anything go wrong or malfunction.
Stylistically, each of our picks has a variety of color options to choose from, and most of our options, apart from one, are simple to set up, carry, and fold up after use. The first option on our list takes time to assemble because it has bicycle-type parts, and the handlebars and wheels must be screwed together. Tools are required for adequate assembly. Each of our options varies in price depending on the overall quality and ride comfort.
Care and maintenance
Although kids' scooters are great fun, to ensure longevity, there are a few tips that should be adhered to. To preserve the life of your scooter, be sure to not ride it on elemental surfaces like water, mud, gravel, or any other rough terrain. If the scooter is constantly exposed to these surfaces, this can damage the wheels and wheel bearings. Ride the scooter on smooth and dry asphalt as much as possible.
Regarding the brake pedal in the rear of the scooter, use the brake pedal sparingly and make use of your foot as a brake by slowing down gradually and then coming to a full stop. Using the brake frequently causes the rear tire to lose its shape, causing an uncomfortable riding experience over time.
Another tip that may require some labor, either by you or a professional, is swapping the front and rear tires regularly. The rear tire usually takes most of the brunt in terms of overall impact and shocks and is exposed to the brake pedal. Swapping the tires preserves the shape and quality of the tires for longer.
To prevent the joints and wheel bearings from becoming stiff and rusting, oil the wheel bearings and joints in your scooter for smooth riding. Apply light machine oil to the important parts of the scooter at least once a week.
Keep the wheels in good shape by applying silicone oil before riding, because it prevents friction on the road, allows you to travel faster with less effort, and prolongs the wheel deterioration process.
Always ensure that the screws and hinges are tightly screwed regularly to prevent joints and wheel bearings from loosening and potentially causing serious safety concerns for your child.
You should store the scooter in a dry place like the garage or closet in your home. Because of the average size of scooters, it is advised that you hang them on rubberized prong hooks to ensure that they are not a tripping hazard for the kids, while also preventing damage by laying on the floor for long periods. If your scooter is on the heavier side, you can purchase a large plastic container to store it in. The important thing is that it must not lie on the ground.