The Best Immersion Blender for 2023
Check this out if you want to quickly blend or mix fruits and vegetables in a pot or bowl of your choice.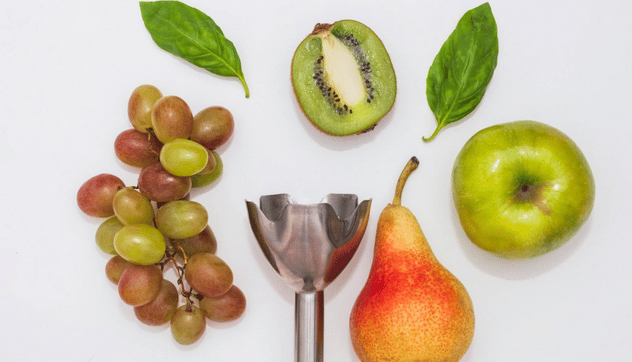 One of the most useful kitchen tools is an immersion blender. It can be useful for whipping and chopping as well as for quickly preparing cream soups, sauces, and baby food. Since there is no blender jar to clean up, using an immersion blender allows you to complete your recipe in a single pot or dish, reducing the number of dirty dishes.
An immersion blender can perform essentially all of the same functions as a large standing blender, but it is also smaller and simpler to store. And, it's the ideal appliance if you don't already possess a countertop blender and want something that does 90% of the same tasks with less hassle and takes up less space.
It is now relatively simple to find the best immersion blender for your needs online. We have further simplified the process by sifting through the noise to help you find a good one.
How We Picked
Speed/Power

Speed and power are important since you can control how quickly you're whipping or emulsifying your items thanks to the variable speed mechanism.

Additional Features

Important features include a bell-shaped base, which lowers suction and promotes effective blending, as well as a non-scratch shield to guard your pots and pans.

Wired or Wireless

Wired appliances provide a consistent supply of power but the cords can be a real pain. Cordless versions are lightweight and portable, they could run out of power before you are through.

Cost-Effectiveness

Some immersion blenders costs above a hundred dollars, but those usually come with a lot of attachments.
Our Top Picks
Best Pick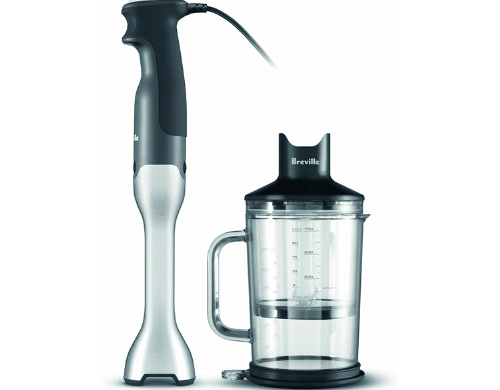 Smoother and easier to operate.
Simple to operate and comfortable to grasp for extended lengths of time.
Runner Up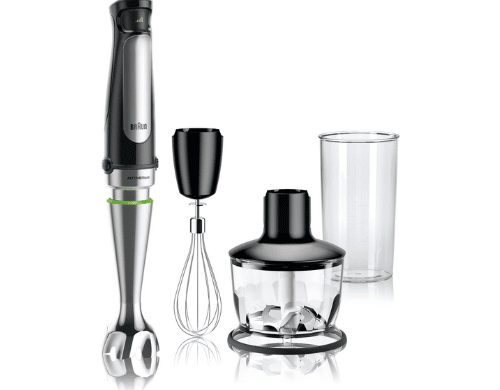 Affordable and comes with lots of extra features.
This immersion blender has a variable speed button; the stronger you press, the more forcefully it mixes.
Most Cost-Effective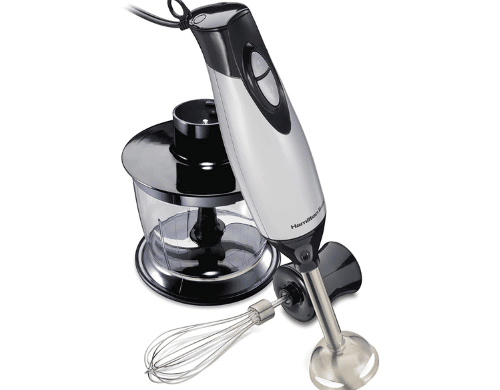 Cheap and quick to purée.
The Hamilton Beach 59765 is lightweight and cheap.
Everything We Recommend
Best Pick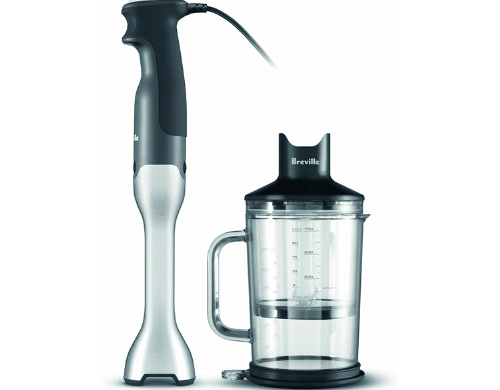 Smoother and easier to operate.
Runner Up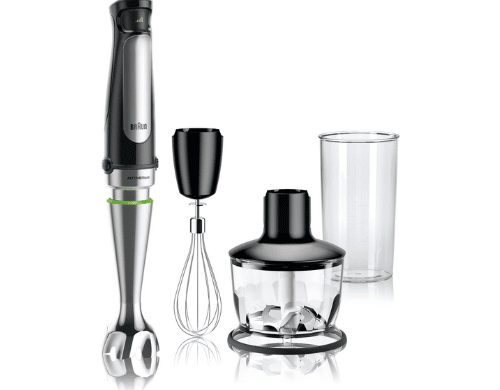 Affordable and comes with lots of extra features.
$82.45
Most Cost-Effective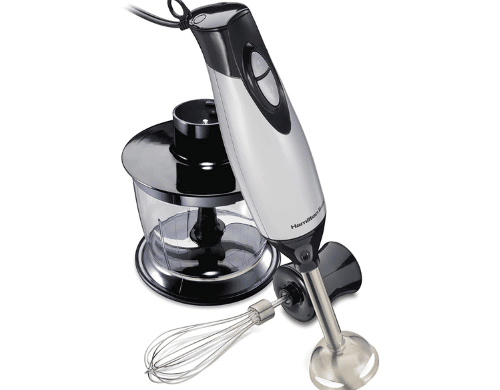 Cheap and quick to purée.
$29.08
Who This Is For
If you want pureed soups, an immersion blender is a purchase worth making. Small quantities of smoothies, baby food, or even dips, mayonnaise, pesto, or pesto work great when using immersion blenders. If it has a whisk attachment, you may use it to whip cream to put on top of pies or ice cream sundaes.
What Is An Immersion Blender?
This multipurpose handheld equipment also known as a stick blender or hand blender is used to pulverize solid food ingredients into a smooth paste. They can take on both large and little tasks, such as whipping cream and preparing a dressing. They can also mix smoothies and puree soups right in the pot without having to move them to and from a blender.
Every portable immersion blender has a fixed blade that cannot be changed with another tool. Since they lack a large container for processing recipes, they are a more space-efficient alternative to a standard mixer.
Immersion Blenders vs Standard Mixer
Beginners in the kitchen frequently disagree on whether to use a standard mixer or an immersion blender. Both gadgets can combine and mix any kind of food, but they each have some restrictions. While a standard mixer is required for dry components, an immersion blender works well for purees and soups.
To mix the food, you can place the blender right into the dish or any container that contains the ingredients. Because of this, it is known as an immersion blender. It operates differently from a standard mixer, which requires that you add ingredients before starting the machine.
Almost anything that a normal blender can mix, purée, or emulsify can be done with an immersion blender. However, immersion blenders are better due to their portability, lightness, and ease of use.
Why You Should Trust Us
To identify the best immersion blenders, we compared a wide selection of well-regarded models from reputable manufacturers at various price points, searching for those that were simple to put together and pleasant to handle and use. We researched other review websites and browsed Amazon's and other merchant websites' top sellers. Additionally, we carefully read through Amazon reviews to identify the design elements that customers liked or disliked.
How We Picked
We look for immersion blenders with strong motors and razor-sharp blades to liquefy materials. The majority of inexpensive immersion blenders only offer one or two-speed options. For most purposes, you won't require anything fancier. So we look for those who were most effective at crushing, blending, and puréeing.
Between wired and wireless, our findings show that cordless immersion blenders are typically less powerful than their corded equivalents. And with a four-hour charge, you only get one hour of non-heavy usage of the battery. Most customers prefer attachments. Attachments are useful as they can make the immersion blender all in one.
We also examine various styles and designs, such as whether they feature anti-suction blades and how many blades they have. We find that the design of the blade is more important to the blending than the wattage or the RPM. Additionally, the majority of customers like shorter, lighter, thinner blenders covered in sticky rubber because they are the simplest to handle and maneuver around. They also prefer buttons to dials since buttons on the grip allow you to switch between speeds with only one hand and less effort than dials, which required a second hand.
We looked at the wands with various guard configurations, guard vents, and guard-to-blade distances. Some of the blades were even and straight, while others had an irregular shape.
Care and Maintenance
Cleanup is made simpler by running the immersion blender in a cup of soapy water. Add a few drops of dish soap to a cup or two of warm water in a basin. The blades should be submerged in water. Start the blender, then pulse a few times to make sure the blades are clean. Also, the wand detaches so that you may wash it in the dishwasher.
The battery should be charged fully before its first use. The battery pack must only be charged and kept at room temperature. To avoid damage, avoid being exposed to high temperatures.
Before beginning a prolonged use session, you should charge the battery. Or charge when the battery indicator lights indicate that there is less than 25% of battery life left or when the battery is depleted, you should charge the immersion blender. To avoid overcharging, you should read the instructions to find out how long the battery takes to charge.
After each service day, always return the battery to the charger. When not in use, it is preferable to unplug the battery charger and remove the battery pack.