The Best Hiking Socks for 2023
Get ready for some fun hiking adventures by donning these best hiking socks!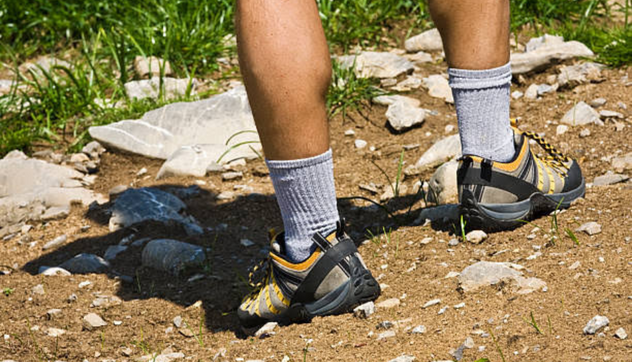 Whether you're a fan of arduous mountain hikes or slow rambles along well-worn footpaths, there's no doubt that having comfortable footwear is a convenience. While it's important to invest in quality hiking shoes, keep in mind that the quality of the socks you wear is just as important. Wearing the right hiking socks can help to prevent blisters, hotspots, and cold or overheated feet.
In warm weather, it's important to choose socks that have wicking properties so your feet can breathe. Cooler temperatures require warm, well-padded socks to prevent you from getting cold feet. 
We've got you covered — literally — with our list of top picks, which includes insightful customer reviews, maintenance tips, and detailed product specifications to help you make the right decision.
How We Picked
Material + Comfort

In warm weather, it's important to choose socks that are snug yet breathable. When the cold season comes, thick socks with padding should be your go-to. The best socks are made of materials like merino wool and a blend of other appropriate fabrics

Fit

When picking out socks, it's important to pay attention to the size of your feet. Otherwise, you might end up with socks that are either slack or pinchy. The right socks should fit so well that you'll forget you're even wearing them!

Drying Time + Odor Resistance

It's important to choose socks made of odor-resistant and moisture-wicking fabrics. This will save you a world of stress when it comes to laundering

Price

Although socks are usually considered to be low-budget items, hiking socks are known to cost a bit more. Nevertheless, you're bound to find a pair that suits your budget.
Who This Is For
The products on our list are for any and all hikers who appreciate the importance of hiking socks. No matter your age, gender, or preferred activity, you'll find something on our list that's just right for you.
Hiking socks vs regular socks – what's the difference?
The major difference between regular socks and hiking socks is that the latter are specifically made with fabrics that prevent blisters, stave off bad odors, keep your feet dry and provide impact resistance. In fact, merino wool is capable of absorbing up to 30% of its dry weight before your feet start to feel any wetness. 
Furthermore, many hiking socks are specially constructed to prevent the formation of blisters with seamless designs and heel tabs. With regular socks, hiking might end up being a painful experience due to the formation of sores, blisters, and hotspots. Regular socks aren't designed to protect your feet over rough terrain and long distances, so it's best to kit yourself out with some quality hiking socks for your next trail adventure.
Is it worth splurging on?
The phrase "buy cheap, buy twice" is certainly true when it comes to socks. Although most hiking socks cost several dollars more than regular socks, they end up being well worth the price. Quality hiking socks can last for years without breaking a seam, a fact that many customers have testified to. Therefore, it's best to consider them a one-time purchase. In any case, our favorite picks are all decently priced, so you don't have to worry about breaking the bank. So the answer is: yes! Hiking socks are definitely worth splurging on.
Why You Should Trust Us
Most people are accustomed to getting those annoying toe holes in their socks after a while. That's almost an impossibility with the products advertised here, as all are made with high-quality fabrics designed to withstand all kinds of outdoor activities and terrain. In addition, they also have seamless closures that aren't likely to come apart. 
How We Picked
Our picks have been tested by customers over a wide range of activities, including horse riding, mountain hikes, desert treks, long walks, or just regular indoor activities. Across all of these experiences, they have proven to remain intact after multiple uses. All our picks are also made of fabrics that have moisture-wicking properties so your feet will stay dry no matter how humid it gets. Those made of merino wool have natural odor-resistant properties to keep unpleasant odors away.
We also looked for socks that are snug without being overly tight and pinchy. Each comes in various sizes, ranging from small to extra-large so you can find the perfect pit no matter what size you wear. For premium comfort, we only selected cushioned socks with varying degrees of thickness. So you can choose depending on the weather and the nature of your activities. Whether you're a fan of angle-length or crew socks, there's definitely something on our list for you. Although most of these socks come at above-average prices, they spare you the trouble of having to get replacements over and over again.
Care and maintenance
Keeping your hiking socks clean is important to prevent them from turning into breeding grounds for infections. Most hiking socks come with specific maintenance instructions depending on the type of fabric involved. However, all our picks can be machine-washed with warm water. However, most manufacturers warn against using bleach or fabric softener. Also, do not iron or dry clean to avoid damage. When not in use, simply lay them out in a plastic container so the fibers can relax without becoming scrunched up or misshapen.