The Best Hiking Boots for 2023
The best hiking boots go the distance: they are the only thing between your feet and the rough terrain.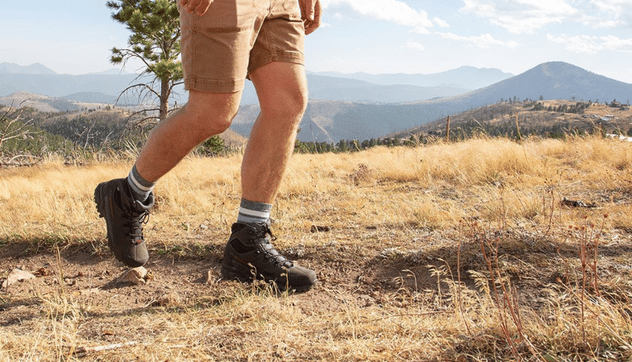 If you've ever planned a hike only to stop halfway and realize that a problem with the boot might affect your plans, then you understand why we wrote this review for you. Hiking boots are not just meant to take you through the trail, they should be as comfortable and supportive as possible.
Whether you're an experienced hiker or looking to get into a new hobby, finding the right boot can make a difference between a pleasant experience and one that's unpleasant, dangerous, or even downright miserable. Although some people who do not intend to wander far may decide to use whatever shoes they think will walk the walk, this is also not advisable
The best option, then, is to use hiking boots for a hike. But which one is another concern? Fortunately, we have been able to go through a long list of hiking boots and have come up with a selection of the best hiking boots for everyone.
How We Picked
Durability

Any boot will ultimately wear out, with constant use. Boots made of synthetic materials didn't last as long as those made of leather. On the other hand, leather boots are quite heavy. Therefore, we chose boots that could withstand long hikes without breaking down after a few seasons.


Material - Comfort and Breathability

The most important factor to consider when purchasing hiking boots is comfort. Hiking has never felt better since the days of painfully breaking in heavy leather boots. Hikers no longer have to worry about getting their feet hot or sweaty because far more natural and synthetic materials are being combined to produce comfortable boots.


Waterproofing

Having dry feet is vital for avoiding blisters and remaining warm when hiking in the cold and wet. Furthermore, having wet feet is unpleasant during hiking and walking in general. Therefore, we made sure that our picks were made of waterproof or at least water-resistant fabric that would protect the feet in different levels of torrents.


Cost-Effectiveness

Hiking boots can be expensive, and not everyone shares the same budget or the same love for hiking. Constant hikers might be willing to make an expensive investment, but others who hike once in a while will not see the point of going in too deep with the cost. Therefore, we made our selection based on what could be affordable.

Our Top Picks
Best Pick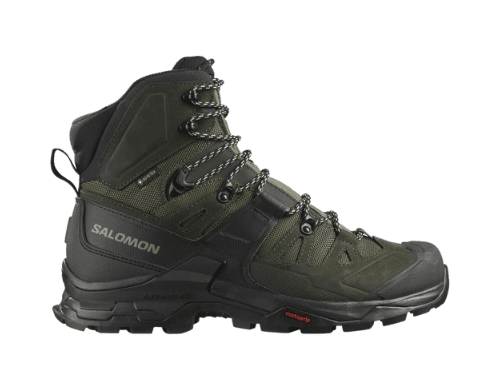 This boot envelops the ankle in a close, supportive, and ultimately reassuring embrace when buckled.
The Quest is also equipped with grippy soles to provide traction on any terrain, making it the perfect boot for any adventure.



This boot offers cushioned comfort, outstanding stability, excellent traction, and some of the best waterproof features that a hiking boot could possibly need. The QUEST 4 GORE-TEX is a tough and reliable hiking boot that will see you through even the most challenging expeditions. Compared to previous boots in this series, these ones offer a better and more supportive design, your feet will stay comfortable even when you are tired or carrying a heavy load.
Runner Up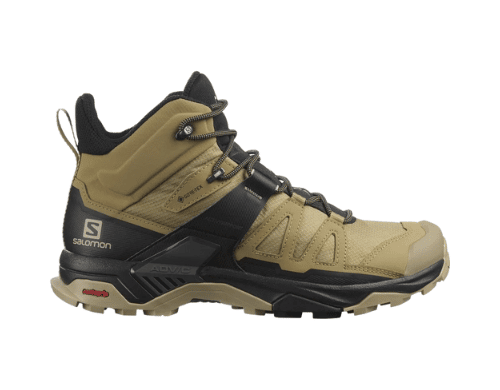 This boot also provides good support without being as stiff as most other hiking boots.
The Salomon X Ultra Mid 4 Gore-Tex is a lightweight hiking boot that lessens stress on the legs on long hikes.
These light and durable boots are optimized for distance and all types of weather. This mid-cut shoe is not only agile but also comes equipped with all the waterproofing and protection you need. These boots are absolutely great at protecting sensitive areas without limiting your freedom of movement. So power through whatever terrain comes your way with ease!
Most Cost-Effective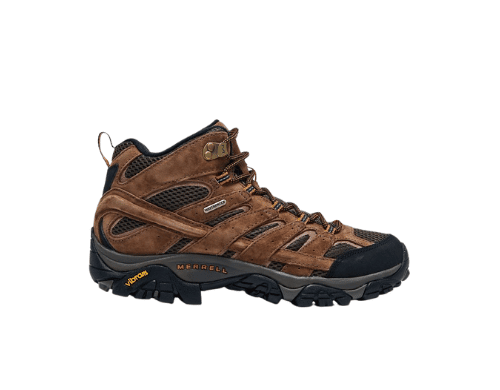 The Moab 2's lacing system is simple and these are the quickest boots to put on and take off.
These Merrell Moab 2 Mid Waterproof boots are designed with water resistance and comfort as their biggest strengths.
These are probably the most affordable yet comfortable boots for anyone planning an outdoor expedition. The Moab 2 Mid also offers the kind of dependable support required in a hiking shoe. Its nylon arch shanks are strong and rigid enough to keep your feet safe from tripping over sharp rocks or roots, and the toebox protects your feet from unintentional direct kicks.

Everything We Recommend
Best Pick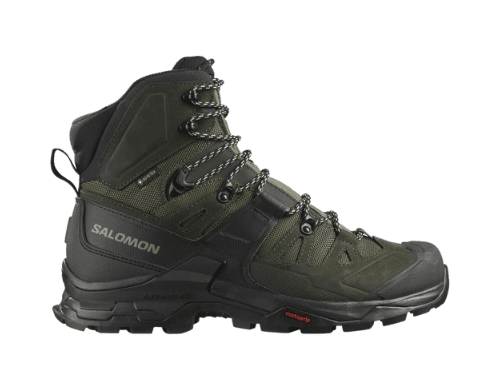 This boot envelops the ankle in a close, supportive, and ultimately reassuring embrace when buckled.
Runner Up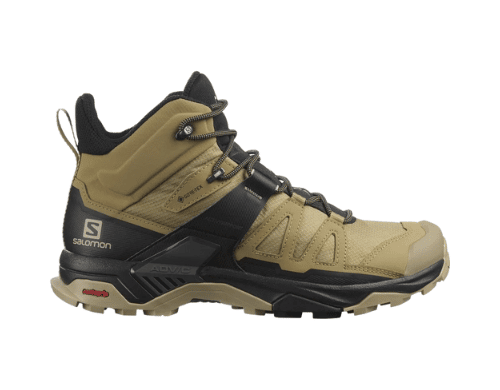 This boot also provides good support without being as stiff as most other hiking boots.
Most Cost-Effective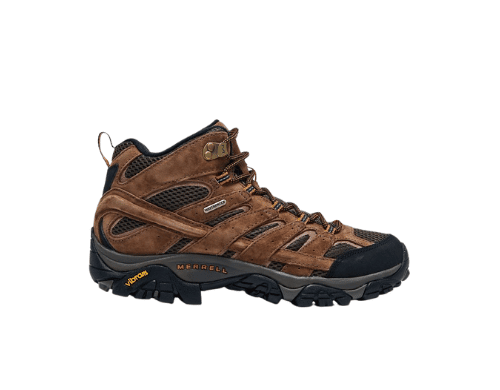 The Moab 2's lacing system is simple and these are the quickest boots to put on and take off.
Who This Is For
If you're an adventurer or a casual hiker looking for a shoe that can last for hundreds of miles or more and provide maximum protection, a hiking boot is your best bet. 
The extra weight you'll be hauling around will make any hike more of a chore. However, if you're going to be exploring off the usual road or want footwear that can handle any weather and that you can trust, a hiking boot is your best bet.
What Material Is Best For Hiking Boots?
You can make better choices while shopping for boots if you have the right information regarding their components, all of which depend on the materials they're made from.
Full-grain leather, which is common in older boots, has a high degree of toughness and is resistant to water and wear, while split-grain leather boots are lightweight and breathable since the leather is usually combined with nylon or nylon mesh. There is also nubuck leather, which looks like suede and its durability comes from its resistance to both water and abrasion. 
Nowadays, however, synthetic materials like polyester, nylon, and synthetic leather are commonly used to make boots. They're cheaper, lighter, and dry out faster than leather substitutes while also being more durable. Other boots also apply waterproof/breathable membranes like Gore-Tex or eVent to their uppers, which keep water out while increasing breathability.
Hiking Boots vs Trail Runners
If you've ever asked about trail shoes, you were probably also wondering if trail runners could be used instead of hiking boots. The truth is, you can go hiking in either hiking boots or trail runners, but where, when, and how you hike will determine your choice. 
Numerous hikers have made the transition from boots to trail runners due to the latter's lighter weight since, naturally, trail runners can cover more ground. But they typically lack the grip provided by hiking boots. Trail running shoes are also more pliable and require almost no breaking in time compared to boots. Boots, on the other hand, are more inflexible, so breaking them in has to be done gradually. 
With more rigid midsoles, a tighter and sturdier outsole, and a stronger and more durable upper, hiking boots are also constructed for long distances. In light of this, hiking boots are the best option if you need to go far into uncharted territory.
Why You Should Trust Us
Before making our choice, we read through a long list of customer evaluations and consulted with industry experts to find out which kinds of hiking boots are most suited to various kinds of lifestyles. In addition to this, we made sure that these reviews included the majority of individuals, which was important given that some boots were designed specifically for women while others were designed for both men and women. From there, we narrowed the field to include only those hiking boots that met our criteria of comfort, durability, value, and affordability, in addition to providing the user with the necessary stability and traction for whatever task they might be put to.
How We Picked
Durability
No pair of boots can withstand persistent wear and tear. As the synthetic strands shred and begin to wick moisture, the boot's structure will deteriorate and its softness will increase. When we made our selection, we were relieved to discover that all of our picks worked perfectly well over a period of months, as shown by their reviews. None of the boots were damaged to the point of losing function. We also discovered that the boots that lasted were made of materials ranging from mesh to full-grain leather. We came to the conclusion that the less a boot is reliant on synthetic materials, the better it will perform against harsh wear.
Material
We compared various materials to make sure that we selected only those with the best provisions for comfort and durability. The hiking boots we looked through were either made of leather or synthetic material. Yet, regardless of these, we made sure that the boot's construction allowed breathability and did not discomfort the hiker after being used for a few hours.
In order to improve ventilation, most boots typically feature woven nylon and open mesh nylon panels. They are not noted for their durability but are excellent at reducing weight and absorbing moisture faster than leather.
Nubuck leather is another common material for mid-range boots. It consists of full-grain leather with a suede-like texture and a brushed finish that is lighter and more flexible than conventional, glossy full-leather choices, but it is not as durable due to its thinner construction. It is, however, more durable than most nylon mesh inserts, and as a result, it is typical to find a combination of nubuck leather and mesh, with the leather pieces adding a little extra toughness to the boots. Full grain leather, which is the other option, is not as light or breathable as split leather, but it is extremely durable and weather resistant. They require some upkeep to keep the leather in good condition, but their construction is designed to outlive all other materials.
Comfort/Fit
No matter how many other features a pair of boots has, if they aren't comfortable to wear, there's no point in buying them. In our selection, we were able to find very comfortable boots with big toe boxes and a lot of padding. We also thought about how much the boots weighed, keeping in mind that a lightweight boot might not be as comfortable to wear as one that is a little bit heavier but more stylish. Since a boot that doesn't fit right won't give your feet enough support, it's important to try on a few different sizes before buying one.
Size
Due to the fact that feet expand after long days on the trail, when selecting hiking boots, you need to choose those that are at least half a size larger than your ordinary shoes. To determine if the size is correct, loosen the laces, place your foot in the boot so that your toes touch the front of the toe box, and check that your index finger fits comfortably between your heel and the back of the boot. This is important because when you're going down a steep hill, it will keep your toes from sliding forward and hitting the toe box. Also, when deciding on a size, consider the thickness of your socks as well as whether or not you intend to use custom insoles.
Lacing Style
Although laces play a crucial part in ensuring a snug and comfortable fit, they are often disregarded when purchasing a pair of hiking boots. On the trail, you'll be more likely to get hot spots and blisters if your shoes have a faulty lacing mechanism that requires frequent readjustment. If the laces are to blame, however, the problem can be easily fixed: nowadays, excellent replacement laces are widely accessible and can be purchased from any number of outdoor specialty stores. But that would be a serious issue if the system didn't keep your foot in place or fit properly. This is why we made sure our selections had secure lacing mechanisms.
Breathability & Waterproofing
There is no getting around the fact that waterproofing a boot reduces its breathability. Waterproof shoes are heated in the summer because they prevent sweat from escaping the shoe, making it impossible for the foot to dry. On the contrary, we discovered that light leather boots, Gore-Tex liners and less expensive leather membranes all performed better in terms of ventilation than their heavier counterparts.
Deep Tread On Sole & Adequate Padding For Foot Support
Tread grooves in the soles of shoes are widely acknowledged as one of the most important aspects impacting slip prevention during walking and are essential for ensuring one's safety when traversing wet or otherwise hazardous surfaces. Climbing steep terrain necessitates the use of hiking boots with excellent traction, which is dependent on the shoe's tread grooves. We, therefore, made our selection based on picks whose reviews mentioned strong traction, as most hikers may encounter challenges such as tree roots, loose rocks, and slippery boulders.
Added to that, the ability of a hiking boot to provide ankle and foot support is equally as crucial as its level of comfort. In the heel region, a quality hiking boot will hold your foot securely in place. However, this effect is also dependent on how well the boot fits. Additionally, a quality boot will feature a lacing system that provides enough foot support. When hiking, it's not uncommon to have a substantial amount of gear on your back, which exerts a great deal of strain on your feet and ankles. Along with the outsole rubber, the midsole functions as a vital shock absorber and an additional layer of protection from jagged pebbles. They are often made of PU, EVA foam, or a combination of the two.
Ankle and Toes
Good hiking boots should have protection for your toes, ankles, and soles of your feet from path hazards. A rock shield built into the sole of a boot's design is essential for use on rocky ground. In our opinion, a toe cap or rubber rand at the front of a hiking boot is a necessary feature. You can keep your toes intact with these thick rubber bits when you kick a boulder on the trail, which is bound to happen at some point. However, if you're looking for a lightweight boot, you may have to sacrifice toe protection because some manufacturers opt to remove or reduce this function in order to save weight.
Care and Maintenance
If you've just come back from a great hike and the soles of your walking shoes have mud and sand stuck to them, here are some tips on how to clean your hiking boots, whether you just want to keep them in good shape or want to treat them before putting them away for a while.
Clearing Out Mud From The Sole Of The Shoe
According to Salomon, it is easiest to clean and protect your shoes with purpose-built solutions like NST Wash, a cleanser for shoes made of Gore-Tex, fabric, suede, nubuck, or leather, and re-waterproofing products like NST Proof.
To remove as much dirt as possible from your hiking boots, you should soak them in water or hold them over running water because if you allow the filth to dry, it will be more difficult to remove. Alternatively, you can hold the shoes by the rear of the heel and slam the soles of each pair together then, turn them and repeat. This procedure is sometimes highly effective when cleaning the lugged soles of your shoes.
How To Clean & Store Boots Without Wearing Away Material
Hiking boots are meant to be dirty, therefore cleaning them is quite easy. To clean your boots, take off the laces and insoles and wash them with mild soap in warm water and let them air dry. If you want to get rid of any lingering odors, sprinkle some baking soda on the insoles and lay them away to dry.
You can also use a shoe brush to remove the dirt from your boots if they are soiled. Add some mild soap to the water and fill the sink or basin. Then wet your boots and scrub them with a brush or a clean cloth. When you're satisfied with how clean your boots look, switch to a new, moist cloth and wipe off the soap.
Finally, if you aren't going to use your shoes for a while, or if your hiking season has ended, give your boots a good wash and dry them out. Take out the insoles, disinfect the boots, and put the shoes somewhere dry out of moisture and direct sunlight until you're ready to go back on the trail.