The Best Heated Blanket for 2023
Stay snuggly and warm this winter with one the best heated mattress pads and electric blanket available on the market!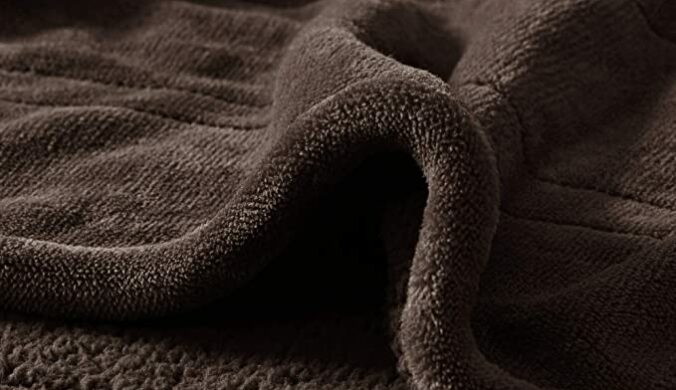 With fall fast approaching and winter not too far behind, you should be planning for warmth to fight cases of flu and colds. The rapidly changing climate saw last year's winter have record-low temperatures. Just in case this year is the same, we recommend you prepare appropriately. Night time can be especially cold; as your body sleeps, you may get colder.
The perfect way to beat the cold would be to invest in some heated bedding. Electric blankets and heaters mattress pads are the ideal way to warm up a cold bed. Give yourself the chance to snuggle into a perfectly toasty bed, doze off, or watch a spooky TV show. We scoured the internet for the best electric blankets and heated mattress pads so we can help you stay warm this winter.
How We Picked
Comfort and Material

Sleep is very important and the items we sleep on and cover ourselves with have to be comfortable to ensure a good night's sleep

Heat Retention

Nobody wants to be woken up by a cold blast on a freezing night. The heated mattress pad and electric blanket must be able to keep us warm throughout the night

Power Consumption

A heated mattress pad or electric blanket that uses too much power is not ideal. They need to be fuel efficient thereby remaining affordable to the majority.

Cost-Effectiveness

While we want to stay warm in the winter, we don't want to do that at the expense of our bank accounts. Affordability is key.
Our Top Picks
Our Top Pick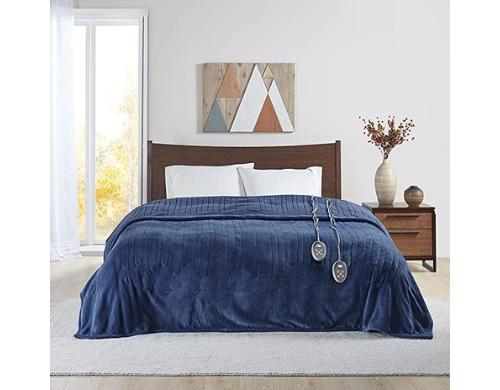 This luxurious, thick blanket provides adequate coverage.
The Beautyrest Heated Blanket is comfortable and made of Microlight Plush on one side and Sherpa Berber on another. It's perfect for those looking for a soft, cuddly blanket with a warm feel for an Autumn night. It has 20 heat settings which make it our most customizable selection. The heating elements are perfectly spaced out which makes the blanket offer even heat distribution.
A thick, lush electric blanket that offers sufficient coverage at night.
Our Runner-Up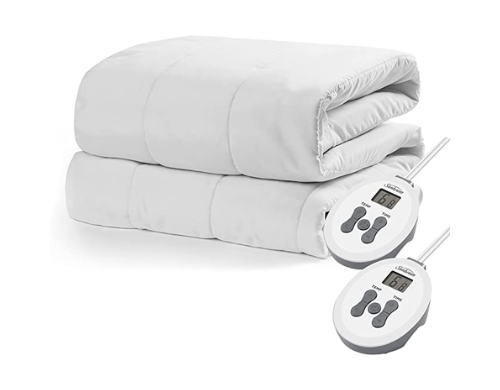 It has 12 heating settings, is reasonably priced, and is easy to maintain.
The Sunbeam heated mattress pad is priced nicely for the features it offers. It has a 12-hour auto-off feature for everyone who easily forgets to unplug electric items. Its pre-heat setting is perfect for those extra cold nights, allowing you to come to a warm bed every time.
This heated mattress pad has 12 heat settings and is easy to use.
Most Cost-Effective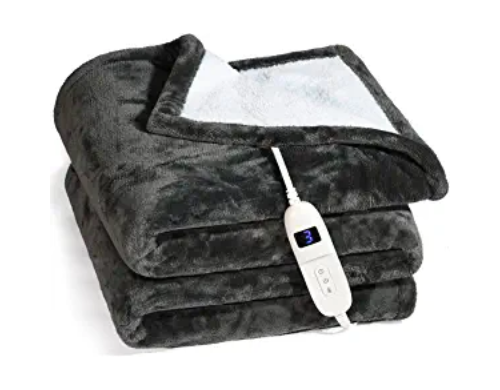 It is affordable, soft, and easily adjustable.
If you're looking for an affordable heated blanket with a luxurious feel, the Medical King Electric Blanket will suit you well. It is a more compact electric blanket with a lighter feel allowing it to function as a throw blanket as well. The blanket is also machine washable. Medical King also equipped this with an easy-to-use controller for a relaxing experience.
A soft perfectly weighted blanket that heats up fast and is easy to use.
Everything We Recommend
Our Top Pick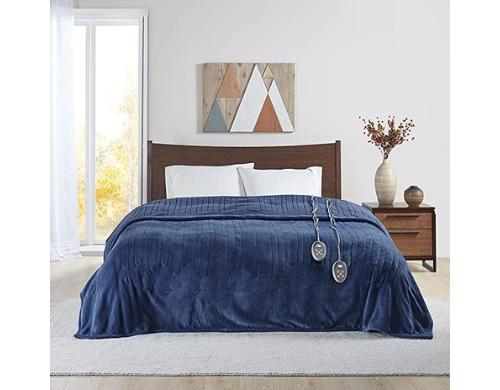 This luxurious, thick blanket provides adequate coverage.
$135.79
Our Runner-Up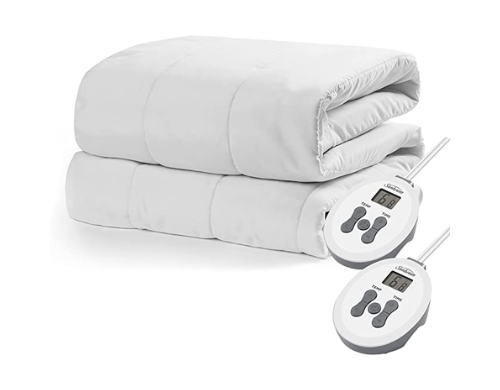 It has 12 heating settings, is reasonably priced, and is easy to maintain.
$91.29
Most Cost-Effective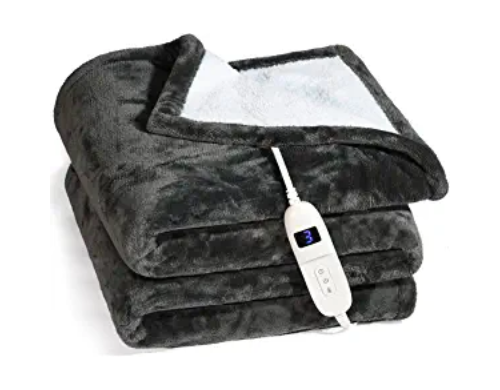 It is affordable, soft, and easily adjustable.
$42.99
Who This Is For
Heated mattress pads and electric blankets are for everyone who has ever spent the night trying to find a warm spot so they can fall asleep. They are perfect for winter nights, bigger homes, and those with sensory issues. Also, if you find yourself easily getting cold, then an electric blanket would be a perfect addition to your home.
What is a heated mattress pad?
A heated mattress pad is a device placed on a mattress that is used to warm up the bed. This is done by the use of electrical wires or hot water. The heated electrical wires or heated water increase the temperature of the mattress pad. This in turn will heat the mattress beneath it.
What is an electric blanket?
An electric blanket is a blanket that has integrated wires. The electrical wires heat up and subsequently heat the blanket when turned on.
Why You Should Trust Us
We are fully committed to finding the easiest way to stay warm as the weather cools down for fall and winter. We know how cold last winter was and we never want to experience a cold night again, if we can help it. We scoured the internet for reviews and recommendations and to find the best options to stay warm during cold nights. The electric blankets and heated mattress pads we found met our expectations and passed every measure we used.
How We Picked
Comfort
Sleep is sacred and everything we add to the bed must be beneficial. We wanted to only recommend electric blankets and heated mattress pads that added comfort. There would be no need to be warm but uncomfortable because then you would never sleep so comfortability was a key deciding factor.
Material
The material used should be comfortable, easy to clean, and also durable. These standards had to be met for us to recommend an electric blanket or heated mattress pad.
Power/Heat Retention
The power used to heat the electric blanket should be a reasonable amount. Also, how long does it take to heat up and how much heat is it exactly? The answer to these questions determined where on the list the item landed.
If you spend electricity which can be costly to heat your electric blanket or heated mattress pad, it should be able to retain heat for a long time. If you have to get up in the middle of the night to reheat it then it ends up being too much work to use. Heat retention is a great metric for user-friendliness when it comes to electric blankets and heated mattress pads.
Price vs Quality
For an item to be worth the price, it has to be high quality. With electric blankets and heated mattress pads, you cannot afford to be buying one every few months. Durability is an important factor to consider, especially for more luxurious options. We wanted to only recommend high-quality items so the money spent would make sense.
Style/Design
While warmth is the main concern, aesthetics are also important. We wanted options that are pleasing to the eye and also made sense. Style and design are not all about looks but also comfortability and functionality.
Heat Controls
The controls had to be easy to find. No one wants an electric blanket to overheat or a mattress pad that underheats. Being able to adjust the temperature and also set a timer so that you find a toasty warm bed was an important feature that we considered.
Easy to wash
Cleanliness is important, especially clean bedding. Having an electric blanket or heated mattress pad that is easy to clean and dry was paramount.
Care and Maintenance
How long to keep an electric blanket on for
Do not ever leave your electric blanket unattended when turned on. Turn it on for a maximum of 60 minutes. Turn off and unplug immediately after.
How to charge
To charge your electric blanket or heated mattress pad, find the power cord. Ensure the power cord is properly connected and stays straight, not coiled. Set a timer and ensure the power cord is unobstructed to avoid damage. Turn on the outlet and charge for the needed time to get to your desired temperature. Keep your eyes on the timer and the blanket or electric mattress. Do not overcharge. Ensure that the charging port does not overheat. Turn off the outlet and unplug it immediately after it's warm enough and put away the power cord.
How to wash without damaging the product or its efficiency
Read the user manual that comes with your product for cleaning instructions. Depending on the material and manufacturer, washing will be different for each product. However, a general rule of thumb is to not immerse your electric blanket or heated mattress pad in water or cleaning liquid with power cords still attached. No liquid should touch the power cord and if that happens, dry the cord immediately and do not use it until it dries fully.