The Best Grill Tools for 2023
Why not boost your BBQ, and enjoy next-level grilling with these top-quality and unwaveringly trusty grilling tools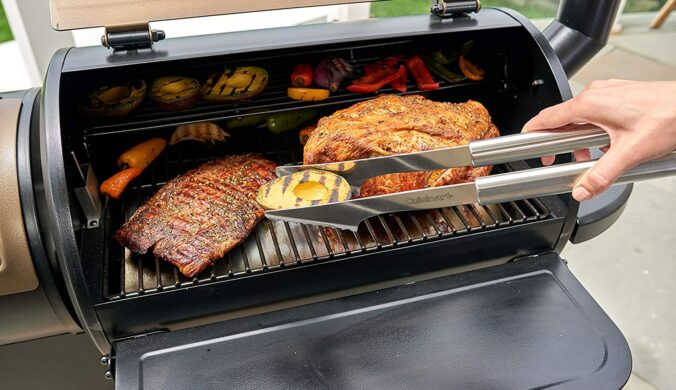 Grilling is much more than just cooking food over an open flame. It's a multi-sensory experience that takes into account the food's aroma, appearance, sound, and texture. Grilling enthusiasts testify to it being a form of art that needs to be taken seriously. Therefore, having the proper grilling equipment will make your grilling experience efficient and enjoyable.
Whether you're just getting into it or you're already a grilling guru, our guide will help you cut through the sea of options to make the best choice.
How We Picked
Number of Tools

Grill tool sets come with varying numbers of tools to accommodate different needs. The one you pick should be guided by what kind of grilling you're doing.

Material and Heat-Resistant

The grill tools should be made of heat-resistant material so that they don't melt easily or burn your hands during use.

Durability and Easy to Clean

Consider purchasing tools that are hardy and will last you a long time. This will save you the hassle of constantly replacing them. Grilling is a lot of work, and no one has room for tools that are difficult to clean.

Cost-Effectiveness

When buying grilling tools, it's essential to choose those that give you the most value for money. Spending more on top-quality tools rather than the cheapest available is a good investment.
Our Top Picks
Our Top Pick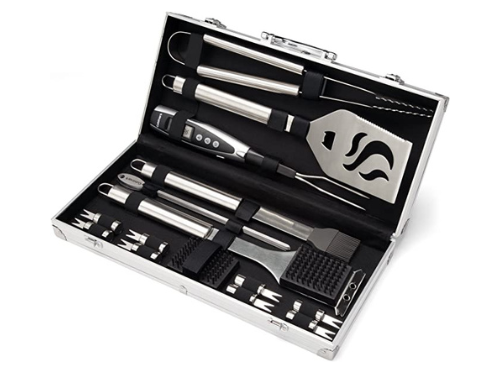 This set includes every tool you need to enjoy an outdoor barbecue.
Cuisinart is a brand well known for its excellent grilling tools, and this set is no different. The tools are designed to give you a pleasant experience while working on your barbecue. Also, the materials used are durable and heat resistant. You will love having these tools in your cooking arsenal.
Enjoy easy grilling with these well-designed tools.
Our Runner-Up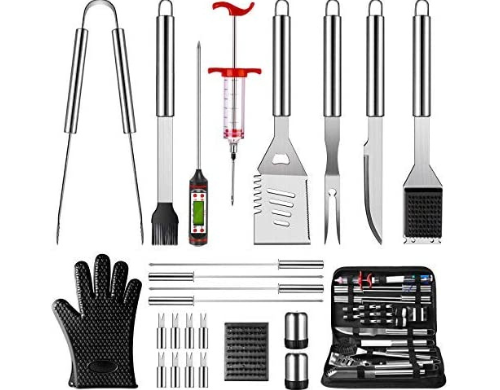 These tools come with longer handles, perfect for large grills.
This kit from OlarHike is perfect for both grillmasters and newbies. It comes with the grilling essentials plus add-on tools, allowing you to expand your experience over time if that's your goal. What's more, you won't need to buy another set in the future once you get this one. The OlarHike set also makes a fantastic gift for that loved one who's a grill addict.
This set comes with everything you need for the ultimate grilling experience
Most Cost-Effective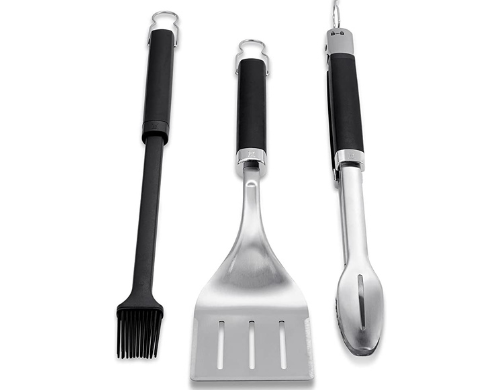 This is great for entry-level grilling enthusiasts.
Are you testing the waters to see whether working on the grill would be enjoyable? Then the Weber Precision set is for you. It comes with the basics needed for grilling and at a reasonable price. The anti-slip handles and sturdy construction of the tools make them a real delight to use.
Your search for an affordable grill tool set ends here.
Everything We Recommend
Our Top Pick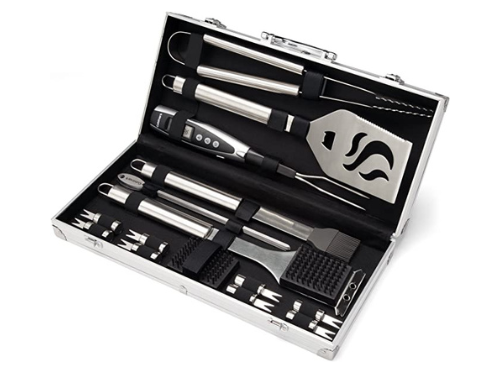 This set includes every tool you need to enjoy an outdoor barbecue.
$49.97
Our Runner-Up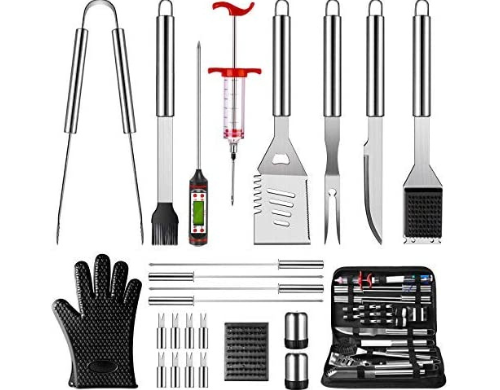 These tools come with longer handles, perfect for large grills.
$24.76
Most Cost-Effective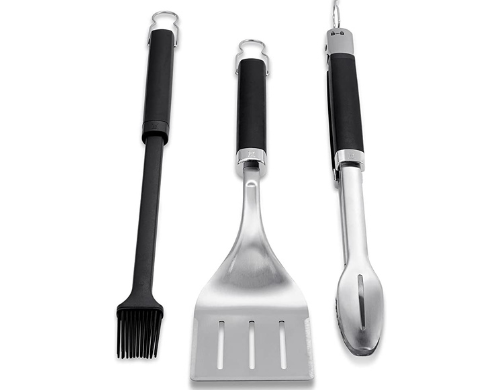 This is great for entry-level grilling enthusiasts.
$46.99
Who This Is For
Are you a grilling enthusiast looking to upgrade your gear? Or maybe you are searching for something to give your friend who is a barbecue aficionado? This guide is for you. Also, if you're planning to replace your worn-out grilling tools, you'll find some fantastic suggestions on our list.
What tools are needed for grilling?
Grilling usually involves a wide variety of tools depending on what is being prepared. As you work on your barbecue, you may need grill mitts or gloves, BBQ aprons, basting brushes, chimney starters, rib racks, grill lights, and pizza grilling stones, to name just a few items.
Can I just use tongs or a spatula for grilling?
You can, but they might not be ideal if they aren't specifically made for grilling. A spatula or pair of tongs with long handles works best to keep your hands away from the heat.
Best materials for an outside grill
The less expensive option for outdoor barbecue islands is stainless steel because it holds up well through all seasons. However, stainless steel can be tricky to keep clean from smudges. A better route to take is a concrete or steel frame and then wrap this with brick panels to protect the barbecue island. As for the countertop, both granite and poured concrete work well since they're not porous and will resist stains from spilled food and drinks.
Why You Should Trust Us
The market is flooded with grilling tools from different brands, all claiming to perform exceptionally. Our extensive research involved looking through numerous customer reviews to get a feel of what users are saying about the products. We also considered both novice and experienced grillers in our selections.
How We Picked
Depending on the type of grilling you do and how often you BBQ, you can either go for the basic tool sets or the more comprehensive ones with all the bells and whistles. The basic sets come with only the essentials, while the others have a wider range and a higher number of tools.
Grilling tools are available in different sizes and designs to suit various preferences. The style of the tools also affects how easy they are to use while preparing meals. Our guide covers an array of sizes and styles, so you can be sure to find the right fit for your taste.
You'll want to invest your money in tools that will serve you for a long time. Our top picks are highly rated for their longevity by users around the world.
Grilling tools should have heat-resistant handles to protect you from burns while working on the grill. Tools with wooden handles don't conduct heat, so they provide better protection from injuries.
No one likes to spend more time cleaning up their equipment instead of enjoying their tasty BBQ meals. Your grilling tools should be easy to clean to leave you with more time to savor the deliciousness you've prepared for yourself and your loved ones.
The best tools are those made of hardy materials such as stainless steel that can withstand high temperatures, frequent usage, and exposure to the elements as you work outdoors. Finally, bear in mind that the most costly grilling tools aren't always the best in quality. We looked at several brands and picked those whose prices matched the quality to give you the best value for money.
Care and Maintenance
The best way to keep your tools clean is to wash them after every use and store them indoors. However, if you forgot to remove the grease and grime from your barbecue tools after your last cookout, there are some simple methods to get them sparkling clean. One option is to soak them in a bucket of hot, soapy water. Use a dish soap designed to handle tough grease for the best results. After 30 minutes to an hour, use a scrubby sponge or soft-bristled brush to remove the grease and food scraps. Rinse the utensils and dry them with a soft cloth.
In case the grease doesn't come off, brew some cheap coffee in a stock pot, then soak the grill tools in the coffee for about an hour. Next, rinse them in hot water and dry them with a soft cloth. Bear in mind that coffee can discolor the wood on tools with wood handles.
To keep them clean between uses and shield them from the elements, grill tools should be kept in a drawer or case. Hanging them on the hooks on your barbecue grill may be convenient, but they will get dirty and are more prone to rust.
Broken or melted tools pause the danger of depositing fragments in your food. This can cause choking hazards. Instead of using tools in poor condition, it's better to buy new tools.
To protect yourself from burns from ashes, flames, and hot grease while grilling, it's recommended that you wear heat-resistant clothing. Ensure you get your BBQ gloves and apron from reputable brands to get the best value for your money.