The Best Gardening Gloves in 2023
Renovate your garden to bring in this year's spring season with a smile by wearing the best gloves for the job!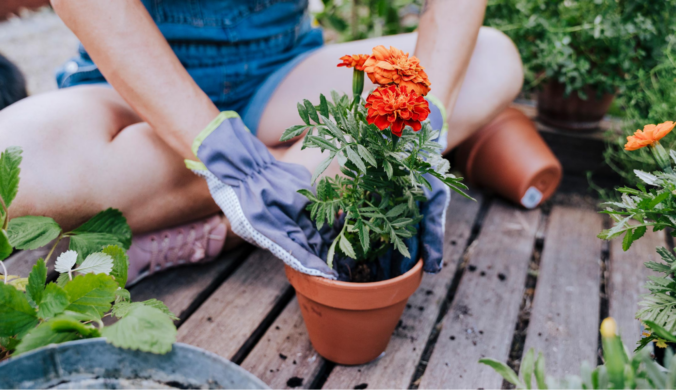 Spring is officially here, and how better to kick it off than by sprucing up your garden! Gardening takes work and, as such, you need to right tools for the job before you dive into the world of pruning, clipping, and planting! From knee pads, to support sticks, the range of gardening tools can be intense, so we're here to make it easier, and the most important item in gardening – by far – is the gloves.
They keep your hands clean and free from cuts or infection, protect your skin from insect bites, drying out, or sharp thorns, and they also prevent pesticides or plants such as ivy from coming into contact with your skin.
Different gloves are useful for different areas of the garden, and this list is guaranteed to make the choice quick and easy for you!
How We Picked
Fabric Selection

For both comfort and dexterity, fabric selection is an important aspect of gardening gloves so we looked at gloves made from a range of different materials to see what is most effective when it comes to tackling sharp thorns, unruly branches, and unpredictable soil spills.

Padding and Support

Similar to fabric selection, the knuckle, fingertips, or palm padding is important for supporting your hand and elastic wrists help keep the gloves in place while gardening; helping to keep you safe, comfortable, and warm while going about your day.

Durability

There's nothing worse than a sharp stem suddenly shooting through the glove mid-weeding session. To avoid this, we looked at the most durable, reliable, and strong gloves for even the toughest of jobs.

Cost-Effectiveness

No one wants to spend excessively on things that are inevitably going to get covered in mud, however, buying a quick and cheap pair of gardening gloves runs the risk of injury and damage, especially over time.
Our Top Picks
Our Top Pick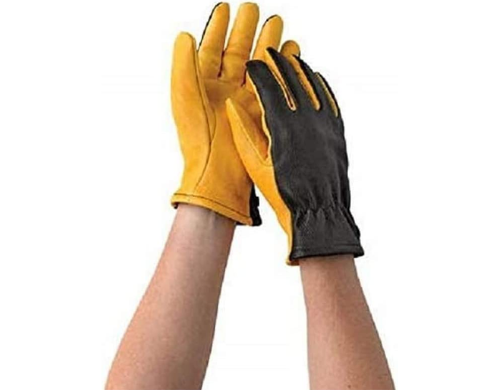 Gold Leaf promises gloves that are strong and effective against even the sharpest of thorns.
The Gold Leaf gloves genuinely do the job - keeping you safe from dirt and thorns - and promise to last you a lifetime. These gloves are made from comfortable and durable leather in order to protect your hands against any unexpected sharpened ends of stems. With high customer reviews and feedback, as well as endorsements from extremely trusted sources, these gloves are perfect for general garden care that will last.
This choice may be pricer than others, but it's 100% worth it.
Our Runner-Up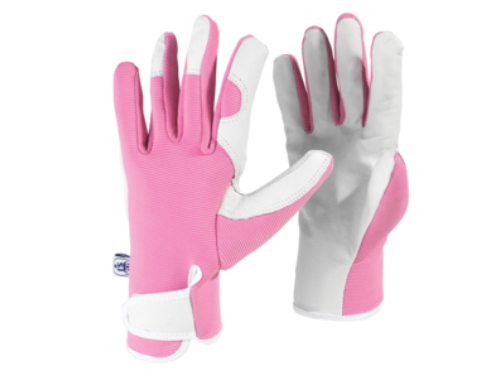 Spear and Jackson's gloves sport an adjustable leather combo to ensure support and grip throughout your gardening ventures.
These Spear and Jackson gloves are ideal for everyday gardening maintenance and the supportive strap helps keep the gloves nice and snug against your hands. Available in 3 different colors, these gloves come with an adjustable velcro strap along the wrist, ensuring support and a slip-free experience. The padding along the fingertips promises a protective layer between your hands and rogue weeds.
With 3 colors to choose from, this choice is cute and effective.
Most Cost-Effective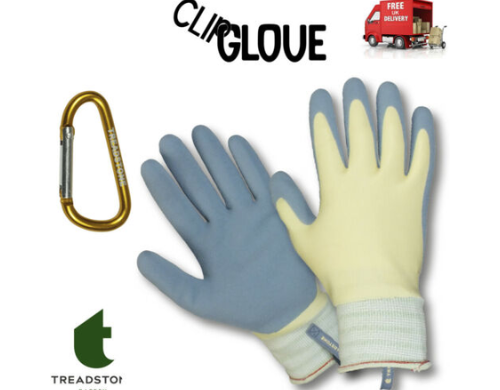 ClipGloves are a classic - Protective and waterproof without having to break the bank to get them.
Clip Gloves are the quick and easy solution for your gardening jobs! With a durable latex material, these gloves prevent water from seeping in to keep your hands dry, warm, and supported. The small metal clip attached allows you to keep these gloves hooked to your belt, to be readily available whenever the need arises.
Want to do the job without splashing out? Look no further!
Everything We Recommend
Our Top Pick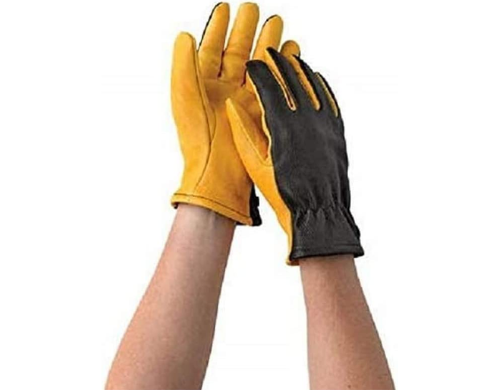 Gold Leaf promises gloves that are strong and effective against even the sharpest of thorns.
$45.46
Our Runner-Up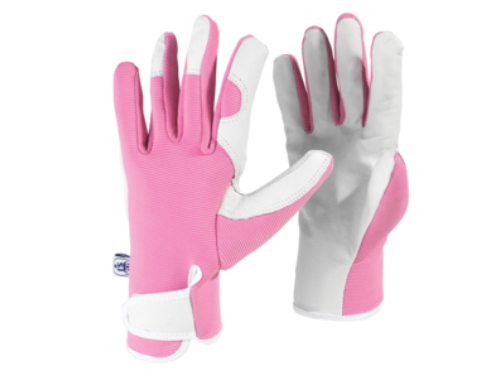 Spear and Jackson's gloves sport an adjustable leather combo to ensure support and grip throughout your gardening ventures.
Most Cost-Effective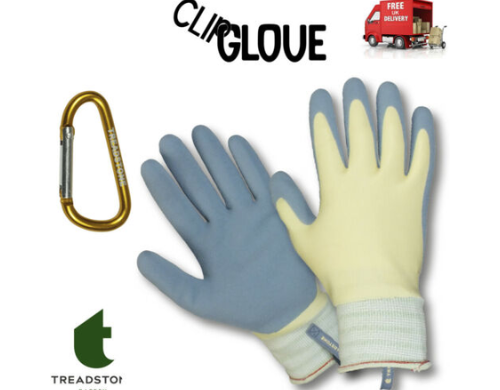 ClipGloves are a classic - Protective and waterproof without having to break the bank to get them.
Who This Is For
The products here advertised are for any and all women who love planting, weeding, and all things gardening!
What Size Gardening Gloves Should I Buy?
Due to the nature of gardening, there is a fine balance between comfort and protection. Luckily, due to the durable materials many manufacture gloves with, protection is typically at the forefront of everyone's mind when producing gloves. For comfort then, depending on the flexibility or stretchability of the material, we suggest using the following measurements when buying gardening gloves.
Small: 6-7 inches
Medium: 8-8 ¾ inches
Large: 9-10 inches
Extra Large: 10+ inches
To accurately measure your hand, take your dominant hand and take these two measurements, using the biggest number to match the sizing list above.
Measure your hand at the fullest or largest part, excluding your thumb
Measure from the tip of your middle finger to the base of the palm
What Materials are Gardening Gloves Made From?
Gardening Gloves come in a range of materials, due to the broad nature of gardening itself. For example, if the task before requires waterproof materials, you would be wise to invest in some rubber or latex gloves. On the other hand, if you are weeding or pruning rose bushes, a thicker material such as leather or pigskin would be most helpful as the thickness of the material will keep your hands from harm.
For simpler jobs, such as potting or tidying your garden on a cold day, you could very easily get away with the lighter and more cost-effective option of cloth, fleece, or cotton gloves to simply keep your hands warm and free from soil smears.
Why You Should Trust Us
Many heavy-duty gloves are marketed for men, with many gardening gloves for women being lesser in quality, usually thinner, and less protective. As such, we have found the best quality for protection from thorns, water, and all the dirt that comes with working deep in the garden.
How We Picked
It's not easy finding the right gloves for you, especially with such a broad and intimidating range available online. To make the process easier, we scoured over previous customer experiences with all types of gardening gloves and accumulated their opinions on the usage of their gloves gave them. These experiences ranged from how intense the gardening was – from ripping up weeds, sowing seeds for the new season, hacking back ivy and threatening thorns, and even setting new soil and fertilizer! With all these first-hand opinions coming from a range of gardeners, you can trust our methods and find the perfect glove for the job you're tackling this spring.
We searched through various products made from differing types of leather, suede, and rubbery latex to find the best fit and comfort for you! When making our picks, we looked for gloves with extra support like velcro straps and wrist cinching to keep the gloves in place while you work to keep the dirt out and the gloves on! Across all of your choices, you'll find durability and strength to be a crucial part of our evaluation process as keeping you safe and making sure your money is spent wisely is our top priority, and, as always, we searched for the best deals or bargains to find you the most cost-effective gloves that still maintain quality and comfort!
Care and Maintenance
One of the most beautiful things about gardening gloves is you have no real need to stress over scratches or dirt on them!
With that in mind, we do understand that comfort and cleanliness often go hand-in-hand, so we have some quick tips on keeping your gloves clean and strong.
Due to most of these gardening gloves being made from leather-based materials, we do not recommend machine washing these gloves.
If they get dirty – which is highly likely due to the messiness of gardening – we recommend that you dampen and wipe them clean with a sponge or a cloth and leave them to air dry at room temperature.
Be careful if gardening with damaged or broken gloves, especially when handling rose bushes or pruning a tree.