The Best Food Dehydrators for 2023
We've chosen the best food dehydrators for your dietary and preservation needs.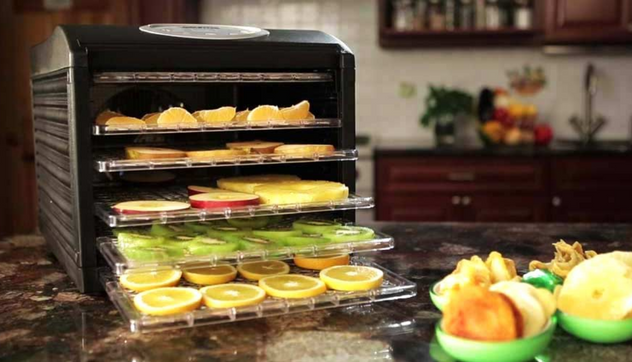 Although many of us have eaten dried fruits or vegetables before, few have thought about the drying process. Enter, food dehydrators! Dehydrators are not only great long-term money-saving appliances, but they are also ideal for diet changes. Although fruits and vegetables are healthy, our tastebuds lend themselves to snack-like textures due to the prevalence of processed candies and chips.
Having homemade dried fruit or vegetable snacks handy not only makes you healthier by default, but you can also enjoy foods you generally don't like. In this article review, you will see some of the best dehydrators on the market, and we will help you choose the best food preservation investment besides your trusty refrigerator.
How We Picked
Even Drying

Even drying is vital to ensure that foods are well-dried while retaining flavor, color, and nutrients.

Size & Capacity

The physical size of the dehydrator determines how much space it'll take, while the carrying capacity determines the amount of food dried in one drying session.

Temperature settings

Temperature settings are crucial for a dehydrator. The higher the drying temperature, the more food types the dehydrator can dehydrate

Price

The drying fan, sturdiness, noise output, and the amount of food dehydratable produced all impact the price of a dehydrator. The features of a dehydrator will determine the ultimate price
Our Top Picks
Best Pick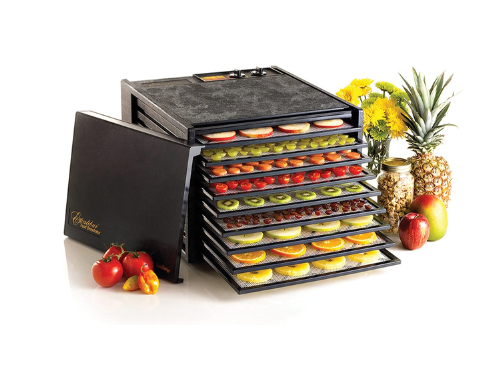 Efficient Airflow technology.
Sturdy and reliable, the Excalibur is easy to use, and its patented airflow technology retains nutrients and taste.
Airflow technology helps dry food efficiently.
Runner Up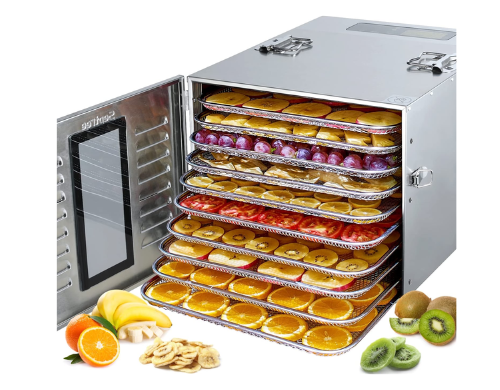 Large enough for small businesses.
The largest dehydrator on the list, the stainless steel Septree fits ten steel drying trays, and the quiet nature of the dehydrator makes drying throughout the night ideal.
Suited for small businesses, large in size, and made from stainless steel.
Most cost-effective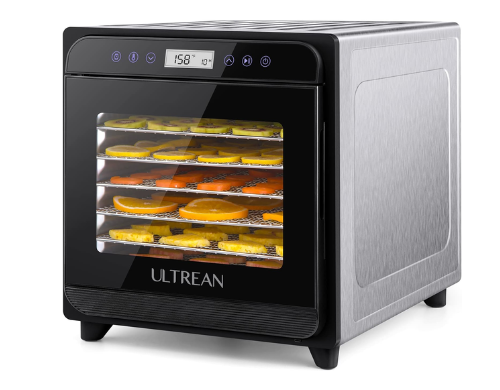 Ideal for the domestic user.
The Ultrean is well-built, easy to use, has a wide temperature range, and is ideal for apartment kitchens.
It is ideal for domestic users in small kitchens and is great for apartment appliances.
Everything We Recommend
Who This Is For
This list of dehydrators is for people aiming to improve their diet and save money on surpluses of fruits and vegetables. The great thing about dehydrators is that they preserve foods for longer while locking in vitamins and nutrients for dietary benefits. It reduces unhealthy snacks for you, your children, and your customers if you aim to sell dried foods.
Food dehydrator vs freeze dryer
Although food dehydrators and freeze dryers do similar jobs and preserve food for longer, they differ in their use and the purpose of preservation. The main difference between freeze-dryers and dehydrators is the amount of water the machines extract from food. Although water is vital in most fruits, vegetables, meats, and dairy products, water is also the main reason foods mold over time. The moisture water creates causes mold to ferment, and the bacteria produced eats out most of the nutritional value, rendering the food useless after a short period. Freeze drying solves this issue by removing a staggering 98% of the water from foods. The freeze-dryer does this by covering food in ice crystals. After that, the food is vacuum-sealed over an extended period, sucking out most of the water and only keeping enough to preserve freshness.
Dehydrating also extracts water, around 80%, not through ice crystals but through cyclical dry air, moving around the machine at high temperatures. While dehydrators preserve foods for a few months on average and around a year or two at best, freeze-dryers generally keep foods vacuum fresh food many years and seal nutrients for much longer.
Although dehydrators don't preserve foods as long as refrigerators, the great thing about them is the relative speed of the dehydrating process. While the average freeze dryer takes between 20-40 hours to freeze-dry food, a dehydrator takes between eight-10 hours, and dehydrators generally retail at lower prices, making them economical options for most people.
Why You Should Trust Us
Investing in a dehydrator does not happen on a whim. Many dehydrator customers are conscious of efficiency, noise, variety, and longevity. Getting the correct dehydrator could be the difference between a healthier diet and spending more on retail-priced processed snacks.
In our dehydrator assessment, we've gone through many prerequisites to ensure that you have the best pick of viable long-term options.
How We Picked
Unfortunately, not all dehydrators are created equal, so we at National Today have gone through the painstaking process of assessing all the vital features that make a dehydrator an asset in your home or business rather than a liability.
We've looked at fan positioning and the airflow technology of each option. An even airflow throughout the dehydrator is crucial because it prevents many food flavors from disrupting one another, helps dry food faster, and retains nutrients during dehydration.
For your personal needs, having a dehydrator with an extensive temperature range allows for a wider variety of foods to be dehydrated. And because of the size and capacity of each option, we've chosen dehydrators that are compact, large, and everything in between. We've ensured that our picks cater to you, regardless of domestic or entrepreneurial use.
Assessing the trays and slot points, we ensured ease of use and maintenance before and after dehydrating, placing your durability issues at ease with the extended warranty options included Assessing the trays and slot points, we ensured ease of use and maintenance before and after dehydrating, placing your durability issues at ease with the extended warranty options included with each purchase. The pricing of all our options is slightly above average prices. However, you will get high-quality products with every option on our list.
Care and maintenance
Caring for an appliance like a dehydrator takes a fair share of elbow grease to keep clean, but it does not take a rocket scientist to keep things tidy. Most parts of the machine are dishwasher friendly, but using the dishwasher alone won't be sufficient for a thorough clean.
One of the most important things you should prevent is using dirty trays. Because of extra moisture during the dehydration process, the residue sits on the meshed tray surface. Although mesh is ideal for catching residue, it can harden and cause flavor problems if they stay unwashed and reduce dehydration efficiency in the long run. To make sure this doesn't happen, wash the trays right after use. The best way to do that is to rinse each tray with warm water, then either place it in the dishwasher or wash it by hand with dishwashing liquid and a soft cloth or rag.
If you've put the dehydrator to work with many foods and find lots of residues, it is advisable to soak the trays in warm water for several hours with detergent.
For efficiency, don't run your dehydrator over the allotted time. It is less likely, due to automated shut-off systems in modern dehydrators. To avoid sticky trays, you can place parchment paper over them and remove them after the first hour of dehydration. Parchment paper acts as a good residue catchment. You can also use a no-stick spray to prevent stickiness. And for your safety, only pull out the trays after you've unplugged the appliance and it has cooled down. The best place to store a dehydrator is in a dry and warm room, away from air conditioners and wide-open windows.