The Best Everyday Dog Leash for 2023
A good, everyday dog leash is a true essential for training your dog and keeping them safe in your company.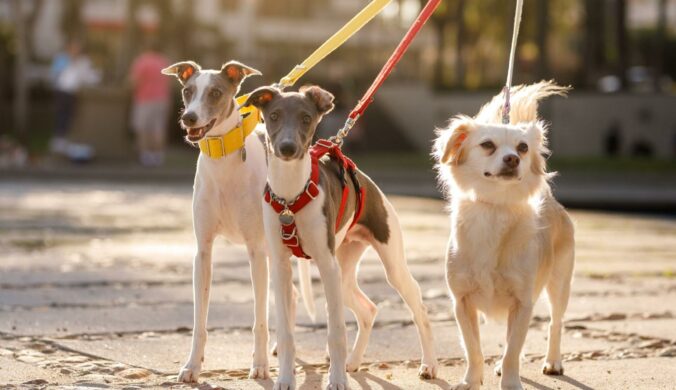 A dog leash is an absolute necessity for any dog owner. And, a leash is more than just a constraint; it's also an ideal method to communicate with your pet. They are particularly essential when you need to exercise your dog, take the pup to the vet, or refrain them in public settings.
Leashes are available in a variety of fabrics, sizes, and features, such as extra handles for moving or loops for hanging poop sacks. As a result, different leashes are ideal for different situations. The ideal dog leash for you and your dog is determined by the activities you engage in together as well as the dog's personality and size. Designs range from embossable leather versions to retractable leashes that allow dogs more flexibility to sniff and explore.
How We Picked
Material

Most leashes are made with nylon, rope, or leather. But you may want to avoid leather if your dog is an aggressive chewer. Therefore, it's important to understand what material will work for you and your dog.


Size and Length

The overall size of the leash is determined by your dog and the environment in which you intend to use it. A longer leash is ideal for hiking trails, while a shorter one is ideal for busy public places.


Retractability

Choose a retractable leash if you want to give your dog some freedom while keeping him on a leash. However, these leashes must be handled carefully so that you do not injure your dog. Otherwise, a standard leash should suffice.


Price

Depending on how quickly you go through leashes, it's best not to overspend. The same applies if you are purchasing leashes for the first time. Fortunately, there are many high-quality, reasonably priced leashes on the market.

Our Top Picks
Our Top Pick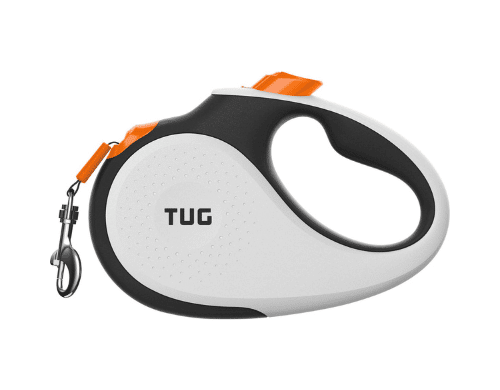 This leash is available in a variety of sizes and colors so you can find the perfect fit for your dog.
This dog leash includes a lock and break mechanism that allows you to regulate how far your dog goes with the push of a button. It offers an ergonomic grip with a non-slip design, and the leash can rotate 360 degrees for tangle-free mobility. It also has a long-lasting internal coil to aid with regular retraction.

This leash is the best retractable dog on the market
Our Runner-Up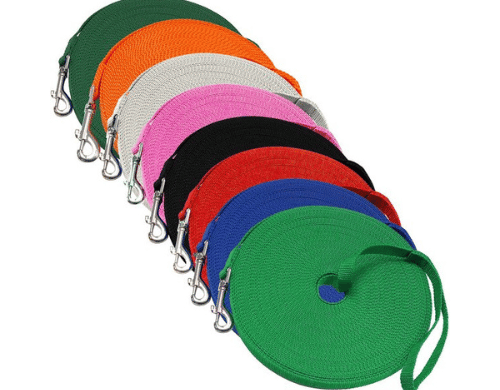 These lengthy dog leashes provide you complete control over your dog while still allowing them some freedom.
The lead is 5/8-inch in diameter and contains a swivel-style hook to prevent twisting. A strong or determined dog might chew through or destroy this leash, so use it just as a training tool and not to tie your pet up. It's long enough to allow your companion to move, run, and play while also reacting to your orders, making learning more enjoyable.

This long dog leash is ideal for training your canine companion to respond to you at various distances.

Most Cost-Effective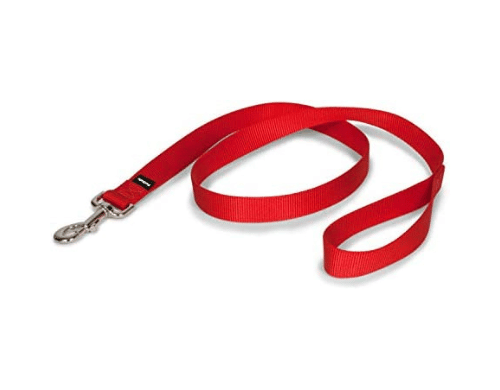 The nylon of the PetSafe Premiere leash is silky, and the loop handle is comfy. Furthermore, the metal clasp swivels to minimize tangling.
The PetSafe nylon leash is available in seven different colors, three widths, and two lengths, so you should be able to find a combination that works for you and your dog. There are four and six-foot lengths available, as well as width variations from the standard 3/4-inch, a 3/8-inch version for small dogs, and a 1-inch version for large breeds.

A light and simple leash that allows you to walk your dog without adding weight or complications.
Everything We Recommend
Our Top Pick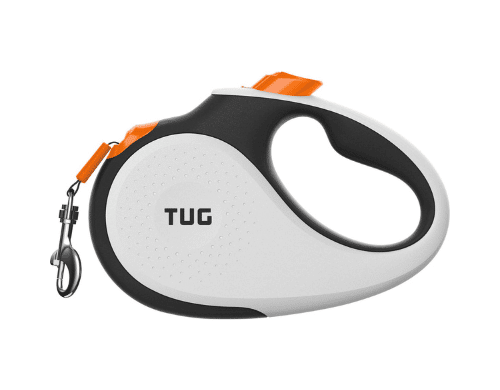 This leash is available in a variety of sizes and colors so you can find the perfect fit for your dog.
Our Runner-Up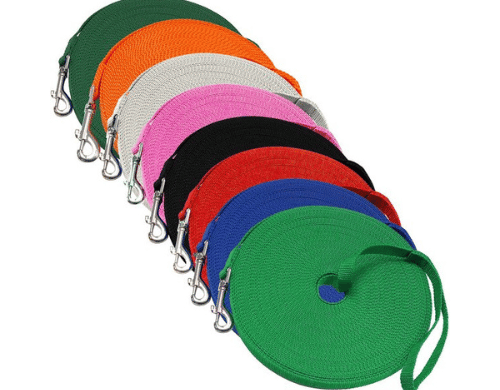 These lengthy dog leashes provide you complete control over your dog while still allowing them some freedom.
Most Cost-Effective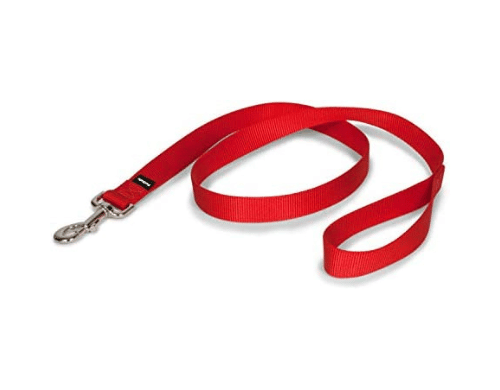 The nylon of the PetSafe Premiere leash is silky, and the loop handle is comfy. Furthermore, the metal clasp swivels to minimize tangling.
Who This Is For
Who this is for
Leashes are an absolute need for most dog owners to securely exercise their dog, take the pup to the vet, and retain control in public settings. This leash is typically used by dog owners.
Collar vs Harness – What's Better?
While a collar and a harness both provide a surface to attach a leash, they are slightly different. Collars go around the dog's neck and if you happen to get the right size, your dog can always wear it. On the other hand, a harness goes around the dog's torso and should not be worn all the time.
Collars
There are different types of collars and each is meant to aid walks in different ways. Flat collars are good for dogs who know how to walk on a leash without pulling. Martingale collars (limited slip collars) are good for dogs whose necks are about the same size as their heads and can slip out of flat collars, and rolled collars are good for holding your dog's ID but won't flatten or matt the hair underneath them.
Collars may provide more control and demand less physical power from you when walking your dog than harnesses, depending on the size of your dog. Many dog trainers advocate starting leash training with a four-foot leash and flat collar and using positive reinforcement (think praise and food) to encourage your puppy to walk by you. The range of styles and materials available makes them simple to put on and take off, as well as pleasant, stylish, and long-lasting for your dog.
However, if the fit is too loose, your dog may be able to squirm out and escape; this is especially true for dogs with smaller heads than their necks, such as Greyhounds and Whippets. Since your dog may experience pain if the fit is too tight, make sure to find the right size.
Harness
A dog harness can be used instead of a collar to give your dog more freedom. Harnesses are particularly useful for dogs who pull on their leads, and for those with certain medical conditions, such as neck and back problems. Dog harnesses can be used to help train your dog, especially if you need to walk him past distractions, and they can also be used to create a makeshift muzzle. A harness can also help prevent harm (such as throat damage) in tiny dogs who are prone to pulling or tugging at the leash. Also, if you use a front-clip harness, it will help to avoid tugging.
However, a harness has some downsides too. It may be more difficult to put on and take off, and if the harness is overly tight it might cause suffering. Depending on the size of the dog, walking it on a regular dog collar may demand greater physical power. And, if your dog's harness is too large, he or she may be able to slip out and escape. Lastly, harnesses with a hook on the back can educate your dog to pull you, which is the inverse of what you want.
Single Handle vs Double Handle
Single handle dog leashes are light-weight and frequently made of nylon materials, making them easier for your pup to gnaw on, but the double handle dog leash is ideal for toggling between several feet of leash freedom and rapid control right next to you. I can't claim one is superior to the other; it all relies on personal preferences; both are distinct. You may also purchase both if you want to compare one to the other.
Why You Should Trust Us
Everyone enjoys shopping, but it appears that buying wisely is a superior strategy. We are the ones you can turn to since we have completed all of the necessary research for you to receive anything worth the quality of what you buy.
How We Picked
Material
Nylon, rope, leather, and other materials can be used to make leashes. It may take some time for them to settle in and feel at ease. The most frequent leash materials are nylon, leather, rope, and hemp, and these may be the ones you find the most. Each form has advantages. Nylon leashes, for example, are far more cheap and easy to clean. If you want to get a leash with a great appearance, leather will endure longer. Rope leashes are ideal for dogs with a strong pull, whereas hemp leashes are hypoallergenic and more ecologically friendly.
Size/Length
We've looked for the best leashes that come in long lengths as well as retractable leashes; we've done the legwork for you; all you have to do is choose from our selection.
The sort of leash you purchase should be determined by the size of your dog. The first consideration when selecting a leash is your dog. Smaller dogs benefit from a lightweight four-foot leash, whilst larger dogs benefit from a robust four to six-foot leash.
Durability
We looked for the best and most durable leashes because durability is important in most purchases. Durability will tell you how long your items will survive. "Leashes with clips made of brass or nickel will not readily corrode, tarnish, or rust, but the scissor attachment will quickly release and attach under all conditions," says the manufacturer.
Price
We searched for decently-priced choices that are also always available. To ensure that the things we propose are available, we focused on merchants that provide the same models year after year.
Grip
As a dog owner, you must have a good hold on your dog, thus we sought for and brought to your hand good leashes that would offer you a strong grip on your dog.
Easy To Clean
Buying an easy-to-clean leash can save you a lot of stress from having to wash it over and over again and worrying about dirt stain patches.
Design/Style
We have a range of styles for our dog leashes and have chosen the best for you, the retractable leash appears to be the best made and attractive looking.
Care and Maintenance
How To Keep Clean
Since most leashes are made of nylon or rope, it's an easy remedy to soak them in hot, soapy water for 10 minutes. Then just clean it and hang it to dry. If you have stubborn stains or caked-on muck, a soft nylon brush will come in handy.
To remove extra dirt, brush the leash against itself or use a new scouring sponge to remove the filth. Also, examine the leash each time you wash it for broken webbing or other damage.
Is it machine washable? The material of your dog leash determines whether or not it can be machine washed. Leather, canvas, nylon, rope, and vinyl are all suitable materials. The material of the handle, on the other hand, is frequently contaminated by bacteria and oils from your hands. The leash is also prone to picking up dirt and grime from the outside world. As a result, it is critical to follow specific washing guidelines.
Where And How To Store When Not In Use
Make a dog walking station near an entryway so you can easily leash up and go outdoors. Harnesses and leashes should be hung near the door, while doggie bags, treats, and walking gear should be kept in a tote or basket. This helps to conceal everyday pet necessities while keeping everything in one place.