The Best Electric Toothbrush for Kids in 2023
Choose the best electric toothbrush for kids to make dental hygiene simple and enjoyable.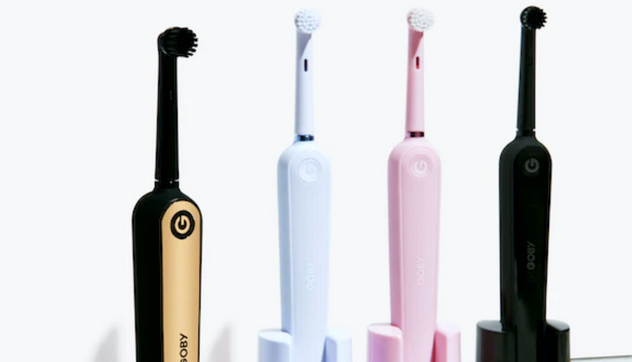 There are sweets everywhere: on the internet, on television, in the cafeteria, etc. Children who are just starting school may have a constant craving for the various delicacies they are familiar with, particularly the sweet ones. And soon after, cavities will haunt them. As a result, parents play an important role in instilling in children the habit of caring for their teeth from an early age.
Besides getting your children pleasant toothpaste, an electric toothbrush will also get them excited about oral hygiene. Given how picky kids can be, you don't want to buy an electric toothbrush that isn't right for them. You want to buy the best electric toothbrush for your child so that while it's worth using, it might also interest them at the same time. Check out this article to hear the recommendations we have compiled for you.
How We Picked
Oscillating Bristles/Brushes per minute

The brush head on an electric toothbrush rotates at about 2,500 to 7,500 rotations per minute, which makes it more effective at removing dental plaque than a manual toothbrush, which is only about 300 rotations per minute.

Ease of use/Ergonomic Handle/Weight

By selecting a lighter weight and shorter handle, we prioritize electric toothbrushes that provide comfort for child users.

Timer

Our selected electric toothbrush at least comes with a built-in 2-minute timer, which will encourage children to brush their teeth at the time recommended by leading dental associations.

Cost-Effectiveness

Spending too much money on a toothbrush is certainly not something that is really necessary. We've rounded up some electric toothbrush options that have a decent price-quality ratio.
Our Top Picks
Best Pick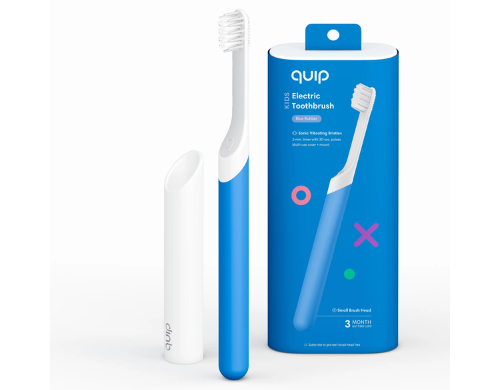 This feature-rich brush is super sleek and includes a rubber handle for comfortable gripping.
This brush is both aesthetically pleasing and super ergonomic, which makes it perfect for kids.
Quip Kids is our top pick given that it has exactly what kids need, according to experts: brush handles and small heads that allow kids to reach the tight spaces at the back of their mouths. Besides that, it is also aesthetically pleasing for children.
Runner Up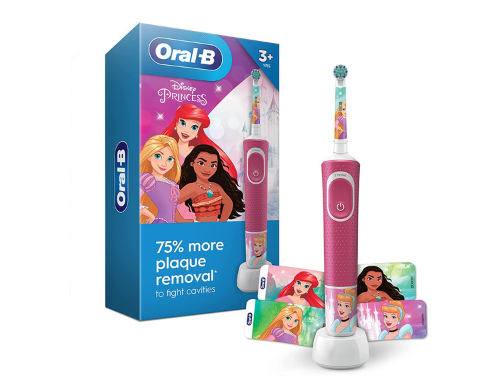 This brush has a rotating head and a textured handle for comfortable brushing.
This brush is ideal for your child if they like Disney princesses. They will team up and do their daily brushing together.
Oral-B Kids has something in common with other electric toothbrushes: a built-in timer that will help kids build good brushing habits. One thing that distinguishes this toothbrush from the others is the rotating brush, which can be an alternative for those who don't like vibrating brushes.
Most Cost-Effective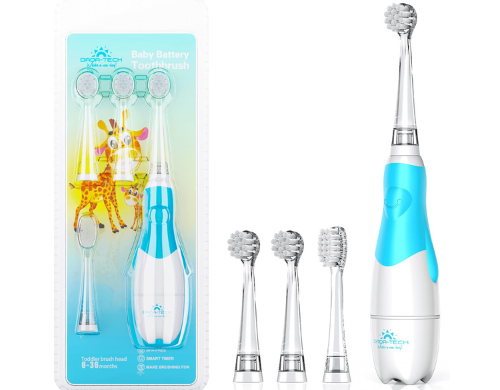 This brush is gentle and small enough for toddlers under the age of three.
This small brush has a head with soft nylon bristles, making it perfect for little kids.
You want a toothbrush that matches the topography of your child's teeth. DaDa-Tech is a reliable solution at an affordable price. The design that is specifically for babies will provide comfort when used on their gums and teeth.

Everything We Recommend
Best Pick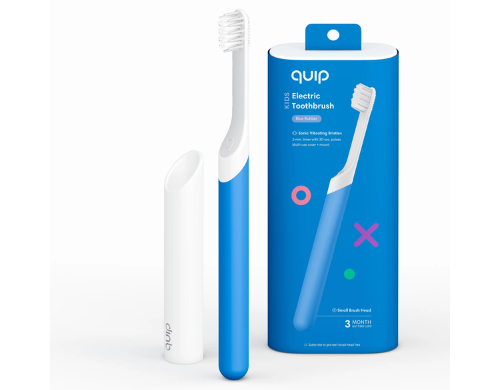 This feature-rich brush is super sleek and includes a rubber handle for comfortable gripping.
Runner Up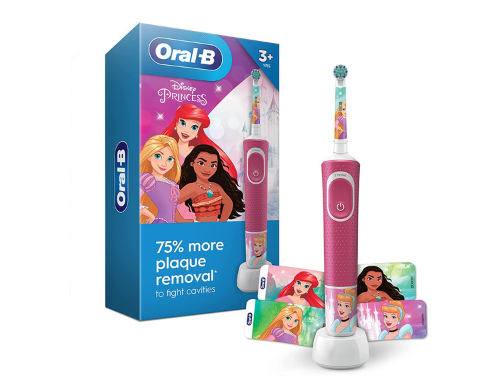 This brush has a rotating head and a textured handle for comfortable brushing.
$29.99
Most Cost-Effective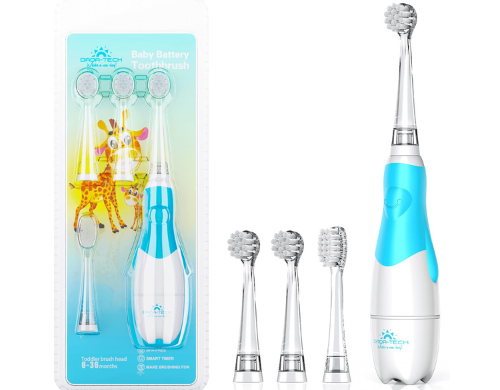 This brush is gentle and small enough for toddlers under the age of three.
$15.99
Who This Is For
The products selected to be advertised here are for children under five and children of early school age.
Is an electric toothbrush for a child a good idea?
Of course, this is a good idea, considering the product as a whole is designed for children. Also, an electric toothbrush brings a fun dimension to the whole process.
Health benefits of an electric toothbrush
Brands work closely with experts to design child-friendly electric toothbrushes based on standards or recommendations from leading associations. By prioritizing the convenience of use and the effectiveness of cleaning children's mouths during the development process, a quality electric toothbrush can clean teeth more effectively than a manual toothbrush. The choice of material on the electric toothbrush is also friendly to children's teeth, so children can avoid things such as hurting their gums.
Why You Should Trust Us
Electric toothbrushes weren't just made for kids. Even though it is for children, sometimes the quality, price, and features attached to a product do not make it the best choice. That's why we sort the best options based on the product research we do to help you find the best electric toothbrush for your child.
How We Picked
Oscillating bristles
One of the advantages of an electric toothbrush that has a significant impact on the effectiveness of oral cleansing is the oscillating bristles. We advertise electric toothbrushes with an average oscillation capability of between 2500 and 7500 brushes per minute.
Ease of use
There are many aspects of an electric toothbrush that affect its comfort of use. We pay attention to the ergonomics, the handle's texture, and the bristles' softness.
Ergonomic handle
In addition to finding the size of the handle that is suitable for children's hands, we also pay attention to the texture of the handle, which reduces the possibility of the brush slipping out of children's hands.
Size
We select electric toothbrushes based on the most ideal size for children. Our selections can be relied on to reach the narrow areas behind a child's mouth.
Weight
The weight of electric toothbrushes of our choice are all very light because they are adapted to children's motor skills; this has also become the nature of the product itself, which is specifically designed for children.
Timer
For maximum brushing results for children, we selected an electric toothbrush with an average built-in timer of 2 minutes. It also has intervals in between as a reminder for kids to brush a certain part of their mouth.
Price vs quality
We always prioritize products with an excellent price-to-quality ratio. It also explains why less expensive products have more potential drawbacks.
Style/Design
All of the products we choose to advertise have a targeted market. In this case, some electric toothbrushes for children have a pleasing appearance. Moreover, some brands insert cute themes on their electric toothbrushes.
Care and Maintenance
Charging
For the type of electric toothbrush that uses AAA batteries, you need to replace it every few months, while the rechargeable type takes 12 to 18 hours to fully charge.
Cleaning an electric toothbrush
The first thing that is certain is that you should rinse it after each use to keep the brush clean of dirt and toothpaste. Otherwise, you can clean it with a clean cloth every few days to prevent mold from growing on a damp toothbrush. After each use and cleaning, make sure to always put the toothbrush in an upright position so that it dries quickly.
When and how often to change the head of an electric toothbrush
This is, of course, related to the durability of the toothbrush itself. A toothbrush with good resistance will have a brush that doesn't wear out easily. After all, we have selected the best products with proven quality. So by using one of the electric toothbrushes we advertise, you only need to replace the brush head about once every 3 months.
How long to brush your teeth for
The toothbrush we advertise has a built-in timer that has been designed to match the ADA recommendation, which is two minutes long. Referring to the built-in timer of the electric toothbrush to apply it to your brushing time is certainly a good idea.
Different types of toothpaste
The main difference between the types of toothpaste, in general, is their abrasive content. If you've ever heard of a brand of toothpaste that's specifically designed for sensitive teeth, that means the ingredients in it are less abrasive.
Where to store an electric toothbrush
Avoid storing toothbrushes in airtight spaces such as cupboards, as this will make the toothbrush dry longer and make it easier for bacteria to thrive. Store toothpaste in an open area, such as above the sink, and don't forget to place it upright.