The Best Electric Razor for 2023
The convenience, close shave, and time-saving aspects of an electric razor are hard to beat.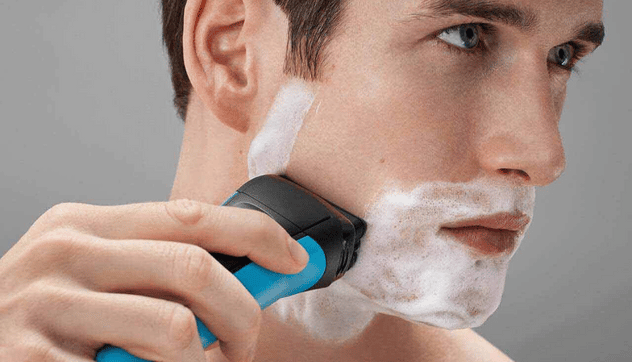 Keeping your hair well groomed can be tasking if you lack the appropriate tools to do so. It can also be messy if the tools you use are not the easiest to operate. While some people still enjoy the feel of a traditional wet shave, many others have switched over to electric razors. If you are one of them, you need to invest in the best shaving tool to make this process easier and more blissful. An electric razor will get the job done thoroughly and fast.
You must however keep in mind that not all electric razors you find in the store will be efficient. Some will be flimsily built, while others will have dull blades that will create bumps on your skin. We have however made the selection process easy by handpicking the best electric blades on the market. Keep reading for more information, reviews, and insights.
How We Picked
Power/Battery Life

Different electric razors are powered differently. Some use electric power while others are battery-powered. Choose a razor with your preferred power source to avoid disappointments. If it is battery-powered, get one with long battery life so that you can use it uninterrupted for long hours.

Efficiency of Shave

The efficiency of an electric razor is dependent on the blade type. The ideal blades should be self-sharpening. They should also maintain sharpness for a long time to eliminate the need for frequent honing.

Cord or Cordless

An electric razor can be corded or cordless depending on its source of power. A corded electric razor can only be used in a limited radius as dictated by the length of the cord. Contrariwise, cordless electric razors use battery power. Make a pick that corresponds to your preference.

Cost-Effectiveness

Cost-effectiveness is determined by the quality and effectiveness of an electric razor against its buying and maintenance costs. Ensure that the buying and maintenance cost of the razor you choose corresponds to the quality of the material, efficiency, battery power, and other key factors.
Our Top Picks
Best Pick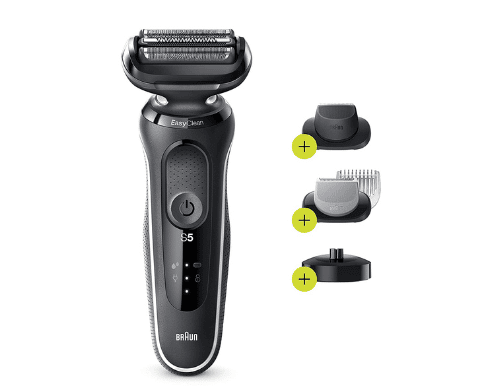 A super ergonomic razor engineered for close and clean shaves.
With its dependable German engineering, the Braun electric razor makes a thoughtful gift for you or anyone in your life who takes grooming seriously.
With a waterproof foil shaver, you can comfortably use this razor in the bathroom. Braun electric razor has a lightweight structure that makes it easy to handle for long hours to achieve a thoroughly clean shave without causing fatigue. This little shaver can automatically detect the texture of your beard, and adjust the power accordingly. The blades are also flexible enabling the shaver to flow with the shape of your face for a gentle and clean shave.
Runner Up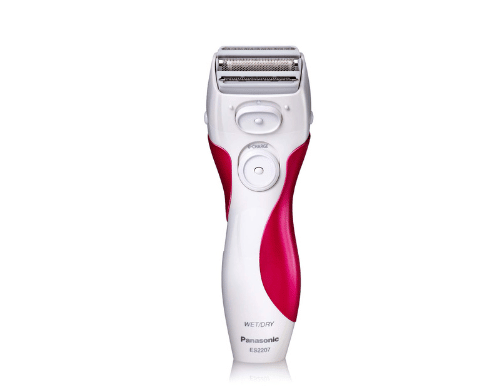 Gentle enough to shave your underarms, bikini line, or legs.
This shaver comes with hypoallergenic razor blades that are gentle on sensitive skin. There's also a pop-up trimmer to help you touch up any areas you may have missed.
Panasonic ES2207P electric razor is made of stainless steel material that is not only sturdy and durable but also resists corrosion and rusting allowing use on wet and dry hair. Also, the blades are made from hypoallergenic steel making this razor great for anyone with sensitive skin. Thanks to the cordless convenience, you can literally shave from anywhere and even bring the shaver with you whenever you travel.
Most Cost-Effective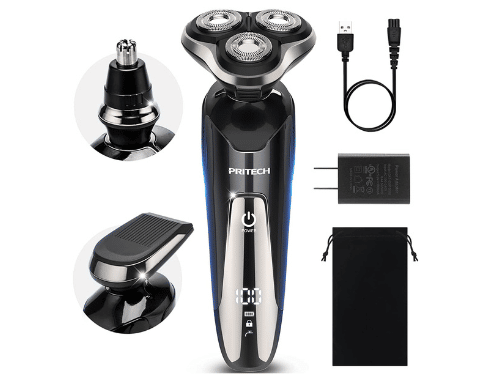 A complete grooming kit tailored for our head, nose, neck, and face.
Looking for an electric razor that can do it all? Look no further than the the PRITECH Men's Electric Razor! It comes equipped with three detachable heads - perfect for shaving, trimming nose hair, and even shaping those pesky sideburns.
Enjoy a clean, fast shave using this 3-in-1 electric razor for men. This fast-charging electric razor offers a long runtime of up to 120 minutes of continuous use without running out of power midway. The shaver has a nice little panel that acts as a control and display panel for key functions. Besides the electric razor, we love the fact that you also get a sideburn and nose trimmer to help keep your entire face looking sharp.
Everything We Recommend
Who This Is For
The electric razors we have reviewed are ideal for different users. We have some designed specifically for men and others specifically made for men.
Electric Vs Manual Razor
Electric razors are powered by electricity or batteries while manual razors depend 100% on your energy. They also shave using different techniques in that, manual razors use a sharp razor that runs across your skin. An electric shaver, on the other hand, cuts the hair by forcing your hair up making it easy to shave.
Manual razors are cheaper to buy and maintain than electric razors. This difference comes about because manual razors have fewer n components and require no cost to operate. They also use durable razor arms that remain in good condition provided you change the cartridges regularly.
However, you will require shaving foams and gels to use with a manual razor and require no product for electric razors. Electric razors, on the other hand, are easy to use and less tiresome, and more efficient than manual razors.
Different Types Of Electric Razors
There are two main types of electric razors that you can pick depending on your preferences and needs:
Rotary Electric Razors
This type of electric razor has multiple shaving heads, each working independently. These heads move in circular motions and adjust depending on the contour of your face they are working on. Although they can be used to shave hair on any body part, they are best suited for cutting long facial hair.
Foil Electric Razors
This type of electric razor has a perforated foil and oscillating blades underneath. The holes in the foil capture the hair while the blades cut it. You can use foil electric razors to trim the hair on your head, cheeks, and other body parts such as the legs. However, it is best suited to cut short hairs on your face.
Why You Should Trust Us
We are an independent site whose primary objective is to provide authentic information to the consumers of our information. We examine and test various products before choosing our top picks. Consequently, we only settle for the best products available in the market today.
How We Picked
Our information and reviews are consumed by different types of people with different needs. As such, we strive to provide the best product that will be suitable for different users. We have listed different electric razors with different numbers of blades. This way, you get to choose one with the number of blades you desire. Our pick with the lowest number of blades has three while the one with the highest number has five.
We also considered the adjustment of blades when choosing the best electric razors. All our picks are multifunctional and can therefore be used to shave different parts of the body. They all have adjustable heads that you can interchange and replace easily depending on the part of the body you intend to work on.
User convenience is another one of our top considerations when choosing electric razors. We carefully handpicked razors that will not give you any trouble using them. Therefore, all our picks are cordless to ensure that your room is not cluttered with wires. Besides providing a neat working environment, a cordless electric razor can be used from anywhere. You do not need to be close to a power outlet to trim your hair. All our picks are also battery-powered to allow you to use them anywhere. All you need is to charge them, pack them and use them anywhere you deem fit.
Choose any of our picks confident that they are easy to handle for long hours. They are all lightweight and will not weigh your wrist down. You can therefore comfortably shave maximumly and thoroughly with no fatigue. Additionally, they all take a considerably short time to charge to full capacity. Therefore, you only need to spare a few hours of your schedule to charge them and use them within a short time. Also, once you charge them, you can use them for long hours with no charging breaks. They all have long-lasting batteries that provide long runtime for your convenience.
Regardless of the choice, you make out of our picks, you will get your job done fast and efficiently. All our picks are fast and efficient and only require a short time to give you a clean shave. Their blades are sharp and do not dull easily. You do not, therefore, need to worry about sharpening the blades before every use.
With a streamlined design, all our picks move smoothly across your skin. They are also a stylish and elegant addition to your grooming set. Additionally, they are all safe and will not endanger your home or compromise your safety. They have overcharge protection that protects your batteries against damage caused by overcharging.
Some of our picks have pivoting heads that provide a close and clean cut. They have multiple blades that work together to provide a thorough cut. With the LED interface, some of our picks show the status of the electric razor to allow you to use or adjust them as necessary. Some of the functions displayed on the LED interface include power, charging icon, and travel lock.
Care and Maintenance
To keep your electric razor functional and effective for long, you need to learn proper care and maintenance procedures. Remove all hair from the blades after every use. However, be gentle since forcing the hair out can damage the blades. Also, remember to clean the blade thoroughly after use. Apply liquid soap to the blades and run it for 15 seconds. Rinse it out with running water. Take the components apart after rinsing and ensure that they all dry completely.
Do not forget to rinse the razor head since this is the part that comes into contact with your bare skin. It can harbor and pass germs to your skin causing infections and discomfort. Use the razor carefully to avoid cutting your skin. Also, avoid running the razor on areas on your skin with cuts, nicks, or bleeding to avoid hurting yourself further.
Examine the razors well before using them. Ensure that they are clean and sanitized before using them. If you notice blood stains on the blades, do not use them. Blood is the primary body fluid that passes infections from person to person. To be safe, do not share your razor. Keep it private and safe like you do other personal items such as toothbrushes. The ideal electric razor should be safe and gentle on your skin.