The Best Dog Raincoat for 2023
Keep your canine best-friend warm, comfortable, and happy during the winter and rainy seasons with these cosy and waterproof jackets!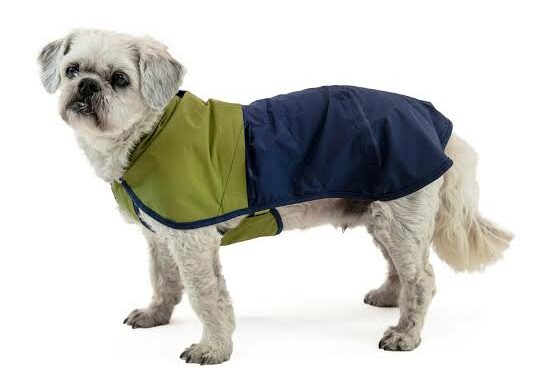 Dogs don't just love the warmth of summer, they also like to enjoy the winter atmosphere and play in the snow. If you have a dog that loves to go outside, then you'll understand the importance of keeping your dog warm in winter. Subjecting them to the harsh wind and snow during winter can cause them to suffer from frostbite, hypothermia, and other injuries. To keep their coats warm and protected from injury, they need winter jackets and raincoats.
Winter jackets are made of comfortable material that is resistant to water and wind. They can also be lined with fleece or another type of fabric that protects dogs from the cold. Raincoats are waterproof with a hood that covers their head so they can stay dry while they play in the snow.
In light of this, we have carried out in-depth research on the best winter jackets and raincoats for dogs and would love to relay our discoveries and top selections to you. This list is guaranteed to have your dog's next favorite raincoat or winter jacket!
How We Picked
Comfort

Dogs are pretty active and energetic, which means they will need a comfortable coat or jacket. That way your dog can run around in absolute comfort regardless of the weather.

Durability and Waterproofing

Consider obtaining your dog a coat or jacket that is waterproof, has a good degree of ventilation, and is manufactured with the best material so that it can last a long time and survive any unpleasant weather.


Style/Design

The best jackets and raincoats come in different colors and designs, giving you the freedom to ensure your dog's comfort and protection while matching the jacket or coat to its collar!


Cost-Effectiveness

When choosing a winter jacket or raincoat for your dog, you want to make sure that it's going to be cost-effective for you. That means that it doesn't have unnecessary features or frills, but also that it works well, is durable, and is within your budget.
Our Top Picks
Our Top Pick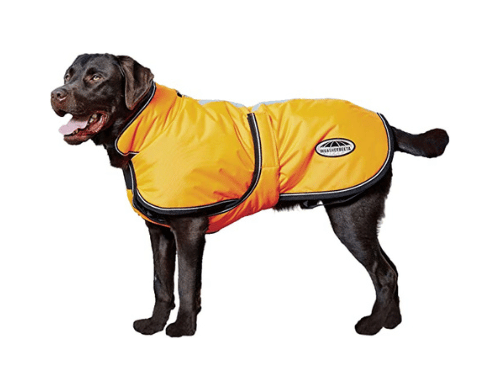 This beautiful coat comes in two bright colors. It's also lined with reflective accents for better visibility.
WeatherBeeta 300D Deluxe Reflective Parka is a jacket that lives up to its hype and boasts great quality, comfort, and protection from harsh winds and heavy snow. It guarantees your dog's safety from unfavorable winter conditions.

This selection is the go-to jacket for every dog thanks to its high-quality protection and warmth.
Our Runner-Up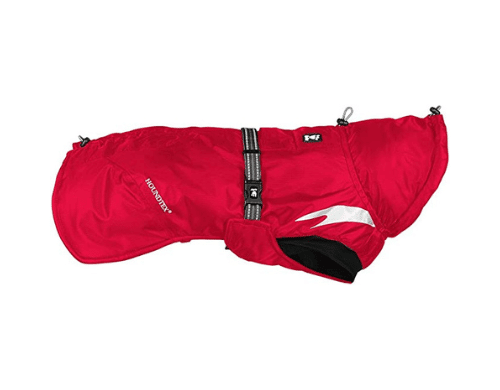 Available in over four unique colors, Hurtta is known for designing comfortable, slush, high-quality, and durable raincoats and winter jackets.
The Hurtta Summit Parka brags a competitive protection ability, great quality material, perfect fit, and durability. This winter jacket is one of the top leading dog jackets on the market.

If a great widely-recognized and sought-after jacket is what you're looking for, then this selection is for you!
Most Cost-Effective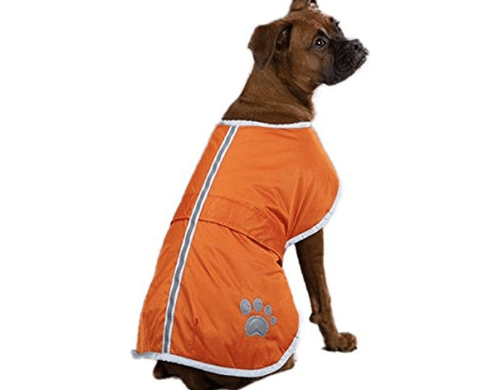 It is reversible, unlike most raincoats and winter jackets.
Popularly known as the best budget-friendly raincoat, the Zack & Zoey Polyester Nor'easter Dog Blanket Coat is a smart choice for its price!

This inexpensive infamous still gets the job done and we believe it can become your dog's favorite too!
Everything We Recommend
Our Top Pick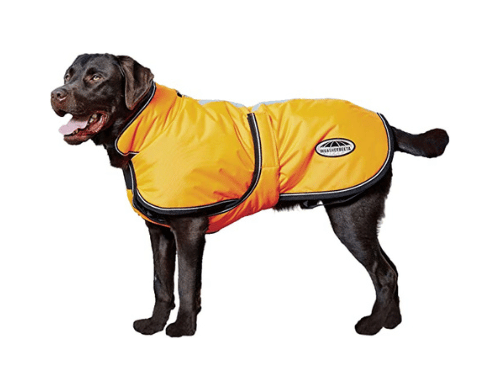 This beautiful coat comes in two bright colors. It's also lined with reflective accents for better visibility.
$51.95 ($51.95 / Count)
Our Runner-Up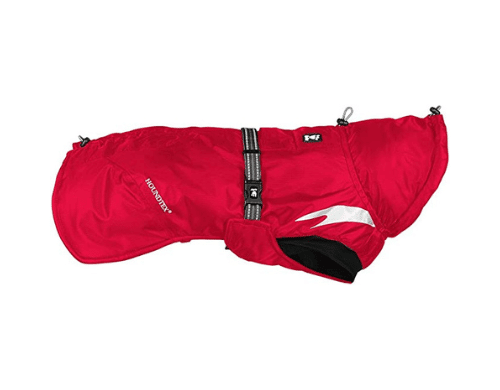 Available in over four unique colors, Hurtta is known for designing comfortable, slush, high-quality, and durable raincoats and winter jackets.
$105.11
Most Cost-Effective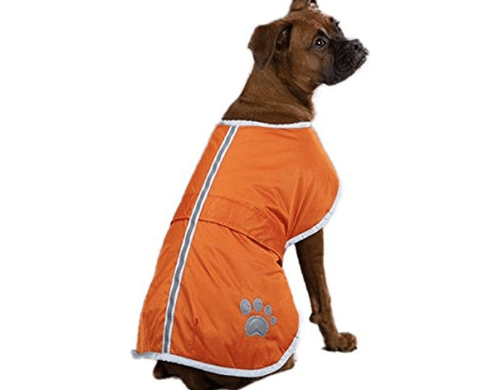 It is reversible, unlike most raincoats and winter jackets.
$29.09
Who This Is For
The products advertised here are designed to fit all breeds of dogs, including small dogs, medium-sized dogs, and large-sized dogs. The jackets and coats are made from quality materials that keep your dog comfortable in any weather. They are durable, waterproof, and breathable so you do not have to worry about them overheating or feeling uncomfortable. Our selections are also great for dog owners who are looking for a stylish and comfortable option to keep their dogs warm, dry, and safe.
Is a Winter Jacket for a Dog a Good Idea?
A winter jacket for dogs is a great idea if you want your dog to stay warm and dry during the winter months. But are they necessary? The short answer is yes! The fur on dogs keeps them warm in the winter
A winter jacket can be a great idea for dogs, especially if they live in cold climates. A winter jacket will help protect your dog from the elements and keep him warm. A good winter jacket has waterproof material or fleece lining to keep water out of the coat. This prevents your dog from getting wet and helps prevent hypothermia. If you live in an area where it gets cold during the winter months, then you must get a good quality jacket for your dog. You should also make sure that the jacket fits well so that it does not rub against your dog's skin or cause any discomfort when he wears it.
Type of Dog Jackets
There is a wide variety of dog jackets, raincoats, and coats. They are made from different materials, depending on the weather conditions. Some provide warmth to your pet, while others will keep them dry. The best choice for your dog depends on the type of coat you choose to buy. There are two main types of dog jackets: waterproof (with a hood) and non-waterproof. Both types come in various styles and colors.
Waterproof Dog Jackets
This type of dog jacket is made of either nylon or polyester fabric, which has been treated with an impregnating agent to make the fabric waterproof. This type of jacket provides complete protection against rain, sleet, snow, and other moisture-laden conditions. Waterproof jackets have adjustable closures at the neck and wrists so that they can fit small dogs comfortably.
Non-Waterproof Dog Jackets
These are made from cotton or cotton blend fabrics that may be treated with special coatings to make them waterproof. These coats are not as durable as waterproof models; however, they are more economical because you do not need to purchase additional waterproofing materials for them (such as rubberized coating) and they lack the waterproofing feature.
Other subclasses of dog jackets include
Dog Raincoat
Dog Cooling Coat
Dog Windbreaker
Dog Fleece
Dog Parka
Dog Snowsuit
Dog Insect-Protection Coat
Dog Reflective Jacket
Dog Faux-Fur Coat
Dog Hoodie
Dog Sun-Protection Coat
Why You Should Trust Us
We know that your dog is not only part of the family but also an important part of your life. As a dog owner, you want to make sure that your dog is protected and comfortable when it is outside in harsh weather. While there are many different types of dog coats and jackets available to purchase, most of them do not provide enough warmth.
Hence, we chose the best jackets that will ensure that your dog is safe while it is out in the snow or rain! Our selections are designed with the highest quality materials to ensure maximum comfort and durability. They come in a variety of sizes so that they fit both small dogs and large dogs comfortably without having any issues while they're wearing them. They are sure to keep your dog warm and dry while it is out doing its favorite activities with you.
How We Picked
To choose the best winter jackets and raincoats for dogs, we evaluated all the products on the market. We looked at their features, prices, and reviews from customers. We also consulted with experts in the field to understand what makes a good winter jacket or raincoat for dogs. We narrowed down our list of contenders based on their features and price range. We wanted to find items that were useful for keeping your pooch warm without costing too much money. In addition, we wanted them to be durable so they would last longer than other products on the market. The features we considered are as follows:
Adjustability
While selecting good winter jackets and raincoats for dogs, it is important to ensure that the jackets and coats offer some level of adjustment capabilities. This allows you to customize the fit based on your dog's size and build. Raincoats and jackets that lack adjustability or provide an improper fit could lead to discomfort or the inability of your dog to breathe well.
Comfort
When it comes down to winter jackets and raincoats for dogs, comfort is key. Whether it is a rainy day, or if you are just heading out on a walk in the snow, you need to make sure your dog is comfortable in its raincoat or jacket — and we have made sure that every one of our products offers this feature!
Fit
The best winter jackets and raincoats for dogs are snug, having the right fit for your pet without causing any issues with it being too tight or too loose around the dog's body.
Breathability
The breathability of a jacket or raincoat can be measured by its ability to transfer moisture from the outside environment into its lining. A good winter jacket or raincoat will have a water resistance rating or WTR, that's higher than the standard WTR of 10. If a winter jacket or raincoat has a higher WTR, it means it can be worn in wet weather without feeling clammy and clammy-wet. When choosing a garment for your dog, it is important to look at how breathability helps keep them warm without trapping heat or moisture against their skin.
Material Type
The material type of clothing is one of the most important features to consider when choosing the best Winter Jackets and Raincoats for Dogs. The material type should be of great quality, waterproof and breathable so that it can keep your dog dry and comfortable while they are out in the elements. There are many different types of materials that are used to make winter jackets and raincoats including but not limited to polyester, nylon, fleece, and cotton. We picked jackets and raincoats that have the best material type, providing maximum comfort and breathability.
Durability
It is important to consider how long the jacket or raincoat can last. This can be evident from the type of material used to make the jacket or coat, how easy it can be adjusted without a button coming off or a strap snapping, how firm the build and fit are, and how strong the quality of the material is, how it can withstand wear and tear from regular use, and the price (because cheap jackets and coats usually lack the best results when analyzing the aforementioned). The best dog jackets and coats will last a long time because they tick the boxes of high-quality and right material type, great fit and overall build, easy and firm adjustability, and good-value price.
Waterproofing
This feature prevents water from getting inside your dog's coat so there are no issues with water leaking into their fur or skin, hence keeping your dog dry if it gets caught in the rain. Waterproofing also means less cleaning for you because your pet does not get wet or dirty when they get muddy after walking through puddles or rain showers outside. The best dog jackets and coats are breathable and waterproof at the same time.
Style/Design
The style of a coat is one of the most important factors to consider when choosing the best winter jackets and raincoats for dogs. If you choose a coat with an attractive fashion design, your dog will feel more confident while wearing it. A fashion-forward design can also help your dog stand out in a crowd when walking down the street or going on a walk in the park. It wouldn't hurt for your dog to enjoy the comfort and look good while at it.
Price vs Quality
In choosing a raincoat or weather jacket for your dog, you need to consider costs and jackets that fit well and look good without breaking the bank or causing a huge blow to your budget. It is also important that the cost of the jacket does not fall apart after just a few uses. It must be worth every penny spent!
After considering these features and evaluating the best and most sought-after winter jackets and raincoats for dogs, we zeroed down our selections to three main recommended picks and one profit that almost made the cut.
Care and Maintenance
Cleaning your dog's raincoat or jacket is a simple task, but it is important to do it right. To clean your dog's jacket, you will need a soft cloth, some warm water, and mild soap. You can also use a damp cloth for gentle cleaning.
First, brush the dirt off of your dog's jacket, and place it in a large bowl of lukewarm water with just enough soap to get rid of the mud, dirt, and stains. Make sure that the surface of the material is wet and then wring out any excess water from the jacket. Do not get any of the liquid inside of the jacket itself because this could damage your dog's coat. Never use fabric softener or dryer sheets when washing your dog's coat. Once you have removed all of the dirt from your dog's jacket, rinse it under warm running water until it is completely clean. Then, hang up your dog's jacket to dry completely. Make sure that you properly dry your dog's jacket before storing it away for the next time.
Check the material of the jacket for instructions before drying. If there are any instructions on drying, carefully follow them to prevent damage to the coat or jacket. If there are no instructions on drying, we recommend sun-drying the coat or jacket.
It is very crucial to remember that you should never use soap or water that contains perfumes, shampoos, soaps, or dyes — these products can cause irritation and discomfort to your pet. Instead, use a pet-safe cleaning product that is specifically designed for cleaning their coats.
How often you should clean your dog's jacket or raincoat depends on a few factors:
What kind of coat does your dog have: Is it long-haired or short-haired? Does it have fur on the inside or outside? What kind of material is it made out of?
How often your dog wears its jacket: If your dog only wears the coat or jacket for specific occasions, such as walking in the rain or going to the park, then you can clean it after every occasion. However, if your dog wears the coat or jacket every day and especially during cold weather, then you may want to consider cleaning it as often as your dog wears it.
How active your dog is: If your pet is an active dog like a retriever or golden retriever, wearing its coat or jacket out all day long under the rain or in the cold outside, you might need to clean the coat or jacket every day.
In general, we recommend that you clean your dog's raincoat once every three months. This helps keep the water out, while also making sure that there is no grass or other debris on the coat. It also helps get rid of any odors or stains that may have accumulated over time.
Jackets and raincoats are a great way to protect your dog from the elements. However, it is important to ensure that you get the right fit for your dog. The first thing you want to do is measure your dog's height, girth, and shoulder height. You can do this using a tape measure. Once you have these measurements, you can use the information along with your dog's age, weight, and activity level to determine which size jacket or raincoat will fit perfectly. You should also remember that some dogs are more prone to overheating than others so be sure that whatever jacket or raincoat you choose has ventilation holes or zip-off panels if possible so that air can circulate through their body without causing discomfort.
Dogs who love to wear raincoats and jackets can sometimes be quite uncomfortable. This is because they are used to having a lot of space, so they may not know how to cope with wearing something that restricts their movements. The best way to allow your dog space to move is by making sure it doesn't feel trapped in its jacket or coat. You should also avoid putting anything on top of its coat, such as a sweater or scarf so that it doesn't have an extra layer of fabric between itself and the weather conditions outside.
You may also want to consider whether or not your dog prefers a vest over an outer layer when it comes time for winter weather gear. For example, if your dog doesn't like being cold, then getting them something that keeps them warm but allows air circulation could be better than just wrapping them up in layers of fabric all day long!