The Best Dinnerware Sets of 2023
Let's make dinner great again with these lovely dinnerware sets.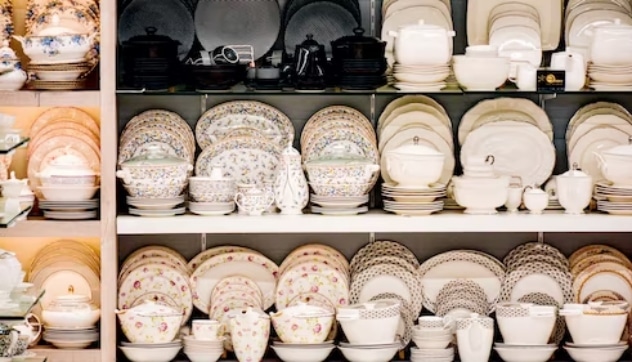 Having the right dinnerware set is essential for improving your dining experience, whether you are a seasoned home cook or just starting. Dinnerware is anything from flatware (forks, knives, and spoons) to serving bowls and platters that are used to serve food. A complete dinnerware set typically includes at least four place settings, each of which includes a dinner plate, salad plate, bread plate, and cup.
A dinnerware set communicates your style and personality. It can be simple and understated or bold and colorful. The right set will make your food look its best and give you the confidence to host family and friends.
To help you find the perfect dinnerware set for your needs, we've rounded up four of the best.
How We Picked
Number of Pieces

The number of pieces in a dinnerware set is important because it will determine how many people the set can accommodate. If you host often or have a large family, you'll want a set with at least eight place settings. Most sets come with four place settings, but some have up to 16.


Material

Dinnerware is usually made from ceramic, stoneware, porcelain, or bone china. All of these materials are durable and dishwasher-safe. However, they vary in terms of weight, thickness, and price. You need a set that can withstand regular use and is within your budget.

Formality/Style

The style of the pieces determines the formality of your dinnerware set. If you want a formal setting for special occasions, look for one with intricate designs and gold or silver accents. For a more casual set, opt for solid colors or simple patterns.



Cost-Effectiveness

The cost of a dinnerware set can vary depending on the number of pieces, material, and brand. When purchasing, consider how often you'll use the set and if you need any special features. If you entertain often, it's worth investing in a high-quality set that will last for years. However, if you're on a budget, there are plenty of affordable and stylish sets.
Our Top Picks
Best Pick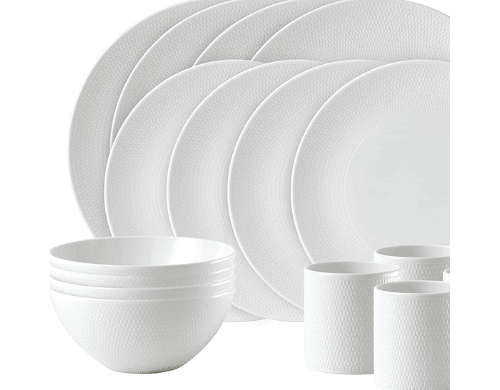 This dinnerware set has a unique and muted textural design that sets it apart.
Stackable set that brings out maximum neatness.
You need to be captivated by your dinnerware, whether you are enjoying a meal with friends or alone. Gio-16 Dinnerware sets made of bone china are thin, light, practically flawless, and neatly stackable.

The silky white fine bone china material showcases an embossed geometric pattern that cannot be ignored.
Runner Up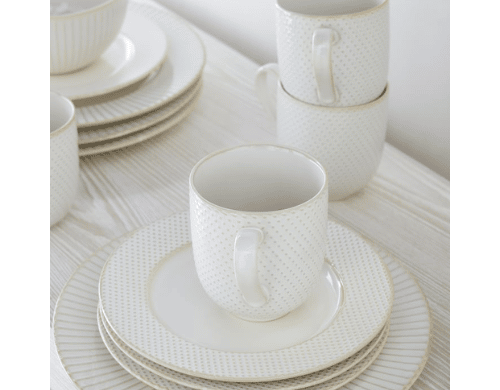 It is a lovely set, offering more visual interest than a basic white set of dishes.
Dinnerware that is textured with patterns that spell elegance.
The contemporary set offers an elegant design with all the essentials, from bowls and dinner plates to mugs. The pieces may be neutral, but nothing is boring about them. Looking closely, each piece is adorned with different textured patterns that bring visual interest to the table.

The dinner bowls and plates feature stripes, while the mugs and side plates feature dots.
Most Cost-Effective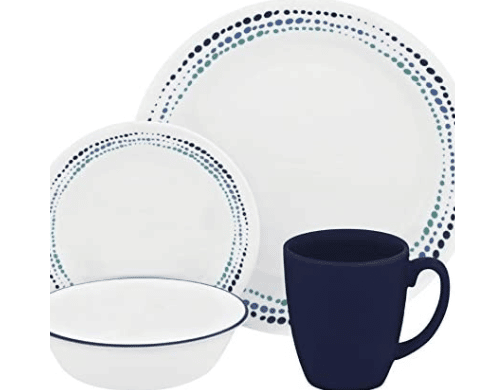 With its chip-resistant, and lightweight qualities, it is an irresistible dinnerware set.
A stylish set that is lightweight and irresistible.


This dinnerware set does not have to sacrifice your style for basic functionality. The pieces have dots of ombre blue along the border, making it a chic addition to all tableware. They're sturdy despite their weight, and elegant and cool-toned without being too loud.

Everything We Recommend
Best Pick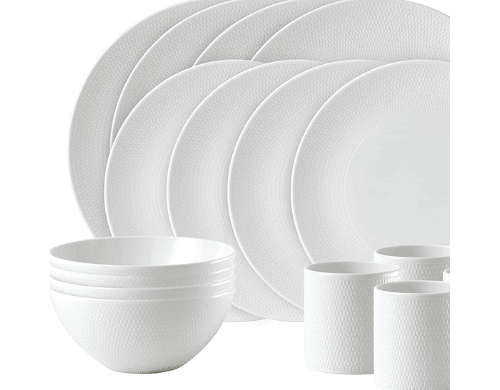 This dinnerware set has a unique and muted textural design that sets it apart.
Runner Up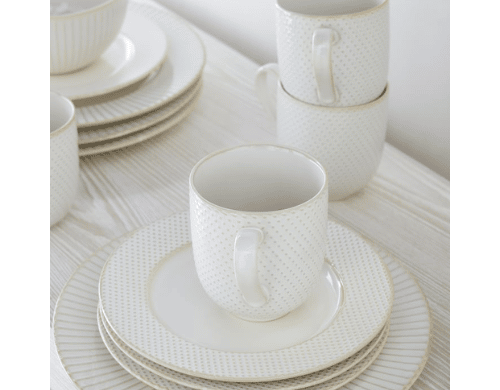 It is a lovely set, offering more visual interest than a basic white set of dishes.
Most Cost-Effective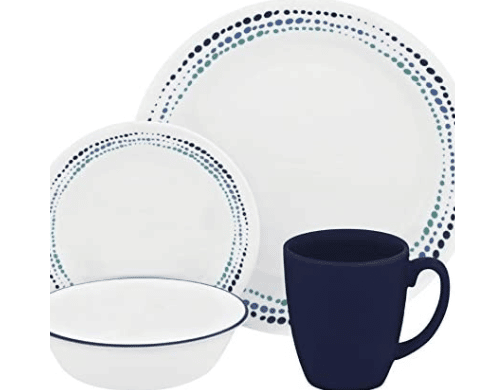 With its chip-resistant, and lightweight qualities, it is an irresistible dinnerware set.
$70.38 ($4.40 / Count)
Who This Is For
A dinnerware set is so much more than vessels for just holding and serving food. They need to be functional.
However, the function depends on the occasion. If someone has an outdoor party, they might want to consider getting plates that won't break if dropped.
If the dinnerware set is for more formal occasions, then it's important to consider how many courses will be served and if any special features are needed. This research is for people who want to buy the best dinnerware set for their needs.
What comes in a typical dinnerware set?
A typical dinnerware set includes a plate, bowl, cup, and flatware for each place setting. Some sets also include serving pieces like platters and bowls.
Best materials for dinnerware set
The best materials for a dinnerware set are ceramic, stoneware, porcelain, or bone china.
Durability and dishwasher safety are important factors to keep in mind when choosing your dinnerware set.
Ceramics is a popular choice for dinnerware sets because it is durable and affordable. However, it is not as heat-resistant as stoneware or porcelain. Stoneware is a ceramic fired at a high temperature, making it more durable than regular ceramic. It is also microwave- and oven-safe.
Porcelain is made from clay that is fired at a very high temperature. It is stronger than ceramic and stoneware, making it less likely to chip or break. Porcelain dinnerware sets are usually more expensive than those made from other materials.
Bone china is made from a mixture of clay and bone ash. It is very strong and resistant to chipping. Bone china dinnerware sets are typically the most expensive option.
Ceramic dinnerware sets come in a wide range of colors and designs. Stoneware and porcelain sets are usually white or cream-colored. You can find bone china sets mostly in white or off-white.
Why You Should Trust Us
We have over five years of experience researching and testing dinnerware sets. We've evaluated more than 100 sets to find the best ones for every budget and occasion. We also spoke to four experts in the field, including a potter, a caterer, and two home chefs.
How We Picked
Number of pieces per set
Dinnerware sets typically come with 16, 20, or 24 pieces that serve between four and eight people. At the very least, a set should include four of each: a dinner plate, salad plate, bowl, and mug. Some include serving pieces such as a platter, gravy boat, vegetable dish, serving tray, or sugar and creamer set.
If you entertain often, it's worth investing in a set with more place settings and serving pieces.
Easy to clean
Dinnerware sets are used for everything from everyday meals to special occasions. They should be easy to clean so you can use them as often as possible without worrying about stains or buildup.
Most ceramic, stoneware, and porcelain sets are dishwasher-safe. However, it's always a good idea to check the manufacturer's instructions before washing.
Design
Dinnerware sometimes features decorations, patterns, and designs that give the plates and bowls life and personality. If you like such designs to stand out, you'll need to put them in a matching environment.
If you want your dinnerware to complement the rest of your décor, then choosing a more subdued style is probably best.
Material
Dinnerware should be beautiful and practical. The material you choose will affect your set's look and function. During this research, we considered the three most popular materials: ceramic, stoneware, and porcelain.
Durability
Dinnerware sets are a significant investment. They should be able to last for years, even with regular use. If you entertain often or have young children, choosing a set that is unlikely to chip or break is especially important.
Glaze
Glaze refers to the smooth, shiny finish on the surface of the dinnerware. It is applied after the piece has been fired and helps to protect it from scratches, stains, and chips. Some glazes are lead-free and safe for use with food. Others contain lead and should not come into contact with food.
Size of pieces
Dinner plates typically measure between ten and twelve inches in diameter. Salad plates are usually eight to nine inches, while soup bowls are six to seven inches. Mugs hold between eight and sixteen ounces of liquid.
When choosing a dinnerware set, it's important to consider the size of your dining table and the number of people you typically entertain to ensure you have enough place settings and serving pieces.
Formality of usage
The formality of your dinnerware set should match the atmosphere of the event. A casual get-together calls for a less formal setting, while a more formal affair warrants a nicer one. If you enjoy hosting, it's worth investing in casual and formal sets.
Formal sets are usually white or cream-colored, while casual sets come in various colors and designs.
Style
Dinnerware sets come in various styles, from classic to contemporary. When choosing a set, it's important to consider the overall style of your home and the feel you want to create at the dinner table.
Size of pieces vs. storage space
While a 16-piece set is usually sufficient for most households, a 20- or 24-piece set may be necessary if you often entertain or have a large family. If storage space is limited, look for a set of nesting bowls and plates that stack inside each other for easy storage.
Price vs. quality
Dinnerware sets can range in price from $30 to $500. When choosing a set, it's important to consider both the price and the quality. Higher-priced sets will generally be made of better materials and last longer than lower-priced sets.
However, there are some exceptions, so it's always a good idea to read reviews before purchasing.
Microwave Safe
If you frequently use the microwave to heat food, choosing a microwave-safe set is important. Not all dinnerware is created equal, so check the manufacturer's instructions before using it in the microwave. However, many modern dinnerware sets are safe to use in the microwave.
Dishwasher Safe
Dishwasher-safe dinnerware is a must for any busy household. Look for sets labeled "dishwasher safe" or "dishwasher friendly." If you have an older dishwasher, it's a good idea to check the manufacturer's instructions to see if the set is compatible.
Care and Maintenance
To avoid damaging your dinnerware, it's important to store it properly. Plates and bowls should be stored on the edge, not stacked on top of each other. You should store cups and mugs on a mug tree or in a divider cabinet.
You should wash plates, bowls, and mugs after each use. If you often entertain, investing in a dishwasher-safe set is a good idea to make cleanup easier. When cleaning your dinnerware by hand, use a mild detergent and a soft cloth or sponge.
Avoid using abrasive scrubbers and cleaners, as they can damage the finish.
Once your dishes are clean, it's important to dry them promptly. Drying dishes is a great way to prevent spots and streaks. Such stains become stubborn and make your set look ugly.
If your dinnerware develops cracks or breaks, replace it immediately. Cracked or broken dishes harbor bacteria and viruses. If your dinnerware set has splintered into the food, discard it immediately. Eating food that has been contaminated with pieces of glass or ceramic can be dangerous.
When setting the table, it is important to do so according to the meal you will be serving. For example, a formal dinner will require more utensils than a casual lunch.
If you're unsure how to set the table, a good rule of thumb is to start with the basics: a plate, fork, knife, and spoon. From there, you can add additional utensils as needed. For example, you'll need a bowl and spoon if you're serving soup or salad. You'll need a plate and fork if you're serving dessert.
It's important to use the correct size utensil for your food. For example, a steak knife is too large for a salad, and a dessert fork is too small for a steak. When in doubt, choose the larger utensil. It's better to have to cut your food into smaller pieces than to stab yourself with a fork that's too small.