The Best Digital Piano and Keyboard for 2023
You should have no trouble finding a good digital piano or keyboard that is an adequate substitute for their acoustic counterparts.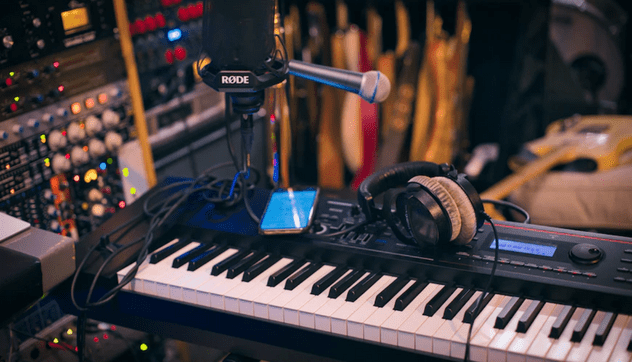 The term "best electronic keyboard" refers to a wide range of products, ranging from consumer home and education models to professional workstations and arranger keyboards. Finding the best electronic keyboard for your needs can be difficult, especially with such a wide range of keyboards available. You don't have to worry, though, because we've researched the options and compiled this list of the best electronic keyboards on the market right now. This guide covers everything from low-cost beginner keyboards to full-fledged professional keyboards.
How We Picked
Sound Quality

This may seem obvious, but the sound is the most crucial consideration when purchasing an instrument. A digital keyboard makes every effort to sound as close to an acoustic piano as possible. Layers of recordings and computer modeling techniques are used to recreate the organic acoustic qualities of a piano's tone. We picked keyboards with great styles and some similarities in terms of sound.

Features and Accessories

Regardless of your budget, you want to get the most bang for your buck on the instrument of your choice. That means you must also pay great attention to the features provided to determine whether they are worth the cost and meet your demands. Other aspects to consider are whether or not recording and playback capabilities are provided. You should also look to see if your preferred digital piano can be linked to apps or if it comes with any companion apps.


Size/Weight/Portability

The best keyboard for people learning piano may be one with full-size, weighted piano keys. But the sound possibilities on these keyboards are typically limited. A good beginner keyboard has smaller, unweighted keys but more sound functions for students interested in electronic music.

Cost-Effectiveness

The price of a keyboard varies according to its features. The price will increase as the number of features increases. Look for a keyboard that both satisfies your needs and your budget. Spend wisely and avoid buying stuff you don't need.
Our Top Picks
Best Pick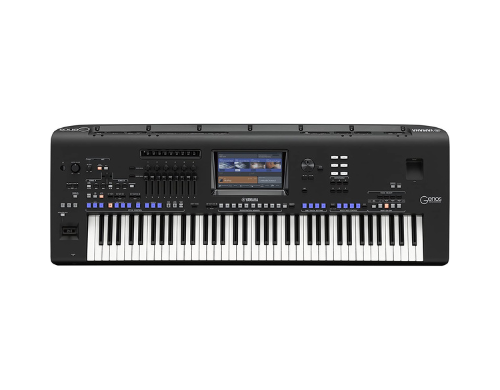 Genos, Yamaha's flagship digital workstation, has a 9-inch color touch screen and simple controls.
It has a color touch screen that displays the status of voice and style selections.
You need to be captivated by your instrument, whether you're making or performing music. Genos offers a wide variety of resources, including 216 arpeggios, 550 accompaniment styles, 1,710 instrument voices, and more. Each sound in Genos has an audio quality that surpasses that of any other digital workstation you've ever used, thanks to specifically designed Yamaha technology.
Runner Up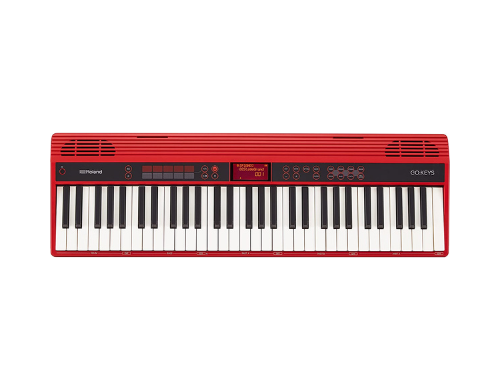 For budding musicians, this is a fun and exciting keyboard.
This is a sophisticated instrument with over 500 ready-to-use sounds drawn from Roland's famed pro synthesizers.
GO: KEYS is a fun, simple-to-use keyboard that allows you to jam out to wirelessly streamed music with its strong onboard speakers. Simply connect your smartphone via Bluetooth, select a song, and start singing along! Onboard, there are over 500 pro-quality sounds, including pianos, synthesizers, strings, bass, brass, and more.
Most Cost-Effective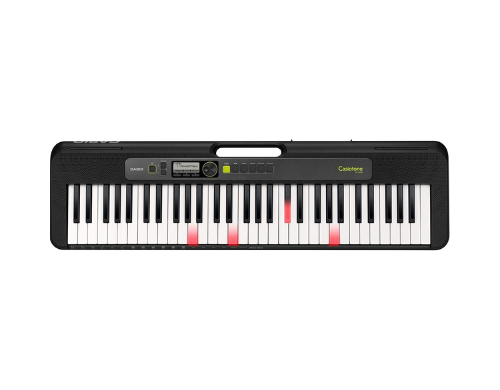 This keyboard delivers 400 fantastic tones and 77 entertaining rhythms.
Thanks to its simple controls and rapid recall of your preferred settings and sounds, the LK-S250 is both simple to use and enjoyable to play.
The incredibly lightweight LK-S250 enables you to create music anytime and wherever you desire. Learning your favorite songs is simple with 61 full-size touch-responsive keys and Casio's Key Lighting System. A voice-guided Step-Up Lesson system and 60 pre-loaded tracks can help you sound fantastic in no time.
Everything We Recommend
Best Pick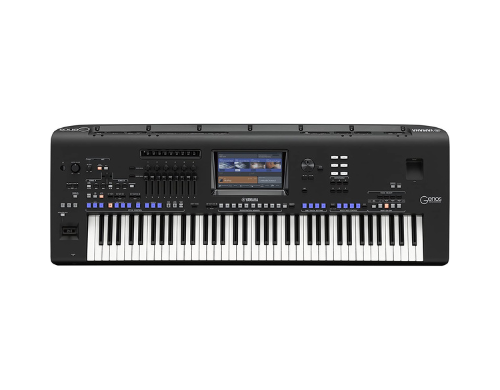 Genos, Yamaha's flagship digital workstation, has a 9-inch color touch screen and simple controls.
$5,999.99
Runner Up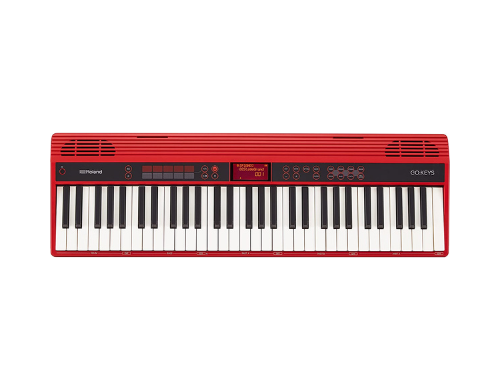 For budding musicians, this is a fun and exciting keyboard.
$349.99
Most Cost-Effective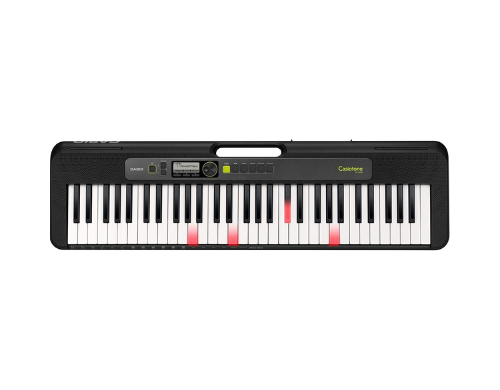 This keyboard delivers 400 fantastic tones and 77 entertaining rhythms.
$209.95
Who This Is For
Music has the power to change the world; nevertheless, good music needs decent instruments. Whether you are a skilled musician or just starting out, you will want a musical instrument you can trust to function efficiently and without complications.
We couldn't cover everything because there were so many options. However, our final selections reflect the ideal combination of quality and value for every type of player. We have something for you, whether you perform on stage, at home, professionally, or are a student.
Keyboard vs. piano
Despite their similar appearance, these instruments are very different in many ways. To begin with, a digital piano mimics an acoustic piano in terms of sound and playing feel. On the other hand, keyboards typically produce a far larger spectrum of sounds and serve as arrangers. In addition, keyboard keys are often smaller and more lightweight.
Why You Should Trust Us
Our evaluations are totally impartial and devoid of commercial bias. We never accept payment for reviews. Nothing with a star rating was purchased. Our journalists and writers also constantly strive to give unbiased editorials.
How We Picked
Sound quality
While this may appear to be an obvious factor, you must pay special attention to the sound produced by your desired keyboard. The melody of the keyboard and its speakers are two factors to consider when it comes to sound quality.
Volume control
A keyboard's degree of volume control depends on what you intend to accomplish with it. Pitch and modulation wheels are a must for synthesizers. Knobs and sliders may also be useful as you become more experienced with MIDI, especially if you want to purchase a MIDI controller.
Voices and effects
You obviously want to be free to express yourself without being constrained by specific notes ending too soon. You should check the amount of polyphony your digital piano has to accomplish that. Keyboards with sufficient instrument voices and robust polyphonic capability may simulate a complete orchestra.
Features and accessories
For beginners, you only need a digital keyboard to practice good piano techniques. Players with more experience can prefer keyboards with sound-shaping or extensive recording features. A headphone jack is essential on your electronic keyboard if you want to play quietly and not disturb others. So you won't have to worry about upsetting your neighbors by playing music. Additionally, to provide you with greater control and convenience, many keyboards come with visual displays, some of which have touch functionality. Sampling and recording options are encouraged for learners who desire to compose their music, just like MIDI compatibility and computer connectivity.
Size
The size of keyboards has evolved over time to become more uniform. Larger keyboards often have higher-quality sounds. Although it would be lovely if every student could perform on a grand piano-sized keyboard, you also need to consider the size of your living space.
Weight
You may choose a lightweight alternative depending on how you plan to employ your digital keyboard. For instance, if you're a performing musician and plan to carry your digital piano from performance to performance, you'd want to look for a small, lightweight instrument that is easy to handle.
Wired or wireless
Most of the keyboards on our list can operate on both mains power and battery power, providing you with the greatest flexibility and mobility options. If you ever wish to utilize your keyboard as a MIDI controller with your digital audio workstation. Your computer may also power certain keyboards through a USB connection (DAW). Make sure that a suitable power adapter is included in the price if you intend to rely solely on mains power
Portability
It is important to take into account portability. If you need a home keyboard, you may get a heavy-weight digital keyboard based on your room. If you must travel with the keyboard, you should select a portable model.
There are four primary kinds of keyboards in terms of portability: vertical, portable, contemporary, and stage keyboards. Vertical keyboards resemble acoustic pianos in appearance. Their speakers are normally mounted on the casing of the stand.
Contemporary models resemble normal keyboards, whereas portable keyboards are small and easy to carry. Digital stage keyboards are often developed for performers who demand louder or larger speaker systems.
Durability
An electronic keyboard is a considerable purchase for many individuals. You will very certainly spend a large amount of money on your keyboard. As a result, you'll want to be certain that you can enjoy the keyboard for many decades to come.
Ultimately, the lifespan of a digital piano is determined by how well it has been cared for. If you pour water on it or let considerable dust get inside the keyboard, it will not survive as long as it normally would. If you look after your piano, it will look after you.
Stand/tripod
A keyboard platform is a solid platform that can properly hold and support digital keyboards for usage at home or on stage. A good keyboard stand may enhance your performance significantly. And if you are relaxed and enjoying your act, your audience will also be.
Price vs. quality
It should go without saying that you should have a budget in mind before purchasing any type of digital piano keyboard. So you need to get a piano that satisfies your requirements without breaking the bank.
Style/design
This variable may differ depending on the individual. Some people might think that the keyboard's appearance is crucial since it can serve as a focal point in a room, while others might not. There are many different colors and types of keyboards. Popular hues include black and blue because they blend well with a number of home décor styles.
Care and Maintenance
The "secret" to enjoying your keyboard for many years to come is to take good care of it. Your keyboard will stay more in tune, need fewer repairs, and look better if you take care of it. This is for you if you've never owned a keyboard before or if you've had one for a while and want to learn some new care and maintenance techniques.
Ensure the tripod is sturdy and not fragile while setting up your keyboard. Otherwise, you run the danger of your keyboard shattering if it drops off the tripod. The tripod should also have anti-slipping rubber feet at its base.
Before playing, ensure that everyone washes their hands. Each time a person plays the keyboard, they leave behind a trail of dirt, stickiness, and natural oils on their fingers and skin cells. Your keys will likely become dirty quickly if you have more than one pianist on your keyboard.
Dust regularly using a duster or a soft cloth. Dusting will preserve your surface and improve its appearance. Brush the surface softly with a feather duster or a soft cloth. Cotton or microfiber cloth can be used as long as it is soft and will not abrade the surface. When dusting with a cloth, use straight lines instead of a circular pattern.
Wipe the keys down with a moist (but not wet) towel. You should dampen your towel with soapy water before wiping your keys. Wipe off the black keys first, then the white keys, with two separate rags. Make certain that no water gets inside your keyboard. from Be sure to use compressed air to dislodge the debris from any clogs or blockages on the keys or speakers.
Keep your keyboard in its original packaging at all times while not in use. If you cannot do that, make sure you cover it while you are away with something dry. Keep it away from moist areas like attics and basements.