The Best Deep Fryer for 2023
To cook perfectly golden and crunchy food at home, you'll need one of these best deep fryers.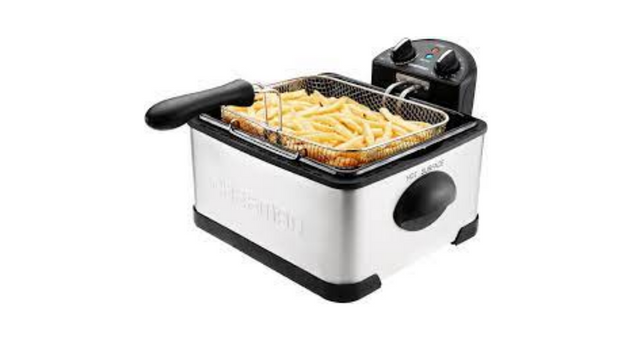 Deep fryers use a heating element to superheat oil to around 400° F. Once you dip your food in the hot oil, the moisture inside the food boils. However, water and oil do not mix. Therefore, the food loses no moisture but instead gets steamed from the inside out. The food cooks evenly and deeply.
Deep frying food is an easy and quick process. The resulting food is not only attractive but also tasty. Since the hot oil seals the food surface, it protects the nutrients against damage and loss. As a result, deep-fried food is nutritious.
However, be careful not to leave your food in the oil too long to prevent it from sucking in too much oil. Such food will be disgusting and unhealthy and not worth eating.
How We Picked
Capacity

The ideal capacity of a deep fryer depends on the amount of food you intend to cook. Deep fryers for commercial use should be larger than those meant for domestic use.

Thermostat

A thermostat in a deep fryer controls the oil's temperature. It automatically cuts off the heating process once the oil reaches the set temperature. It is an essential feature that prevents the oil from overheating and burning your food.

Type of Frying Baskets

Different deep fryers use different types of fryer baskets, which include specialty, countertop, round, and double, among other basket types. Pick one with a basket that suits your frying needs and style preferences.

Cost-Effective

The capacity, material, and features of a deep fryer determine its cost. Ensure that you choose a deep fryer with a reasonable price and an affordable maintenance cost.
Our Top Picks
Best Pick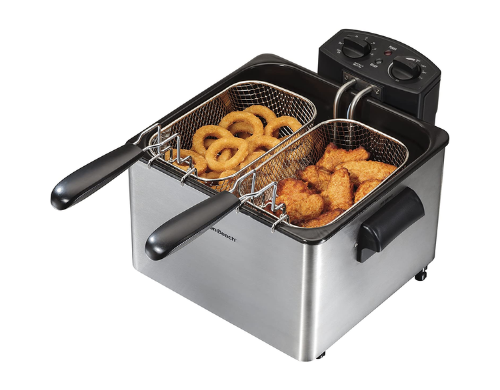 The Hamilton Beach deep fryer has two baskets that hold large amounts of food.
Enjoy mess-free draining with this deep fryer. It has an easy-close/open lid that keeps oil from splattering and causing a mess all over your kitchen countertop.
With this deep fryer, you can cook two foods at once, thanks to the double baskets.
Runner Up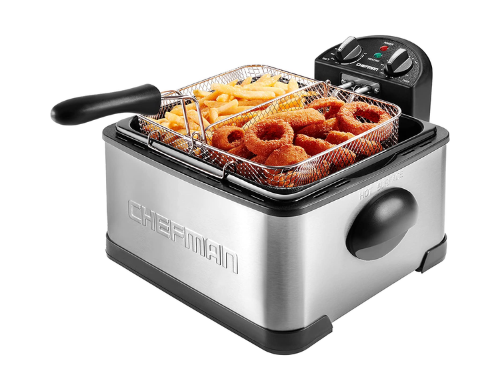 With a divided basket design, you can use the Chefman Deep Fryer to fry two foods simultaneously.
Chefman's deep fryer is easy to assemble and take apart. You can disassemble the parts to clean this deep fryer easily and store it conveniently. The lid prevents oil from splattering on your counter, leaving a mess-free kitchen space. The lid also protects you from scalds by keeping the hot oil from splashing onto your skin.
This deep fryer has a magnetic break-away power cord that keeps the fryer from tipping over and spilling hot oil.
Most cost-effective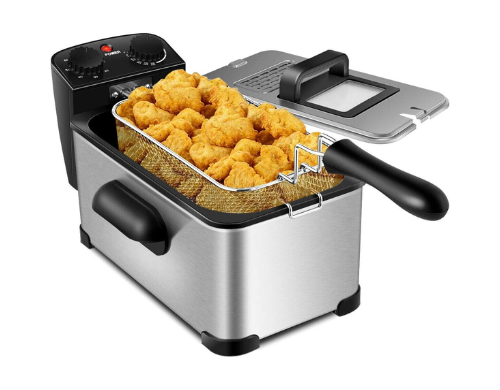 T-Fal's deep fryer is easy to clean and drain off the oil.
This deep fryer has a sturdy, stainless steel structure for durability and will therefore withstand long-term and frequent use without breaking down or falling out of shape.
It has anti-scalding cool-touch handles that are well-insulated to protect your hands from burns.
Everything We Recommend
Best Pick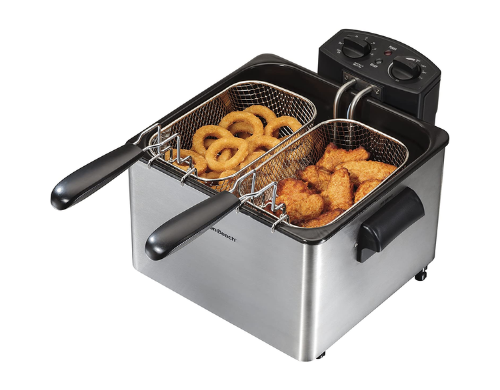 The Hamilton Beach deep fryer has two baskets that hold large amounts of food.
$79.99
Runner Up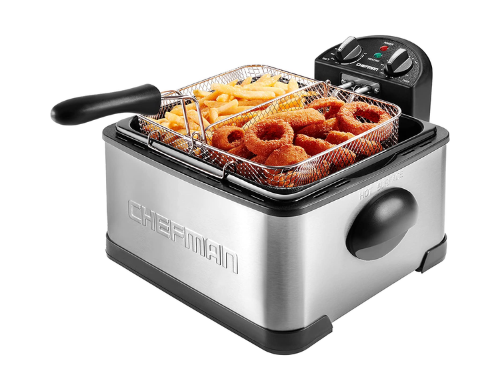 With a divided basket design, you can use the Chefman Deep Fryer to fry two foods simultaneously.
$80.08
Most cost-effective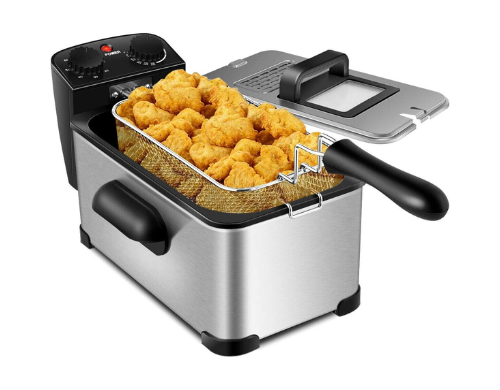 T-Fal's deep fryer is easy to clean and drain off the oil.
$69.99
Who This Is For
The deep fryers reviewed in this article are ideal for use by any person. However, the user must be knowledgeable and understand the instructions for using the deep fryer to prevent hazards. Get any of our top picks to cook attractive, delicious, and nutritious food easily and fast.
Stovetop frying vs. deep frying
Stovetop frying refers to frying your food in a pan or pot on your stovetop. It involves using a little oil to coat the surface of your food. It is ideal for foods that cook quickly, such as sausages.
On the other hand, deep frying involves using a deep fryer, a pan, or a pot. Here, you use lots of oil that completely covers your food. It is ideal for foods that require cooking for a longer time, such as chicken drumsticks. In both stovetop and deep-frying cooking methods, the oil coats the food, sealing in all the nutrients. Therefore, both methods produce sweet and nutritious food.
Is a deep fryer worth it?
A deep fryer is essential kitchen equipment. It enables you to cook fast and easily without damaging or losing nutrients. Deep-fried food is attractive, appetizing, and tasty. You can also use this method to preserve your food. Once you deep fry foods such as potatoes and fish, they will take longer to go bad. Additionally, the sealed nutrients and large amounts of oil give deep-fried foods a higher satiety value. For these reasons, a deep fryer is totally worth it and a piece of must-have kitchen equipment.
Why You Should Trust Us
We pick products based on their effectiveness and consumer satisfaction. To settle on our top picks, we first pick different products and deeply scrutinize their features to determine their effectiveness. We also gather their reviews from different previous customers and only pick those with the most positive and least negative reviews.
How We Picked
Our top picks include deep fryers with different features to accommodate different user preferences. They have different capacities and fit different food sizes. All our picks have thermostats that regulate oil temperatures for different food types. The thermostats are adjustable to allow you to set the appropriate temperature for your foods.
We have also selected deep fryers with different types of frying baskets to allow you to pick the one that matches your preference. Additionally, they all have different prices and maintenance costs. This way, you get to select one that suits your budget.
The size and weight of a deep fryer determine its portability. The smaller and lighter a deep fryer is, the easier it is to carry around. The ideal size of a deep fryer fits comfortably in the designated space in your house. Our picks include deep fryers of different sizes and weights. They, therefore, fit into different kitchen sizes.
You can only get value for your money if your deep fryer lasts effectively for a long time. To ensure that we add value to your kitchen, we have selected deep fryers with sturdy, durable materials. They all have a warranty to allow you to use your deep fryer confidently.
Care and maintenance
Take the necessary care of your deep fryer to ensure that it remains in the best condition and serves you effectively. Food goes bad after some time, while oil traps dirt after being left on a surface for a while. Therefore, it is important to clean it regularly to get rid of food particles, dirt, and germs.
Learn how to wash the different parts of the deep fryer to get rid of grease and dirt. Clean it once or twice a week using warm soapy water, and rinse with clean cold, or warm water. Use a blunt object to remove dirt from the folds and edges of the basket that water cannot easily remove.
After washing all the parts of the dryer, dry them with a clean cloth to prevent the parts from rusting or corroding. Check the extension cord regularly to ensure that it is safe. The cord should be well insulated to avoid electrocution and short-circuiting. Bind any naked parts on the cord using a binding or insulating tape. Binding prevents the naked parts from coming into contact with the water and metallic parts of the deep fryer.