The Best Cookware Sets of 2022
We analyze, compare, and test the latest cookware to help you cook like a pro.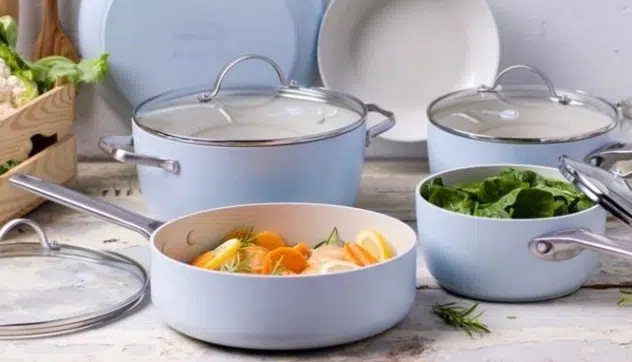 Anyone who enjoys cooking can attest that a cookware set is one of the most essential kitchen tools. Who wouldn't want a cookware set that complements their kitchen's design?
These sets are equally great for anyone who doesn't want mismatched cookware in their kitchen. There are many different kinds of cookware sets on the market, so choosing the correct one for your kitchen is crucial.
It can be difficult to sort through all the available possibilities. However, the ideal set for your kitchen will rely on a variety of elements, including your cooking requirements, the size of your kitchen, the set's quality and durability, compatibility with your stovetop, and so much more.
Buying cookware sets is also a sound economic decision given that they are more affordable than purchasing individual pots and pans.
How We Picked
Material - Stain/Scratch/Stick Resistant

One of the most important factors to consider is the material from which the cookware is made. Cookware comes in a variety of materials, each best suited to a specific type of cooking. They can be made from cast iron, stainless steel, copper, or aluminum.

Number of Pans in Set

A decent cookware set should incline several pots, pans, lids, and any other necessary accessories. This is important because you'll need to prepare different meals and each requires a different pot or pan. Popular sets also include other accessories like strainers or cooking spoons.

Durability

Cookware sets with superior durability to others will last longer and keep their appearance and performance. Cast iron and stainless steel are thought to be at the top of the competition in this regard.


Cost-Effectiveness

Quality cookware sets do come with a premium price tag. However, we made sure to include cost-effective units perfect for young kitchen owners or anyone testing the waters.

Our Top Picks
Best Pick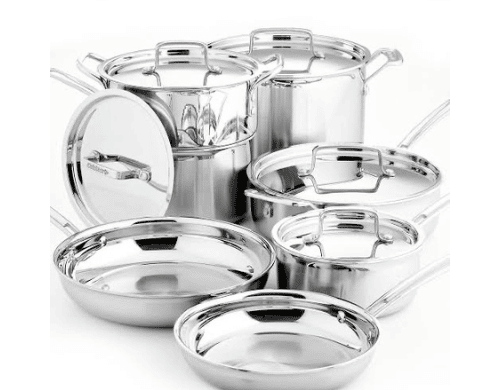 A super sleek and durable set that features solid handles.
Stainless steel option with traditional aesthetics.
This 12-piece Cuisinart Multiclad Pro Cookware Set is designed to fit induction cooktops and is certain to meet all of your kitchen needs. The interior of the stainless steel pro set has a brushed surface, and the two layers of stainless steel are supported by an aluminum core.

The Cuisinart Multiclad pro cooking set is something to think about if you're trying to update your kitchen.
Runner Up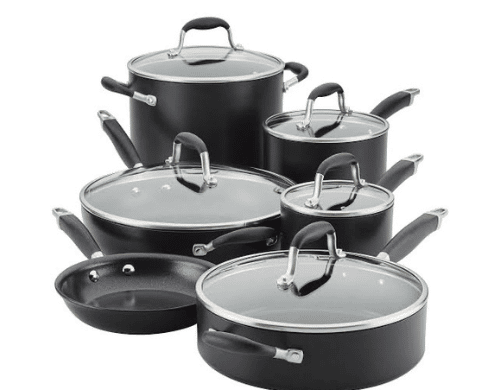 Enjoy exception cooking and cleaning with durable non-stick.
Experience the ultimate nonstick performance with this set.

Anolon Advanced Hard-Anodized Aluminum Cookware is a set of high-quality cookware that brings convenience and adaptability to any kitchen. Exceptional cooking performance, balanced heat, and long-lasting premium nonstick are all features of this chic collection. Its silicone-grip brushed stainless steel handles are designed for comfort and secure gripping.

While you watch food cook, shatter-resistant glass lids keep heat and flavor in. Two times as hard as stainless steel, hard-anodized aluminum is used in the creation of durable cookware that withstands regular cooking.

Most Cost-Effective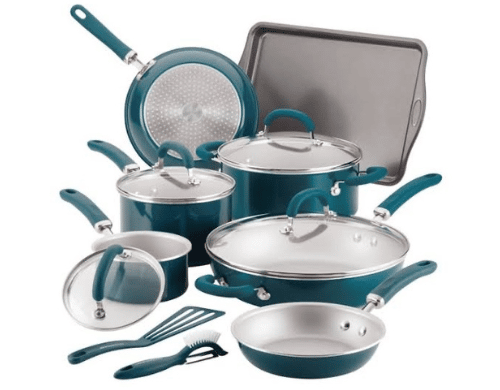 Lightweight aluminum construction with non-stick coating.
At this pricing, Rachael Ray delivers several very good features that are not typically available.

Rachael Ray cookware is the gold standard for time-saving efficiency, incredible quality, and vibrant design. This nonstick cookware set is radiant and solutions-focused, bringing high performance and simple convenience into the home.

The pots and pans are made of sturdy aluminum for extremely consistent heating and browning, and they have upgraded PlatinumShield Technology for simple food release and simple cleanup.

Everything We Recommend
Best Pick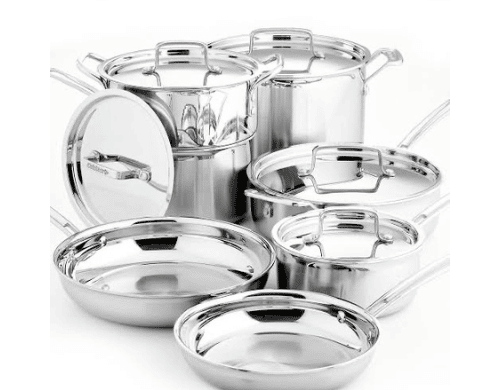 A super sleek and durable set that features solid handles.
$224.99
Runner Up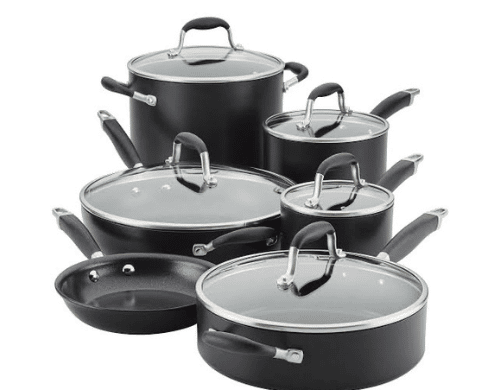 Enjoy exception cooking and cleaning with durable non-stick.
$299.99
Most Cost-Effective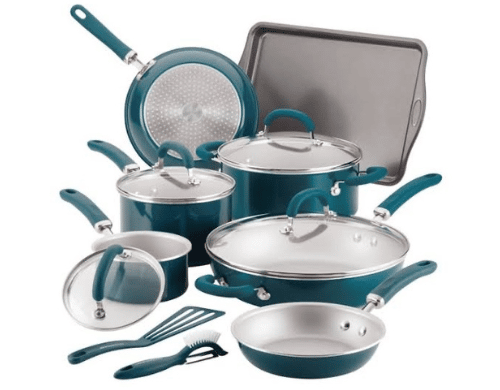 Lightweight aluminum construction with non-stick coating.
$149.00
Who This Is For
A high-quality pan set is a necessary piece of equipment whether you're a seasoned pro or a newbie home cook. The majority of pans are used virtually every day, so it's worthwhile to spend money on a high-quality set that comes with all the essential parts and will endure the test of time.
What is a cookware set, and is it worth buying?
A cookware set is a collection of all the necessary kitchenware you might require. The advantage of purchasing a set is that it is frequently less expensive than purchasing cookware separately.
The ideal cookware for your kitchen will rely on a variety of elements, including your cooking requirements, the size of your kitchen, the set's material and quality, compatibility with your stovetop, and more.
Purchasing individual pots and pans is a waste of time, money, and energy. Everything you need and nothing you don't are included in a cookware set. It can genuinely change your way of life and make your kitchen a beautiful room.
The greatest choice for those who frequently cook in the kitchen and don't want mismatched cookware is to purchase items in sets. You can't go wrong with cookware sets if you prefer to have a consistent set of pots and pans in the kitchen.
You can benefit much from their homogeneity and affordability, in addition to having every sort of pot and pan you require for cooking.
What should come in a cookware set?
Avoid buying cookware sets that include too many pieces since they will overload your kitchen. If you only use a few of the pieces from a set and the rest take up room in your cabinet, a set with more parts might not be the best option.
Most home cooks don't need three different sizes of saucepans; less is more in this case. Beyond the parts, think about the substance that will suit your cooking style the best.
For instance, stainless steel cookware lasts longer over time, while non-stick cookware is perfect for home cooks who look for the easiest pan to use and clean.
Which pans work on what stove type?
Among the materials that can be used to make cookware for your glass-ceramic stove, stainless steel is the best choice. Titanium cookware heats up quickly and is scratch-resistant, nonporous, and non-reactive. It also won't dent or warp.
However, the hobs on gas stoves can accommodate most types of cookware since they are dependable due to their conventional structure.
Due to its ability to heat food slowly and evenly, which works best over a low flame, cast iron is an example of cookware that is ideal for gas burners.
Moreover, non-stick cookware may provide a significantly better cooking experience for those who want to use less oil in their pots and pans. Cast-iron, copper, or even nonstick-coated aluminum cookware can be used on low to medium heat.
Why You Should Trust Us
Our goal is to help you in making the finest purchases and maximize your current possessions. To help you look through the noise and locate what you need, our team of product specialists carefully evaluates each product we recommend.
How We Picked
You can find the advantages and disadvantages of various cookware materials listed here. We assessed any obvious hotspots and perhaps performed some taste testing to see if one group produced a meal that was tastier than the others. The tests were created with performance, usability, and value in mind. Each cookware set's construction was taken into account.
Other than cast iron, the majority of cookware is created by stacking several metals. Less heat-conductive metals, such as stainless steel pans, which frequently include aluminum cores because aluminum heats up more quickly, may become more heat-conductive as a result. Having numerous layers also increases the cookware's durability.
Beyond the parts, we took into account the type of material that would suit your cooking technique the best. For instance, stainless steel cookware lasts longer over time, while non-stick cookware is perfect for casual cooks who look for the easiest pan to use and clean.
We made sure the pot or pan was balanced, and the handles were simple to hold. We verified that the handle attachments are secure and reliable. Each set was used to prepare a multi-course feast. The pots and pans have to be the right size to prepare a meal for one in order to be practical for everyday use.
Care and Maintenance
Food may inevitably burn or stick to a pan, and water spots will form. It is for this purpose that you must take care of your cookware and deal with these typical problems to extend its lifespan. After cleaning, it's best to dry your stainless steel cookware thoroughly.
Avoid using stiff pot brushes or scrubbers, and only use soft sponges. The coating can be scratched by abrasive sponges and strong chemicals used in household cleaners.
Your pots and pans may become discolored if you overheat them. Cookware's lifespan and nonstick coatings can be extended and protected by utilizing pan protectors and adequately storing your pots and pans.
When storing nonstick cookware, hang it up rather than stacking or jamming it into cupboards or drawers.
Additionally, all cookware should be thoroughly dried with a tea towel before being kept in a cool, dry area to stop rust from forming. Despite all the scouring, the difficult stains might be difficult to eliminate. Wash the utensil with a cloth dipped in pure distilled vinegar to remove stains from non-stick cooking pans.
Combine vinegar, baking soda, and water for tough stains. Before rinsing it off, let the mixture boil for a few minutes.
Additionally, it's crucial to use the right cooking tools. When cooking with pots or pans, kitchen tools like spoons and wooden spoons are great since they let you securely store your food for reliable results and prevent scorching the food to the top.
Metal kitchen utensils run the danger of scratching the surface, though.
Nylon, wood, or silicone utensils are gentler on cookware, especially nonstick coatings, and will ultimately aid in preventing scratches from developing on your cookware.
A rapid source of heat transmission is induction. Empty pots and pans should not be overheated or heated quickly since too much heat can harm the cookware or cooktop. Our recommendation is to select a mid-range temperature setting when preheating your cookware.
Before cooking, always dry the bottom of your cookware, especially if you're using it on a ceramic, halogen, or induction stove. Otherwise, the pan can adhere to the hob.