The Best Co-sleeper for 2023
Cuddle comfortably with your baby with this list of the best co-sleepers!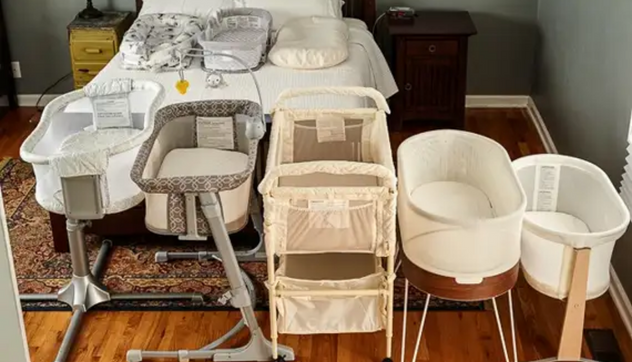 Not only is a good night's sleep important for new parents but need a lot of sleep in their first few months of growing. But choosing the best place for your baby to sleep can be difficult, especially for first-time parents.
Many first-time parents prefer to keep their babies as close as possible because of the potential health risks in the first few months of their lives. Co-sleepers are a popular choice because they offer the opportunity to safely sleep right next to your baby and keep an eye on them throughout the night.
Co-sleepers are amazing tools for new parents, as they can maximize the benefits of being close to your baby. But with so many choices on the market, it's hard to know which one to choose. Luckily, we've compiled a list of the best co-sleepers to make the choice easy for you!
How We Picked
Size

Size is important to keep in mind when choosing a co-sleeper since your baby will grow at a rapid pace and you'll need to decide how long you'll want to keep them close.

Safety and Support

Safety and support are the most important things to look for when choosing any product for your baby, especially when it comes to providing safe and healthy sleep.

Comfort

Comfort is important when selecting any sleeping surface, but it's even more important when choosing a co-sleeper for growing and developing babies.

Cost-Effectiveness

Having and raising a baby is very expensive, so knowing where you can save is important, and choosing the perfect co-sleeper doesn't have to mean choosing the most expensive one on the market.
Who This Is For
Co-sleepers are for parents who prefer to be close to their babies at night. New parents can be especially nervous about caring for a baby, and the risks associated with your baby's sleep in the first few weeks of their life can cause any parent to be nervous. For this reason, many parents choose to have their babies as close to them as possible so they can easily keep an eye on them and get to them quickly in case of an emergency. 
What is a co-sleeper?
Co-sleepers are special equipment that allows babies to sleep as close to their parents as possible as opposed to sleeping in a different room. Co-sleepers are unique in the sense that they provide the opportunity to sleep next to your baby without having to risk sharing the bed with them. Therefore, co-sleepers ensure that you and your baby are close but that you each still have your own space. 
Co-sleepers vs. standard cribs or cots
While you may need to upgrade to a standard crib or cot later on in your baby's development as they grow, a co-sleeper will ultimately be the best choice in the first few months. This is mainly because co-sleepers, unlike cribs or cots, are more easily adjustable and moveable. Due to their lightweight design, co-sleepers can be moved from one room to the next with no hassle, which might not be the case for a sturdy crib or cot. 
Co-sleepers vs. bassinets
Co-sleepers differ immensely from bassinets in the sense that they provide convenience, closeness, and functionality. Co-sleepers eliminate the need to get out of bed to feed or check on your baby. Unlike bassinets that are rarely adjustable, most co-sleepers are completely adjustable in terms of height, and some even have extra storage built in, which makes them extremely functional. 
Why You Should Trust Us
We read countless reviews and researched the top co-sleepers on the market to ensure you and your baby get the best and safest night's sleep possible. From our research, we have put together a list of the top-rated co-sleepers on the market today by looking at specific features and components of each top pick.
How We Picked
The size of co-sleepers is extremely important, especially since baby equipment is so expensive. You'll want something that will last and that has room for your baby to grow. Together with this, you'll also want something that can be adjusted to fit the height of any bed you choose. That's why we carefully selected adjustable co-sleepers for you to choose from. Next to the standard design of the co-sleeper, you also have to look at what type of material it's made of, how durable that material is, its comfort level, and how easy it is to clean. Speaking of durability, you'll want a co-sleeper that will last through your baby's playful nature. 
Safety should be your number one priority when it comes to shopping for your baby, no matter the product. That's why we selected only the best and safest options for you to choose from. All of our choices have a secure design that is sure to support your baby and keep them comfortable throughout the night. Because safety is important, you should also consider price vs. quality when shopping for a co-sleeper. All of our options are reasonably priced but still offer the benefits and quality design of some of the most expensive options on the market. The final thing we looked out for the ease of setting up the co-sleeper. When you're a new parent, the last thing you want is to struggle to set up an essential piece of equipment. 
Care and maintenance
You should be extremely careful with wraps, blankets, and sleeping bags, as they can easily tangle and cause suffocation. In addition, you should never leave your baby unattended when possible. Most of these co-sleepers are very easy to set up, and those that have frames come with easy-to-follow manuals. You should always ensure that your co-sleeper is fully secured before placing your baby in it. Cleaning these co-sleepers is very easy, as you simply remove any blankets, sheets, or mattresses that are removable and throw them in the washing machine. We recommend cleaning your co-sleeper about once a week.