The Best Chromebooks of 2022
If you frequently use web-based applications, Chromebooks are an excellent alternative to MacBooks and Windows PCs.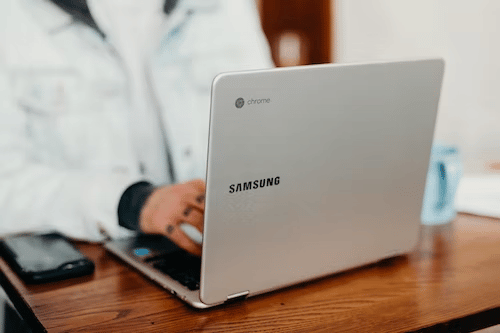 Chromebooks have come a long way since their inception in 2011. In the past few years, they have become one of the market's most popular types of laptops. That is due, in part, to its low price tag and an impressive list of features.
A good Chromebook should do almost everything a regular laptop does. That includes browsing the web, streaming movies and TV shows, working on documents and spreadsheets, and even playing some games. And there are slick and stylish Chromebooks like the Google Pixelbook Go and also budget-friendly Chrome-powered laptops that perform without any frills.
The major advantage of a Chromebook is that it comes with Google's suite of apps pre-installed. Therefore, you can start using your new Chromebook immediately without having to set anything up.
How We Picked
Battery Life

You don't want your Chromebook to die on you in the middle of a project. Ensure you check the battery life before making your purchase. We picked Chromebooks with a battery life of at least eight hours.

Compatible Apps and Programs

Not all apps and programs are available on a Chromebook. The best Chromebook for newbies is one that has the apps and programs you need. If not, research before buying to ensure that all must-haves are compatible.

Storage Capacity

Most files on a Chromebook are stored in the cloud; therefore, you don't need a ton of local storage space. However, having enough room to store your most important files offline is still important. We recommend at least 32GB of storage.

Cost-Effectiveness

Chromebooks are typically more affordable than traditional laptops. However, there is a wide range in price depending on the features and quality you're looking for. Set a befitting budget before beginning your search to narrow down your options. A budget plan also prevents you from buying items you don't need.
Our Top Picks
Our Top Pick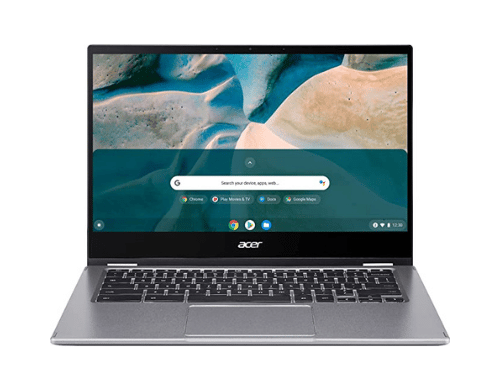 Bringing productivity to your fingertips with striking visuals.
The Chromebook has spirited quad-core performance, adequate storage space; 4GB RAM, and 64GB eMMC+128GB MicroSD. It has an accessible HDMI port, a pleasing display, and an easy-to-use Keyboard. This 3.6-pound machine is affordable and portable.
With over a few ounces of weight from other Chromebooks, it's hard to knock Acer's 14-inch, AMD Ryzen-based Chromebook Spin 514 is a versatile 2-in-1 laptop
Our Runner-Up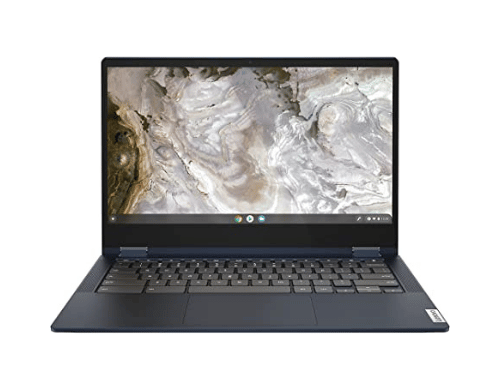 Designed for optimal speed and convenience.
Thanks to its Core i3 processor and 8 GB of memory, this pick can handle daily workloads with aplomb. It's also one of the best-looking Chromebooks with its aluminum chassis. It comprises a bright 1080p touchscreen with rich colors. The design is not only good-looking but also feels great to use.
It has excellent performance for its cost. The trackpad and keyboard are great, and the body is light and compact.
Most Cost-Effective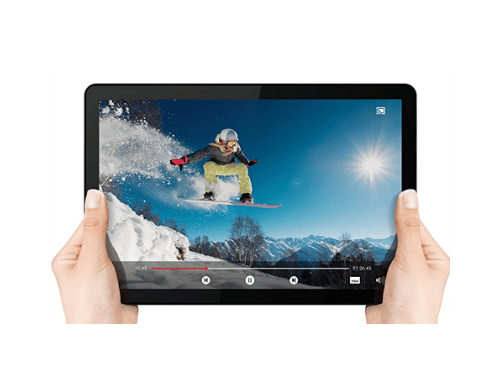 Keeps you up-to-date in a fast and secure manner.
The Chromebook is a 10.1-inch tablet with a back-panel kickstand and a detachable keyboard. The screen uses IPS technology. The Chromebook Duet offers a generous 128GB of eMMC onboard storage and has more than 13 hours of battery life. The Chromebook Duet is a great choice for those who want a lightweight and portable device.
Students and budget-tight consumers whose computing needs are light will be captivated by this Chromebook Duet, a detachable 2-in-1 that tops better-known two-in-one tablets in value.
Everything We Recommend
Our Top Pick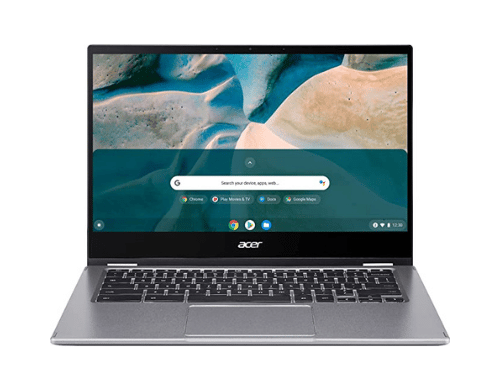 Bringing productivity to your fingertips with striking visuals.
$358.00
Our Runner-Up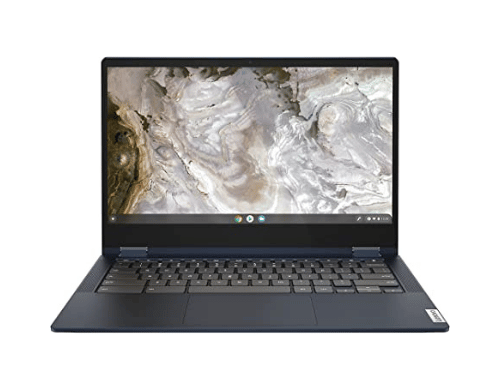 Designed for optimal speed and convenience.
$317.00
Most Cost-Effective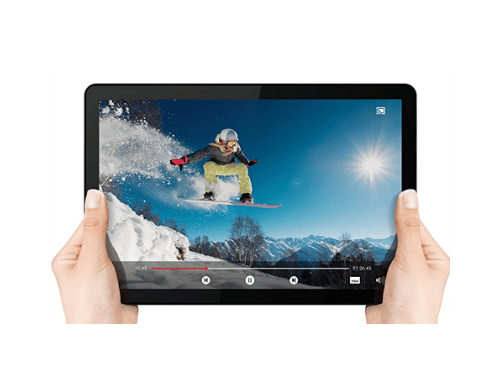 Keeps you up-to-date in a fast and secure manner.
$222.45
Who This Is For
A Chromebook does not need to look fancy or be exceptionally powerful. But if a horrendous screen, slow performance, a bad trackpad, or poor battery life gets in the way of your internet use, that Chromebook has failed at its job. We could not sample and review all the Chromebooks on the market today, so we focused on a few models whose features reflect a combination of quality and value for money for all types of users.
What is the ideal RAM for a Chromebook laptop?
A decent processor and enough memory (RAM) make all the difference to a Chromebook that feels responsive and quick. Reliable performance for a Chromebook requires 8 GB of RAM. Chromebooks with less memory lead to longer and more frequent delays when typing in documents and spreadsheets, loading tabs, and when on Zoom calls.
Chromebooks vs. MacBooks
The main difference is the operating system. A Chromebook uses Google's Chrome OS, while a MacBook uses Apple's macOS. Both are great operating systems, but they have different app ecosystems. Chromebooks are usually cheaper than MacBooks, but some premium Chromebooks cost as much as MacBooks.
Can you get Microsoft on a Chromebook?
Yes. There are a few ways to get Microsoft on a Chromebook. The first is using the Microsoft Office app, which is free from the Google Play Store. The second is using the Chrome web browser to access Microsoft's online apps and services.
Why You Should Trust Us
Our reviews are not commercially biased. Our research is thorough, and we provide detailed information on each Chromebook's specs, design, and performance. We also highlight any potential drawbacks for each device.
How We Picked
Battery life
While this may not be the first thing you think of when buying a new laptop, it should be among the most important factors in your decision. After all, what good is a laptop if it dies after only a few hours?
Charging speed
You want to charge your Chromebook as quickly as possible, so we tested each one to see how long it took to go from 0% to 100%. This is an important factor, especially for people who work on the move.
Connectivity to google
What good is a Chromebook if it can't connect to Google? You'll need to access your Google account and all your important files in the cloud. We made sure to test each Chromebook's connectivity to make sure it was up to par.

Compatible apps and programs
Apps and programs are a vital part of the Chromebook experience. The need to have a device that can run all of the apps and programs you need is important. We tested each Chromebook's compatibility with popular apps and programs.

Storage type
Most Chromebooks come with internal storage, but some have the option for external storage. We tested each Chromebook's storage type to see which was best.
Cloud access
Chromebooks are built for the cloud, so they rely heavily on internet access. Cloud access is important for people who want to access their files from anywhere. We made sure to test each Chromebook's cloud access to make sure it meets the requirements.
Google Drive capacity
Google Drive is a cloud storage service that comes with every Chromebook. The amount of storage you get depends on your Chromebook model. We tested each Chromebook's Google Drive capacity to see which had the most storage.
Storage capacity
The storage space you require goes hand in hand with how you plan to use your Chromebook. If you want it for browsing the web, you don't need a lot of storage. However, if you plan to store many files or download many apps, you'll need more storage.
Price vs. quality
We understand that everyone has a different budget, so we tested various Chromebooks at different price points. We also evaluated each Chromebook's specs and features to see if it was worth the price.
Style/design
Style and design are important factors in any laptop purchase. Spending money on a laptop that you don't like the look of is a waste. Style and design range from very sleek and modern to more playful and fun. We made sure to test a variety of Chromebooks to ensure they meet different needs.
Touch screen
A touch screen is a nice feature on a Chromebook, but it's not necessary. Responsiveness and accuracy are important factors to consider when evaluating a touch screen.
Screen resolution and quality
The resolution and quality of a Chromebook's screen are important for people who want to use their laptop for watching movies or TV shows. A high-resolution screen will give you a better viewing experience. The usual native display resolution on Chromebooks with screens from 13 to 15 inches will be 1,920 by 1,080 pixels.
Care and Maintenance
The first thing you need to do with your Chromebook is connected to the internet. Chromebooks rely heavily on internet access, so ensure you have a strong and stable connection. Once connected to the internet, you must sign in to your Google account. To access all of your important files stored in the cloud.
Chromebooks are durable laptops, but they're not indestructible. Avoid exposing your Chromebook to extreme temperatures. That means keeping it out of direct sunlight and away from heaters or air conditioners.
It's also important to protect your Chromebook from physical damage. This includes dropping it or bumping it against hard surfaces. Be careful when carrying your Chromebook, and avoid placing it where it could fall.
You should clean the outside of your Chromebook once a week. This will help to keep it looking new. The inside of your Chromebook only needs to be cleaned if it's starting to run slowly or if you spilled something on it. You should avoid getting any liquids on or near your Chromebook. This includes water, coffee, and soda. If your Chromebook does get wet, dry it off immediately with a soft cloth.
Avoid chemicals and abrasive materials, as these could damage the finish. The inside of your Chromebook is a little more delicate. Do not open your Chromebook unless you're familiar with its inner workings. If you need to clean the inside of your Chromebook, contact the manufacturer for guidance.
The best way to keep your Chromebook clean is to get a case that's the right size. You should also avoid eating or drinking near it. If the case is too big, it could jostle around and damage your laptop. If the case is too small, it won't offer enough protection.
You should also consider the material of the case. Hard cases offer more protection than soft ones but they are also more expensive.