The Best Candle for 2023
Breathtaking candles that will have you coming back for more!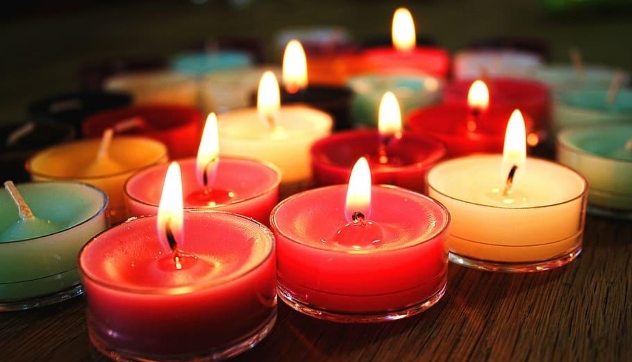 Have you recently looked around your space and wondered what you could change to create a more lively atmosphere? Candles are a wonderful addition to numerous settings all over the world. Aside from being aesthetically pleasing, they also have enticing scents. Candles have become more sophisticated over time, with a variety of scents and designs available to give you the luxury of choice.
To indulge your senses and save you time, we have carefully chosen the best candles on the market for you.
How We Picked
Scent

We looked at both scented and unscented candles, ensuring a wide variety of candles. Scented candles tend to help us make memories last longer. Each and every time you smell a certain scent, it reminds you of a certain person or day.



Long-lasting

We looked at how long the candles would last when in use, giving priority to those that lasted a lot longer to give you a long time to enjoy your candle of choice.
The last thing you want is a fast-burning candle that keeps taking you back to the store every week when it burns out.



Non-toxic/ethically sourced ingredients

We ensured that none of the candles were made of toxic substances. In addition to this, we ensured that they were made of ethically sourced ingredients that were eco-friendly.
With the rising cases of cancer, we all have to be mindful of what we inhale and consume.



Cost-effective

We wanted to ensure that you got value for your money and that our candle picks offered the most value at a competitive price.


Our Top Picks
Best Pick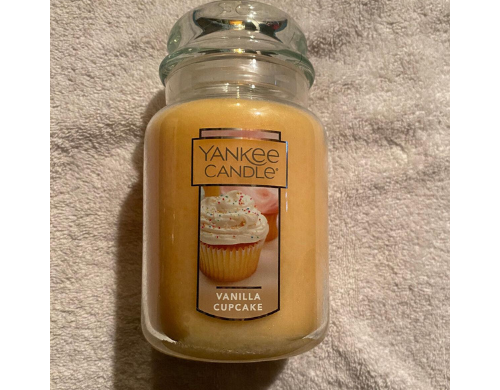 These candles have a long-lasting 110–150-hour burn time.
This premium candle offers a constant aroma throughout its entire burn time and burns cleanly and uniformly.

This huge jar candle from Yankee Candle is the ideal size for savoring all of your favorite scents. This scented candle offers a lengthy burn for better social gatherings or leisurely Saturdays. Each wick on a Yankee Candle is manually straightened to provide the greatest possible burn. Yankee Candle candles are created with premium-grade paraffin candle wax and high-quality materials from all around the world.

Runner Up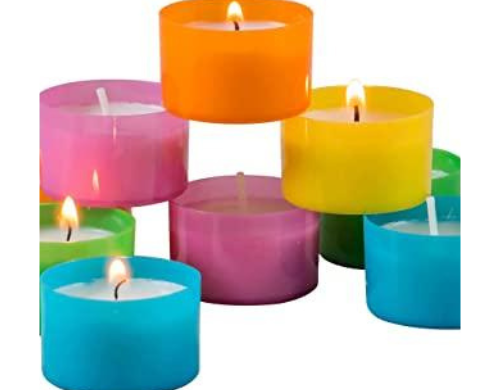 Stonebriar's tea light candles have a 6-7 hour burn time and come in five vibrant colors.
These tealight candles come in beautiful colors and have a smokeless burn that will quickly light up your home.

With their five vivid hues and 100% cotton, lead-free wick, Stonebriar multicolor tea light candles are ideal for distinctive party decorations. These are ideal for wedding and party planners, restaurants, and anybody else wishing to provide the optimal warm atmosphere for any event because they burn cleanly and have no scent.

Most Cost-Effective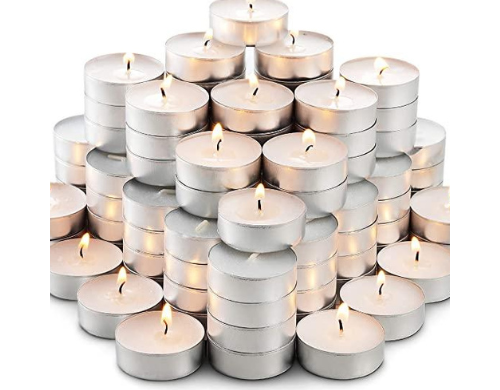 Not only attractive and practical but also quite affordable.
You can experience a smokeless flame that flickers less than other candles thanks to the 100% cotton wicks used in the candles.

These tea light candles are not only attractive and practical but also incredibly affordable and ideal for large gatherings like weddings. These little candles come in sturdy aluminum tins that keep the dripless wax enclosed and prevent damage to your expensive furniture. They are made of premium, non-flaky pressed paraffin wax from Europe.

Everything We Recommend
Best Pick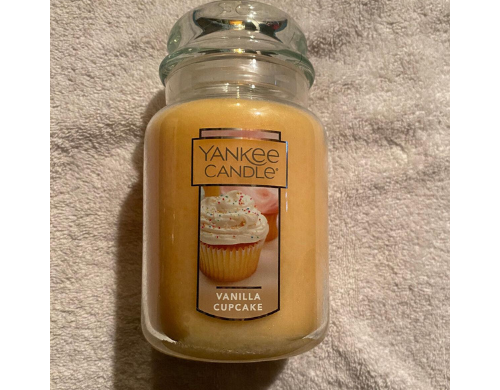 These candles have a long-lasting 110–150-hour burn time.
$16.88
Runner Up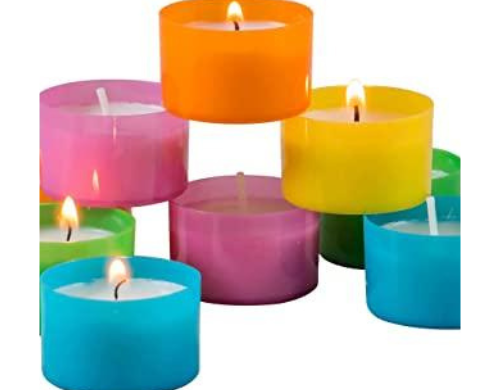 Stonebriar's tea light candles have a 6-7 hour burn time and come in five vibrant colors.
$19.75 ($0.21 / Count)
Most Cost-Effective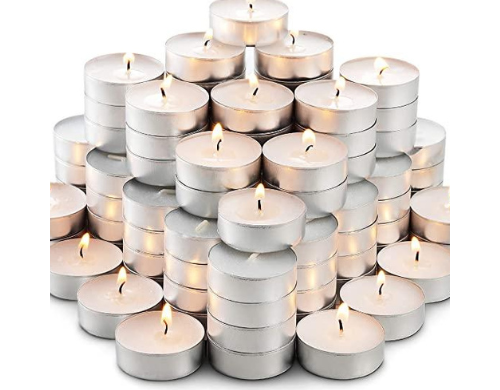 Not only attractive and practical but also quite affordable.
$14.99 ($0.15 / Count)
Who This Is For
Candles are one of the best, effortless ways to splash up your space and create a cozy, luxurious, and intimate environment while enhancing the room's ambiance with their warmth and gentle presence. They have been said to reduce stress, increase relaxation, and promote sleep. In addition to this, candles also continue to be used in ceremonies all over the world.
Can burning candles affect air quality?
Yes, burning a candle creates an element of coziness in your space that is hard to replicate with anything else. Some candles are scented, and when they are burned, they emit lovely scents that will have your space addictive to everyone.
How long does a candle normally last?
The time a candle burns varies based on the location of the candle while burning, the type of wax used to make the candle, the type and size of the wick, and the materials used to scent or color the wax in the candle.
Is burning candles safe for your health?
There are claims that burning candles is not safe for your overall health as they release harmful toxins when they are burned. However, these claims remain inconclusive as there is no evidence to back them up, seeing as candles don't contain enough toxins to be a health threat.
Are scented candles more expensive than regular candles?
The price of candles varies depending on their manufacturer, the materials used to make them, and their longevity. However, as a rule, most scented candles are more expensive than regular candles due to the additional scents and fragrances infused in the candles.
Why You Should Trust Us
We took our time looking through the different candles on the market and evaluating them based on their manufacturer, the material used to make them, their average burn time, and their scent. By doing this, we were able to reduce the options and provide a selection of candles that will be ideal for you.
How We Picked
First, we evaluated the different scents on the market, as this is one of the most important factors when choosing the candle for you. We found four major scents; woody, floral, fresh, and amber. We further found that all the other scents were simply a varying combination of these four original scents. Having a good understanding of which of the four scents you gravitate towards is very important, as this will heavily influence the candle you choose.
It was clear that most wicks used in candles are made of cotton. However, there are also other wicks made of hemp, fiberglass, wood, or natural fibers, and their threads are woven in a specific pattern and density that directly correlate with how the candle will burn. There were also other candles that had more than one wick to increase the glow and intensify the scent of the candle while it was burning.
How long each candle will last is directly influenced by the materials used to make the candle, the size of the candle, and how long the candle is left to burn each time. We also ensure that all our candles are non-toxic by making sure they are made of natural wax and are phthalate-free.
These shortlisted candles are a true testament to quality and value for your money because they are made with top-quality ingredients and have amazing fragrances that will keep you coming back for more. When considering the size of a candle, it is important to think carefully about the room you intend to place your candle in. Smaller spaces tend to require smaller candles, while big rooms often require much bigger candles.
We have been sure to include the different sizes in this list to ensure you get the perfect one for you. Prior to purchasing, consider the design of the space in which you intend to place the candle. This will inform your decision to ensure that the candle will blend beautifully with your space. We also considered the durability of the candles, which went hand in hand with the type of wax used to manufacture the candles.
In regards to durability, soy wax burned the longest, produced the least soot, and was by far the most durable type of wax as compared to paraffin, beeswax, coconut, and rapeseed wax. Once you have successfully purchased your candle and are ready to light it up and enjoy the fragrances, ensure that it is placed in a well-ventilated room in a clearly visible place away from toddlers, children, and flammable objects.
Care and Maintenance
Candles are created to melt; they should however melt when you are enjoying them. To ensure you preserve all the goodness in your candles, they should be stored at room temperature, away from high levels of humidity and away from sunlight to avoid melting.
On your very first time when lighting a candle you have purchased, be sure to allow the candle to burn for an hour or two until the wax has pooled as this will allow for an even burn in the future.
Ensure the room is well-ventilated before lighting the candle and that you have placed it on a level non-flammable surface. Do not leave the candle unattended while it is burning and be careful not to allow it to burn for more than 5 hours continuously. Remember to keep the candle away from corners and flammable materials when burning and extinguish the candle once a small amount of the candle is remaining. 
Be sure to always trim the wicks every time before lighting the candle for a longer, cleaner burn while ensuring not to allow wick trimmings or other materials and debris to accumulate in the wax pool or fire that may accidentally occur.