The Best Camping Tent for 2023
The best tents available, built for functionality and made for the outdoors.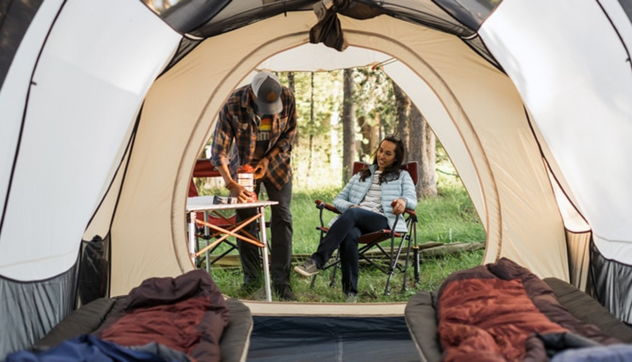 Some of us are homebodies, while others were made for the outdoors. If you fall in the second category, then this article was made just for you! Camping is second nature to a good old-fashioned outdoorsman, and if you have a family — small or large — you are most likely looking for the perfect way to include them in your lifestyle.
Allow us to introduce a grand solution to your camping needs — a family-sized tent that you can pack up in your car and take anywhere! We have done our research and tests to suggest the best camping tents for families of all sizes.
In this article, you will find options and detailed reasons for why any of our selections would make the perfect camp home. So without further ado, let's get into why these picks made our list and are the best options out there for you and your loved ones.
How We Picked
Capacity and size

Our goal is to find you a camping tent suitable for you and your loved ones, therefore our choices are big enough to fit at least four people without cramping anyone's style.

Shape

A tent's shape is one of the integral things that enhance its functionality. It is an important factor that determines how roomy it is, especially when it's time for bed.

Type of Material

Anything can happen in the great outdoors, and likewise, the weather can change at any given moment. Hence, you want a tent made of the best material to withstand ever-changing conditions.

Price

The best outdoor gear provides the best quality and doesn't come cheap. However, we have found options guaranteed to give you the best value for money in their price ranges for a long time to come.
Who This Is For
The selected products are fit for the great outdoorsman who loves to create adventure and experience new things with loved ones. Our reviewed camping tents are perfect for quality family bonding time and some of our picks are great for both car camping and backpacking. If you love a good adventure and want to experience camping like you never have before, then these shelters are just for you!
Backpacking Tent Vs Camping Tent
So far in this read, you would have seen us using these two terms at different points. If you're an avid camper, then you probably already know the difference, however, if you're just getting into the camping game, you will definitely need some pointers.
As the name implies, backpacking tents are the perfect fit for backpackers. These kinds of tents are used when you plan on hiking long distances and camping as well. They are suitable for such activity due to their lightweight construction and materials, with most of them weighing less than 10 pounds. They are usually made of nylon or Dyneema, with the latter being the more durable option, and can double as a regular camping tent. They are also generally the more expensive choice.
On the other hand, camping tents are specifically used for car camping when you either have to drive to the campsite or hike a very short distance before getting to it. These shelters are made with heavier materials, usually polyester, and have larger tent poles and other accessories. They typically weigh more than 10 pounds and can't easily be carried around.
The line between backpacking tents and camping tents gets blurrier as the capacity of the tent reduces. Tents with a single to four-person capacity often double for both purposes while larger tents are strictly for car camping. So if you love hiking and consider yourself a Wayfinder, then a backpacking tent is your best pick. However, if you only camp every once in a while and often stay at one campsite with multiple people, stick to a car camping tent.
Is It Worth Splurging On?
To answer this question, you have to take a look at your personal interests and preferences. Are you really an outdoor person or just looking for a creative and fun way to bond with loved ones? If you've never camped before you might want to try going with a friend who is used to that lifestyle to figure out if it interests you or not, before making a purchasing decision. However, if you love the outdoors and are always looking for a new adventure, getting a camping tent will make a great companion and leeway into that lifestyle.
Why You Should Trust Us
At National Today, we stand for anything fun and are always looking for the next big adventure. Without comfort, you cannot truly sit back, relax and enjoy the great outdoors. We understand this, and that is why we made sure to find the best camping tents that offer premium features and luxurious comfort. With our picks, you forget you're away from civilization because they give you a sense of home away from home.
How We Picked
We have done all the brainwork, research, and testing so that you don't have to! Let us explain the factors that led to our well-informed decisions and give you fewer things to worry about. 
Capacity
What's an adventure without having the people that matter the most by your side every step of the way? Camping tents come in various capacities, from single-person to eight-person tents.  One of the things that determine a tent's capacity is its size. This is measured by both its floor area and maximum height. While some tents are tall enough to stand in, others provide more horizontal room. Another thing that increases the capacity of a tent is vestibules, which are a protected covering that stretches along the sides, front, and rear of your tent and under a rainfly to give you more storage room. The options we have selected are big enough to fit small and large-sized families alike and provide maximum comfort and protection while at it.
Type of Material Used
Your future camping tent should be made with durable, weatherproof materials to be able to withstand the ever-changing elements of the great outdoors from strong winds to heavy rains. The most durable camping tents are made with polyester, while eco-friendly options are made with solution-dyed polyester which means that less water and energy were used to manufacture them. Lightweight tents are made with lighter materials like nylon and the more durable Dyneema. 
Ease of Use
The majority of people are scared away from camping because they fear the tent's installation process. Camping tents come with heavy tent poles and accessories that can be quite confusing and difficult to maneuver without proper guidance. The great ones make it look easy thanks to the inclusion of color-coded clips, snapping poles, and even reflective guylines that help you easily find your way around it. Our selected shelters take less than 10 minutes to set up and come with detailed installation instructions to guide you throughout the process.
Portability
As we have established, car camping tents are generally the heavier option for camping enthusiasts. However, certain things can make this tiresome factor easier to bear. Heavy-duty stuff sacks and lighter, flexible tent poles allow you to pack up your tent and move them easily without too much of a hassle.
Price
Don't break the bank to get a little taste of adventure. Thanks to our reasonably priced camping tents, you wouldn't have to! Just as with any other product, the better the tent's quality and the more features, the higher the price tag. We have however found options that offer the best value within their price range so that you stay satisfied with whatever purchase you decide on for a long time to come.
Shape
Camping tents often come in two major shapes — traditional dome-shaped and vertical-shaped tents. While vertical or almost-vertical tents provide more freestanding room and maximum height, dome-shaped tents provide more legroom and horizontal space. Struts and poles also determine the architecture and expansivity of a tent and deciding what shape is right for you depends on your needs and preferences.
Design/Style
A tent's shape, as well as its fabric, color, and accessories, determines how stylish it looks. From essential design decisions like interior mesh organizing pockets and rainfly to extra nice-to-have features like vestibules, footprints and multiple doors, the final complete look of a camping tent is unique to each manufacturer. Therefore, it's up to you to pick what suits you best and what space you'd love to call your outdoor home.
Comfort
Your camping tent should be your home away from home, and certain things can improve your experience and stay in these shelters. Features like organizing pockets and room dividers give you a sense of home and offer you privacy, while things like footprint offer more floor support and cushioning. There are also nice-to-have features like vents and mesh linings that reduce condensation and give you a better view as well.
Overall Construction
At the end of the day, your future tent should be made of strong durable materials that are sturdy enough to withstand harsh conditions that can damage your shelter. One of the things that determine this is a tent's pole strength. Camping tent poles are generally made of two materials — fiberglass, and the more durable aluminum. If your tent comes with the latter option, you are guaranteed a stable tent that provides maximum protection on all sides.
Care and maintenance
Just like your home, your tent deserves utmost care and attention to keep it functional for years to come. The basic rules of thumb are to always read the manufacturer's instructions, never store a wet tent, be gentle with poles, zippers, and other accessories, never wash your tent in a machine, and do routine cleaning from time to time.
After a long camping trip or multiple seasonal short trips, it's important to carry out some routine cleaning and maintenance before using your shelter again. This helps get rid of dust, animal gunk, and other dirt trapped in your tent. When cleaning your tent, ensure you avoid harsh household cleaners and agents that contain bleach, perfumed soap, and detergent as this can wear out its durable water-repellent (D.W.R.) coating and attract pests. Here's how you can go about your routine cleaning:
Gather your cleaning equipment. You would need cold to lukewarm water, mild fragrance-free dish soap, an outdoor gear cleaner like Nikwax Tech Wash, and a non-abrasive sponge or cloth.

Spot clean dirty areas with the sponge and a small amount of soap.

Fill a tub or basin with water and add the cleaner product.

Unzip your tent and rainfly and turn them inside out.

Soak your tent for the amount of time specified on the cleaner's bottle.

Empty the tub and refill it with clean water to thoroughly rinse out your tent. Repeat this step as many times as necessary.

Hang your tent in a cool, shaded area until it is completely dry.

For mildew, odors, and mold, use an enzyme cleaner such as MiraZyme, and follow its detailed instructions on how to soak and clean. 

Refresh waterproof coatings and reseal leaking seams if need be.

Store in an airy location, away from humidity. For longer storage, take your tent out of its sack and store it in an airy material such as a pillow case or a mesh bag.
In the great outdoors, your tent is bound to experience a few rips and tears every now and then from twigs, stones, or even branches. Here's how you can patch those right up and get your shelter looking good as new.
Apply rubbing alcohol on a rag and clean the affected area around the tear, then wait for it to dry out.

Cut a piece of repair tape (usually sold in outdoor gear shops) in a way that leaves at least an inch of tape away from the tear.

Lay the tent on a flat surface, and position the repair tape in place on the tear.

Apply an interior patch if need be. This step mostly applies to high-tension areas like around your tent poles.

For mesh rips, work the strands together again, or in the case of more severe rips, repeat the same steps using a mesh patch.

Let the patches cure for a day before storing your tent.
Although the best tents are made with the most durable materials, as with everything, they don't last forever. Once you have too many rips and tears or faulty poles and accessories, your shelter needs to be replaced. Also, if your tent's floor is failing and soaking up water, or the body's fabric coating is gooey with a foul odor, it's about time to swap it out for something new.