The Best Bluetooth Headset for 2023
These wireless headsets will undoubtedly improve your listening and speaking experience wherever you go.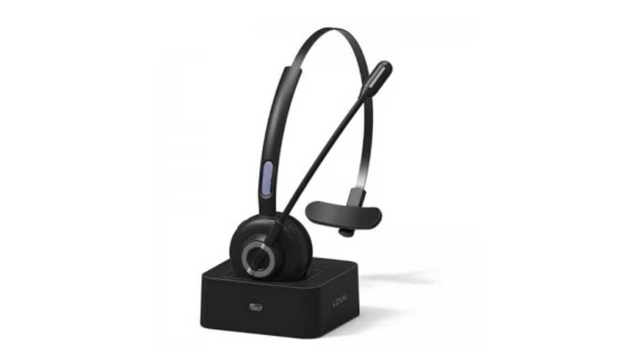 When the pandemic began, and many of us had to work from home, headsets were no longer just seen as accessories, they were seen as necessities.
With constant Zoom or Google meetings, kids running around, or being taught from home, wired headsets simply didn't provide the same level of freedom and convenience, resulting in a rapid increase in people opting for wireless headphones instead.
With the general ease of use and the fact that you don't have to worry about tangled wires or needing to carry your device around with you constantly, wireless headsets are quickly becoming the default option, not only for entertainment reasons but also for work-related matters. In this article, we'll assess some of the best value-for-money wireless headsets that are likely to seamlessly fit into your everyday work life.
How We Picked
Connectivity Strength

Connectivity strength is important for wireless headsets because if connectivity strength is weak, the sound is disrupted. This can cause frustration, and this is why the strength of the connection between the headphones to the mobile device is key

Power/Battery Life

As battery life with wireless headsets continues to improve, the better the headsets, the better the overall battery life. This is important because wireless headsets cannot operate once the battery dies

Audio Quality

Most mid-level wireless headsets have adequate sound quality. Currently, the difference in sound quality between wired and wireless headsets is minimal

Cost-Effectiveness

With good audio quality and long battery life, the price of wireless headsets increases, depending on the optional features you want. Features like active noise canceling, audio jack options, and AI will increase the overall price
Our Top Picks
Best Pick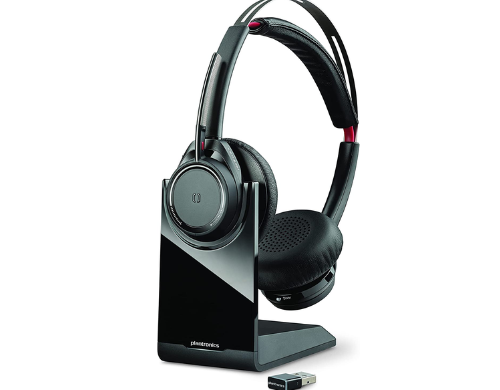 The Poly Voyager has a long roaming distance and is great for dual use.
The Poly Voyager stands out primarily because of its quality regarding taking calls while working and listening to music during downtime. In loud and busy work environments, like construction sites or call centers, the Poly Voyager is ideal to use in those settings, specifically when taking calls.
The Poly Voyager headset is fitted with high-quality sound and is robust and versatile.
Runner Up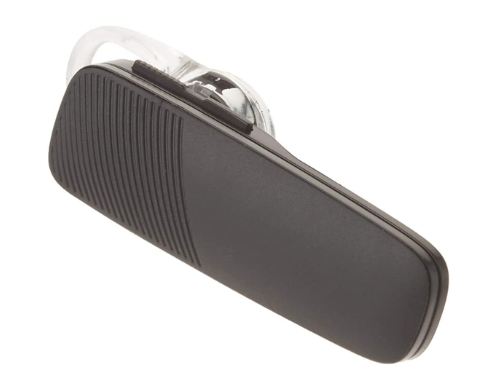 The Plantronics Explorer has voice activation features and clear calling audio.
The Plantronics Explorer 500 is a great Bluetooth headset to wear while you're driving or on public transportation. The size of this headset makes it easy to use with your mobile. Another benefit that makes it a great mobile headset is its voice control feature. With it, you activate your mobile assistants to help you make calls or send messages on your phone or laptop with little fuss.
The Plantronics Explorer is compact, easy to use, and has voice-activated technology.


Most cost-effective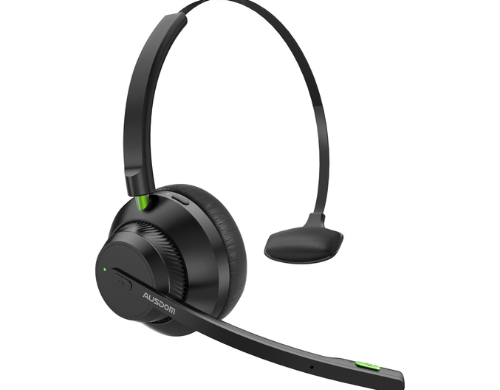 The Ausdom has a quick-charging feature and noise-cancelling technology.
Made with VoIP technology, the Ausdom Trucker headset is perfect for blocking outside noise during use. With dual-switch features, connecting to your mobile phone and computing device is effortless. And with strong battery life, you can rest assured that you won't have to worry about this headset dying on you without warning. You can be sure that, regarding overall usability, this headset is high quality.
The Ausdom Trucker Headset is designed with comfortable earcups, has high-quality Bluetooth connectivity, and has a long battery life.


Everything We Recommend
Best Pick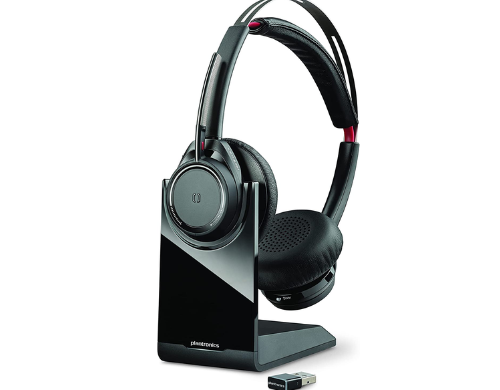 The Poly Voyager has a long roaming distance and is great for dual use.
$136.23
Runner Up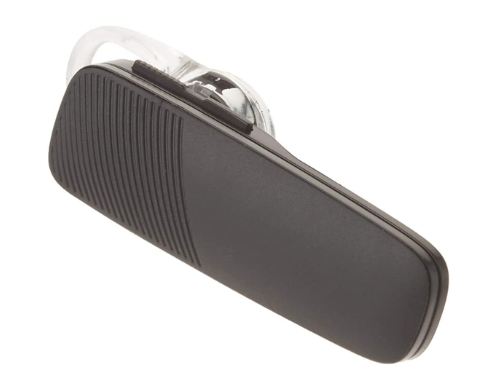 The Plantronics Explorer has voice activation features and clear calling audio.
$119.99
Most cost-effective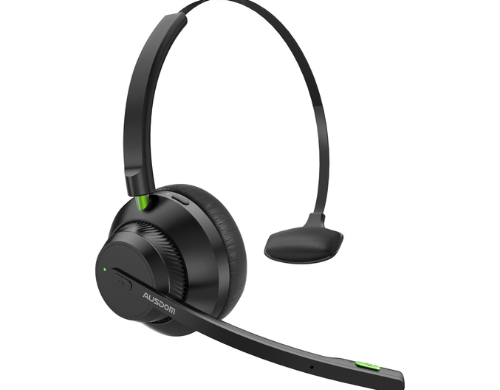 The Ausdom has a quick-charging feature and noise-cancelling technology.
Who This Is For
Bluetooth headsets are for people who want to experience more convenience, freedom, and less worry. Without the concern of dealing with wires, and worrying if both sides of your headset will work, Bluetooth headphones are a great and modern alternative. They are versatile, understated, and generally last longer than their wired counterparts.
Are Bluetooth headsets worth it/better/easier/more convenient to use?
If you are looking to get a pair of new headsets, there are a few things to consider before diving into the wireless universe. Although many people have previously had concerns over the overall quality and practicality of Bluetooth headsets, modern Bluetooth is far more robust and stable.
Regarding convenience, modern wireless headsets are far more convenient than wired headsets. A big reason why many people have transitioned from wired to wireless is freedom. When walking around the house doing chores or working in a busy environment, you can do so without needing to hold your mobile device. You also don't have to worry about the infamous wire snag, with your wired headsets getting caught on something and pulling your headsets out of your ears without warning.
Although most premium wired headsets eclipse most Bluetooth headphones matters audio quality, the gulf in quality has been reduced rapidly over the last four years, to the point where the differences are hardly recognizable. A potential downside to consider with wireless headphones is the charging aspect. The battery life of wireless headsets varies depending on the model. However, most wireless headphones can keep you going for a full workday before needing another charge, and with many headsets having a quick charge feature, you'll have enough power to keep you going for a good few hours, whether you need it to commute to work or work from home.
Overall, investing in a high-quality pair of wireless headsets is well worth the time and money, and they typically last much longer than wired headphones, which can break or become damaged quickly due to the wires.
Why You Should Trust Us
With any product you're considering, it's important to have a thorough research partner to help you make an informed decision. Regarding this type of technology, wireless headsets are becoming more prevalent and more affordable. With mobile phone companies refusing to add traditional audio jacks, many phones only come with wireless earbuds or headphones.
How We Picked
When analyzing wireless headsets, it's important to consider a few important characteristics that will have an impact on your user experience. Concerning connectivity range, the average distance of connectivity is usually 30", and this includes walls and doors as potential connection hindrances. The battery life and charging speed of all our options are quite impressive. All of our headset options have at least seven hours of battery talk time.
All our options have internal microphones, ensuring convenience during use. Audio quality is also an important factor that we've considered, and we've ensured that our selection is not only crisp, clean, and clear in terms of sound quality, but also has active noise-cancelling technology.
Care and maintenance
Regarding overall care and maintenance of Bluetooth headsets, the main characteristics to look out for are storage, battery life, and general cleanliness. About storage, always place the Bluetooth headset in the supplied storage bag or purchase a headset storage bag to ensure that your headset is kept safe. Always store your headset in a cool and dry area, like a drawer, and do not place it in an area where direct sunlight hits.
Regarding battery life, it is advised that you do not charge your headset only when it signals that the battery life is low. This could impact the overall efficiency of the headset. Given that ear wax and dead skin settle in and around the headset, gently wipe the ear cups with wet wipes or a damp cloth to keep them clean and reduce the risk of potentially dangerous bacteria. To kill all the nefarious bacteria, use a mild water and alcohol solution, and use a Q-tip to clean the hard-to-reach corners of the headphones.