The Best Blankets of 2023
A blanket is an item of comfort and warmth, and it's a bit like an old friend.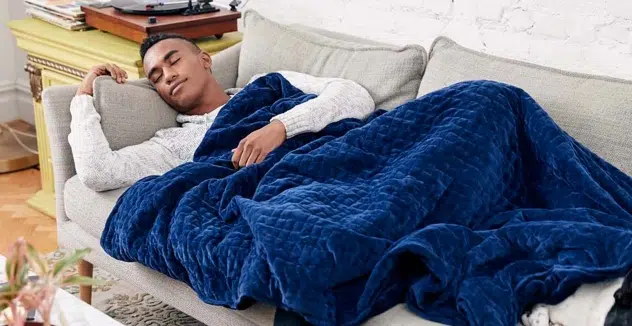 We're sure you'll agree that one of life's best pleasures is sinking into a bed with clean sheets and a cozy blanket after a long, busy day. When you think of the levels of comfort you'd typically expect from such an experience, you'll understand that choosing the right blanket isn't something you should do lightly.
Naturally, when buying a blanket, you'll want one that ticks all the right boxes. So, how exactly do you make that perfect choice with the overwhelming number of options in the market?
Not to worry, we've simplified the choice for you in this article by identifying the qualities that make a great blanket, and we've suggested the best options in the market based on these qualities. So, keep reading to get some ideas on which blanket is perfect for you!
How We Picked
Size

The right blanket has to be the ideal size, not smaller than your bed, and with sufficient allowance to tuck in where needed. This is why we prioritized size as one of the important features to consider when selecting a blanket.

Material and Comfort

It's important to make sure that you're choosing a blanket with the right material. This is important for warmth as well as comfort, and some materials facilitate these better than others. This is why we suggested blankets with the most user-friendly materials that offer the most comfort.

Style/Design

In addition to offering comfort, a good blanket should also blend in well with the design of your bed and room and complement or offset tones and patterns as needed. This is why we suggested blankets with appealing designs that offer great aesthetics besides warmth and comfort.


Cost-Effectiveness

No matter how good a blanket is or how it ticks all your boxes, it makes no difference if you can't afford it. We understand this, and so we considered pricing and cost-effectiveness when suggesting our top picks. This way, you get good value at decent prices.

Our Top Picks
Best Pick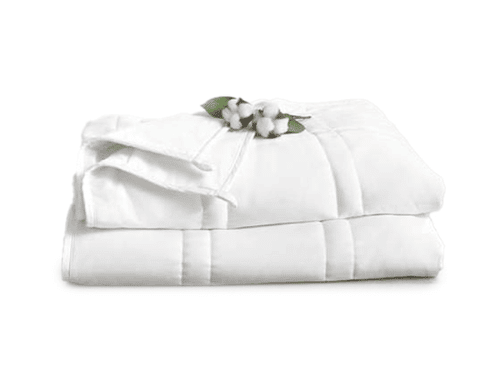 Luxury and comfort, with a highly soothing quality that promotes restful sleep
A weighted blanket with top-notch quality that facilitates warmth, easy relaxation, and rest within minutes.
The Baloo soft weighted comforter is made from premium, breathable cotton for maximum comfort and security. It is a weighted quilted blanket that is free of polyester and synthetic linings. It has an even pressure that soothes the nervous system and conforms to your body like a comforting hug.

This way, this weighted blanket triggers feelings of natural relaxation and lets you enter a deep sleep within minutes.

Runner Up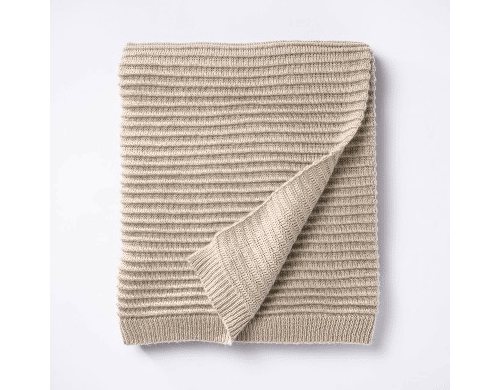 Provides the comfort of a blanket without the heaviness
Uniquely designed knitted blanket, lightweight, but still cozy.
This comfortable, roomy throw is an essential piece that is perfect for mornings on the patio, afternoon naps, and movie nights. It provides a balance of comfort and lightness. It's like a sweater for your bed or sofa, knit in a comforting rib design from natural 100% Turkish cotton. It is OEKO-TEX approved and suitable for both machine washing and drying.
Most Cost-Effective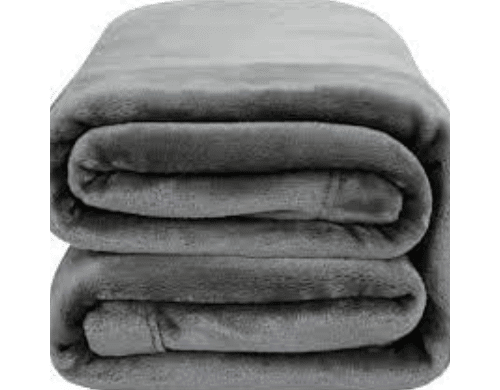 Guarantees extreme softness and comfort
An affordable fleece blanket made from a high-quality synthetic material.
The Bedsure Fleece blanket is made from fleece which is a synthetic insulating fabric that feels similar to sheep wool and offers comfort and additional warmth. The fleece fabric also helps the blanket maintain its form and thickness. You can get this blanket on a budget and enjoy an immense level of comfort from its use. It's ideal for couches, beds, camping, chilly movie theaters, or road trips!
Everything We Recommend
Best Pick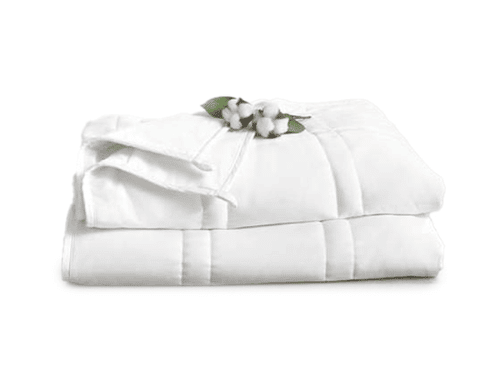 Luxury and comfort, with a highly soothing quality that promotes restful sleep
$179.10
Runner Up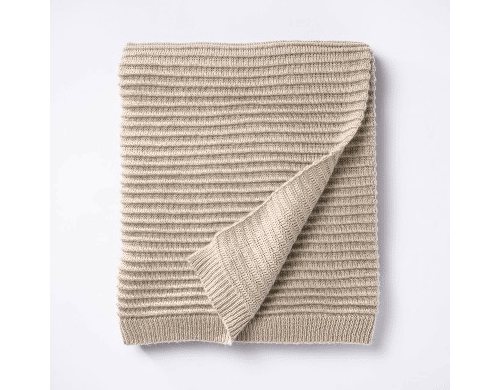 Provides the comfort of a blanket without the heaviness
Most Cost-Effective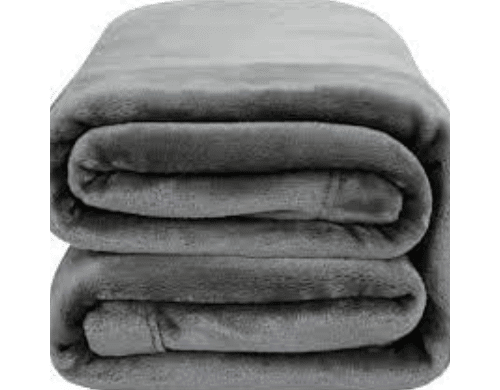 Guarantees extreme softness and comfort
$24.99
Who This Is For
If your idea of a good bedtime experience is crawling under the covers and being wrapped in warm comforting layers, then you should consider investing in a good blanket.
Blankets vs Comforters
A blanket only has one layer of fabric, whereas a comforter has insulation between two layers. These are wonderful for layering on colder evenings and are perfect for warm sleepers who prefer less insulation.
Since a single layer of cloth cannot keep as much insulation as a down fill, blankets are excellent if you desire a cover with less warmth. However, natural duck and goose feathers are widely recognized for their insulating properties, so if you tend to get chilly easily and enjoy wrapping yourself warm at night, a comforter packed with down should be a great option.
Furthermore, blankets are useful if you expect the temperature to fluctuate throughout the night and need to take off layers as necessary.
Blankets vs Bed Throws
In addition to a duvet, a blanket, like a bedspread, is used on beds. In modern homes with central heating, blankets are typically used to add visual interest. However, in earlier times, they were also used to regulate temperature by adding multiple layers that could be removed or kept depending on the season.
Bed throws, on the other hand, are often smaller than blankets and ideal for keeping at the foot of the bed to draw out as it gets cooler. They also offer tremendous warmth like blankets.
Why You Should Trust Us
The process of choosing the right blanket is not easy, and this is something we understand. As such, we've spent a great deal of time combing through online sources to figure out how to identify the best blankets in the market.
Our sources are trusted and credible, the most top-rated experts in the field. So, you can be sure that the brands we've recommended in this guide have the highest quality and will guarantee the best satisfaction for you.
How We Picked
While writing this review, we spent several hours consulting reports from experts that tested the performance of many different brands of blankets.
Additionally, we looked at online discussion boards to learn more about people's favorite blankets, as well as the most important features to look out for. We also consulted online user reviews of specific products to get an understanding of the public's view on how these blankets performed.
Based on the findings from our search, the following qualities are the ones to prioritize the most when selecting a blanket.
Size
Size is important when selecting a good blanket. If you're buying a blanket for your bed, make sure it's big enough to cover the mattress and has some extra room at the bottom and sides for tucking In.
Since blankets are typically sold in mattress sizes (twin, queen, king, etc.), get a twin-sized blanket if your bed is that size. Standard bedding sizes like Queen and King are available in many blankets, but cotton blankets tend to shrink, so you might want to look for a blanket that is larger in that case.
We kept this in mind when recommending our top picks so that you end up with a sufficiently sized blanket that offers you premium comfort.
Material
By examining the material a blanket is composed of, you can make a good guess about how using it will feel, especially in terms of texture and weight. For instance, cotton is more likely to feel airy and light whereas faux fur is more likely to feel fluffy and heavy.
Additionally, it's a good idea to look out for potential allergens; for instance, the wool may feel snug to some people while being scratchy to others. Although synthetic materials like polyester and microfiber are less expensive, they tend to trap heat, which could be uncomfortable for hot sleepers.
These are all things we considered when suggesting our top picks, so you can rest assured that the material would be satisfying and comfortable enough.
Comfort
A blanket should be comfortable to curl up under and provide a soft, cozy haven. A blanket shouldn't ever cause you to perspire or become overheated, whether you need the kind that is snug in the winter or breezy in the summer.
Although each person's preferred sleeping temperature varies, natural fabrics like cotton and wool have been shown to provide the best balance of warmth and breathability in professional sleep testing. Although blankets made of acrylic and polyester fleece can be particularly soft, warm, and lightweight, they are not the ideal option if you tend to sleep hot.
Warmth
If you tend to become cold at night, you should opt for a blanket made Since, such as fleece or wool. A person who easily becomes hot should opt for a blanket that is lower in weight, like one made of cotton.
Trying to get a good night's rest while being too hot or chilly will just keep you up all night tossing and turning, so we made sure to suggest blanket options that will make you feel cozy and meet your needs.
Breathability
Breathability is one of the most crucial considerations when selecting a blanket material for your bedroom. While a lighter material might allow you to breathe through it if the fabric did somehow cover your face, thick and heavy blankets are more likely to cause suffocation or overheating.
Style/Design
In addition to offering you layers of comfort and cozy warmth, blankets can also add a decorative function and significantly improve the appearance of your bed. You can choose to be bold with texture, color, or design on your blanket as well, and depending on how well you pick, your blanket can be a way to emphasize a tonal bedding theme or an expressive accent.
All of these factors were taken into account when we suggested our top picks for you, ensuring that their style ideally complements your bedding and spaces.
Price vs Quality
The blankets we reviewed in this guide are reasonably priced, and we checked test reviews conducted by experts to make sure that each choice is sufficiently durable to justify its cost.
For quality sleep, we believe a cozy everyday blanket to be a worthwhile investment, so if some of the prices seem a little above your budget, consider the value you'd be getting in return.
Durability
The blankets we suggest should hold up to numerous washes and years of regular use—within reasonable expectations. Waffle weave or gauze blankets, which have a loose, open weave, are more likely to snag than blankets with a tighter and more opaque weave.
You might want to steer clear of the most delicate blankets if you have children who like to climb up on the bed or cats who like to knead things.
Additionally, according to specialists, holes made by long toenails are the most typical type of damage to blankets. Therefore, the blankets we've selected as our top picks should last you for a decent number of years as long as you wear socks while using them and keep your nails short.
Weight
The weight of a blanket, which is normally expressed in grams per square meter (or GSM), is another important sign of how well it will perform. The average GSM of a blanket is around 200, which is adequate on its own during the summer but preferable as an additional layer in the winter. Blankets with a greater GSM will be heavier and warmer, and just what you need for the perfect feel of comfort.
Also consider getting a weighted blanket, which is a great resource if you frequently have restlessness, trouble falling asleep, or need assistance reducing stress. In addition to being a soft and cuddly blanket to cuddle up with, it is an investment in your well-being as it generates hormones that improve mood and raise serotonin levels.
Easy To Clean
Your bed blanket might spend a fair amount of time in the washer if you have allergies, or a tendency to spill stuff, kids, or pets. For this reason, we've suggested blankets with fabrics that require little maintenance, such as cotton that can be cleaned in hot water to kill bacteria, durable fleece that can withstand repeated washings, and washable wools.
We also suggested options that are least likely to cause allergic reactions.
Care and Maintenance
How To Clean
Cleaning blankets is not difficult. To make sure they all have a long life, it's crucial to employ the proper procedure for the size and substance of each blanket.
Laundry detergent, spot remover, a large washer and dryer (some bulky bed blankets may need a considerable amount of room for spinning cycles and uniform, even drying), and space for air drying are all necessary for washing blankets.
If the blanket comes out sopping wet, it didn't spin thoroughly, which is a common occurrence when washing large, thick blankets. Washing a bed blanket shouldn't take more than one washing machine cycle. In that case, we advise you to perform an additional rinse and spin cycle without soap.
How To Wash Cotton And Linen Blankets
While wool or synthetic fabrics like polyester fleece tend to shrink a little in the wash, cotton and linen may endure more abrasive washing over time.
Cotton and linen are therefore the perfect fabrics for those who suffer from allergies. Dust mites can simply be removed by washing them in hot water."
Bedding that has been contaminated by illness can be cleaned with a hot wash and a high-heat dryer cycle. Before the fibers settle, the first few washes are when the bulk of shrinkage happens. Therefore, if you need to use hot water, wash a new linen or cotton blanket in cold water first and dry it on low heat to minimize shrinkage afterward.
How To Wash Woolen Blankets
Woolen blankets can be washed in a washing machine even though many of them are labeled "dry clean only." Wash on the coolest and mildest setting your machine has; you want to minimize any considerable agitation or vigorous spin cycles to prevent wool blankets from significantly shrinking.
You should refrain from drying wool blankets in the dryer unless the label on the material specifically permits it. Wool blankets can be felted (or significantly shrunk and matted) by using the dryer.
Instead, spread the blanket over the widest available surface, unfolding it entirely or altering it often to ensure that every area has access to the air. Depending on its size, the blanket may need to dry for 24 hours or longer.
How To Wash Synthetic Blankets
Like cotton or linen, synthetic blankets like fleece and plush may be washed and dried in a washing machine. Wash them at a cold or warm temperature since they cannot tolerate higher temperatures.
After a few hot washes, you might not notice any damage, but synthetic fiber blankets will typically not last as long in terms of integrity, shape, or thickness as natural fiber blankets. They will age more quickly if you often wash them in hot water or dry them in a high-heat setting.
Synthetic blankets are lighter than natural fibers and don't retain as much moisture, so they don't require as much drying time. Most likely, an hour on low heat is adequate.
How Often To Clean
Although you don't need to wash your blankets as frequently as your sheets, it's still a good idea to give them a thorough cleaning a few times a year.
How To Dry
A blanket's drying time will typically be influenced by the material it is made of. Depending on how big the blanket is, it can take anywhere between one and three hours to dry it on low heat. Some blankets, particularly wool ones, may need to be air dried, which could take up to 24 hours (depending on the environment).
Where To Store Blankets
You have a wide range of options for where to keep your blankets. Sometimes, all it takes is a little creative thinking. Consider how frequently you use different blankets and how frequently you need to access them as your first step. It would probably be a good idea to keep blankets in a location that is easy to reach if you have blankets that you use frequently.
If you have built-in cabinets under your television, you might store blankets you use frequently in one of those, or you could designate particular bins or storage trunks in your children's closets for their blankets.
You may also keep them folded over a couch's armrest, draped over the back of a couch, or hung over the end of a bed. They could also remain in window seat compartments, storage ottomans by couches or beds, or ottomans at the foot of beds.
You might store blankets you don't use frequently beneath the bed, at the top of a closet, or in a spare bedroom clinch, we highly recommend putting them in a storage bag to keep pests or dust off of them.
You can also use a towel bar in a closet or an over-the-door towel rack to keep them, or you can put them at the bottom of your linen closet (if you plan to put them on the floor, put them in a storage bag first). Another suggestion is to preserve them in a wooden blanket ladder for decoration or, to save space, to place them in vacuum seal bags!
Dealing with stains or odors
Before washing your blanket, use stain removers to effectively tackle tough stains. However, check first to make sure the stain remover is safe to use on the material you're treating before you apply it to anything. Typically, it is dangerous to use stain removers on sensitive materials like wool.
Spray any small stains with stain remover before washing the blanket, and then press the stained area's sides together to let the stain remover penetrate. After allowing the blanket to sit for five to ten minutes, wash it as normal.
Try letting the blanket soak all night in a harsher solution — like OxiClean for dried or difficult stains before washing it.
Before putting your blanket in the dryer, check to see if the stain has disappeared after washing it. You can repeat the procedure above if the stained area is still there because some stains don't set until they're scorched by the heat of the dryer.
Dealing With Rips Or Tears
A darning mushroom, a hand sewing needle, fabric scissors, and sewing thread are some of the items you'll need when repairing holes or tears in your blanket.
First, thread the needle's eye by pulling it through. Use twice the size of the rip or tear in the blanket plus an additional five inches for safety when determining how much thread to use. Make sure the thread is passing through the needle within 2 inches. The knot at the end of the repair will be finished off with this thread.
With the hole at the top of the mushroom, place the material on the darning mushroom. Avoid stretching the material. The cloth edges may become permanently distorted by stretching.
Decide where to begin the stitch. A clean tear in the fabric is a good place to start. Place the starting point as far away from you as possible.
Pull the needle through the top of the hole and out from under the fabric. To prevent your stitch from unraveling, make sure it is not too close to the hole's edge. Also, ensure that your stitch isn't too far away. The repair will be easier to see if that is the case.
Pull the needle out of the cloth just beneath and to the left or right of the last stitch while advancing it into the hole.
Work on the stitch until it closes the hole. Tie a square knot with the thread that is still available and the thread from the beginning of the stitch. This makes sure the stitch won't unravel.
To make the knot blend in with the fabric, massage it. Even though the fleece is thick, this will make the stitching appear less noticeable. Your blanket should perform just as well after following these instructions as it did when you initially bought it. If you're mending a thicker blanket, the repair shouldn't be particularly evident.