The Best Blackout Curtains for 2023
Blackout curtains are great for limiting light infiltration and enhancing privacy.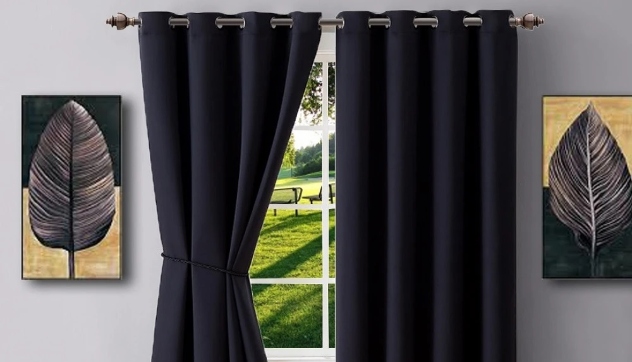 The term "blackout curtains" is frequently used to describe drapes made of a tightly woven, double-lined fabric that is intended to block out light.
They are a great option for anyone who wants to sleep in during the day, wants a quiet sleeping environment, lives close to a busy street, or lives across from a very bright night light.
Although you can cover your eyes with your covers, blackout curtains are a better and more practical option. They will block excess light and drown out street noise so that you can always wake up on the right side of the bed.
Blackout curtains come in a variety of colors, materials, price points, and even installation options. Let's have a look at our top picks.
How We Picked
Quality of Material

The sheer variety of fabrics that can be made into blackout curtains is endless. Polyester and other synthetic textiles are often less expensive than linen or cotton while still providing a beautiful aesthetic in your room.


Light-Blocking Protection

One of the most common applications of blackout curtains is blocking out light from the outside. If a blackout curtain does not dramatically darken a room, it is not fulfilling its function. We've lined up curtains that deliver on that promise.



Color

Blackout curtains, despite their name, are available in a broad range of colors, including white. The right choice is simply a matter of style preference.



Cost-Effectiveness

Purchasing budget-friendly blackout curtains doesn't necessarily mean you have to compromise quality. We tried to strike a balance between price and quality.

Our Top Picks
Best Pick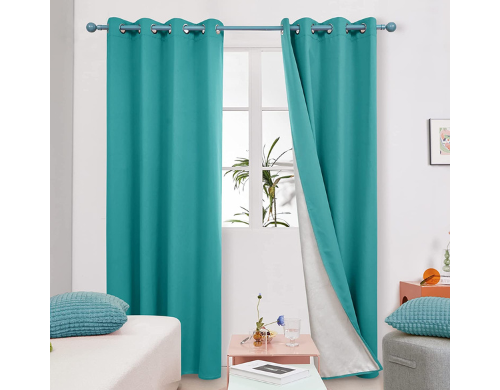 Softest texture possible and are available in a variety of gorgeous hues.
This double-panel blackout curtain provides thermal insulation and noise reduction.

These curtains are constructed of 100% polyester and come with a set of silver grommets that allow you to easily slip them directly onto the rods. Measuring 52 by 95 inches per panel, they are a great fit for super-large windows or glass doors.

In addition to blocking out light, the curtains also absorb sound, ensuring you have a restful night's sleep.

Runner Up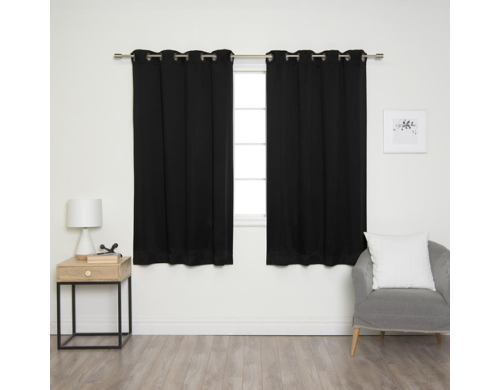 Available in a variety of sizes and colors.
If you'd like curtains offering thermal insulation besides blocking out bright light, look no further than these panels.
When it comes to blocking out those bothersome rays, even the tiniest windows in your home should not be disregarded. As such, these curtains are absolutely great if you only want to cover a medium window or the glass part of a door.

And each panel measures 52 inches wide by 54 inches long, which is decent coverage for medium-sized to small windows.

Most Cost-Effective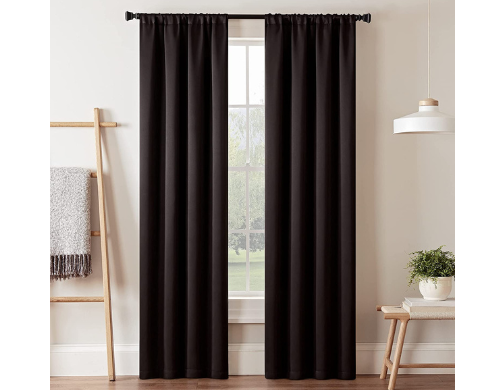 If you are on a budget but want better home aesthetics, look no further.
These earthy and neutral tones are ideal for bedrooms or subdued decor themes.
This machine-washable curtain is a cost-effective choice that also reduces outside noise for a comfortable sleep, day or night. If you prefer muted, earthy colors to vibrant ones, you'll love these curtains. Also, they do live up to their brand name, "Eclipse."

Everything We Recommend
Best Pick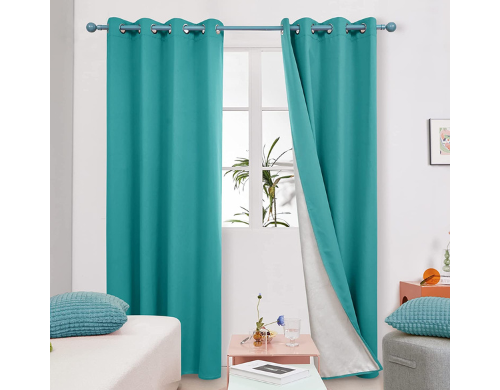 Softest texture possible and are available in a variety of gorgeous hues.
$40.79 ($20.40 / Count)
Runner Up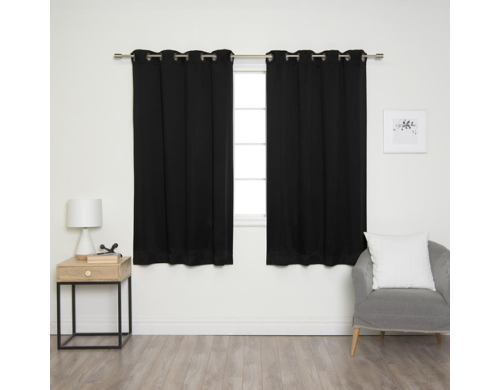 Available in a variety of sizes and colors.
$29.99
Most Cost-Effective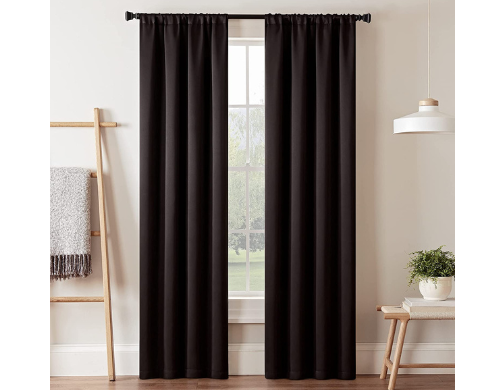 If you are on a budget but want better home aesthetics, look no further.
$16.80
Who This Is For
These curtains are great for anyone with light sensitivity issues or anyone looking to block excess light from the sun or street lights. They are also great for shift workers who sleep during the day and require complete darkness.
Are blackouts curtains worth it?
Yes, blackout curtains are useful since they effectively darken your bedroom. Having a dark bedroom when sleeping has various advantages, both in terms of sleep quality and health.
Blackout curtains are constructed of tightly woven fabric (polyester), which provides insulation while blocking out light in your bedroom.
What are blackout curtains good for?
Blackout curtains are beneficial for several reasons, including the fact that they make falling asleep easier, resulting in well-rested eyes. They also minimize the risk of depression. Sleeping in a dark room, on the other hand, helps avoid type 2 diabetes and maintain healthy body weight.
There is also a high proportion of anti-aging advantages because of the quiet and relaxation that comes with the ambiance.
Blackout shutters vs. blackout curtains
Both room-darkening methods have distinct advantages in terms of functionality and aesthetics. The descriptions of each option and the variables to consider when choosing a good window treatment for your house are provided below.
Blackout drapes offer more aesthetic options, increased privacy, better thermal insulation, and noise reduction. In contrast, blackout curtains are smaller, less expensive, easier to install and perform better in hot and humid conditions
Why You Should Trust Us
Everyone enjoys shopping, but shopping wisely appears to be a superior strategy. We are the ones you can look up to since we have scouted out and done all of the necessary research for you to acquire something worthwhile for the quality of what you buy.
Getting the greatest shopping advice can help you avoid overspending, making regrettable choices, and other problems.
However, we are here to assist you in improving your situation. To relieve you of the worry of making poor purchase decisions, we have done our study, obtained documentation, and are now ready to deliver it to you.
How We Picked
Quality of Material
The most important criterion for blackout curtains is a durable, heavy-duty fabric that does not allow any rays to get through. When selecting curtains, you should look into the many possibilities on the market and perhaps select what appeals to you. Nonetheless, polyester textiles are the most recommended because they are known to be hefty and thick.
Weight
The weight of these curtains is important as they should be within the capacity supported by handing rods or hooks.
Size/length
The sizes and lengths of these curtains are also significant due to personal preferences; some individuals may want them short or long, while others may prefer them wider than others.
Type of hanging
Customers try to avoid stress, so we chose the best curtains with simple installation techniques that won't even require you to contact the manufacturer or seller for assistance; you may DIY without any concern.
Light blocking protection
If a curtain is described as blackout or room-darkening and does not appreciably darken a room, it is not performing its function, therefore we took the time to read each customer review
Color of fabric
Consider the concept and style of your bedroom while selecting colors. The most common curtain colors are dark; black, navy blue, gray, and so on. That implies you have to choose one of these hues in most circumstances. However, some current colors are now accessible.
The newer variants on the market are visually attractive and bright. For example, white is liked by individuals who do not wish to be fully surrounded by dark hues. However, to achieve blackout functionality, you must have a dark lining.
Price/quality
We looked for more affordable options as well as curtains that are always in stock. To ensure that the curtains we propose remain in stock, we mostly concentrated on merchants who sell the same models year after year.
When you look closely at the cloth used to manufacture blackout-grade curtains, you will notice that it is rather expensive. The reason for this is that the production process and the quality of the cloth used were taken into account.
Care and Maintenance
Check the label for the proper washing procedure before cleaning your curtains. Hand washing, for example, is the ideal technique to clean velvet or silk curtains because it is not safe to wash such delicate textiles in a washing machine.
While DIY washing is suited for curtains made of durable fabrics, dry cleaning is appropriate for other curtain materials.
How to put up blackout curtains
To totally block all light, the curtains must be installed appropriately. Avoid using curved rods or installing the curtains too far in front of the window. The curtain panels must also be wide and long enough to prevent light gaps.
If your curtains do not reach the floor, allow at least that much extra room around the bottom of the window. Depending on the width of your window, three panels may be required instead of two.
How to store and fold blackout curtains
Make sure your curtains are clean, dry, and free of any damaging elements before storing them. You might either dust thick curtains or wash those that require special care. Fold your curtains next, paying attention to where the folds should fall to avoid wrinkles.
To minimize wrinkles, make as few folds as possible, and do not push them down with the container's lid. Allow some space for the curtains to "breathe" so that the folds do not become permanent and rip.
How to clean and iron blackout curtains
When using blackout curtains at home, keep in mind that, like ordinary curtains, they might accumulate dust and allergies over time. As a result, you must understand how to properly clean a blackout curtain fabric. Here's a simple procedure you may use:
Use a vacuum: A vacuum is one of the quickest methods to clean a blackout curtain fabric. Before you go for a full clean, vacuuming your curtains at least once a week is a good idea. Simply vacuum the curtain to collect debris, dust, and allergies that have gathered in it. Repeat from the front and rear of the panels.
Use laundry soap to spot-clean: You may spot-clean your blackout curtains if you have extra time. Remove the drapes from the rod and clean them with laundry soap on the spot. Work gently on the affected area with warm water, soap, and a cloth.
Make sure to rinse it immediately. Keep in mind that bleach and strong chemicals should never be used, especially if you have dark-colored curtains with several panels.
Do a deep clean: Traditional gentle cleaning procedures should be OK to use, but it is recommended to follow the care guidelines. To avoid the danger of fabric damage, light washing is always suggested.
Fill a large tub or sink with warm soapy water. Place only a modest quantity of soap in the tub. Squeeze the curtains gently by manipulating the cloth and twisting them to remove any dirt, allergies, and dust.
After properly washing the curtains, rinse them and squeeze out as much water as possible. You can rinse it with clean water once or twice.
A blackout curtain fabric may be heavier than ordinary curtains, which implies that deep cleaning may require more muscular strain. However, you do not need to deep clean it every day.
You may devote a week or even a month to deep cleaning your blackout curtains. However, frequent vacuuming or spot cleaning is required to keep the blackout curtains clean and fresh. This is especially crucial if you have family members who have asthma or allergies.
How to iron/steam curtains
Steam ironing is the quickest and most convenient way to remove wrinkles from your curtains.
If you have access to a garment steamer, it will be much simpler to steam your curtains while they are strung on the pole because they are typically kinder on the surface and will eliminate the creases much faster.
Curtain cleaning and maintenance are essential for keeping your house healthy. You can always preserve them in outstanding shape by using the appropriate strategies, regardless of the fabric used to manufacture them.
Keep these curtain cleaning and maintenance procedures in mind, and select the one most suited to the fabric to preserve the quality of your curtains for years to come.