The Best Bike Repair Stand for 2023
Looking for a dependable bike repair stand to help you fix your bike? Here are some great options.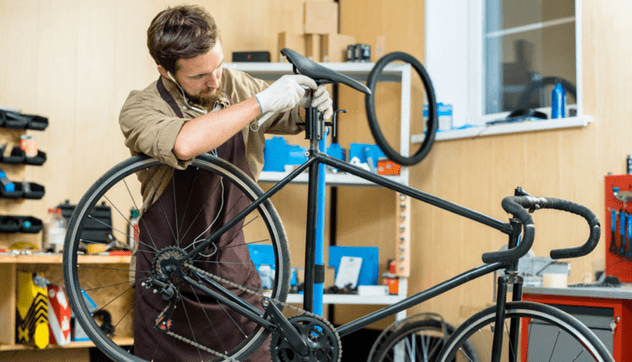 The fact that cycling is healthy is one of the advantages of having a bike. You presumably take exercising seriously and pedal your bike around your neighborhood, which is why we continue to suggest it as a weekly fitness method for everyone. However, you may occasionally need your bike serviced or repaired. This is a fantastic way to save money each time, and a bike repair stand makes the task quick and enjoyable for you.
As a result, we thoroughly examined several bike repair stands on the market, weighing their various benefits and drawbacks, to identify a select few that we believe are ideal for you. There is no question that you would adore them!
How We Picked
Type of material

We recognize that this characteristic gives it a reasonable durability edge. These clamps were made of a sturdy aluminum alloy barrel that allows for year-round use, regardless of the weather.

Sturdy

Although the weight of these bikes varies depending on the manufacturer, we selected strong options. This enables them to withstand a lot of weight.

Overall design

The three-legged tripod design was chosen. These types aid in stabilizing the bike's weight. These clamps have an easy-to-understand design.

Price

Bike repair stands come at various price points. While a budget pick will get the job done, we opted for premium options with excellent build quality.
Our Top Picks
Best Pick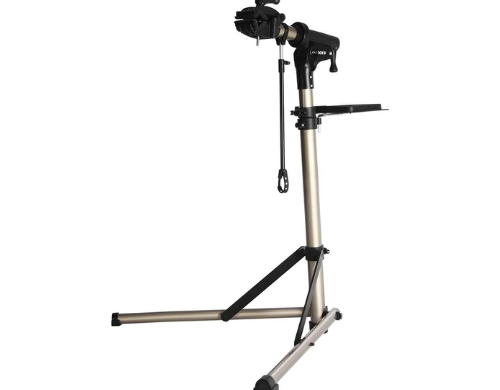 A very stable bike repair stand makes for a comfortable working waist.
This repair stand is height-adjustable and has a clamp lever that can rotate 360 degrees, holding your bike incredibly steadily while you work.
The CXWXC Bike Repair Stand is lightweight and corrosion-free. The intensely tested aluminum alloy barrel can support the maximum load of a 60-pound bike. Its tool tray includes a large magnet tray that has been specifically designed to hold various tools, saving space, as well as a magnet that can gather screws and nuts without missing them.
Runner Up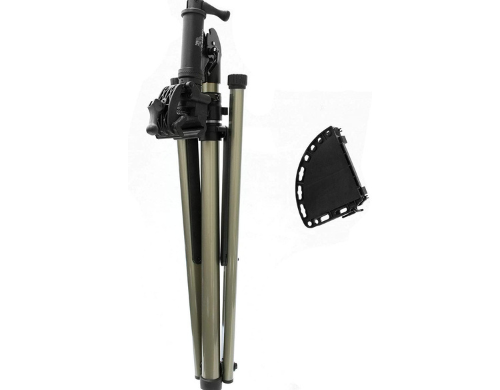 A foldable bike repair stand that is lightweight and compact for your convenience.
With quick-release levers to fold the stand and a very well-liked "hot button" clamp release, this is a premium and sturdy stand.
This repair stand is constructed entirely of light alloy aluminum with clamps and a heavy-duty plastic head. It comes with a foldable magnetic tool plate. To set up and store the tool plate quickly and easily, just attach or remove it by hand. It has a clever design with a 360-degree rapid release and a rotating knob. At any angle, it could support a bike weighing up to 55 pounds.
Most Cost-Effective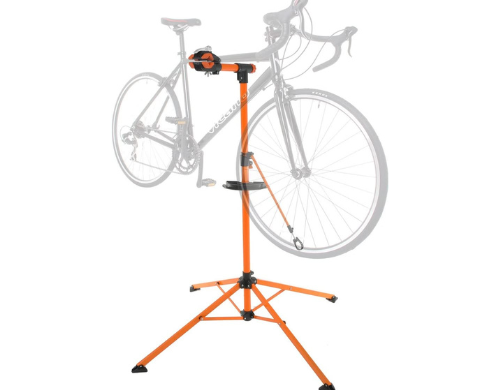 A more affordable stand that is perfect for compact places or home mechanics.
This repair stand has the best clamping mechanism, and it's ideal for small spaces.
Everything We Recommend
Best Pick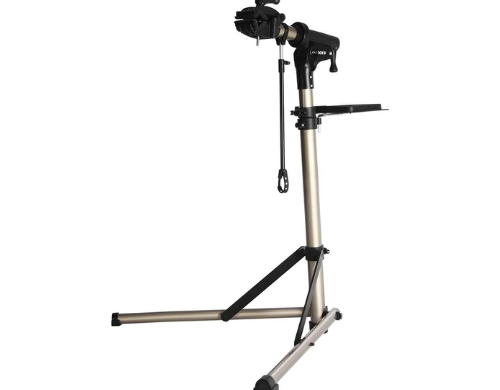 A very stable bike repair stand makes for a comfortable working waist.
$72.49
Runner Up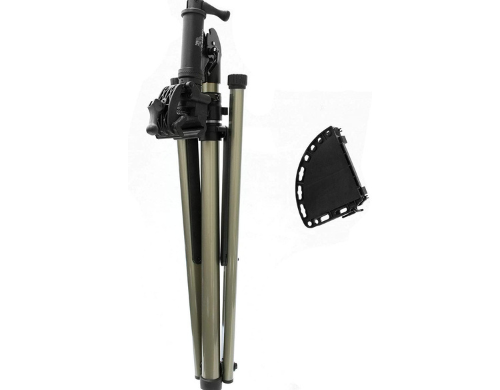 A foldable bike repair stand that is lightweight and compact for your convenience.
$109.99
Most Cost-Effective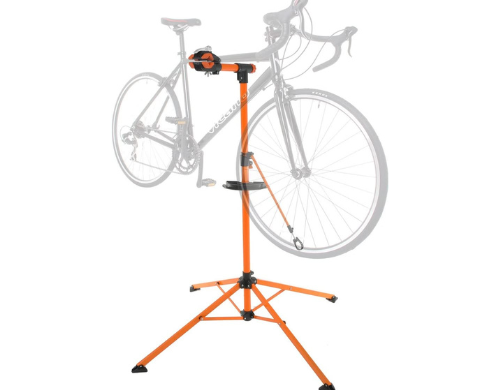 A more affordable stand that is perfect for compact places or home mechanics.
$59.95
Who This Is For
The products listed here are intended for all men and women who own bicycles and frequently fix or maintain them.
What's the alternative to buying one?
There are alternatives that, with minor variations, provide the same function as a bike repair stand if, for reasons best known to you, you decide against purchasing one. A few of these options are: One is a stand that folds. A foldable stand has a small size and is made for maintenance operations. Consider a wall mount as well, as it can be used as a stand for repairs as well as a place to store bikes. A car rack that is used for storage can then serve both of these purposes.
Why You Should Trust Us
We spent a lot of time trying a lot of other options before settling on these few, which we have recognized to be ideal because we understand that the market is full of subpar bike repair stands that would not meet your demand if you acquired the wrong ones. We also listed a few alternatives that we picked based on advice from experts and do-it-yourself mechanics, web reviews, and our prior usage of comparable products.
How We Picked
Each stand was assessed based on its construction material, cost, stability, usability, weight, general design, and dependability. If you're sick of fixing your bike while resting it up against a wall, have a look at the following stand suggestions.
Material
We took into consideration the strongest repair platforms that were lightweight, portable, and manufactured of full light alloy aluminum with heavy-duty plastic clamps and powerful heads. Additionally, we made sure to choose products with steel components because they are stronger and last longer, even under heavy use.
Sturdy
The bike repair stands we carefully chose during the evaluation process are strong enough to support a heavy hybrid bike made of steel and can be simply adjusted to fit any bike, such as a lightweight machine or mountain bike. They are really well constructed.
Stable
We made sure that these platforms were stable enough to hold bikes without their sliding off and destroying some parts because the weight of some motorcycles exposes how stable they are as bike repair stands. Actually, they are sufficiently stable for the great majority of large cruisers and e-bikes. They are also designed to be distinct from other products we tried that only have wobbly legs since they have three to four legs, which makes them exceptionally stable.
Overall design – easy to use
They are excellent for whatever type of heavy bike you have because of their overall clever simplicity and simple clamps that are quick and painless to wrap around your frame and tighten, release, and take off again.
Price
Disregarding every other lower- and similarly-priced bike repair stand that we tested, a few distinguishing features, such as the added stability, the sturdy metal components, and the lovely fastening mechanism, justify the price of the bike repair stand.
Type of clamps
Our analysis made us understand that we'd like to settle for a body that is 360 degrees rotatable, has sliding and claw clamps, and allows you to place your bike however you like. These clamps are compatible with a wide range of seatpost dimensions and structure shapes (25–76 mm). For instance, the sliding clamp gives you more room to insert the frame, makes it easier for them to close, and makes the tightening knob much more accessible.
Weight
We are aware that your mobility is important, so the weight of the bike repair stands determines how frequently you can use them. Then, we made sure that the stand's overall weight was manageably low for transit and that it could support the weight of your bike.
Size
The bike repair stands chosen can support a range of shapes, including aero seatposts and large square profiles, and they also have a greater opening diameter. Although there is lots of adjustment available, the clamp can accommodate a range of tube shapes and sizes. The stand folds away to a practical size and has easy-to-use quick-release clamps for opening it up.
Care and Maintenance
You can safely assume that your bike repair stand is mechanical and subject to failure at any time. You would therefore require a towel, Pledge, bike polish, or another protectant, grease, spray lubricant, and isopropyl alcohol to keep it in good condition.
Make sure to dry your bike off and put it outside to air dry after using your repair stand to wash it. It will extend the life of your dependable stand and give an extra layer of protection to the moving parts if you regularly lubricate the leg pivot joints with Tri-Flow to flush out any debris. Always be sure to use a soft cloth and some isopropyl alcohol to clean the clamp jaws.
Lubricate the hardware occasionally with a thick waterproof grease to keep water and impurities out of the threads and avert any corrosion. Next, always When spinning a bike on your service stand, the clutch mechanism will ensure that your clamp head stays in place. Finally, use isopropyl alcohol to clean your clutch cup. To get the head to fold and the silver clutch cup to spin smoothly, loosen the rear tri knob.