The Best Bike Lock for 2023
If you want to leave your bike unattended, it's important to have a reliable bike lock.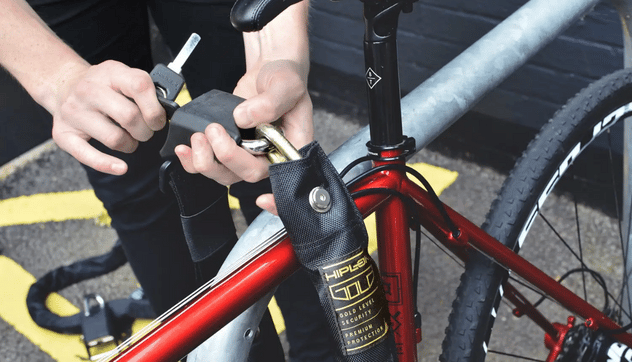 The first thing that you need to understand is that there is not a single lock that is unbreakable. No matter what you use to lock your bike, if someone has the determination to steal it, they will be able to do it as long as they have the necessary equipment and know-how.
However, you have the ability to discourage the would-be bike thief who is seeking an easy target. Keeping this in mind, one of the most useful pieces of guidance is to make use of two locks that are of different brands and types. If you just have the money for one pricey lock, you could be better off purchasing two cheaper locks that have vastly different styles and types of keys and lock cylinders.
Choosing a lock that is both tough enough to keep your bike safe and simple enough to operate on a regular basis is the key to being successful when it comes to protecting your bicycle.
We maintained this combination between toughness and usability to bring you the best bike locks on the market.
How We Picked
Type Of Locking System

Your ability to secure your bicycle in various locations and with various methods is contingent on the type of locking system that it has. It's equally vital to remember that the locking mechanism is only as strong as the thing it's locked to.

Size & Weight

Experience shows that people are less likely to use a bike lock if it is cumbersome to install or operate. Therefore, we recommended locks of decent weight and size.

Durability

With the correct tools, any lock can be broken open. The likelihood that a bike lock may be broken decreases with increased durability and security.

Price

The price of the lock must be proportional to its security. Expensive locks may not always provide the best security. We always aim to strike a balance between price and promised quality.
Our Top Picks
Best Pick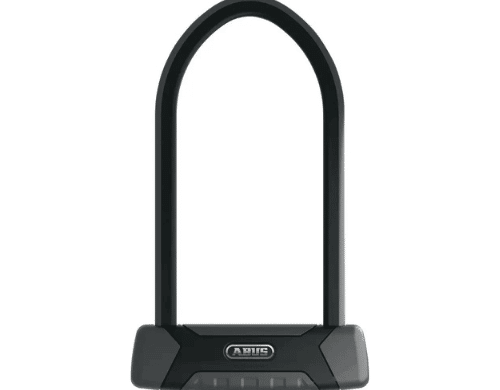 Diamond-rated to provide the highest level of security.
The U-lock is a large and sturdy bike lock that is comparatively lightweight and robust.
The Abus Granit X-Plus 540 U-Lock is diamond graded, which makes it extremely secure. It's a double-bolted shackle, so it's quite resistant to being pulled or hit. This heavy-duty bike lock also features an automated keyhole cover that protects the keyhole from dirt and rust.
Runner Up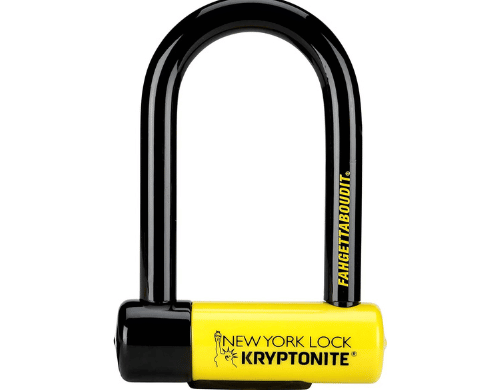 The ultimate security lock.
This is a high-strength option that, despite its small size, offers an exceptional level of protection.
The Kryptonite New York U-lock is incredibly secure. The vinyl covering protects the disc-style cylinder with the center keyway, making it pick- and drill-resistant. Hardened steel shackles withstand hand tools, bolt cutters, and leverage. Includes a year of theft protection with a maximum payout of $5,000.
Most Cost-Effective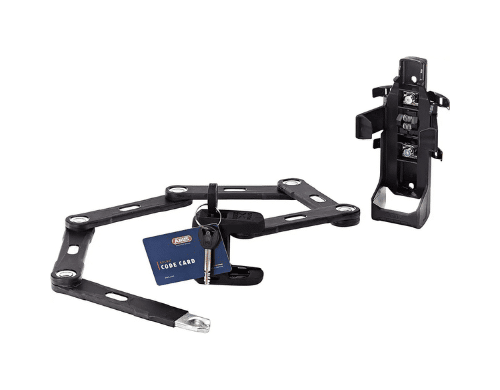 Flexible folding technology gives more locking options.
Conveniently sized, lightweight, and portable, this option also provides great versatility.
This Abus folding technology bike lock is multifunctional, small, and convenient to use. Special hardened steel is used to make the steel bars. A coating is applied to the handlebars, and a cover made of matching silicone preserves the paintwork on the bike.
Everything We Recommend
Best Pick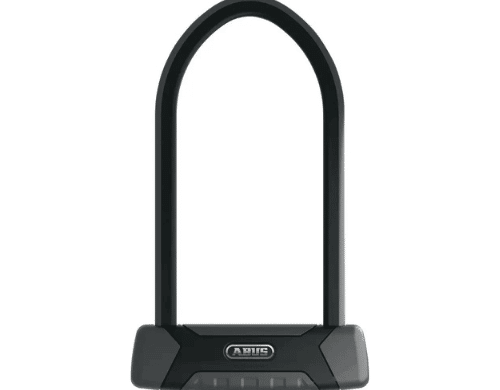 Diamond-rated to provide the highest level of security.
$95.30
Runner Up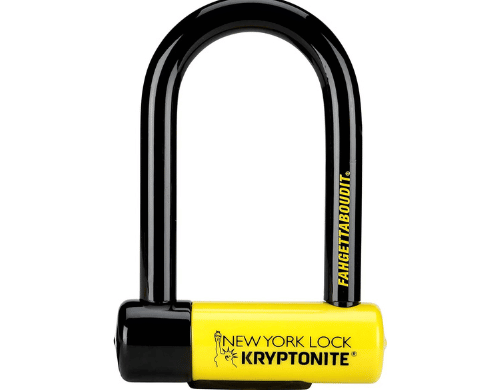 The ultimate security lock.
$152.27
Most Cost-Effective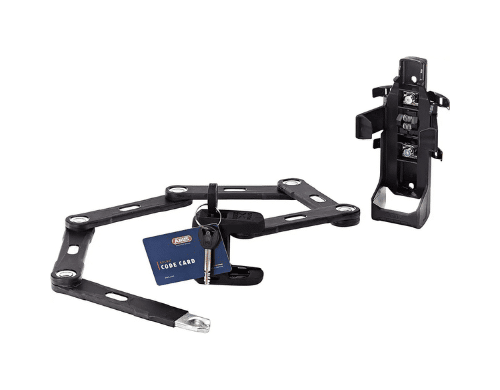 Flexible folding technology gives more locking options.
Who This Is For
People who travel by bike and wish to protect their bikes from being stolen need to use bike locks. If they are going to leave their bike unattended, it is imperative that they have a bike lock to reduce the likelihood of theft.
U-lock vs Chain Lock – Which One's More Secure?
A U-lock is your best bet if you want a lock that can be carried around with you and used on a daily basis to keep your bike safe. On the other hand, if all you need is a lock to keep your bike safe inside your house or at your place of work, then a robust chain lock of good quality is your best bet.
U-locks, provide increased safety at a more reasonable cost and without sacrificing too much in the way of usability. And if you try to increase the level of security by using a chain that is thicker, you will quickly lose any practicality you had because the chains are so heavy.
However, this does not necessarily imply that U-locks are the superior option for all situations. A portable chain might be a better option if you need more ways to secure something. It's possible that you'll need to lock your bike to something more substantial. Alternately, you might have to lock more than one bicycle at the same time.
Is It Worth Getting?
Purchasing a bike lock is, without question, one of the best investments you can make in order to keep your bicycle safe, regardless of the reasons you ride a bike. The decision of which bicycle lock to use is an essential one, and owners of bicycles should not give it any less consideration than it deserves. The bicycle that you own is an investment, and the lock that you use to secure it is another investment that ensures the safety of your first investment.
Why You Should Trust Us
The U-lock, a common type of extremely reliable bicycle lock, chain locks, and cable locks, on the other hand, are not as reliable. As a result, we have identified the most effective deterrent against bicycle theft and the most reliable method to safeguard and protect your bicycle.
How We Picked
It is not always simple to find the right bike lock for you, particularly considering the extensive and overwhelming choice of options that are available online. We combed through the experiences of previous customers who had used a wide variety of bike locks and compiled their feedback on the functionality that their bike locks provided them with in order to simplify the procedure. These experiences included a wide variety of topics, including the level of security provided by bicycle locks, which encompassed everything from the materials made of the lock to the mechanism used to lock it.
Also, because there are cyclists who wish to be able to carry them all around while they cycle, the weight, and durability of the lock are something that has to be considered. You may place your trust in our procedures and get the best possible lock for your bicycle as a result of the many first-hand views provided by a diverse group of cyclists.
We looked at a wide range of items that were manufactured using a variety of materials for the bike locks, including manganese steel, toughened steel, braided steel, and even titanium. Because security is the primary reason why most people buy bike locks, we searched for locks that offered an increased level of protection and were difficult to break when making our selections. Keeping your bike secure and ensuring that your money is spent in a responsible manner is our top priority. Across all of your options, you'll find that the type of locking system, the ease of use, as well as the design, was an important part of our evaluation process.
Care and Maintenance
It is advised that you clean and lubricates your bike locks. To clean the locks, you should use a rag and WD40, and to lubricate the locks, you should use a wax base lubricant that has TEFLON added to it. The cloth and WD40 may be used to clean the cylinder, the deadbolts, the ends of the U-shackle, and the lock pin. If you live in an area that often experiences severe weather, such as snow or rain, or if you live near the coast, you should undertake this maintenance every month, or at least every two months.
Always make sure that your bicycle is secured to anything that cannot be moved within the garage or shed, such as a ground or wall anchor. You should always secure your bike, even while it's inside the house.
If you often take a bag or backpack with you when you go for a ride, then this is probably the most logical spot for you to put your bike lock. Be conscious of how much the lock weighs, though, because you will be carrying its weight on your body.
A pannier, saddlebag, or basket is an excellent alternative to a bag or backpack for carrying your bike locks. However, this is dependent on whether or not your bike comes with it. It is sometimes feasible to carry a bike lock on the frame of the bike without utilizing a frame attachment that has been specifically developed for the purpose.