The Best Baby Swing for 2023
Give your arms a break while keeping your baby soothed and rested.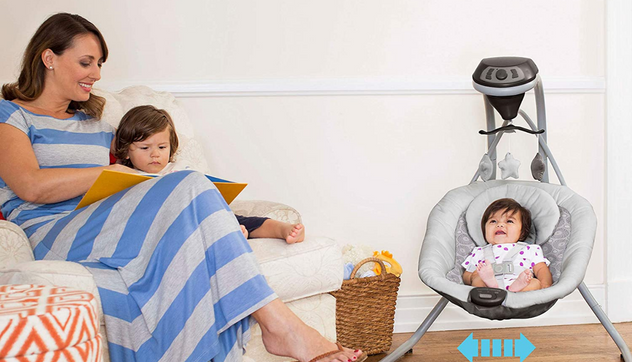 A newborn baby grows up in the arms of their parent(s). Every stage of the baby's life from infancy requires constant care and attention. Their meals, clothing, sleeping hours, playing hours, and all change as the child grows. As a parent, you also need to change your schedule and all to satisfy these little wonders. One of the activities that babies enjoy and which strengthens the parent-child bond is rocking. Over the years, parents that engage in this activity experience pain in their arms which is why a safe baby swing is just the perfect solution.
A baby swing will help take care of your baby. It is the perfect place for your baby to rest, play, and watch you from a cozy and safe position. When used properly with total supervision, it is a great tool to soothe your baby.
How We Picked
Safety and Security

As parents try to reduce the strain on their arms that comes with rocking babies, they also need to ensure the safety and security of their infants. Most baby swings come with a harness that protects babies by preventing them from standing up on their own and falling off.

Comfort and Fit

An excellent baby swing should provide first-class comfort for babies. Every baby placed in a baby swing should sit, rest, and play comfortably. The seat should be plush and easy to clean. Babies should fit in easily. There should also be enough room for parents to play with their babies.

Portability

Baby swings shouldn't be restricted to a particular spot. Most baby swings have smooth feet that enable you to move your baby with ease in the house or outside. Some baby swings are foldable and light. You can easily carry such swings in your car.

Cost-Effectiveness

You won't be happy if you get a baby swing that isn't comfortable and effective for your baby. That's why we ensured that we give the best quality we can find. Your baby will enjoy his or her stay on these swings, and you will also love it.
Our Top Picks
Best Pick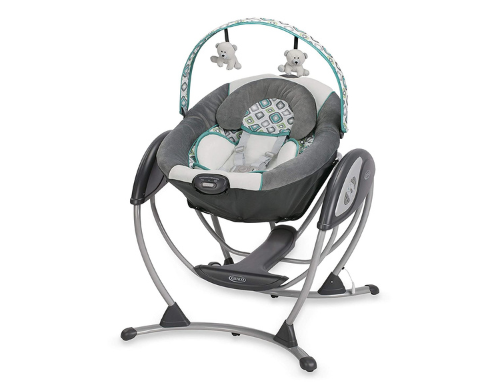 It doesn't wear out easily and provides comforting back-and-forth movement with soothing melodies.
It provides infants with soothing motion and vibration that is similar to what your arms can do — it is even greater.
The Graco Glider LX Gliding Swing is a massive baby swing that protects infants perfectly. It is an excellent assistant to parents when it comes to rocking and putting infants to rest. It has some interesting melodies that babies giggle and laugh to then sleep. It is spacious, with head and body support that makes you feel at ease. The Graco Glider LX Gliding Swing is known to make infants and parents smile.
Runner Up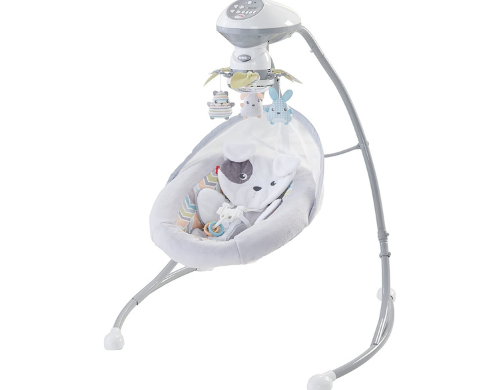 With its classical songs and vibrations, every baby receives top-notch soothing.
Your baby can swing in a variety of ways with this cradle, which will keep them entertained and active all day.
This Fisher-Price Sweet Snugapuppy Dreams Cradle 'n Swing is a dual-motion baby swing that rocks babies smoothly. It swings infants sideways and head-to-toe. There is a harness that keeps your infant safe in the chair as the baby swings. It is super cozy and rocks silently, so don't worry about your baby waking up because of the annoying noise.
Most Cost-Effective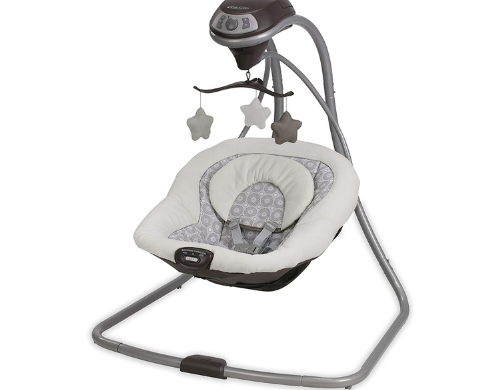 Its comfy head support gives babies a safe space as well as maximum relaxation.
It can swing flawlessly either side-to-side or front-to-back with six-speed settings.
The Graco Simple Sway Swing is a nice swing made of metal that stands well. It has a deep and cozy seat with nice and comfy head support that can put any baby to sleep quickly. It comes with toys that can keep you busy and happy while you do important things. With a five-point harness, your child is safe.
Everything We Recommend
Best Pick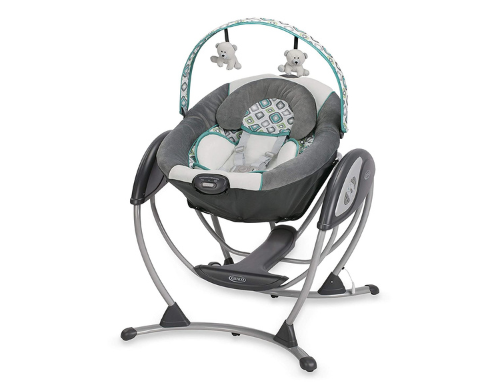 It doesn't wear out easily and provides comforting back-and-forth movement with soothing melodies.
Runner Up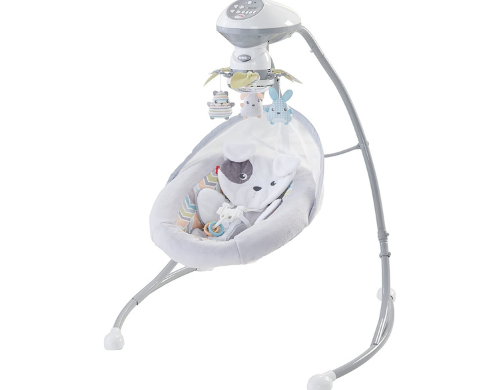 With its classical songs and vibrations, every baby receives top-notch soothing.
Most Cost-Effective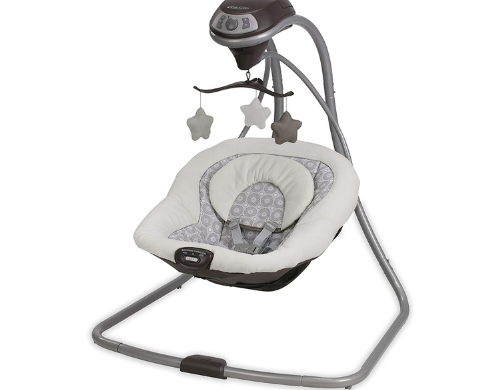 Its comfy head support gives babies a safe space as well as maximum relaxation.
$109.97
Who This Is For
These baby swings are perfect for infants. They comfort and rock infants without getting tired, unlike humans. For parents, baby swings are the perfect tool that can give them a break from holding, singing, and rocking infants. Long-period use of arms to comfort infants can result in frequent muscle strain or pull.
What is a baby swing?
A baby swing is a comfortable padded chair that swings back and forth or sideways in a movement similar to what parents can do with their arms. It is a gadget that can entertain and soothe your infant while you do important stuff around the house or even rest. Most baby swings do have tires or smooth feet that you can use to move the swing and your baby to wherever you need them to be.
A baby swing and a baby bouncer aren't the same. A baby bouncer just as the name suggests is a baby gear that allows your kid to enjoy little and safe bouncing. It bounces infants up and down.
How old is too old for a baby swing?
Most people stop using baby swings for their infants when they are 9-10 months old. That's not the only criterion. There is nothing bad in putting your infant that is above that age in a swing, but before you do that, check your kid's weight and compare it with the weight limit of your baby's swing. Once the baby reaches the weight limit, then such a baby swing is not suitable for your kid anymore. Also, another thing to watch out for is the development of the baby. Once your baby starts to crawl then your baby's swing days have come to an end.
Why You Should Trust Us
We know what parents are going through when it comes to taking care of kids. Every parent wants to give their babies the best of everything. Also, we noticed that parents get tired — especially their arms — because of the prolonged rocking of babies with their arms. That's why we decided to offer a sustainable solution that will make the two parties happy. We picked top-notch baby swings that are wallet-friendly for you.
How We Picked
To save you the nerve-wracking efforts of getting a suitable baby swing for your baby, we decided to do the painstaking hunt for you. During the hunt, we reviewed professional advice and previous user experience with various excellent baby swings. Professional opinions from pediatricians, child safety experts, injury prevention specialists, and store owners set us on the right path. We reviewed many previous user experiences and reviews including parents and made sure we get you the best baby swings.
We also deployed some pointers to eliminate the mediocre baby swings from our long list. We picked baby swings that don't have sharp edges that can injure you or your baby or anybody using the swings. All the toys attached to the selected swings aren't long enough that they can wrap around an infant and hurt them. The best part about the toys is that they are within reach and rooted firmly where they are. All the swings on our list have security features such as harnesses, buckles, and many more than can protect your kids. They are well-fitted and won't come off easily.
We picked the super cozy and ultra-comfy baby swings for your kids. The materials used for the seats are strong and soft. They are easy to clean either by hand or machine. These swings can be easily moved around by parents or siblings — they aren't heavy. Most parents love these picks because they love their superb designs that appeal easily to babies. We can assure you that these baby swings deliver the value that you want.
Care and Maintenance
How to clean
A regular baby swing has two parts: metal or plastic parts, toys, and fabric parts. Disassemble your swing carefully and take off the fabric. Pour little baking soda on a clean cloth and scrub the cloth on the metal or plastic parts. Rinse the cloth and sprinkle baking soda and scrub. Repeat these steps until you notice that there is no more dirt on these parts. Then, rinse it with water thoroughly and dry it with a clean towel. You can do this for the toys. You can also clean the toys by detaching them and putting them in a dishwasher. Make sure you wash them with a mild and chemical-free detergent.
For the fabric parts, a damp cloth with little baking soda will do. Scrub the fabric parts vigorously to remove any hidden dirt from the fabric. You can put it in the washing machine and run the laundry with the detergent you use to wash your kid's clothes. Don't put the fabric in a dryer, rather air-dry it.
Mind you, don't use a sponge on any parts of your baby's swing.
Where to store when not in use
You can dissemble swings and put them back into their carton and put them in a cool and dry place. Don't put them in high places. If you can't disassemble it, just put it somewhere safe where nobody can trip over it.
If portable, how to prevent floor damage
Don't drag it forcefully because the toes of these swings are made with high-quality and durable plastic that doesn't wear out easily.
Ensuring your child is well-secured and comfortable
Check the buckles and harnesses before dropping your kid into the seat. Check if there is any cut or hole. Make sure the seat is empty so that your kid can sit comfortably. Make sure everything is in order – controls, head support, wire, batteries, and so many others.