The Best Air Mattresses of 2023
Air mattresses are a low-cost alternative to a real bed and make it possible to sleep comfortably away from home.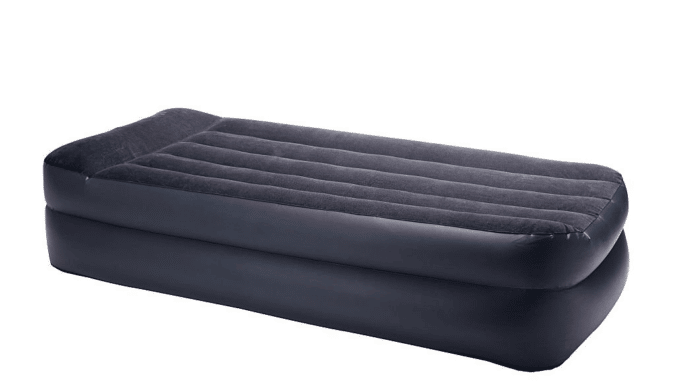 Hauling your queen-size mattress on a camping trip is, at the very least, terribly awkward. However, comfort is something that everyone seeks, even in the middle of the woods. Apart from that, air mattresses come in very handy if you are always in transit and you prefer to sleep on something closest to your bed. They are also great when you're hosting family and friends.
However, choosing the right mattress is where the problem arises. The technicalities of an air bed can make the process of picking one that suits your exact needs quite overwhelming. We have eliminated this problem by providing you with only the best options available that span the locus of your specific needs.
How We Picked
Size and Thickness

Air mattresses come in various sizes to accommodate the size and weight of different people. Getting a thick mattress ensures better cushioning, while the right size is essential for comfort and a good night's sleep.


Easy Inflation Method

Air mattresses are a quick fix and they should be easy to inflate and deflate. Some mattresses come with an inbuilt pump motor that's powered by electricity while others require manual pumping. It's important to consider the inflation methods depending on how you intend to use the mattress.


Comfort

Sleeping peacefully is the whole point of getting a mattress, but the material, thickness, inflation, and size are factors that might affect comfort. These factors are part of what we considered before making our recommendations.


Cost-Effectiveness

Cheap does not always equal low quality, but there is a place where low cost meets great value, and we put this into consideration when selecting the air mattress that meets your needs.

Our Top Picks
Our Top Pick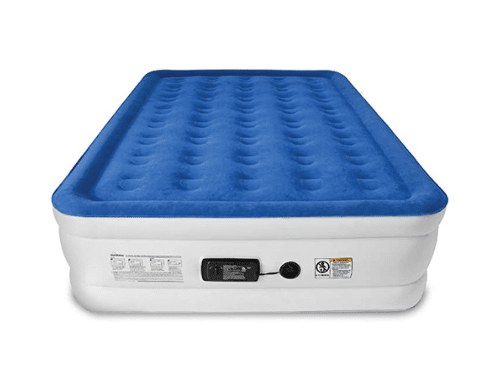 This mattress is a premium product that will give you a restful night's sleep.
A SureGrip base and patented ComfortCoil technology provide for an exceptionally firm and stable mattress in this classy style. You are sure not to slide on this mattress. You may rest easy knowing that the 40 internal air coils will keep your bed flat and solid to grant you peaceful sleep all night long.
This queen-size Dream Series mattress inflates in less than four minutes and retains its shape for days.

This Dream Series mattress provides comfort on a reliable and quality surface.

Our Runner-Up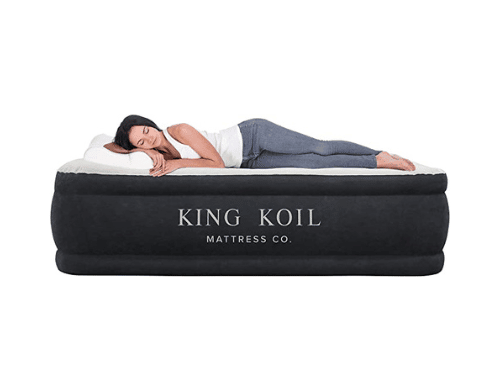 The King Koil comes with an internal pump that makes inflation and deflation quick and easy.
To improve upon the already impressive technology of the queen airbed, King Koil provides a plush flocking layer and an integrated pillow, planned and constructed with your comfort in mind. A built-in pump with independent inflation and deflation controls allows for a quick and easy setup.
This firm mattress promotes healthy sleeping posture; its suede top prevents sheets from sliding off. The quilt top is also exceptionally thick, durable, waterproof, and comfortable.

Inflation and deflation are quick and simple due to the internal pump's plug-in simplicity.

Most Cost-Effective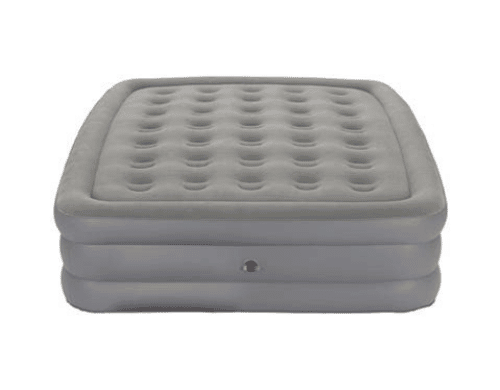 Coleman designed the GuestRest Air Mattress to provide the perfect sleep for all your overnight guests.
The Coleman GuestRest Double-High Air Mattress has a luxurious surface similar to velvet, making it ideal for extra guests or for use when camping. Thanks to the elevated mattress, they won't have any trouble getting out of bed in the morning. What's more, it can be folded up and stored in the convenient bag that comes with it.
Once you've invested in the necessary Coleman pump, inflating and deflating this queen air mattress tends to take just three minutes.

Convenient and comfortable.

Everything We Recommend
Our Top Pick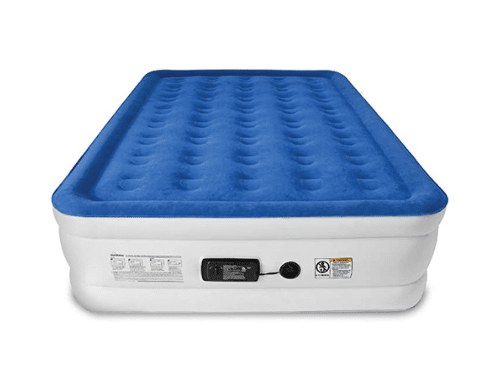 This mattress is a premium product that will give you a restful night's sleep.
$149.95 ($149.95 / Count)
Our Runner-Up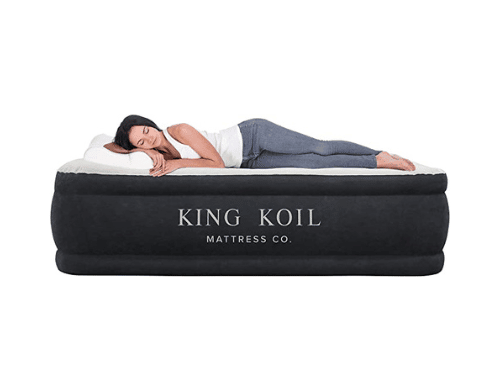 The King Koil comes with an internal pump that makes inflation and deflation quick and easy.
$149.95
Most Cost-Effective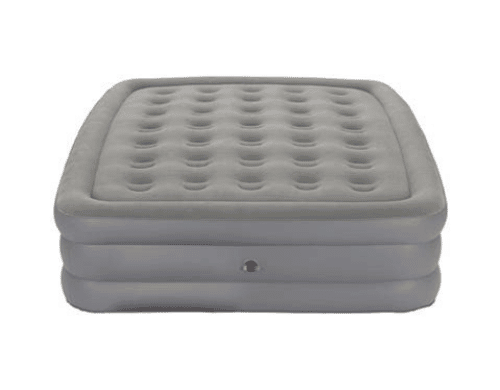 Coleman designed the GuestRest Air Mattress to provide the perfect sleep for all your overnight guests.
Who This Is For
Who this is for
An air mattress is your best option if you need a mattress quickly (for example, after moving into a new apartment), as these mattresses are easy to set up and take down. You have the choice of sleeping on a futon, a camping pad, or a folding cot, but an air mattress will provide you with the feel and comfort of a real bed, including the chance to use your sheets on it. When not in use, it can be folded into a size that is convenient to carry about.
Different Types Of Air Mattresses
Air mattresses are available in a wide range of sizes, but they can generally be broken down into three distinct categories: double-height, self-inflating, and convertible. Double-height mattresses are typically taller than other air mattresses and are designed to provide the comfort of a real foam bed. On the other hand, a self-inflating mat is made up of a thin sheet of compressible (open cell) foam that is sealed inside of an airtight fabric envelope that also has a tamper-proof valve. It is possible to inflate the mat with air by releasing pressure from the valve, which will cause the foam to grow in size. The insulation is provided by the foam, which also performs the function of a built-in pump by enclosing the mat's internal space with still air. A convertible bed (sleeper) is usually made of cushions that can be rearranged into a bed and are preferable to a traditional sofa when designing a compact room since it requires less floor space when transformed into a bed.
Benefits of an Air Mattress Over a Standard or Memory Foam Mattress
Normal mattresses or those made of memory foam are very comfortable and supportive. On the other hand, air mattresses are more conducive to good circulation and provide better insulation. Adjustable air bladders in air mattresses give users the option of a harder or softer surface, depending on their preference, while inflatable air chambers offer the primary support in air beds, making them excellent for easing pressure points. Air mattresses are also the most convenient and comfortable option for car camping and hiking because they are compact and easy to transport.
Why You Should Trust Us
We analyzed some of the most well-known options on the market, focusing on how they stacked up in terms of design and the level of comfort they provided, in order to find the best air mattresses. Reports of actual user testing on sites like The Spruce's Lab were also very helpful to the research. Subsequently, we collated feedback from actual customers about their experiences with various aspects of the product, such as its reliability, durability, longevity, portability, comfort, and other features, before settling on our recommended picks.
How We Picked
Size
You need to give some serious thought to the dimensions of your mattress, specifically its length, width, and height. If you are in the market for children's mattresses, you might want to give some thought to getting a twin mattress. On the other hand, adults and couples are best served by a mattress that is either a full or queen size.
Thickness
In the past, air mattresses were often ten inches thick or less, and thus were sometimes referred to as single-high mattresses. Today, air mattresses are typically twenty inches thick or more, while the majority of airbeds that are marketed are either double-high, which means they are extra thick, or thicker than 10 inches. A raised air mattress is also designed to provide the impression of sleeping on a traditional mattress since it is elevated from the ground. In addition, thicker mattresses prevent any sinking that may occur due to the loss of air throughout the night by adding a few millimeters to the height of the structure.
Comfort
It is common practice to "top up" an air mattress before using it for the following night's sleep. However, a high-quality air mattress should be able to retain air and should not noticeably deflate while the user is asleep. Some manufacturers of air mattresses say that the internal architecture of the mattress (built-in air chambers or coils) contributes to a more consistent distribution of air throughout the mattress. On the other hand, these styles will not prevent a sagging mattress from collapsing in on you from all sides. When lying down, you shouldn't be able to detect an excessive amount of rustling or bouncing, and the pump should make it easy to discover the level of firmness that is most comfortable for you.
Easy Inflation Method
The air mattresses sold in stores today often come with their own pumps, which eliminates the need for you to manually inflate the mattress. However, when you buy a mattress, find out if it needs to be connected to an electrical outlet or if it comes with a battery-powered pump. The latter option is essential if you want to be able to take the mattress with you when you go camping or hiking.
Speed & Noise
The process of blowing up or deflating the air mattress should not take more than a few minutes. Typically, this information can be found in the manufacturer's specifications. Conversely, you should consider how noisy it might get when pumping the mattress, as the sound might be inconvenient for most people. Along with that is the noise the mattress makes when laid on. Most mattresses are designed to provide comfort, and so they eliminate materials that create uncomfortable noises. However, this should be an important factor to consider since it might create a horrible night experience for light sleepers.
Ease of Setup
One of the most important features to look for in an air mattress is how simple it is to set up. High-end models typically feature an automatic "set it and forget it" internal pump that fills the bed with a single flip of a switch. While some of the beds must be near an electrical outlet to power the pumps needed to fill them, others can do so independently. Consider whether you'll need the pump to be portable or stationary, such as when camping, and choose accordingly.
Price vs. Quality
The good news is that air mattresses can be purchased at a broad variety of price points; the amount of money you pay will depend entirely on your preferences. There should be no confusion about the fact that air mattresses of any price might incur the danger of deflating or puncturing throughout their lifetime. However, more expensive models are typically constructed to be more durable over time. Think about how you will utilize the air mattress before you decide on a price range for it. You will then be able to determine how you can obtain the most value for your money.
Style/Design
After filling up each mattress, we evaluated them based on their aesthetic quality and usability considerations, such as the length of their power cords, materials, colors, and other qualities that made them physically attractive.
Firmness Settings
There are many different technologies that are utilized in air mattresses to help with stability and shape retention. Air coils and fiber beams are only two examples of these technologies. These configurations create a firm, even surface across the entirety of the mattress, which helps reduce the amount of drooping that occurs in the middle of the bed. You must pay close attention to the brand that you purchase from since they will frequently indicate the kind of support core that they employ. There is no such thing as the "best" support system, but the lack of any support system should raise a red flag.
Puncture Resistant
Before purchasing any puncture-resistant product, you should give careful consideration to the product's construction as well as the materials it is made of. You should look for a mattress that makes use of durable materials. You can choose a bed with polyester or PVC depending on your preferences, but either option should be durable enough to endure punctures.
Care and Maintenance
How to Inflate
A modern air mattress will include a built-in pump for inflation, so there is no need for any additional tools to fill the air mattress. However, if your air mattress doesn't have a built-in pump, you'll need to use an external pump, either an electric one or a manual foot pump, to get the job done.
When using an air bed for the first time, it is important to avoid inflating it to the point where it becomes stiff. It's tempting to try and get it as tight as possible, but doing so can increase the risk of tears and leaks. When using the mattress for the first time, inflate it to 90%, wait three hours, and then deflate it. After this procedure is repeated, inflate it fully. Before putting your weight on a new mattress, you should give it a few stretches to break in the plastic. Once the plastic fibers have been broken in, they will be ready for their initial use.
How to Deflate
To deflate the mattress, locate the valve where you place the pump and then open it. As soon as the pressure is released, you should immediately hear the airbed begin to deflate. You can also gently deflate the airbed by applying light pressure. If you're using your electric or foot pump, change the setting/relocate the hose to the deflated area this time. Or on the foot pump, deflate the bed by stepping on the pump like you did to inflate it.
How to Store
After you are done using your air mattress, it should be kept in a dry, cool storage location, either in a robust container or in the storage bag that was provided and away from moisture and direct sunlight.
Do I Need to Clean My Air Mattress? How and How Often?
At best, air mattresses should be cleaned after each use for the best results. If you can't manage that, once a month should suffice. How often you use it will also determine how often you need to clean it, but at a minimum, once a season, and if mold or mildew growth is discovered on the mattress, it must be cleaned quickly.
To clean the mattress, put some mild soap into water in a bowl. Use the soapy water to dampen a clean cloth and use that to wipe the mattress. Pay special attention to any stains, and gently scrub them away with the cloth across the entire mattress. After that, put the mattress outside to dry. To remove bad odors, baking soda can be sprinkled across the bed. It is recommended that the air mattress be lightly covered with baking soda, but this is not required. Wait a few minutes before vacuuming it up and then airing it out to dry.
Dealing With a Puncture
If your air mattress gets a big hole or puncture, you may easily fix it with the vinyl patch kit that comes with most air mattresses. A gradual leak is more difficult to detect because it usually happens around the mattress's seams. You can either apply pressure to the mattress and listen for the sound of air escaping, or you can run your palm over a seam and feel for air movement. When you find the hole, deflate the mattress and mark it with a marker. Clean the area with an all-purpose cleaner and a lint-free rag, then apply the vinyl patch.
Checking the Air Chambers to Make Sure the Mattress is in Top Condition
Even if you only use your air mattress sometimes, it's still important to check on it to ensure its long-term durability. For that, constantly inflate your air mattress to check for leaks. Place your ears close to it to listen for the hissing sound of escaping air. If you locate any damage, vinyl patch repair kits are a simple, low-cost, and effective alternative to fixing a leaking mattress. Once you've given your air mattress the once over, deflate it and store it the same way you always have, so it's always ready when you need it.
You should replace your air mattress depending on how much you use it. Air mattresses typically have a lifespan of eight years or more when used by visitors. However, using one as your primary sleeping surface may cause it to wear out sooner due to the strain of heavy use.
What to Do if the Firmness Does Not Stay at Desired Settings
It is possible to modify the feel of an air mattress by adding a mattress topper, which can make the surface seem either warmer, softer, cooler, or firmer. Any mattress can benefit significantly from the use of mattress toppers.
Bad sleeping patterns are among the most prevalent causes of a bad night's sleep. And, when it comes down to it, one of the primary factors is the mattress. In order to meet the required pressure to make you comfortable, inflate the mattress to the level that is comfortable for you. A person will also have difficulty falling or staying asleep if the sheets and blankets are not distributed evenly around the bed. Therefore, the dimensions of the bed should be taken into consideration when selecting the appropriate set of sheets. The vast majority of air mattresses are not designed to work well on hard floors. Instead, you should use a rug or a mat as it helps to maintain pressure by limiting heat loss that would otherwise occur owing to the cold floors, in addition to preventing them from slipping.