Move over, the wheel, September 16 is National Choose Your Chocolate Day, an opportunity to celebrate what might be the world's sweetest invention. This perfect combination of cocoa, milk, and sugar has been celebrated for thousands of years and has graced the tables of kings, presidents, celebrities and, of course, your grandma. National Choose Your Chocolate Day corresponds with the birthday of one of chocolate's modern visionaries, a woman who no doubt belongs in the pantheon of great chocolatiers, Mary See of See's Candies.
To honor this confection, and the woman whose innovative and high-quality recipes have laid the foundation for nearly 100 years of candy-making excellence, See's Candies has sponsored National Choose Your Chocolate Day. The company is offering many fun, informative, and exciting ways to celebrate Mary See and her chocolate legacy. The quiz below will help you decide which chocolate candy matches your personality.
History of National Choose Your Chocolate Day
Chocolate has been a mainstay of our diets for more than three millennia. The Aztecs greatly revered the cacao plant, and the drink they created from it and even considered it a gift from Quetzlacoatl, their God of wisdom. At the time, it was served without sugar but still was thought to have many positive health properties. It wasn't until 16th century Europe that milk and sugar were combined with cocoa to make the chocolate we think of today. It was enjoyed throughout the royal courts of Europe for centuries, but it wasn't until the 19th century that it was able to be made in quantities large enough for the average person to afford. 
Enter Mary See. The matriarch of the See family was known for her high-quality candy and chocolate recipes. Born Mary Wiseman on this day in 1854 in Ontario, Canada, Mary raised three children in and around Ontario, and her confections were enjoyed solely by her family for years. It wasn't until 1921, when at the age of 65, she moved with her elder son Charles to Los Angeles and helped him found what would be the first See's Candies location in Pasadena.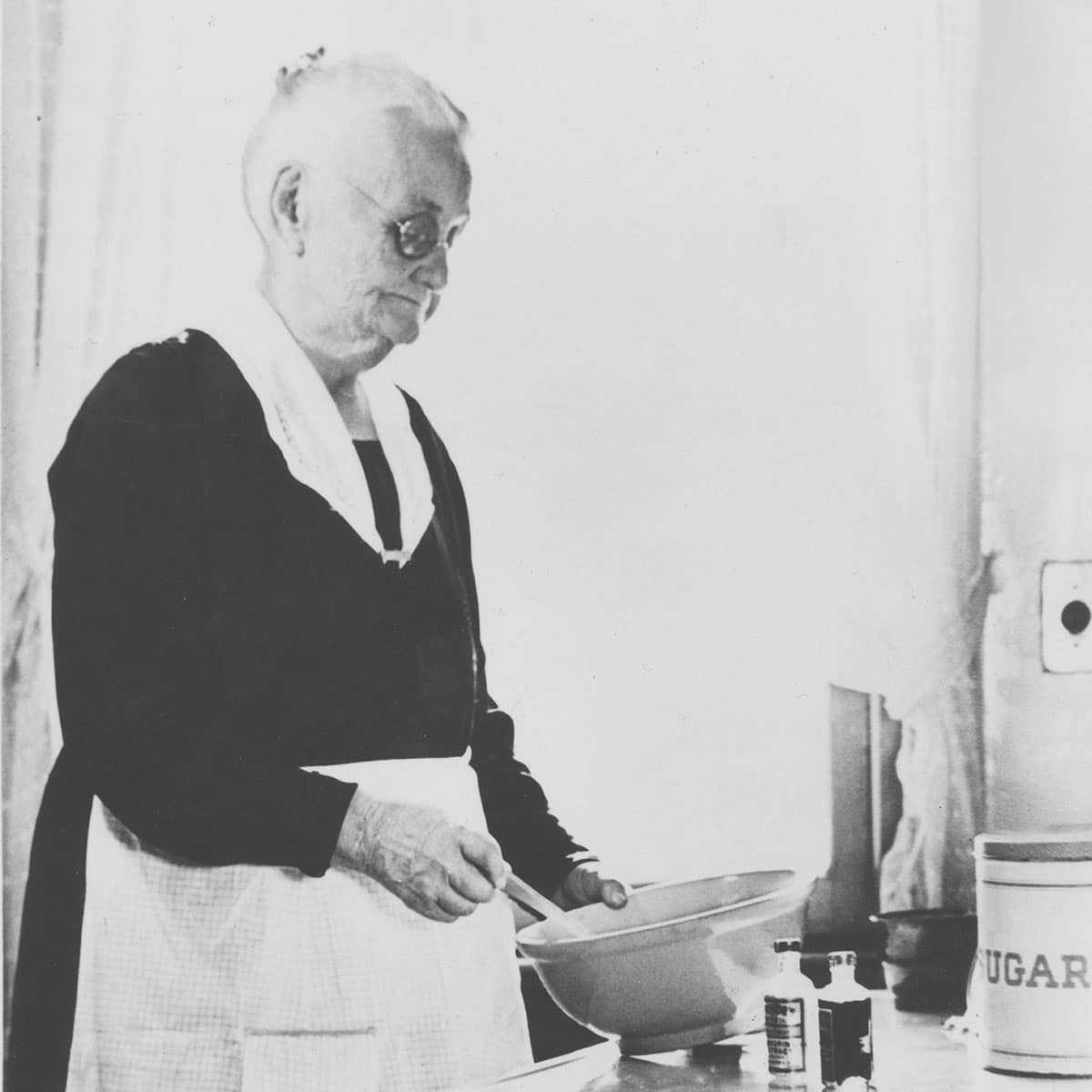 Mary's recipes strictly called for only the finest ingredients available and stringent production standards. These would become the hallmarks of See's earliest successes and are notably still adhered to today. In fact, many of the candies in the current See's lineup still use those early recipes. By 1925, there were more than a dozen See's Candies locations around Los Angeles and in the ensuing decades, the brand would spread across California, finding a particular foothold in San Francisco, helping to build that city's reputation for high-quality chocolate. 
Mary See's influence can't be understated and it has been widely regarded as key to the brand's success. The company never adds preservatives to their candies, have strict ingredient quality control, and sell directly to consumers through hundreds of West Coast shops. This ensures that every See's Candies experience is good enough for Mary See. She is so iconic, that boxes of See's Candies still bear her likeness as a reminder to See's customers that everything inside still carries the Mary See's seal of approval
National Choose Your Chocolate Day timeline
1400 BC
Chocolate, the Drink of the Gods
Archaeologists excavating an Ancient Aztec site in modern-day Honduras discovered pottery with cacao residue nearly 3,500 years old, indicating chocolate was consumed at least that far back
1500s
European Kings and Queens Get Their Chocolate Fix
In this age of exploration two delicacies made their way into Europe — chocolate and sugar. The combination became all the rage in royal courts around the continent and remained a drink for the very wealthy for several centuries.
Late 1770s
Yankee Doodle Went to Town Looking for Some Chocolate
Albeit unsweetened, chocolate was included in the soldiers rations during the American Revolutionary War.
1847
A Bar is Born
Though sugar had been added for centuries, it was only in the early 19th century that chocolate's bitter taste was eliminated. Joseph Frye in 1847 created the very first chocolate bar setting the stage for a cocoa revolution.
1854
Mary See is Born
The matriarch of the entire See's Candies organization is born on Howe Island in Ontario, Canada. She would live and raise her children near here until 1921.
1921
Tinseltown Gets a Little Bit Sweeter
Mary See and her son, Charles, move to Los Angeles and open the very first See's Candies location using Mary See's own recipes and philosophies on quality. Within four years there are more than a dozen LA locations making it a true American Dream story (by way of Canada).
1929-1945
Quality and Innovation See See's Through the Depression and the War
The twin economic upheavals of the Great Depression and World War II saw many of See's rivals close shop. It was a mixture of the high quality of Mary's recipes and the clever business acumen of Charles See that helped the brand thrive and grow.
2012
One For the Record Books
On June 20, 2012, See's entered the Guinness Book of Records for the world's largest lollipop. Weighing in at 7003 pounds, this chocolate behemoth was more than four feet long and nearly nine inches thick. It bested the previous record by nearly 500 pounds.
National Choose Your Chocolate Day FAQs
Why Celebrate National Choose Your Chocolate Day?
The answer is simple, really. You learn a little about yourself, a little about the legacy of Mary See, and show your support for a worthy cause. Although the donation period has now ended, those that previously completed the quiz helped See's donate chocolate to local charities.
Was Mary See Real?
Heck yea, who do you think is on the box of every See's candies? Sure, in the 1920s there was a rash of pictures of nice old ladies gracing boxes for cake mix and whatnot, but Mary See was quite real, and her impact on the candy industry is still being felt today.
How Can I Purchase See's Candies?
Purchasing See's couldn't be easier. You can walk into any of their shops, order online and have it shipped to your home, or order online and pickup in a shop. They have more than 200 locations along the West Coast (contact-free pickup available).
National Choose Your Chocolate Day Activities
Share a Box of See's With Someone You Love

See's Candies make the perfect gift. Just walk into a shop and immediately you'll know why. You are struck by the sweet smell of chocolate and employees that are there to help. Grab a gift to take right away for any occasion. Don't have time or prefer to shop online? Go to sees.com and products can be shipped around the country or picked up in-shop through online ordering with contact-free pickup. They are always fresh and high-quality.

Take the Quiz to Discover your Inner Chocolate

Gain the insight and knowledge of knowing which See's candy best exemplifies your personality. Previously See's made a candy donation on behalf of everyone who completed the quiz. The donation period has ended, but See's wanted to say a big thank you to all those that took part.

Experiment in the Kitchen With a Box of See's

Mary took great pride in her candy recipes and they are the bedrock of See's. Her candies can also be the basis for your own experimentation. Try including some See's Candies into your own baked goods or confectionary adventures and marvel at what you've dreamed up.
Why We Love National Choose Your Chocolate Day
We Learn a Little Something About Ourselves

The road of self-discovery never ends so why shouldn't part of it be paved in chocolate? National Choose Your Chocolate Day gives us all the chance to see ourselves represented in our favorite confections. Who wouldn't love that?

It Celebrates Mary See

Mary See was a remarkable woman and candy innovator whose recipes and work ethic are still with us today. National Choose Your Chocolate Day is a chance to celebrate her legacy in the sweetest way possible.

It Supports Worthy Causes

One key component to NCYC Day is the promise See's made to donate candy to groups like first responders, firefighters, and others who were struggling and felt benefited from a chocolatey pick-me-up. Those that completed the quiz were able to choose a worthy cause and See's made a chocolate donation on their behalf. The donation period has now ended and See's have extended a big sweet thank you to those who helped with the donation efforts.
National Choose Your Chocolate Day dates
| Year | Date | Day |
| --- | --- | --- |
| 2024 | September 16 | Monday |
| 2025 | September 16 | Tuesday |
| 2026 | September 16 | Wednesday |
| 2027 | September 16 | Thursday |
| 2028 | September 16 | Saturday |