Wake up America — let's make the most of our mornings! Eating a healthy breakfast has never been more important. We're a nation on the go. Nine-to-five has become seven-to-six — or worse. Hours like that require serious nutritional planning. Skipping breakfast might have worked back in your parents' day, but rushing out the door with a quick gulp of orange juice just doesn't cut it in 2019. That's why National Today and Three Bridges Egg Bites are thrilled to bring you Better Breakfast Day on September 26.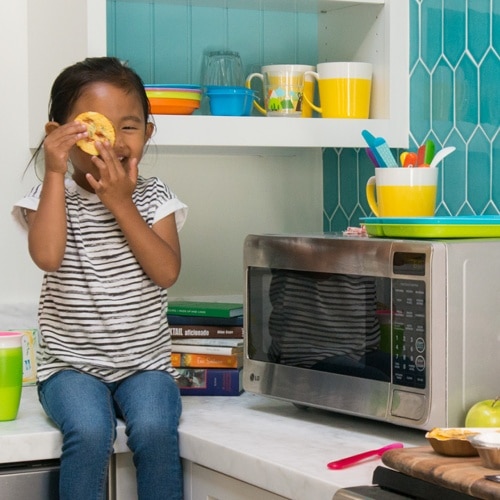 Honestly, we would all love to whip up cheesy eggs, crispy bacon, and sausage at 6:30am, but in the real world, there's simply no time. Three Bridges Egg Bites want to help reinvent breakfast. They're gluten free, keto-friendly, and contain fewer carbs and sugars than other breakfast foods. Varieties include Uncured Bacon & Cheese Egg Bites and Country-Style Sausage Egg Bites. You can also go vegetarian with Bell Pepper & Cheese Egg Bites as well as a new favorite — Mushroom & Asiago Egg Bites. Did we mention you can get Three Bridges Egg Bites on the table in just 90 seconds?
*Check here on Wednesday, September 25 for your free Three Bridges Egg Bites offer.*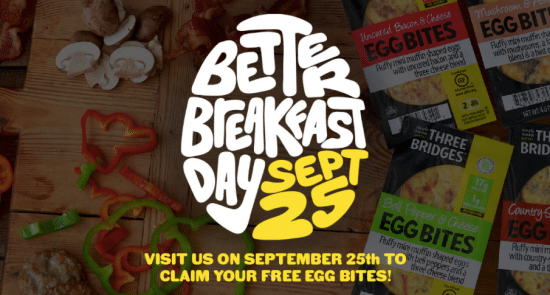 "Making clean food choices has never been more top-of-mind for consumers," says Valley Fine Foods CEO Todd Nettleton. "But for many, the hectic pace of American lifestyles leaves little time for preparing a healthy breakfast full of protein and low in sugar.
"Our Three Bridges Egg Bites offer the healthy start to the day Americans are looking for while easily fitting into their busy schedules, making them perfect for on-the-go kids, parents, and professionals."
Better Breakfast Day timeline
Early 1900s
Family farms
Need a couple of eggs? Head no further than the backyard. Egg "farms" typically supply enough eggs for the family — plus a few extras to sell at the local farmers' market. Eventually flocks grow to around 400 hens who live outdoors with a coop for roosting.
1930s
Hens move indoors
This landmark change brings lots of improvements. Specialized henhouses result in much healthier birds. Better feeding practices also improves egg productivity. Farmers' profits increase.
1940s
Henhouses improve
California hens produce about 250 eggs per year, while mortality rates drop. Based on this, more farms across the country build new facilities which prove beneficial for everyone.
1950s
Automation
Egg farmers need better machines to handle the increased output. Conveyor belts emerge to quickly collect the eggs and carry them to the washers. Eventually labor costs fall as the nutritional quality of eggs rises.
2019
Eggs and your health
Texas Tech researchers reveal that for healthy human beings, "There's no limitation on egg consumption. Eggs are a good source of protein that can be easily added to a person's meal." Results also show that eating eggs does not equal higher saturated-fat intake, although different preparation methods — such as frying in butter — would make a difference.
Better Breakfast Day - Survey Results
3 Ways to Celebrate Better Breakfast Day
See a nutritionist

Too expensive? Remember, lower medical bills can quickly outweigh the cost. Plus, nutritionists can come up with a personalized plan for you. If not, you can always do your own research about which breakfast foods are right for your diet and situation.

Skip the sugar

Three Bridges Egg Bites bring a wholesomeness back to breakfast. Take a pass on the supermarket breakfast aisle (and those protein bars) and switch to a Three Bridges breakfast — high in protein while low in sugars and carbs.

Read the labels

No excuses. Labels have all the information you need to make healthy decisions. Take some time on Better Breakfast Day to really discover what you're choosing to eat.
4 Healthy Breakfast Drinks That Aren't Orange Juice
Here's Why We Love Better Breakfast Day
Smart breakfast choices fight diabetes

Healthy breakfasts can help keep you fit by filling you up for longer periods. That way, you tend not to overeat, which helps your blood sugar stay at lower levels — cutting your risk of type 2 diabetes.

Nothing artificial

Three Bridges Egg Bites contain all-natural ingredients and no artificial flavorings. They're prepared and shipped fresh — with antibiotic-free meats, rBST-free cheeses and no binders. Three Bridges has made a commitment to use only the finest natural ingredients.

Better breakfasts = a better day

Consuming fresh fruits like berries, melons, and raisins in your morning meal results in less fat and higher nutrients to start your day. Also, the "Journal of Adolescent Health" reports healthy breakfasts can increase concentration and short-term memory in young people.
Better Breakfast Day dates
| Year | Date | Day |
| --- | --- | --- |
| 2023 | September 26 | Tuesday |
| 2024 | September 26 | Thursday |
| 2025 | September 26 | Friday |
| 2026 | September 26 | Saturday |
| 2027 | September 26 | Sunday |