National Christmas Movie Marathon Day is celebrated annually on December 23. Get ready to snuggle in your warm blanket with a mug of hot chocolate and your favorite holiday snacks! There are so many ways to get into the spirit of Christmas and we just love curling up on the couch for a movie marathon with our favorite Christmas movies. Whether you are in the mood for a classic or a rom-com, it is surprising just how many genres are covered by Christmas centered movies. Anyone up for a Christmas horror flick?
History of National Christmas Movie Marathon Day
Just like we all start listening to Mariah Carey's 'All I want for Christmas is you' in December every year, we all have our favorite Christmas movies that we return to over and over again. It's such a great way to get festive! Whether it is the mischievous Grinch or the heartwarming stories in 'Love Actually,' Christmas movies come packed with warm nostalgia.
Christmas movies have been around for a long time and range over a number of categories from romance to comedy to horror. The world's first Christmas movie was a silent short made in 1898, titled 'Santa Claus.' Directed by George Albert Smith and at just over a minute long, this was the first time that Santa Claus graced the screens. The film was about two children who are eagerly waiting for Santa Claus to make his appearance but are ordered to sleep. During the night, Santa slides down the chimney and leaves presents for the children. With jump cut scenes, double exposure, and superimposition, the short movie was ahead of its time.
A lot of the early Christmas films were short movies. Following a couple of adaptations of Charles Dickens' 'A Christmas Carol,' and a few war centred Christmas flicks, 'It's a Wonderful Life' was a breakthrough Christmas movie in 1946.
Since then, Christmas has been the backdrop for many movies; kids movies like 'Gremlins,' the 1990's blockbuster 'Home Alone,' and 'Elf.' The choice of what to watch has expanded and you won't be short of options on National Christmas Movie Marathon Day. Whether your go-to is Elf, Home Alone, A Muppets Christmas Carol, or all three, this is a holiday that is all about putting your feet up and enjoying your favorite Christmas movies back to back.
National Christmas Movie Marathon Day timeline
1898
The first Christmas movie
'Santa Claus' was released.
1972
Spooky Christmas
Silent Night, Bloody night broadened the potential of Christmas horror filmmaking.
1989
Behold, ugly Christmas sweaters!
National Lampoon's Christmas Vacation popularized the use of the term 'ugly Christmas sweater.'
2013
Frozen Fever
Disney released its 3D animation 'Frozen' which broke all records and created a sensation for years to come.
2020
Something for everyone!
Hallmark Channel airs its first LGBTQ centered Christmas movie.
The Most Popular Christmas Movie By State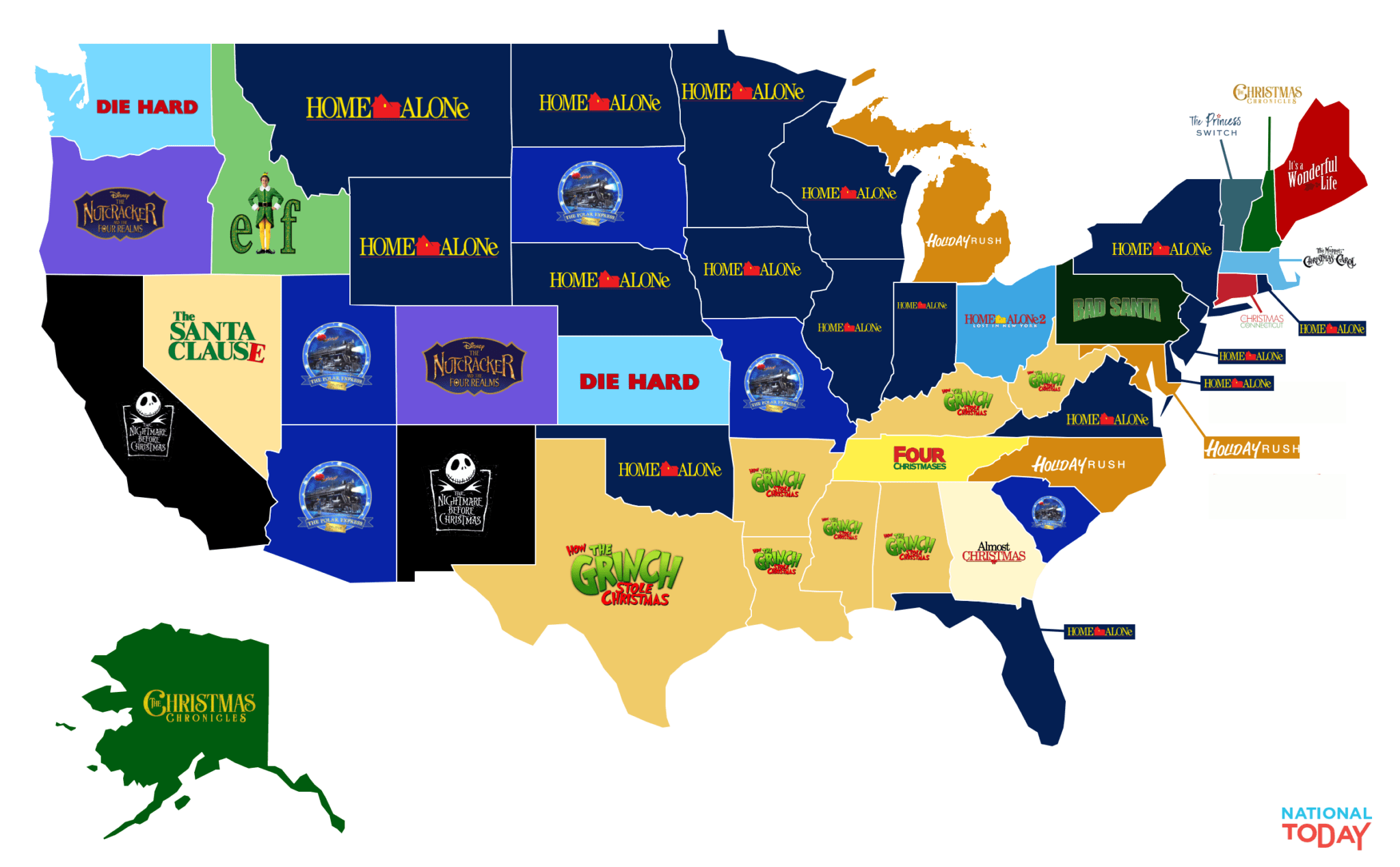 National Christmas Movie Marathon Day FAQs
What channel has Christmas movies?
The majority of the popular TV networks like Freeform, AMC, ABC, Hallmark, Lifetime, as well as local cable channels, have Christmas movies. Check out their holiday movies schedule and plan your marathon ahead!
What is the most viewed Christmas movie?
Polls and online forums have declared that the most popular Christmas movie is 'Home Alone.'
Will Hallmark have new Christmas movies in 2020?
Keeping up with its annual schedule, there will be a total of 40 brand new movies this holiday season on Hallmark Channel and Hallmark Movies & Mysteries.
How To Celebrate National Christmas Movie Marathon Day
Binge on your favorite flicks!

Make a list of your favorite Christmas movies and watch them back to back. The holiday season can be hectic with shopping and social events, and so it's great to have a day of chilled-out movie watching set aside for you and your family.

Host a watch-party

Virtual or in your living room, you can make this a part of your annual holiday traditions and host a Christmas movie watch party. Have it with your friends and family, or you can host a virtual party via in-browser extensions like 'Teleparty.'

Try a new film

It's great to revisit your old favorites, but try and throw something new into the mix. You never know, in five years time that may count as an old favorite too.
10 Christmas Movies We Recommend
It's a Wonderful Life (1946)

George Bailey is down on his luck and an angel from heaven is sent to show him what life would have been like if he was never born. A wholesome, feel-good movie.

Home Alone (1990)

During Christmas vacation, eight-year-old Kevin is accidentally left behind by his family and ends up protecting his house against a couple of burglars. This movie is voted as the most popular Christmas film on many forums and polls.

Elf (2003)

After the revelation that he is a human and not an elf, Buddy travels from the North Pole to New York City to find his real father.

The Muppet Christmas Carol (1992)

The beloved Muppet characters re-enact their version of Charles Dickens's classic novel 'A Christmas Carol.'

Gremlins (1984)

A boy unintentionally breaks three rules about keeping his new pet, resulting in the unleashing of a horde of mischievous little monsters all over town.

Love Actually (2003)

The love lives of eight different couples are followed in interrelated stories all set against the beautiful backdrop of the Christmas season in London. With its star-studded cast, this movie is one of the best romantic comedies set around the holiday season.

Better Watch Out (2016)

If you are looking for something to send chills down your spine, this one's for you. A babysitter must safeguard a twelve-year-old from intruders, only to find out that it is more than just an ordinary home invasion.

A Christmas Carol (1999)

If the Muppets are not for you, go for one of our favorite live version adaptations of 'A Christmas Carol,' with a spectacular performance from Patrick Stewart as Mr. Scrooge.

Die Hard (1988)

It has long been debated whether Die Hard qualifies as a Christmas movie, but hey, we want to give as many diverse movie choices as we can. When a Christmas party turns into a hostage situation by German terrorists, an NYPD officer must save the day.

How the Grinch Stole Christmas (2000)

We love the weird and wonderful world of Dr. Seuss. This movie, based on the book of the same name, is about a quirky green character, The Grinch, who hates Christmas and is set on ruining it for the citizens of Whoville, for whom Christmas is the highlight of the year.
Why We Love National Christmas Movie Marathon Day
Bah, Humbug!

There really is no greater time of the year than Christmas. However, it can understandably be stressful for many. Feel-good movies are a great way to relax and unwind and beat that 'Scrooge' feeling.

Ongoing Traditions.

Times have changed, and we are grateful for classic Christmas traditions that are timeless. Bingeing on Christmas movies is a great way to connect with the young ones and introducing them to your favorite feature films.

The spirit of Christmas across borders.

Christmas may not be celebrated by everyone, but Christmas movies sure are loved by all! Whether it is Asia or Australia, Christmas movies are watched and enjoyed by people all over the world.
National Christmas Movie Marathon Day dates
| Year | Date | Day |
| --- | --- | --- |
| 2023 | December 23 | Saturday |
| 2024 | December 23 | Monday |
| 2025 | December 23 | Tuesday |
| 2026 | December 23 | Wednesday |
| 2027 | December 23 | Thursday |