The Best Outdoor Movie Screen for 2023
The time has come to turn your outdoor space into your own personal theatre and enjoy some good movies with no hurdles!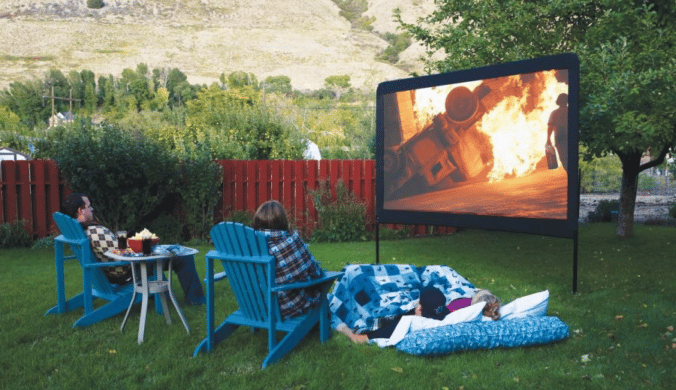 We know you're busy, and sometimes you want to relax and watch the latest movie or show with friends and family, or even alone. But what if you want to do it outside? What if you want to sit in the open hair and enjoy your movie?
Outdoor movie screens are the perfect solution for that, especially during the summer months. They can also be used for other purposes such as live broadcasting or even just enjoy them in your backyard. Also, they are great because they can be installed anywhere in your yard, which means that you won't have to worry about running wires or digging holes.
So If you're looking for a new way to entertain your family or friends, you might want to consider getting an outdoor movie screen. And to make it easy for you, here are our top picks for 2022!
Everything We Recommend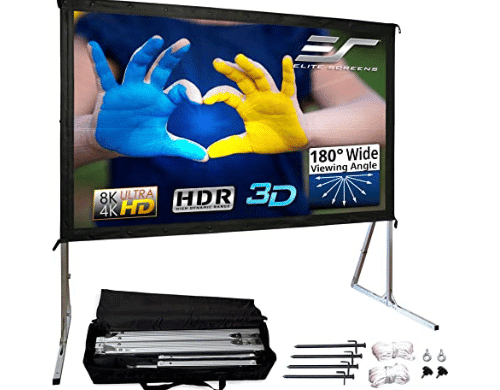 1. Best Product
Our Top Pick – Elite Screens Yard Master 2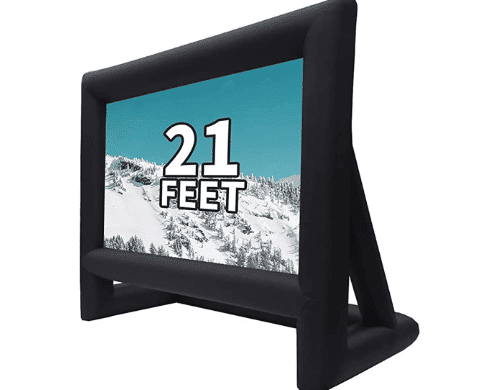 2. Runner Up
Our Runner-Up – XHYCPY Inflatable Outdoor Movie Screen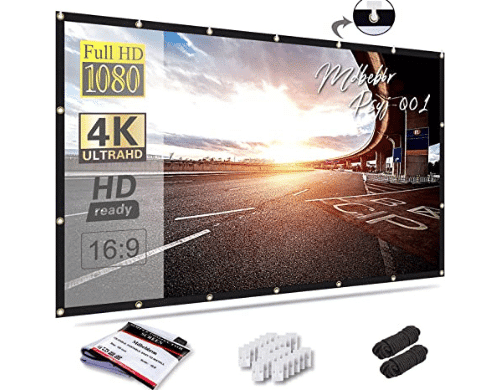 3. Cost Effective
Most Cost-Effective – Mdbebbron 120-inch Projection Screen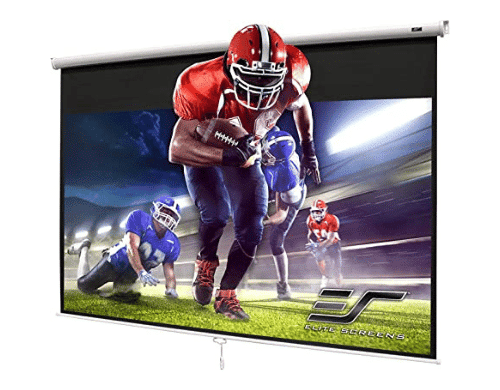 4. Almost Made the Cut
Almost Made The Cut – Elite Screens Manual Pull-Down Projector Screen
Who This Is For
Who This Is For
We believe that everyone that has a backyard should have the chance to enjoy movies or their favorite TV shows in it. These screens are made to be installed anywhere, and they're easy enough for anyone to use.
They also offer a tremendous experience for families to enjoy watching a good movie together, with peace of mind. Especially since it can be hard to find a place that has an outdoor movie screen outside in the city. As for cinemas, they can be crowded and loud, and your kids might be agitated there. So outdoor movie screens are tackling all that, and with them, you can enhance your family quality time.
Rigid vs Inflatable
Rigid outdoor movie screens are the ones that you can leave up in your backyard all year round. They're usually made of steel, but they can also be aluminum. They're typically painted to match their surroundings and are permanently attached to their frames.
Inflatable outdoor movie screens are basically flat pieces of fabric that you fill with air and then hang from a frame. They tend to be cheaper than rigid models, but they're not as sturdy—you'll need to make sure that you have an anchor point on your frame so it doesn't blow away in high winds!
Can It be Used Indoors As Well?
Yes, you can use outdoor movie screens indoors as well! That's right. Iif you're looking to create a new space that is both beautiful and exciting, consider using an outdoor movie screen. Not only will it add style and vibrancy to your home or business, but it's also going to be a great place for guests to gather and enjoy some quality time together. Matter of fact, you can look at it as having a giant TV inside.
Why You Should Trust Us
We know that you're trying to find the perfect outdoor movie screen for your needs, and we want to help you out. We've spent years evaluating and testing outdoor movie screens, so we can tell you how they'll perform in different environments and climates. Indeed, we've worked hand in hand with many experts to study what makes an outdoor movie screen great and which criteria need to be considered to pick one.
We know that it's not always easy to find what you're looking for — but by trusting us with this decision, you can rest assured that we're going to share with you the best advice and options to consider that would suit your needs the most.
How We Picked
We've evaluated and tested a lot of outdoor movie screens. We're always looking for the best quality at the best price, so we chose our best picks based on the following process.
First of all, we know that the size of your screen is important. You want a big, beautiful screen that will make people feel like they're watching a movie in the theater. If it's too small, it won't look nearly as impressive or immersive. So we picked options that offer optimal sizes.
Also, we know that not one soul will compromise on a high-quality video for his family and friends to enjoy! That means lots of resolution (not just high-definition), but also accurate color reproduction (not just washed-out colors). And those are two things we looked at when picking our options;
Of course, If you have an easy time setting up your new screen, then it's likely worth buying. No one wants a complicated screen to set up, right? So we favored those with easiness to set up.
Now, these type of screens can turn out to be very expensive, although there are a good number of options that offers great value for money. So we looked precisely at the screen options that are cost-effective and quite affordable, while still offering an amazing value for the investment made.
Sometimes, you might want to use your screen for other purposes, like a regular TV for example, as well as an external projector, among other options. So we tested the different usage options that our list of screens presented, and gave a preference to those with multi-purpose usage.
Now, one criterion is not to be neglected, and it's brightness. Some outdoor movie screen can be very bright and have a high contrast ratio, and gives you no hard time looking at the screen from afar, even at night. And well, those are the picks we checked as the best ones.
And finally, you want to enjoy your movie experience outside in the best way possible, at the time that suits you the most. So we tested our picks at both times, and we handpicked down who passed the test of being perfect for both daytime and nighttime viewing.
How We Picked
Size

Size is a key feature to keep in mind when choosing outdoor movie screens. It will determine how many people can be seated around it at once, as well as how far they have to sit to watch clearly.


Video Quality

This factor is among the most important ones to consider. That's because it will determine the quality of your movie experience, which is the end goal. Video quality is measured in terms of resolution, frame rate, and video bit rate.


Ease of Set-Up

One factor to consider seriously is how easy it would be for you to set up your outdoor movie screen —and how much time and effort it takes you to get your outdoor movie screen ready for use.


Price

If you're going to be using the Outdoor movie Screens often, then it might make sense to invest in a more expensive model. If not, then spending less money on this specific purchase might be worthwhile.

Care and Maintenance
We know you will fall in love with your outdoor movie screen, but you need to take care of it so it can take care of you when you're projecting a nice movie in it. Now let's talk about cleaning it. It is super easy! Just use soap and water, or a mixture of vinegar and water. If you want to get extra fancy, you can use a soft-bristled brush.
How often should you clean it? Once a week is ideal for most people, but if you live in an area where it rains a lot or where there is a lot of dust or dirt on the lawn, then cleaning more frequently may be necessary. Just remember to wash off any excess water after you're done cleaning!
Once you finish with it, you can store your outdoor movie screen in the garage or on its own stand so that it's out of the way and ready to go when you want it. If possible, we recommend storing it away from other items so that they don't get damaged by water splashing up from underneath. Store the screen away from direct sunlight so that it doesn't fade over time!
And finally to prevent it from getting dirty, make sure that the screen is completely dry before you open it. This will help keep any water or raindrops from damaging the product. And If there are any leaves or debris on the screen, use a vacuum cleaner to clean it up. Do not use detergent, bleach, or other harsh chemicals as they could damage the material over time and make it difficult for you to get a replacement if needed down the road.
Sources and Research