The Best Shower Mat for 2023
Non-slip mats ideal for preventing accidental slips and falls in the shower or tub.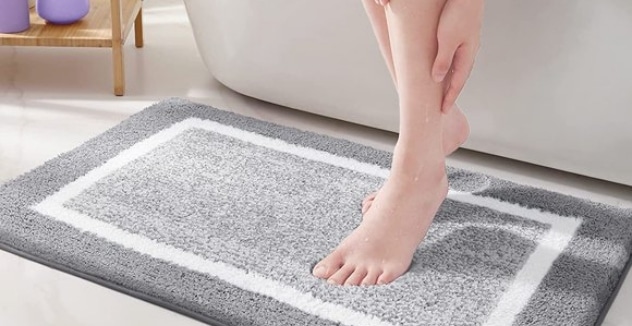 Bath time is a favorite for many people, perhaps even you! However, it's unfortunate that bathrooms are among the places where you're likely to slip because of the wet conditions.
Bathroom slips can happen to the best of us, young or old, so having a shower mat with dependable suction cups is essential. A good shower mat reduces the possibility of falling in your bathroom, absorbs moisture, and, if selected properly, can add some style to your bathroom.
There are lots of shower mats in the market, and not all of them are built equal. And, we understand if you're a little confused about the best choice. This is why we've put together this guide to show you some of the best shower mats available, and help you make the best choice!
How We Picked
Size

We're sure you don't want to pick a shower mat that's great but doesn't fit in the exact spot you intended for it. This is why it's a good idea to consider size when choosing a shower mat.


Material

It's important to choose a shower mat that is made of good, absorbent material. Different materials have different beneficial qualities, so we presented shower mat options with different types of material.

Suction

It's crucial to look for a shower mat that has some sort of anti-slip or grip bottom. This is so your shower mat doesn't move around when you step on it or make you slip in the bathroom.

Price

Quality doesn't have to mean expensive. We know no one wants to shell out tons of cash just to purchase a shower mat. This is why we included options that are high quality but affordable.

Who This Is For
If you take baths frequently, and your bathroom has slick surfaces like others, then you need a shower mat. Shower mats prevent you from losing your balance in the bathroom and falling. As such, as long as you have a bathroom you use frequently, you'll find a shower mat beneficial.
Shower/Bath Mats vs Bath Rugs
Generally, most people tend to avoid puddles after taking a bath or shower by using bath or shower mats. Before water drips from your body onto the floor, the shower mat catches the water.
Bath rugs, on the other hand, are mostly an interior design selection that enhances the appearance and ambiance of your bathroom. By outlining the area and establishing a focal point, they help in tying the décor together. Additionally, depending on the fabric type, bath rugs may provide a utilitarian use even though they serve a more decorative one.
Depending on their material and size, shower mats and bath rugs can occasionally serve the same purpose.
Do I Need One?
A shower mat's purpose is to lessen the possibility of sliding and falling on a wet surface. It's essential to have a firm grip on the ground and under your feet, and a shower mat provides this safety feature for you when using your bathroom.
Shower mats are also essential for improving the cleanliness of your bathroom. They prevent the buildup of mildew, germs, and mold as is common with frequently wet floors.
Why You Should Trust Us
While writing this product review, we consulted with several highly trusted sources. We also consulted online user reviews to see which products were the most recommended. We also prioritized in-depth research to establish the major criteria used to determine good shower mats.
How We Picked
Before settling on our final picks for this review, we looked at dozens of alternatives from a range of brands, read reports from textile experts, and took appearance, size, material, traction (or lack thereof), and cleaning instructions into account.
We've described some of the qualities we prioritized while making our picks below:
Size
Size is one of the most essential factors to think about when buying a bath mat. The shower mat you choose must be both compact enough to fit perfectly in your bathroom and large enough to be useful rather than just ornamental.
Before you decide on a shower mat, it'll benefit you to measure your bathroom, as well as your shower and/or bathtub. The shower mat should cover the spot where you step right out of the shower or bath, but it doesn't need to cover the entire length of the tub.
Design
Safe does not necessarily translate to unappealing. When it comes to purchasing household stuff, it's normal to appreciate and prefer designs that are more appealing to the eye. We understand this, and so we made an effort to present a wide range of shower mats with various enticing patterns and styles.
Suction
It's also important to consider which options provide the best suction and prevents slipping when choosing a shower mat. Usually constructed of rubber, thermoplastic, or latex, the sticky backs of shower mats provide great traction and slide resistance.
Additionally, the materials used to make a good shower mat should help prevent water damage to your floors. All of these make suction an important factor to keep in mind when selecting a shower mat.
Material
There are many different materials with which shower mats are manufactured. Each material has its advantages; and some of them keep moisture and germ accumulation to a minimum, much more than others. Some materials also tend to be less toxic, more durable, and more flexible.
As such, it's important to consider which material will appeal the most to you and suit your needs best, and this is why we considered material when presenting our top picks to you.
Price
It's important that the shower mat you choose is not high-priced. We understand that most people correlate price with quality, but this isn't exactly true when it comes to selecting good shower mats.
Care and Maintenance
How to wash and how often?
When cleaning your shower mat, it's important that you adhere to the manufacturer's cleaning instructions.
You may be able to get away with washing a lot of shower mats in the washing machine. You might however need to hand wash or soak shower mats that can't be put in the washing machine, do this using a bleach or vinegar solution. In order to prevent mold and mildew growth, it is also important to let mats air dry. Additionally, take care to routinely inspect beneath the mat for dirt and mildew that may have gotten trapped there.
When you rinse your shower mat after each usage, it can go a long way in helping to keep it clean. It's essentially up to you to decide how often you want to wash your shower mat. You should think about factors like how frequently the shower is used, how many people use the shower, and the type of material the mat is made of.
Where to place the product
A shower mat can be hung to dry in a few different places. The first places that come to mind are areas that are close to a window, the tub's edge, the curtain rods, or the top of the shower doors.
If, however, you decide against hanging a shower mat in any of these locations, you could try installing a shower mat hook on a door or wall. Another option is to use a towel rail that is door- or wall-mounted, or use a plastic hanger.
The best place to dry a shower mat will typically depend on how your bathroom is laid out. If, however, none of the options we've proposed is satisfactory enough, you could also create a DIY solution that best suits your needs.