World Distance Learning Day on August 31 is a day to embrace the learning that takes place outside of the physical classroom. Whether it is a remote learning program that is delivered entirely at a distance, or a hybrid blend of in-classroom and at-home learning, the added flexibility and often more cost-effective option of distance learning is benefiting more students around the world than ever before. In recent times, the internet and the resulting surge of high-quality online curriculum and courses have completely transformed traditional education methods and given birth to the popular distance learning movement. With that in mind, today is a day to be thankful for the distance learning opportunities we have and the countless resources that are available to use.
History of World Distance Learning Day
Learning facilities haven't always been a few clicks away. Back in 1728, Caleb Phillips was advertising his teachings on a new method of shorthand in the Boston Gazette, with the lessons to be delivered via mail on a weekly basis. Sir Isaac Pitman took the idea one step further in England in the 1840s. He was also teaching shorthand via mail, but his students would send him a postcard containing their own efforts, which he would correct and send back to them. Pitman's course swelled in popularity and within a few years, the Phonographic Correspondence Society was established to formalize the courses on offer. This society led to colleges and by 1873 the first correspondence school to operate in the U.S was founded.
Universities began offering distance learning options and the idea was driven forwards by the Open University in the 1960s. They offered a respectable alternative to traditional learning methods and have been at the forefront of developing new technologies and teaching methods ever since their inception.
The internet revolutionized distance learning, making it easier, faster, and cheaper for students to learn. The first completely online course arrived in 1984 and both the resources available online and the number of students taking part have developed at a rapid pace ever since. The COVID-19 pandemic in 2020 led to widespread school closures, which in turn meant that more students than ever turned to distance learning.
World Distance Learning Day was established to raise awareness of the learning resources and options available to students and to celebrate how far the concept of distance education has advanced over the years.
World Distance Learning Day timeline
1728
The First Ever?
Caleb Phillips advertises a shorthand course in the Boston Gazette.
1969
A New Era
The Open University, an establishment credited with contributing greatly to distance learning methods, is founded.
1984
The First Of Many
The University of Toronto launches the first-ever completely online course.
2020
Closures Act As A Catalyst
The COVID-19 pandemic means that many schools throughout the world were forced to close their doors and transition to online classes, leading to a huge rise in the number of students practicing distance learning.
World Distance Learning Day - Survey Results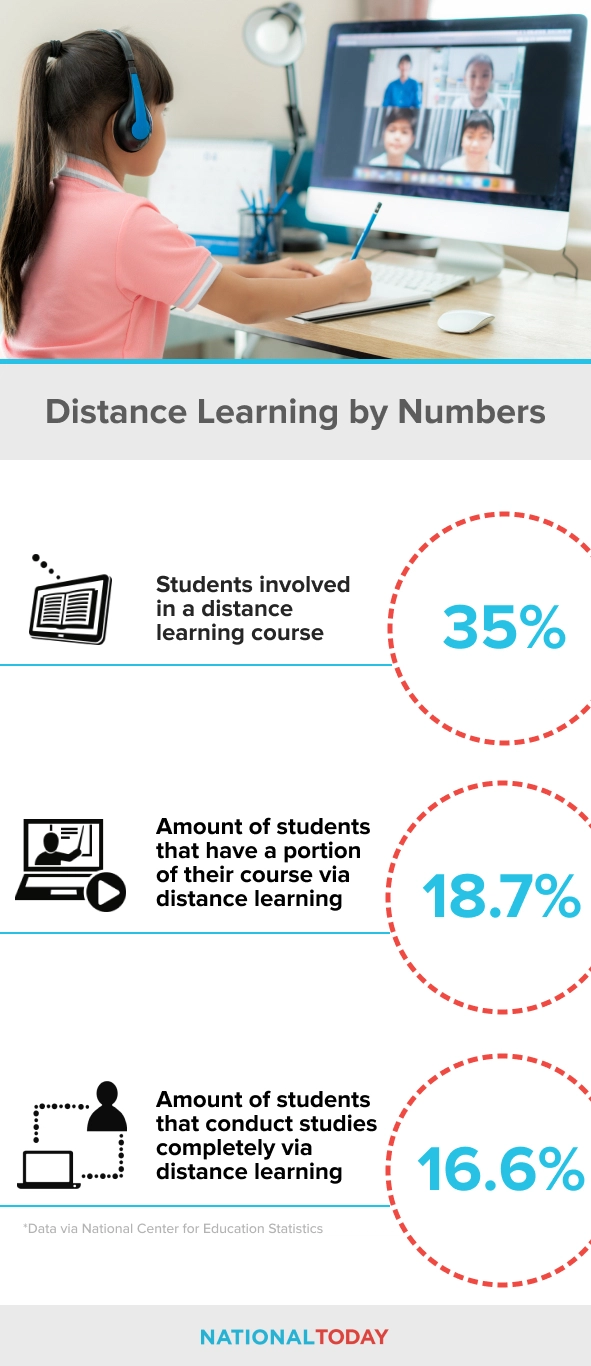 World Distance Learning Day FAQs
What are the benefits of distance learning?
Distance learning is often more flexible and cost-effective than traditional learning methods. Distance learning also offers a chance for a more diverse learning atmosphere and experience, offering you valuable opportunities to interact with and learn from people with different cultures and backgrounds across the world.
How do you know which distance learning programs and courses are best?
We recommend doing your research on what is most suited to your needs, reading reviews, and taking advantage of free trials before paying for anything.
Is distance learning expensive?
The great thing about distance learning is that it doesn't have to be expensive at all. There are many great free resources that you can use and lots of courses that represent great value for money.
Is distance learning actually effective?
Many studies have shown that retention rates for distance learning students are much higher than for traditional, in-person students. Distance learning increases access and makes it more likely that a student can finish a course or program when physical limitations are removed.
World Distance Learning Day Activities
Sign up for a course

Learn to code via Codecademy, learn a language via Duolingo, or research other courses that align with your interests and, most important of all, start learning!

Collaborate with others on a peer-to-peer learning platform

You are capable of a lot more when you are surrounded by other people who you can learn from and who you can share your expertise with. Try joining a peer-to-peer learning community like Brainly, which helps people around the world go from questioning to understanding and acts as a homework help resource for students. For every question that's asked, someone somewhere has an answer. They do not have to be an expert – they just need to know a little more than you do about that specific area or topic. This is what's really at the heart of peer-to-peer learning – learning from other people and sharing knowledge freely with that common goal in mind.

Post about your experience

Use this day to post online about your distance learning experience. Whether it is to recommend a useful tool for others, or to discuss a course that you completed, sharing your experience with others may inspire more people to take up some distance learning.
5 Great Distance Learning Tools
Brainly

Brainly is home to the world's largest online learning community. It is essentially a homework help platform that connects students to subject matter experts. If you're stuck on a particular element of your studies, then this is the place to be.

Duolingo

Duolingo is a highly rated language learning website and app. Do you want to speak a second language? This is the place to go.

Codecademy

Codecademy is where millions have learned to code. It's an interactive online platform that offers free classes in 12 different programming languages. Coding is a valuable, in-demand skill and this is the place to learn.

Open Culture

Open Culture is a website packed full of useful learning resources. These include online courses, audiobooks, ebooks, and movies. It's worth having a poke around.

LinkedIn Learning

Formerly known as Lynda, LinkedIn Learning offers video courses taught by industry experts. You can get a 30-day free trial and then maybe try and persuade your boss to sign up for the subscription.
Why We Love World Distance Learning Day
It's flexible

Distance learning often means that you can create and stick to your own learning schedule. This means you can fit your learning needs around your other needs, which in turn helps create a rewarding learning experience.

It's rich in resources

The internet has changed what is possible with distance learning. A few searches and you will realize that you're spoilt for choice with thousands of different websites and apps offering courses, lessons, and learning tools.

It's environmentally friendly

Distance learning not only cuts back on paper and electricity use, but also on carbon emissions commuting to a physical classroom. Distance learning classes use 90% less energy and have 85% fewer carbon emissions than traditional, face-to-face classes.
World Distance Learning Day dates
| Year | Date | Day |
| --- | --- | --- |
| 2024 | August 31 | Saturday |
| 2025 | August 31 | Sunday |
| 2026 | August 31 | Monday |
| 2027 | August 31 | Tuesday |
| 2028 | August 31 | Thursday |