Have faith America. National Cheeseburger Day falls on September 18. That means there's a free (or at least discounted) cheeseburger waiting for you somewhere in this great nation. (See below.) Prepare to enjoy an American food icon — a cheeseburger oozing warm cheesy deliciousness on top of a moist, juicy patty (or two.) No matter how refined your palate might be, a good, old-fashioned cheeseburger seems to satisfy! Especially on September 18.
Here you'll find money-saving deals, plus a hand-curated list of chefs, food writers and bloggers contributing their most creative National Cheeseburger Day recipe ideas. Hint: Think donuts!
When is National Cheeseburger Day 2024?
National Cheeseburger Day falls on September 18.
History of National Cheeseburger Day
We have Lionel Sternberger to thank for his invention of gastronomic genius. Sternberger? Well, he certainly had the perfect name for the job.
Anyway, Lionel was 16 years old in 1926, flipping burgers inside his dad's sandwich shop, the "Rite Spot," in Pasadena, California.  But, here's where things get interesting. Consistent with most how-it-got-started stories, there are two versions. In one, Lionel, out of curiosity, added a piece of American cheese onto a hamburger frying on the griddle.  In version two, a homeless passerby saw Lionel working those burgers and suggested adding cheese. Either way, the rest is mouth-watering, delicious history.
Whether you grill your own burgers today or caravan with your crew to everybody's favorite burger joint,  go hog-wild crazy eating as many toasted, drippingly-good cheeseburgers as your tummy can hold.  So, thanks, Lionel — we wouldn't be eating cheeseburgers without you!
National Cheeseburger Day Deals
One of the great things about National Cheeseburger Day is that there are always plenty of deals knocking around. We've searched the web so you don't have to. Here's some of the best deals.
Applebee's 
Applebee's are offering a complete Burger Bundle for $8.99. You can choose from any one of their handcrafted burgers and get a fries and soft drink included. All you have to do is select the Burger Bundle option from the menu this Friday.  Participation may vary from location to location. 
You can get your cheeseburger fix for as little as $3 at Burger King. Options include a $3 Double Cheeseburger Meal (a double cheeseburger, fries, and drink) or a $3 snack box (cheeseburger, fries, nuggets, and a drink).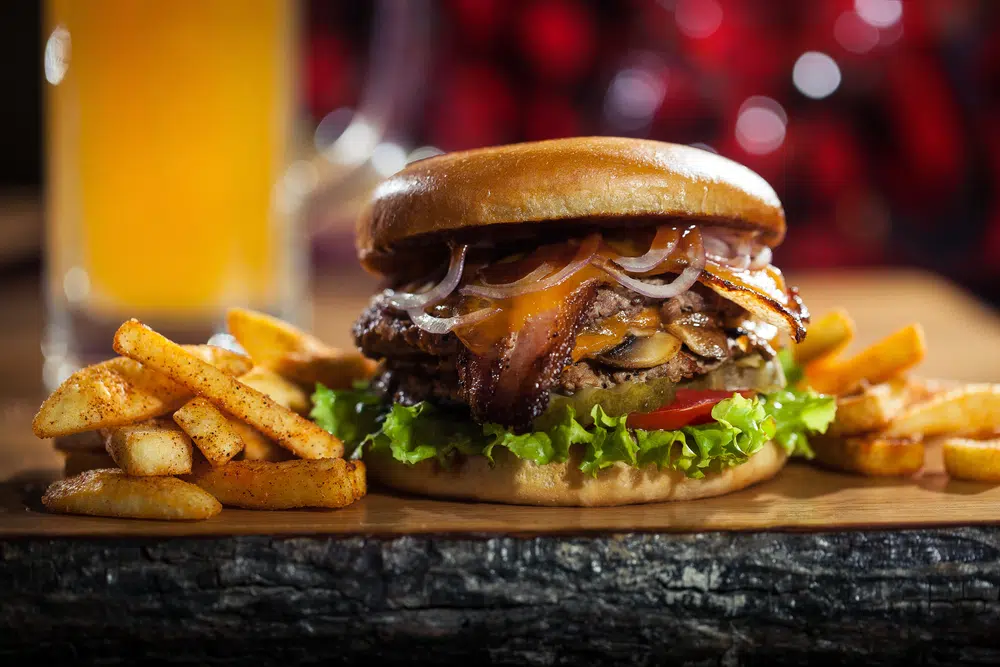 Farmer Boys is the place to be between 2pm and 5pm this September 18, as that's when you'll be able to enjoy their Big Cheese for just $2. The Big Cheese comes stacked  with a quarter-pound of beef, American cheese, lettuce, tomato, sliced onions, dill pickles and Thousand Island dressing on a sesame seed bun.
Slater's 50/50 just made sure that your cheeseburger got even cheesier. On National Cheeseburger Day visitors who order the Best Damn Bacon Cheeseburger will get a free upgrade of a Juicy Lucy patty when using the catchphrase "juicy Lucy" as you order.
Between now and Friday September 18 you can dine in at O'Charleys and get a burger and brew for $10. If you don't fancy a beer, then you choose a soft drink instead.
On September 18 only, Mooyah locations will be offering a free cheeseburger to all Rewards App members. Purchase fries and a drink and you'll get to build your own cheeseburger.
Smashburger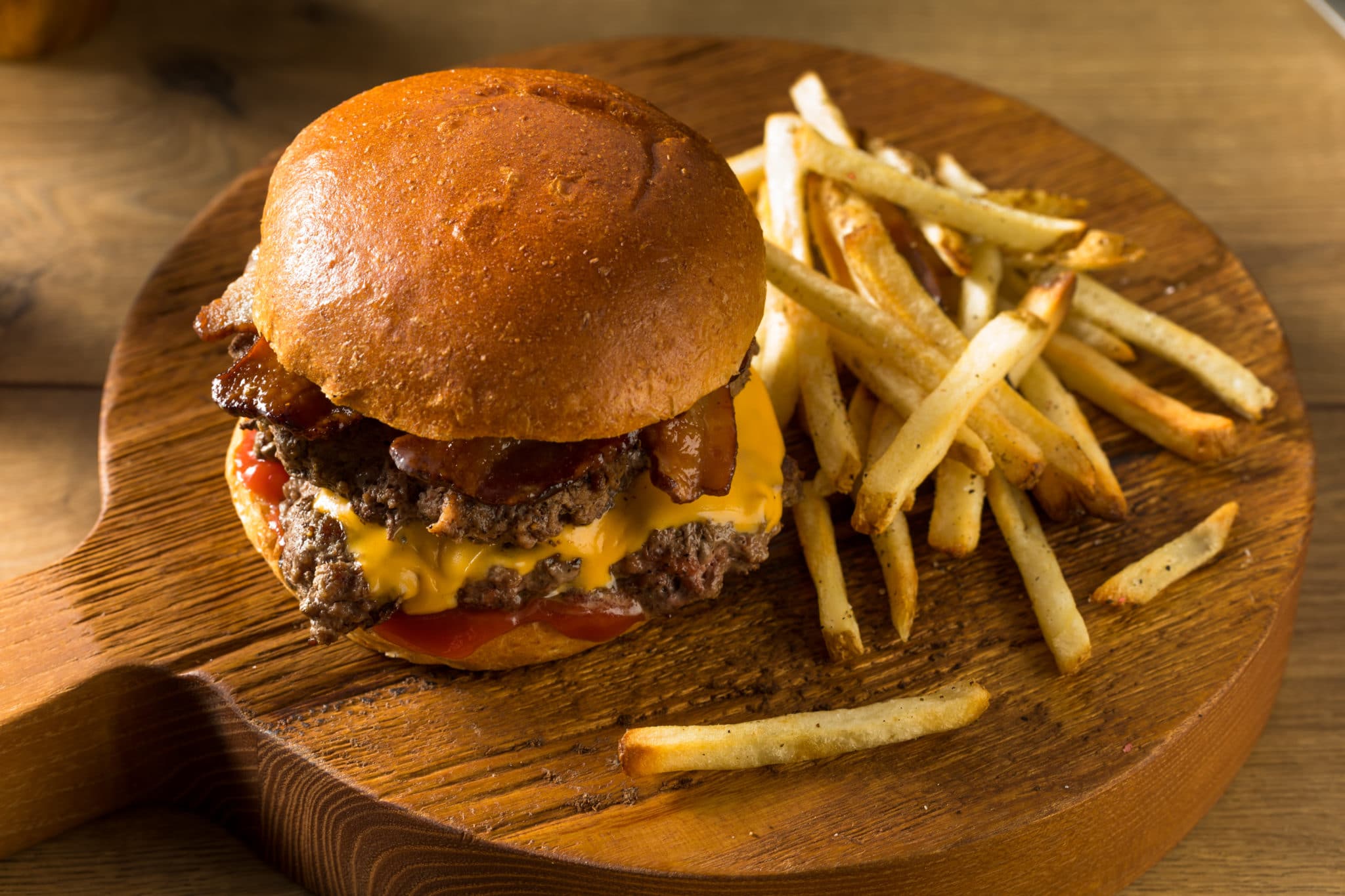 If you live near a Smashburger then get yourself down there on September 18 as they'll be offering their Classic Smash Double Burger for only $5. That sounds like a good deal to us.
National Cheeseburger Day Recipes
We reached out to chefs and food writers across the country to get some fun, alternative takes on this American classic. Here's what we found:
District Donut Plate
Louisiana Purchase, San Diego
Finally! Someone has injected donuts into the cheeseburger world. If you're truly looking to indulge on September 18, check out Chef Quinnton "Q" Austin's monster of a burger.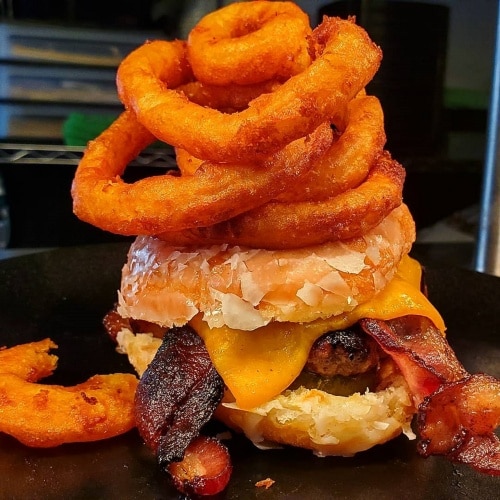 It's a 6 oz. patty seasoned with Cajun spice, sandwiched between the aforementioned glazed donut. Hello? Toppings include bacon strips, a slice of gooey American cheese, and several deep-fried onion rings. This epic burger rests on a bed of house-made potato + duck hash. Can we get a dozen, please?
BBQ Bacon-Onion Cheeseburger
Good Cheap Eats (blog)
"Cheeseburgers are one of my very favorite foods to order at a restaurant or cook on the grill," says food writer Jessica Fisher. "They are the epitome of summertime and cooking out of doors. My favorite combines tender grilled onions with gooey melted cheese. That's how I order it out; that's how I make it at home."
Mac Attack Burger
Union Burger Bar, Southampton, NY
Owner Ian Duke: "Chef Scott Kampf and I love burgers. I mean LOVE burgers!  With the closure of a few local restaurants we saw a glaring need not only for a good burger joint, but a place where people could really eat and drink what they love.  That's what the place is all about — great burgers, hand-cut fries, fried pickles, giant pretzels with beer cheese sauce, decadent milkshakes and a great bourbon selection."
Das Bierburger
Wayback Burgers
Wayback Burgers' new Das Bierburger is made of an all-beef burger patty with sweet Bavarian mustard, beer cheese and crispy French onions. The whole delicious concoction is served on a gourmet, fluffy pretzel bun and topped with a salted pretzel bite.
"We are excited to be bringing a little bit of Oktoberfest back home to the states," says Patrick Conlin, president of Wayback Burgers. "Das Bierburger is unique, exciting and the perfect way to ring in the fall. I can't wait to share that taste with our guests! And of course, it pairs perfectly with our new Pub Pretzel Bites."
Cheeseburger Casserole
Healthy Recipes (blog)
Food writer Vered DeLeeuw: "This cheeseburger casserole is one of the most successful recipes on my site, and with good reason! It is deliciously cheesy and decadent, it's very easy to make, and while it's great for anyone, it's perfect for those following a low-carb or a keto diet. 
Cheeseburger Sub
What Should I Make For…(blog)
Food writer Cathy Roma: "Long sub rolls are split and filled with magical cheeseburger crumble (the cheese is melted right in), topped with shredded lettuce, tomatoes, onion and then doused with sub sauce.They are messy, decadent, and wholly satisfying."
BomboBurger
Bombo Bar, Chicago
The BomboBurger is made with one or two beef patties covered with sharp American cheese and topped with dijonnaise sauce, pickles, and onions. In addition to these common ingredients, the burger is sandwiched between a bomboloni bun. However, even though a bomboloni (Italian holeless doughnut) is usually served as a sweet menu item, this bun is similar to the doughnut using the same dough as a bomboloni — but different, as the sugary flavor is substituted for savory and topped with sesame seeds, providing a noticeable difference in the burger's flavor.
"As important as the meat and ingredients inside the burger are, the bun to it is just as important," said Chef Fabio Viviani, who created the BomboBurger. "Our bomboloni dough is unique because of its texture and provides a lighter and fresher substitute to the average, everyday burger bun which adds to the flavor of my BomboBurger."
Pimento Cheeseburger
Live Oak, Alexandria, Virginia
Pimento cheese ingredients
5 large pimento peppers (or roasted piquillos if necessary)
6 oz. cream cheese, room temperature
0.5 cup duke's mayonnaise
0.5 tsp house habanero hot sauce (or crystal is a good sub)
0.5 tsp fine sea salt
1 pinch sugar
1 pinch cayenne pepper
1 pinch ground white pepper
0.25 tsp smoked paprika
3 oz. chopped pickled red onions
0.5 cups pickling brine
1.5 lbs. sharp cheddar cheese, grated
Preparation
Dice pimento peppers, removing the seeds. Set aside.
Place softened cream cheese and mayonnaise in stand mixer with the paddle attachment. Cream ingredients on medium speed for 2 minutes.
Add house hot sauce, sea salt, sugar, cayenne, white pepper, and smoked paprika.
Allow mixture to come together on low speed, about 1 minute or until all ingredients are incorporated.
Remove bowl from mixer. With a rubber spatula mix in the chopped pickled onions, pickling brine, and shredded cheddar cheese.
Allow the chef to taste the mixture. Place in quart containers with label and date. Refrigerate.
Owner Justus Frank: "It is unique because we make our own brioche bun, serve it with Earth N Eats Farm Salanova butterhead lettuce and tomato, top it with Benton's Tennessee country bacon, and finally our house-made pimento cheese."
Mac & Cheese Burger
Quaker Steak & Lube (Various locations)
Quaker Steak & Lube? Why, yes! (A play on Quaker State motor oil, we're guessing.) This burger's topped with smoky bacon, American and cheddar-Jack cheeses and Quaker Steak's gooey, savory mac & cheese. Served atop shredded lettuce, tomato, red onion and dill pickle chips.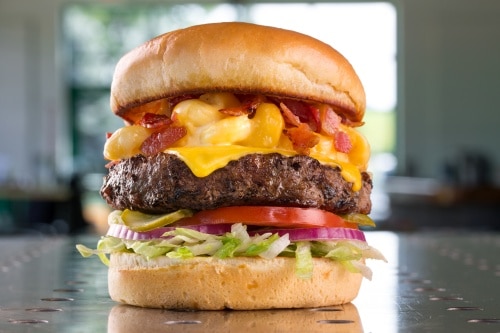 National Cheeseburger Day timeline
1921
Patrons storm the White Castle
An American food icon, White Castle, opens its doors for the first time in Wichita, Kansas.
1926
Lionel Sternberger flips the cheeseburger
A teen working in his dad's sandwich shop adds cheese to a burger and creates a sensation!
1928
Pay a quarter, get a cheeseburger
O'Dell's restaurant, a Los Angeles favorite, charges 25 cents for a cheeseburger.
1935
Trademark declined
Humpty-Dumpty's, a Denver, Colorado drive-through, makes an unsuccessful attempt to trademark the word "cheeseburger."
1977
Get ready to rumble
McDonald's pays $1 million in damages to TV producers Sid and Marty Kroft, who claimed that the McDonald's "Mayor McCheese" was a direct ripoff of their own H.R. Pufnstuff character.
National Cheeseburger Day - Survey Results
National Cheeseburger Day Traditions
The only tradition you need to follow on National Cheeseburger Day is the eating of a cheeseburger. Simple, right? It's also worth keeping an eye out to see what the food marketing guys have planned as you can often get discounts on your burger. Yes please.
National Cheeseburger Day FAQs
What day was the cheeseburger invented?
While the exact date is unknown, the cheeseburger was invented in 1926 by Lionel Sternberger in Pasadena, CA at his father's sandwich shop called the "Rite Spot."
What is the birthplace of the cheeseburger? 
Despite what you might hear from people from Kentucky, the cheeseburger was born in California at the aforementioned "Rite Spot" in Pasadena, CA. This comes as no surprise with the Golden State's heritage of Americana and car dominated drive-in culture. 
Is McDonald's celebrating National Cheeseburger Day?
Stop me if you've heard this: Pricing and participation may vary. Some McDonald's are indeed participating but you'll have to check the McDonald's app to check if your local one is.
Why is it National Cheeseburger Day?
Certain days exist out of pure love (and hunger). But we celebrate them just the same. Cheeseburger Day falls in that hazy post-summer space between Labor Day and the fall equinox. Think of it as your final summer dining fling.
When is National Hamburger Day?
Dairy not your speed? You're in luck! The next National Hamburger Day falls on May 28. Celebrate with National Today.
National Cheeseburger Day Activities
Build your most outrageous cheeseburger

Today is the day you build the craziest, meltiest and most out-of-this-world cheeseburger! Take your time selecting only the best and freshest ingredients. This applies whether your cheeseburger is made from lamb, beef, chicken, pork, turkey or tofu. When you're done barbecuing, flipping, grilling and frying, that cheeseburger will be so. dang. good.

Give cheeseburgers to the ones you love

Cheeseburgers taste good when you're alone but they can take so much better among friends. Plus, nobody's mad when they're eating a big, juicy cheeseburger. Enemies become friends and friends just love you more for inviting them to the feast. Cheeseburgers bringing world peace? It can happen.

Get thee to a fast food chain

What's your favorite cheeseburger place? In-N-Out? Whataburger? Or maybe the old standbys, like McDonalds and Burger King are tailor-made just for you. Whatever. The task on National Cheeseburger Day is to enjoy a finely-crafted cheeseburger or double-double and feel oh so good (and full) for the rest of the day!
5 Cheeseburger Facts To Distract You From Your Twitter Feed
Why We Love National Cheeseburger Day
Cheeseburger donuts?

National Cheeseburger Day creates an excuse to be a glutton for just one glorious day because there are so many different kinds of cheeseburgers from which to choose. You can have one, two or three patties topped with your favorite cheese like, American, Monterey Jack, feta or even brie. Pile on some bacon, slivers of mushroom or a fried egg. There's even a cheeseburger squeezed in between two doughnuts instead of buns (see above)!

We all love 'em

Americans eat an average of six hamburgers per day according to a report by the United Nations' Food and Agriculture Organization (FAO.) Throw some cheese on those burgers and the figure is probably a whole lot higher!

Cheeseburgers are quick and easy

Work at your desk? Chow down on a cheeseburger. Driving somewhere? Stop for a cheeseburger. That's why we love em'. When you get that undeniable craving for something hearty but really good to eat — the cheeseburger always hits the spot because it's quick, easy, sloppy fun!
National Cheeseburger Day dates
| Year | Date | Day |
| --- | --- | --- |
| 2024 | September 18 | Wednesday |
| 2025 | September 18 | Thursday |
| 2026 | September 18 | Friday |
| 2027 | September 18 | Saturday |
| 2028 | September 18 | Monday |
National Cheeseburger Day Featured Video
Celebrate National Cheeseburger Day!