National Après Day is celebrated on March 31st each year to pay off the day's adventures with a cocktail or a whiskey neat.  Breckenridge Distillery launched the holiday to remind people that you can après anything, letting your imagination be the only limit.
National Après Day coincides with the launch of Breckenridge Distillery's newest integrated marketing campaign, #AprèsAnywhere, inspiring consumers to celebrate anywhere and after anything they accomplish, from skiing in the Rockies to biking along Lake Shore Drive. 
When it comes to drinks and cocktails, there's no better way to bring people together than to have a few glasses and make some amazing memories. 
Please, Après Responsibly!
History of National Après Day
The word après comes from the French "after," and is commonly used in American ski culture as "après ski," which often means to socialize and enjoy a few drinks after a long day of skiing on the mountain.The history of après-ski can be traced back to the early 20th century when skiing became a popular sport in the Alps. Today, après-ski is a major part of the ski culture in many parts of the world, including Europe, North America, and Japan.
Breckenridge Distillery has always been part of the après ski culture, offering skiers a well deserved social break after the activity. As a brand rooted in an iconic ski town, Breckenridge Distillery also uses Rocky Mountain water as the base for its award-winning spirits. Their authentic connection between the brand and ski culture inspired the launch of the new #AprèsAnywhere campaign, as it aims to bring the cultural joy of après to consumers nationwide.
National Après Day timeline
2008
Establishment
Breckenridge Distillery was established by Bryan Nolt, the highest distillery in the world.
2011
International Recognition
Breckenridge Distillery releases Breckenridge Bourbon Whiskey to the public and wins Top 3 Bourbons in the World at the International Wine and Spirits Competition.
2021
Denver Broncos Official Bourbon
Breckenridge Bourbon Whiskey becomes the Official Bourbon of the Denver Broncos and releases 2 Broncos Bourbon Blends with Denver Broncos Legends and wins World's Best Gin at the World Gin Awards.
2023
National Après Day
Breckenridge Distillery establishes the first-ever National Après Day.
Recipe Cocktail: Solstice Spirit
Ingredients:
2 oz Breckenridge Bourbon

1 oz tart cherry/vanilla bean/cinnamon/allspice syrup*

3/4 oz fresh lemon juice

Garnish: mint bouquet
Method:
Shake all ingredients with ice. Serve over pebble ice.
Tart cherry/vanilla bean/cinnamon/allspice simple syrup:
Over medium heat add 16 oz tart cherry juice, 16 oz sugar, and 1 tablespoon vanilla bean paste. Stir until dissolved. 

Add 1 cinnamon stick, 2 oz crushed allspice, 1 teaspoon cider vinegar. Stir and let rest for 2 hours.

Strain, bottle, and refrigerate.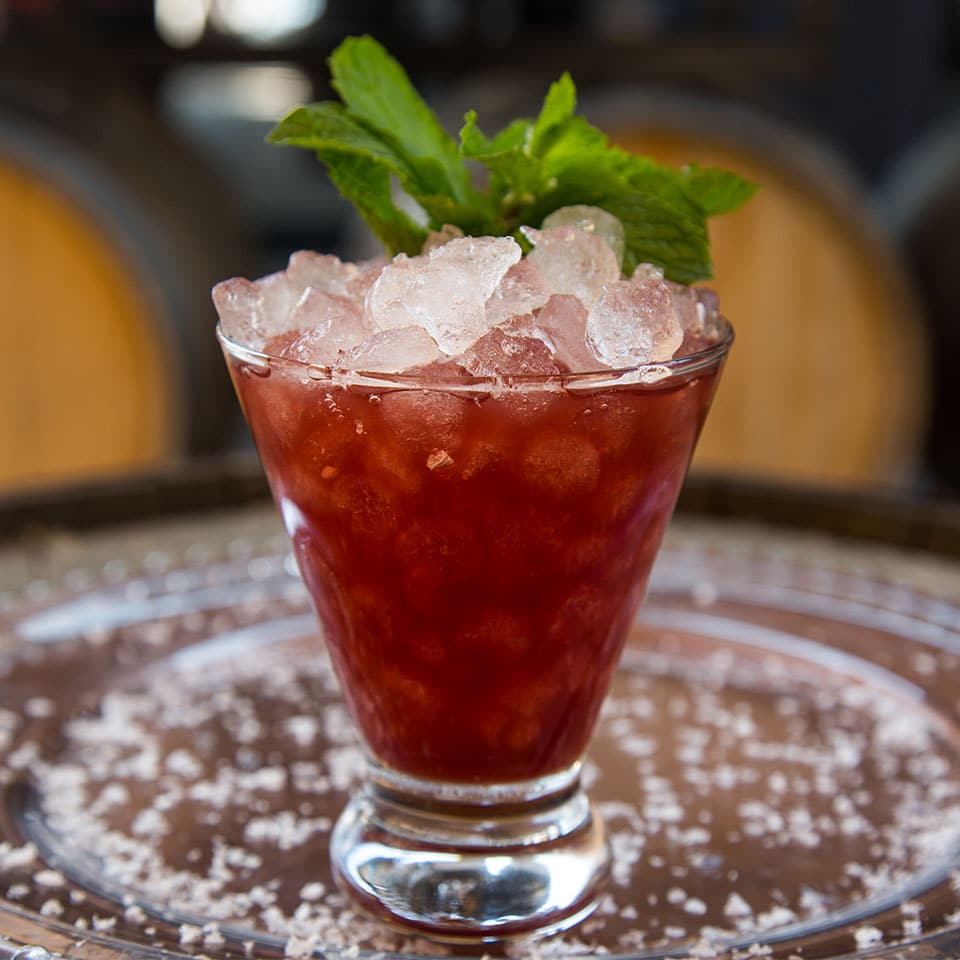 National Après Day FAQs
Why is the spirit of après important to Breckenridge Distillery?
Breckenridge is a historic ski town. The town sees visitors from across the globe who come to experience its iconic peaks and enjoy all there is to do, from skiing in beautiful scenarios to mountain biking on the challenging trails. 
It is tradition to belly up to the bar after a day of adventuring and share their daytime stories.
What can I do at Breckenridge Distillery?
Breckenridge Distillery offers many different experiences, including tours, tastings, dinner at the restaurant, blending labs, happy hour, and more. 
Gather some friends and learn how you can experience the distillery here.
What makes Breckenridge Bourbon a premium bourbon?
 "It is all about quality first for me," says Founder and CEO Bryan Nolt.
Breckenridge Bourbon is made with the highest quality ingredients, including the purest water, directly from the Rockies.
Where can I find Breckenridge Distillery products?
You can find the award-winning Breckenridge Distillery sprints nationwide!! 
Don't wait and visit BreckenridgeDistillery.com today to get your Breckenridge Bourbon delivered right to your doorstep.
How To Celebrate National Après Day
Buy a bottle of Breckenridge Bourbon!

Visit your local liquor store or head to BreckenridgeDistillery.com to order a bottle of Breckenridge Bourbon and celebrate National Après Day with a drink in hand!

Share how you #AprèsAnywhere on social media

Enter to win the ultimate #AprèsAnywhere swag bag from Breckenridge Distillery. Each month Breckenridge Distillery will pick one lucky winner.  To participate, show us how and where you après by posting your photo to Instagram using #AprèsAnywhere. Winners will be contacted via Instagram DM from @breckdistillery.

Create a Breckenridge Bourbon cocktail at home

Billie Keithley—Breckenridge Distillery's Liquid Chef— has hundreds of unique cocktail recipes for every occasion! Visit Billie's Cocktail Lab to find the perfect recipe for you and prepare for the best homemade cocktail night!
5 Facts About Breckenridge Distillery
It is the world's highest distillery

Located in Breckenridge at 9,600 feet in elevation, Breckenridge Distillery is the world's highest distillery.

It is one of the most-awarded craft distilleries in the U.S.

Breckenridge Distillery has made a name for itself at the World Whiskies awards winning Best American Blended Whiskey 9 times, Icons of Whisky 3 times and World's Best Blended and World's Best Gin. Breckenridge Distillery is also a 4- time winner of Colorado Whiskey Distillery of the Year and double gold winner at the San Francisco World Spirits Competition.

It was named one of the Top Visitor Attractions in the U.S. by Whisky Magazine

Breckenridge Distillery is more than award-winning spirits. They offer guests a journey through the senses. We see more than 300,000 visitors a year at the Distillery. Guests can dine at their modern-American Steakhouse, blend their own whiskey with their distillers, taste their award-winning spirits or get a behind the scenes tour of their active production facility.

Breckenridge Bourbon is created with water from the Rockies

Breckenridge Bourbon's high quality starts from the environment around it—the natural water resources from the Rockies.

Breckenridge Bourbon is the Official Bourbon of the Denver Broncos

In celebration of being their Official Bourbon, Breckenridge Distillery released two new Broncos Bourbon Blends (orange and blue) blended by Broncos Legends to celebrate the start of the NFL season.
Why We Love National Après Day
It celebrates YOU!

It doesn't matter where you are or what rad things you're doing, you can #AprèsAnywhere with Breckenridge Bourbon.

It goes beyond après ski

You don't have to ski to enjoy the mountain après scene. Whether you're mountain biking, surfing or performing live music, you can après anything.

It is for everyone, anywhere

You can après in a ski coat or après while you float. You can après in the park, and even après after dark. Après here or there, with Breckenridge Bourbon you can #AprèsAnywhere.
National Après Day dates
| Year | Date | Day |
| --- | --- | --- |
| 2024 | March 31 | Sunday |
| 2025 | March 31 | Monday |
| 2026 | March 31 | Tuesday |
| 2027 | March 31 | Wednesday |
| 2028 | March 31 | Friday |