The Best Toilet for 2023
Making your bathroom experiences pleasant will be a breeze with the finest toilet picks available on the market.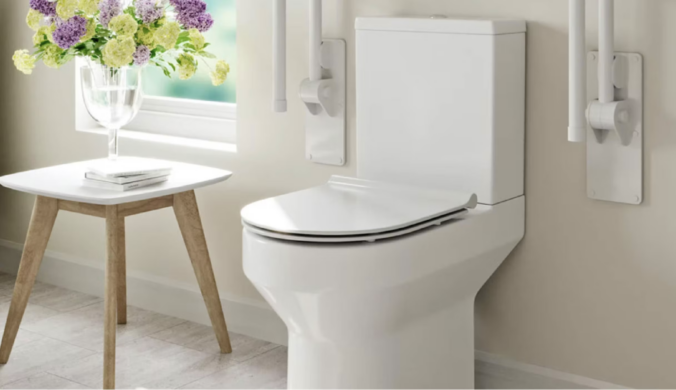 One of the simplest ways to design a bathroom space that exudes comfort is to install a great toilet. While a luxurious bathroom can increase the value of your home, choosing the perfect one can be challenging due to the several available models, each with its own special qualities and features.
The plumbing in your home will suffer greatly if your toilet has a weak flushing function, which may result in frequent clogs. Some types tend to leave ugly stains, while others have loud flushing issues. Our home specialists at National Today have survived decades of toilet testing; our engineers conducted a battery of tests to determine models that combine ease of installation, maintenance, performance, and efficiency, as well as extra features. This roundup comprises newer-tested models, brands with a solid track record, and past top-performing models. Check out our finest picks of the best-tested toilets you'll find in the market.
How We Picked
Water Capacity

Our top choices include dual-flush systems, which are more energy-efficient and improve water efficiency in areas where water shortages can occur, as well as gravity flush systems, which can handle a high amount of stored water.

Flush Strength and Type

Most American toilets use between 1.6 and 1.8 gallons of water every flush, but some newer, more energy-efficient models use as little as 1.28 gallons. We evaluated toilets that equally balance energy efficiency and flushing power as this could have an impact on your monthly water bill.

Bowl Size and Seat Comfort

Generally, toilets with elongated seats are comfier to sit on and are suitable for adults, whereas round seats are typically shorter and ideal for children, as well as bathrooms with limited space. We considered this during our pick to determine the best toilets for your home needs.

Cost-Effectiveness

We always recommend choosing to buy from a reliable company and manufacturer. The brands we featured have produced high-quality sanitary wares consistently over the years to guarantee value for your bucks and a terrific bathroom experience every time.
Our Top Picks
Our Top Pick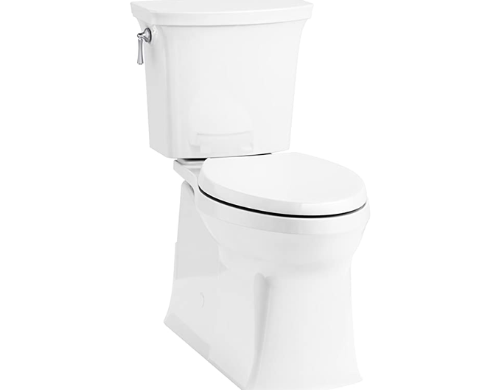 This delivers a flushing technology that generates a forceful swirling motion for easy maintenance.
The Kohler Santa Rosa Comfort Height One-Piece Toilet combines comfort, elegance, and functionality. Because it is made of a single piece, the tank and bowl are integrated into a modern, practical design that fits in with any bathroom's style. The tiny bowl's elongated design enhances comfort without taking up extra space, making it useful for both smaller bathrooms and larger spaces.
This toilet came first in all rounds of our testing.
Our Runner-Up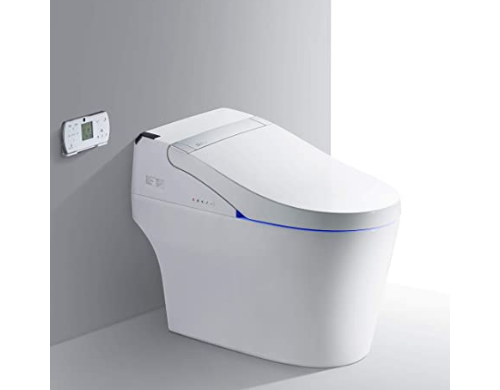 This single toilet with an intelligent smart bidet seat delivers great practical technology always.
We recommend the Woodbridge Athena Elongated Smart Toilet if you want to give your bathroom cutting-edge and practical features. This smart toilet has motion sensor technology integrated into it, which causes the lid to open as you approach and close as you leave. This smart toilet offers a forceful and quiet siphonic dual flush and is extremely energy-efficient in terms of performance.
The technology of this smart toilet made it a close winner.
Most Cost-Effective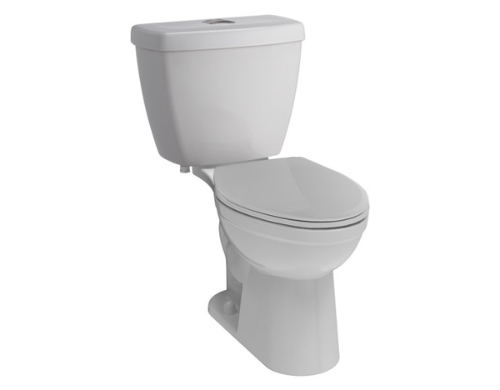 A sleek-looking two-piece toilet that allows easy installation and superb technology on a great budget.
In our winner's circle, the most inexpensive toilet also happens to be one of the most effective. This Delta two-piece toilet contains certain features you might anticipate on more costly models, despite its affordable pricing. The splash guard prevents liquid from getting under the tank, a regular concern with two-piece toilets, and there is even a slow-close lid, a feature typically found on more expensive models.
This toilet gives the best value on the best budget.
Everything We Recommend
Our Top Pick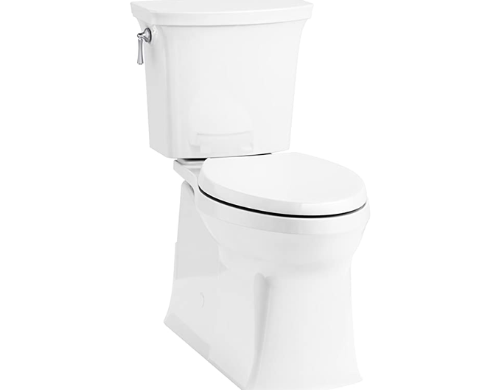 This delivers a flushing technology that generates a forceful swirling motion for easy maintenance.
$485.21
Our Runner-Up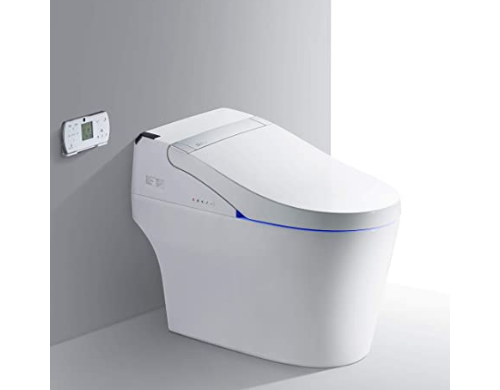 This single toilet with an intelligent smart bidet seat delivers great practical technology always.
$953.49
Most Cost-Effective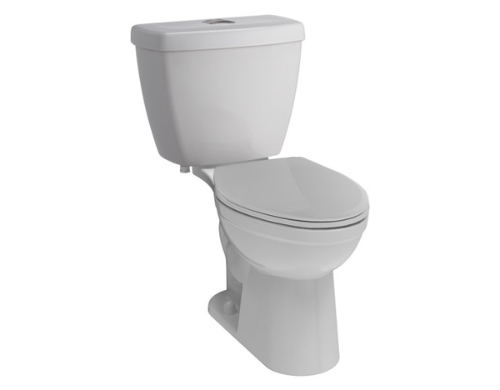 A sleek-looking two-piece toilet that allows easy installation and superb technology on a great budget.
Who This Is For
The selection of a toilet is a crucial step in remodeling any bathroom. Get inspired by our expert curation of ideas to bring your home or office to life; you're likely to find something you'll enjoy among the many toilets on sale from manufacturers like Kohler, Woodbridge, Delta, and Swiss Madison. You can discover everything you need on National Today, whether you're searching to buy toilets online or find home design inspiration.
Different types of toilets
One-piece:
The toilet bowl and tank are all one piece. It is built as a single seamless component, with the bowl installed separately from the tank during installation. These toilets often require less cleaning because there are no spaces between the bowl and the tank. They can be more difficult to install, though, as the complete toilet must be lifted into place as a unit, due to their weight.
Two-piece:
With a water tank fixed on top of a lower bowl, this is how a toilet is typically constructed. With several alternatives, two-piece tanks are generally cheaper. To add a little more individuality, you may even mix & match toilet bowls and tanks.
Wall-mount:
Directly installed toilets save a lot of space in your bathroom and also have a modern aesthetic. However, they are difficult to install, needing more bracing and, if you're replacing a normal toilet, plumbing adjustments.
Different flushing types
Single flush:
With every flush of this sort of toilet, the same quantity of water is consumed, and there is just one flushing mechanism. Instead of buttons, they usually have handles or levers. Replacement parts are easier to find and repair costs are typically lower as they are more widely used and have standardized components. They could, however, squander more water.
Dual-flush:
A dual-flush toilet has two buttons for its two flushing options, which are normally found on top of the tank. One flush is intended to remove liquid waste and consumes less water than a gallon on average. Solid waste disposal requires the use of a separate, bigger flush.
Why You Should Trust Us
Working with trustworthy, independent writers with years of expertise writing on lifestyle topics and product reviews is something National Today takes great pride in. We are informed about the factors homeowners should consider before choosing a new purchase for their home needs as we have written dozens of buying guides in a variety of fields. To write this piece, we extensively compared the flushing mechanisms, water requirements, and unique features of dozens of toilet models. We looked at hundreds of customer reviews as well as articles from other websites to identify the best solutions available.
How We Picked
Water Capacity:
Most toilets in the United States consume 1.6 to 1.8 gallons of water per flush. Some more recent, effective toilets only use 1.28 gallons of water per flush. You should look for a toilet that strikes an even balance between energy efficiency and flushing power as this will affect your monthly water bill. Our top picks could flush more than 12 golf balls in a single flush, some, up to 20.
Flushing Strength:
For flushing, conventional toilets often have a lever on the tank that you must press. They still exist, although dual-flush toilets are more prevalent now. These often have two buttons on the tank's top that allow you to flush partially for liquid waste and completely for solid waste. Technically, dual-flush toilets save water, but occasionally, because of their limited flushing strength, you have to flush twice. The dual-flush models on our list, however, do not operate in that manner.
Flush Method/Type:
There are many different ways to flush a toilet, but the majority of residential toilets use a gravity flush mechanism that dispenses a sizable amount of water from the cistern into the bowl, flushing the waste down the trap. A dual-flush system, as its name suggests, uses two distinct flushes to get rid of different kinds of waste, so it can be a better option if you're searching for a more energy-efficient option. They are good for the environment and areas where there may be water shortages, thus they have an added benefit of being water efficient.
Bowl Size:
If you're replacing an existing toilet, you'll need to determine how far the floor drain is from the wall, or what's known as the "rough-in" measurement. The typical distance is 12 inches, but if you live in an older house, you might have a rough-in of 10 inches or 14 inches. This measurement will assist you in picking a toilet with the right size that can be readily installed using your current plumbing.
Seat Comfort:
Toilet bowls typically come in either a round or an elongated design. The finest toilets for your home will depend on who will use the toilet the most frequently, therefore you should take these size and shape variations into account. Round seats are typically shorter and are best for toilets with limited space, but elongated seats are more comfortable to sit on and are appropriate for adults. Additionally, children may find round seats to be more convenient.
Price vs Quality:
Generally speaking, the best flushing toilets and the majority of high-end units use high-end materials. It might come as a surprise, but the quality of flushing toilets is greatly influenced by the material used in their construction. For instance, ceramic toilets that flush have a higher degree of fragility than vitreous china toilets. With a number of issues, including noise in water lines when flushing toilets, cheap toilets can ultimately increase costs. Also, note that the toilet's brand is not everything, but it is a good sign of the quality of the product, which is why we chose products from companies with a solid track record.
Material:
You should think about the material a toilet is constructed of when choosing the best ones for your home as it may affect its looks, appearance, and durability. The finest toilets are often composed of porcelain or vitreous china, and they are frequently given a glazed coating to increase their durability and resistance to bacterial growth. Because of this, the porcelain is denser, glossier, and stronger.
Height:
Toilet bowl heights can be classified into two main ranges — Standard height and Comfort height. Standard height toilet has a rim that is between 14.5 and 16 inches off the ground. Shorter toilet seats may help with bowel motions since they force people to crouch more, which helps to straighten the colon and lessens straining. On the other hand, comfort height toilets are taller (17 to 19 inches on average), reducing the amount of crouching required to use them. Although toilet rim heights of 16.125 and 16.5 inches have been referred to as comfort heights, the term is most frequently used to refer to models that have been given the Americans with Disabilities Act's seal of approval and have rims that are at least 16.5 inches off the ground.
Additional Features:
Toilets with extra functions and technology typically cost more and require increased maintenance. Examples are toilets with touchless flushing, which you operate by waving your hand. Other cutting-edge features include self-cleaning, heated seats, overflow protection, night lights, bidet functionality, and more.
Care and Maintenance
Getting the right size
Calculate the rough-in distance, which is the distance between the center of the floor drain and the wall behind the bowl. Your new toilet must fit into the space between the drainpipe and the wall to function in your space, so use this measurement to estimate its size. A minimum of 18 inches should be left between toilets and any other fixtures or walls, according to bathroom guidelines. A wall-hung toilet is a terrific option if you don't have much space to spare because it doesn't require a base and puts the water tank and drain behind the wall, doing away with the need for one. Try a tankless toilet or a corner toilet if you can't afford this change; at the absolute least, make sure you select a unit with a circular bowl because elongated and oval-shaped bowls take up more room (though they do tend to be more comfortable).
Picking the most convenient flush type
You will probably come across a lot of new features, such as dual flush, as you weigh your alternatives. It may sound fancy, but all it does is allow you to flush when necessary with two different water pressure levels. This function supports the push to reduce water consumption, which can reduce your monthly water cost. Although this is a lovely feature to have, dual-flush toilets are more expensive than other low-flow toilets, so you will need to consider the upfront cost against the potential savings when deciding whether it is a good choice for you and your family.
How to clean/How often to clean
We understand that very few people enjoy cleaning bathrooms. Cleaning your toilet regularly, however, will make the job considerably simpler the next time. Additionally, hazardous bacteria and unsightly mineral or soil accumulation are removed by routine toilet cleaning. To do this, always have the necessary tools on hand. These include waterproof rubber gloves, scrub sponge, toilet cleaner or vinegar, toilet brush, all-purpose disinfectant spray, cloth or towel, pumice stone, and paper towels.
Follow these five steps to quickly and effectively clean your dirty toilet bowls and remove toilet rings, stains, and funky smells:
Apply toilet cleaner to the bowl, and allow it to soak. Pour a cup of vinegar into the bowl if you're using it in place of toilet cleaning. With a brush, quickly swish the cleaner throughout the bowl.
Spray an all-purpose disinfectant over the toilet's outside and let it sit until the cleaning soaks in. If the toilet is particularly filthy, give it a quick clean down with paper towels before throwing them in the trash.
Scrub the exterior of the toilet with a sponge while paying close attention to the toilet's base and surrounding flooring. If your toilet is contemporary and has a quick-disconnect seat, take it out and clean it separately.
Scrub the bowl with a toilet brush. To get rid of any rings or stains that hard water left behind, use a pumice stone.
Finally, don't disregard the area where water spills out from beneath the rim. Use a sponge or brush to clean the bottom of the rim.
Remember to fill up the water tank! Check inside by taking off the lid. If you see any mineral buildup or sludge, add four glasses of vinegar to the tank. Allow it to soak for up to an hour. After that, turn off the water supply and flush the toilet. The tank can empty as a result. Use a sponge or toilet brush to scrape the walls of the tank while it is empty. To properly clean the tank, turn on the water supply again, let the toilet fill up, then flush it many times.
Do not mix bleaches or cleaning products
Before using a cleaning product, make sure you always read the label. Maintaining simplicity is the key to safely using bleach. As this might result in serious injury, never combine bleach with ammonia, acids, or other cleaners. When bleach and ammonia are combined, you run the risk of being exposed to toxic gasses known as chloramines, which can lead to pneumonia and fluid in the lungs as well as the following symptoms: coughing, nausea, shortness of breath, watery eyes, chest pain, throat irritation, nose irritation, and eye irritation.